Nun Expedition A special mission that will take you there to that height Mountain
Mt. Nun Expedition 7135 m   located in Ladakh on the Indian side of the Line of Control, is one of the highest peaks in the Himalayan range. The massif is located near the Suru valley in the Kargil district, east of Srinagar. To the north, the Suru valley and the Zanskar range form a border with the Nun Kun Mountain. The heights of both Nun altitude 7135 m is  and Kun 7078 m are almost the same
On the Kashmir-Zanskar border, Mt. Nun and Kun, as well as Barmal, White Needle, and Pinnacle Peak, form a horseshoe shape over the Suru River. The Mt. Nun trek allows you to bypass the difficult and arduous terrain of Zanskar and the Kargil region of Ladhak. Trekkers will be able to travel in the Leh region before and after the official trek, where they will be able to discover the wonderful Buddhist culture, ancient monasteries, regional cuisine, and historic township. To discover Mt. Nun's majestic beauty, trek through Hemis National Park, the snow leopard's domain, and brave the cold desert. This trek is an excellent introduction to rougher peaks at a high altitude of 7000m. This trek might also assist climbers in choosing their next expedition.
Key Points of Mt. Nun Expedition
Duration

19 Nights 20 Days from Leh to Leh

Temperature

(-15°C to -25°C) 

Altitude:

7135m.

Trek Weather

It is unpredictable and can change anytime so do keep an extra day in the itinerary

Best Time:

June to September 

Trek Level:

Difficult to challenging

Trek distance:

Covering 6-5 km in half an hour.

Group Size:

A minimum group size of 5 people.

(In case anyone wants to book a private tour for their friends and family we provide a different procedure for it)

Trek Fee
Some of the highlights of Mt. Nun Trek
Mount Nun's glacial formations, ice fall slopes, edged cliffs, vast crevassed surfaces, descending ice walls, and unpredictable weather will captivate you. Your trek to Mount Nun will take you through monasteries and ancient Himalayan culture, as well as the cold desert of the Suru Valley.
The expedition to Mt. Nun is only for experienced mountaineers who want to climb peaks of 8000 meters or higher. Prior knowledge of technical and mountaineering techniques such as the use of ice axes, roping up procedures, crampons, and jumar climbing is required. Challengers must be physically and mentally fit due to the technical ascent to the summit as well as the extreme and unpredictable weather conditions. This expedition is a training expedition for a number of 8000m peaks. Mt Nun, as one of the most accessible 7000m peaks, provides a remarkable sense of accomplishment while also bringing you one step closer to your expedition aspirations of much higher and harsher peaks.
The altitude covered in Mt. Nun trek 
Leh- 3524m

Kargil-2676

Tangol-3700m

Base Camp-4600m

Camp 1-5468m

Camp 2-5990

Summit Camp-6436

Summit-7135
Best Time to Visit  Mt. Nun Trek
Mt. Nun's ascent and descent are both extremely difficult. The best time to hike these paths is between June and September, when most of the Himalayan region is still in the grip of monsoon season. The temperature usually ranges between -15 and -25 degrees Celsius; the higher the trekkers ascend, the colder it becomes. Trekkers must carry all the necessary backload because the weather over the top is frequently unpredictable.
Is it safe?
Set amidst the high altitude ranges, concerns regarding Mt. Nun trek safety are indeed very valid. To assure you we have all the possible probabilities calculated if anything goes off the schedule. At every stop point of the journey, trekkers will be going through a proper guided session informing them about the upcoming terrains. 
All of our professionals strive to provide the best experience possible for trekkers, so a collaborative contribution of a relaxed mindset and morally communicative behavior with fellow trekkers will be greatly appreciated.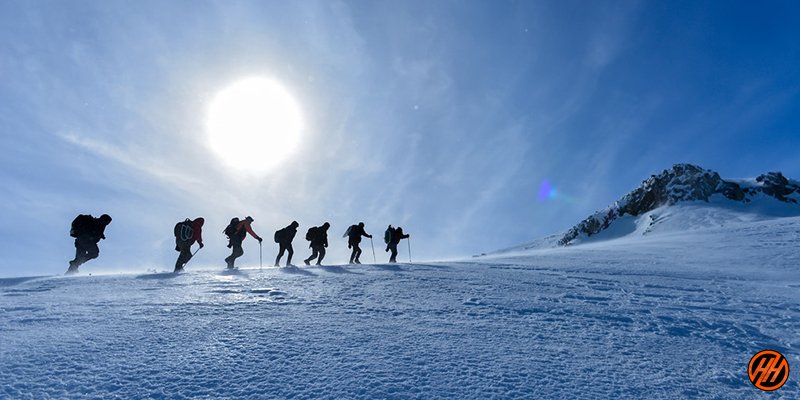 Difficulty level of Nun Expedition
Because the top is relatively high in elevation, we recommend a reasonable level of physical fitness. We strongly advise trekkers to be physically and mentally prepared for an endurance process as the arduous journey throws obstacles at every step and inch. Throughout the course, all groups will be guided by our experts for trekking equipment and any impending terrain. Trekkers must be aware of any AMC conditions and must notify our teams before continuing their ascent.
Weather conditions in Nun Expedition
The weather conditions vary depending on the time of year trekker's travel. The months of June to September are generally considered to be comfortable for this expedition; however, as the teams gain altitude, the weather may become unpredictable, with heavy snowfalls. Winters are highly improbable for this summit expedition.
Trekking Essentials
1) Because nights at elevations tend to be considerably colder, we suggest having well-graded, warm and comfortable clothing along with good quality shoes.
2) Despite the fact that we handle medical crises, we urge individuals to keep their emergency kits at hand in any case of personal underlying illnesses.
3) Since the journey provides you with a picturesque view of many peaks, don't forget to bring your camera along with extra batteries.
4) Our staff will consult with fellow trekkers about their luggage and, if lacking, will assist trekkers in obtaining any necessary equipment. Only the relevant luggage should be brought, as a result.
Other important trekking essentials-
Connectivity and Transactions
1) All networks, including Vi, Airtel, and BSNL, function well in Ladhak, but connectivity along the route is unpredictable, so we advise people to complete all of their work ahead of time.
2) Trekkers will be provided with walkie- talkies beforehand in case of emergency
3)The last ATM transactions available will be at Leh. We recommend travelers to collect cash beforehand or while in Lehas ATM available at other places might not dispense cash at times.
Things Himalayan hikers recommend
As previously stated, a camera, as well as spare batteries and memory cards, are recommended. We can assure and guarantee that you will be stopping frequently along the trail to observe the grandeur of the trekking experience.
We strongly advise trekkers to prepare for the perilous journey ahead. Consistently working on your physical fitness and mental stamina will be of great help to trekkers.
After the trek, we strongly encourage trekkers to tag us on social media when they post any memories from the trip; this will not only prove invaluable to us with our work, but will also serve as a motivational example for all of our experts.
Why you should choose us
We're here to give you the greatest experience possible through the eyes of highly skilled and qualified specialists who have a passion for adventure sports. We are community members attempting to promote our favorite adventure sports while also supporting local businesses. We, at Himalayan Hikers, dedicate ourselves to providing you with unforgettable experiences.
Short itinerary of Nun Expedition
Note: – Our service will remain from Leh to Leh – for more details please check includes or excludes 
| | |
| --- | --- |
| Day 1 | Arrival Leh |
| Day 2  | Leh (Acclimatization day) |
| Day 3 | Leh to Kargil |
| Day 4 | Kargil to Tangul |
| Day 5 | Tangul to Base Camp  |
| Day 6 | Acclimatization |
| Day 7 | Base Camp to Camp1 |
| Day 8 | Acclimatization |
| Day 9 | Acclimatization |
| Day 10 | Camp 1 To Camp 2 |
| Day 11 | Acclimatization |
| Day12 | Acclimatization |
| Day 13 | Camp 2 To Summit Camp |
| Day 14 | Summit Camp – Summit |
| Day 15 | Reserve Day of Summit |
| Day 16 | Summit to Summit Camp |
| Day 17 | Summit Camp to Camp 2 |
| Day 18 | Camp 2 – Base Camp |
| Day 19 | Base  Camp to Tangol to Kargil |
| Day 20 | Kargil to Leh |
Key Points about Mt. Nun Expedition in Leh
– Level:  Difficult (so first-timers trekkers should avoid nun expedition)
– For this expedition, it is important to follow the Guideline and Rule of the IMF. Without this, it will not be an expedition working Himalayan hikers
– Proper conditioning & training of body required
– Group size minimum of 05 maximum of 10 people
– Need proper Expedition gear & clothing for sub-zero temperatures?
– Shoes are the single most important equipment
– High Altitude requires proper acclimatization
– Post monsoon or pre-monsoon is the best time. During rains the region is prone to landslides
– Phones don't work on the trek, we are provide to you Radio Walkie Talkie for Communication
– Beautiful landscape so carry good photo gear (I couldn't carry my best equipment)
– Travel light (my backpack was heavy at about 12 kg to 15 Kg )
– Keep an extra day in your itinerary for attempt to summit account for bad weather
– If you choose Good and local trekking company Himalayan Hikers than it is better for you because Himalayan Hikers is local company our mission is safe treks, growth of locals. Some groups come with us for the Expedition, like the N.C.C Group, Navi Force, Insian Army force, Etc
– Alcohol and smoking is not allowed in during the Expedition
IMPORTANT NOTE:
Every effort will be made to keep to the above itinerary, but as this is Adventure Travel in a remote mountain region, we cannot guarantee it. Weather conditions, road conditions, vehicle breakdowns, landslides, river crossings, the availability of Pony/Porter and the health of climbers can all contribute to changes. The Expedition Leader and our Escort will try to ensure that the trip runs according to plan, but an easy-going nature will be an asset!
Our kitchen staff and escort will give you the accompany till base camp
General Conditions:
The price is net and Per Person basis.
Upon confirmation of the booking we would require 50% of the total invoice and the balance amount can be paid 60 days prior to the date of arrival.
Class of travel on trains may change based on availability at the time of booking
All flight/train timings are based on current schedule and are strictly subject to change
Cancellation policy:
Cancellation Charges: Notice of cancellation must be made in writing in the name of 'Himalayan Hikers
For cancellation made 4 weeks prior to the scheduled departure, there will be a cancellation fee of 50% of the invoice. For cancellation made within 4 weeks of scheduled departure, there will be cancellation charge of 100% of the invoice.
In certain cases, the cancellation policy (including conditions applicable on the advance deposit made/required for holding the reservation) may differ & would be applicable as per the cancellation policy of that hotel / Service provider. This will be charged over & in addition to the cancellation policy.
 Unused Services & Refund               
No refund will be made for any unused services or other arrangements due to any changes in schedule made by passenger while traveling. However, in certain cases, the refund will be considered as per the policy of the carrier/ hotel/ tour company / or other suppliers used for providing services.
Refund request must be made within 2 weeks of the completion of the trip.
If there is any additional expenses due to bad weather or any other reason beyond the control of the tour operator on account of hotel stay, transportation, and meals etc. extra bill will be raised. Neither Himalayan Hikers. nor the participating suppliers/hotels will be responsible for the additional expenses.
Responsibility, Liability, Extra Cost, Prices and Brochure Accuracy – Changes and Errors
All the packages are sold under the business management of Himalayan Hikers and they are in no way to be considered as the principal or operator of the subject services. The right is reserved to cancel or alter any package as conditions require. Neither Himalayan hikers nor the participating suppliers/hotels will be responsible for the additional expenses due to loss, delay or damage caused by accident, illness, bad weather, strikes / riots, roadblock etc.