Promote "Trekking in India " Worldwide
Provide Safest Treks
Explore More
Promote Environment
Create Awareness
Help People
Promote "Trekking in India " Worldwide
India has the greatest share of the Himalayas which makes it a paradise for trekking because the plethora of different treks is present in Indian Himalayas. Some of the highest peaks of the World are present here which makes India a perfect trekking destination.
It is a culturally diverse country and highly rich in traditions so no other place can be better to explore cultural diversity.
People from all corners of the World join us on different treks in Indian Himalayas, the pleasing and serene environment of this place forces the mind and heart to visit again, if you start trekking you would surely come again and again.
At the present time, we are promoting "Trekking in India" through different mediums and we are successful in doing this. The rates are increasing and people are taking more interest and we promise to promote it as much as we can
Provide Safest Treks
Safety is the main concern of people when it comes to trekking in the mountains and it should be because taking risks which can be reduced is foolishness. It is important to go with the people who are providing safety.
For us, your safety is a priority and we do everything to make your treks safe. We provide high-quality equipment, professional trekking guides and first aids on all treks. We know it is very difficult to choose the right company amongst the thousands so if you trust and go with us then your safety becomes our priority.
It is important for us to make every trek safe and we work on it in every possible way. Our promise is to provide the safest treks to the people who join us.
Explore More
We have 500 Treks and 12 Expeditions open in Indian Himalayas. All of them are explored and studied carefully by the expert team of "Himalayan Hikers ". There are also other adventure activities which are conducted by the team.
People want variety and suitable treks for them, everybody is having a different reason for exploring. To become the right organisation of Trekking we should fit in the solution to their questions.
We are going to explore more Treks in the upcoming time. Some team members are for special fieldwork who explore new places.
Promote Environment
from the time we started, we have opted eco-friendly trekking because the protection of the environment and maintaining the balance of nature is our responsibility. Some people are polluting and harming the environment knowingly or unknowingly which has an adverse effect on it.
We organize "Sustainable Environment Camps" to preserve and support the environment. We spread information about conserving the natural resources and environment-friendly techniques of management of waste.
We promote the environment in a manner which reduces the harmful activities and fosters the love for Nature.
Create Awareness
Awareness camps are arranged to tell people about the techniques and about being safe during natural calamities. In these camps, the villagers are told about the importance of natural resources and the ways of preserving them.
Environment-friendly techniques are told like segregation of waste and proper disposal of it so that they do not harm it unknowingly. The villagers are people who should be totally aware so that they can maintain the balance of places.
People are made aware of Health problems and Educational activities to solve these problems camps are also organized. Our aim is to increase awareness of the issues and encourage people.
Help People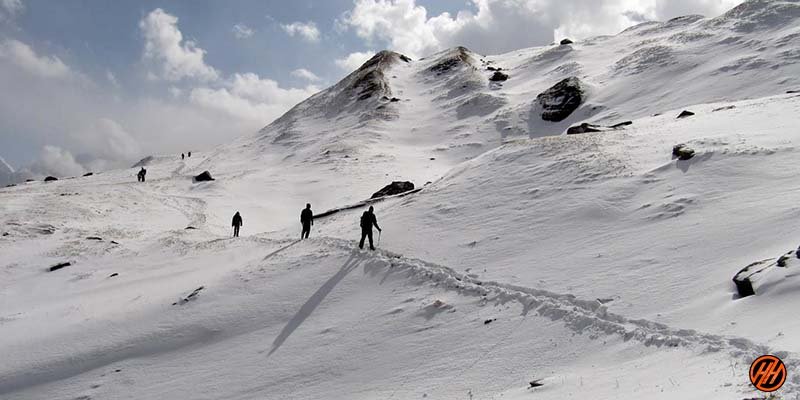 The guides are needed to traverse the hard terrain of mountains and no one else can be better than local guides because they are aware of the trails and have gone through them many times. But we work professionally so we offer courses from (NIM) and when they get certified in Mountaineering Courses (Basic or Advance) then we hire them as our guides.
The things which are basically required we distribute them. The weather is harsh and cold in the mountains so the people who live there it is hard for them to bear it, blankets, kettles, stoves etc. are distributed among the villagers. We distribute different items to the people in need.
We motivate others by being the change, so be the change and start these activities eventually others will follow you.