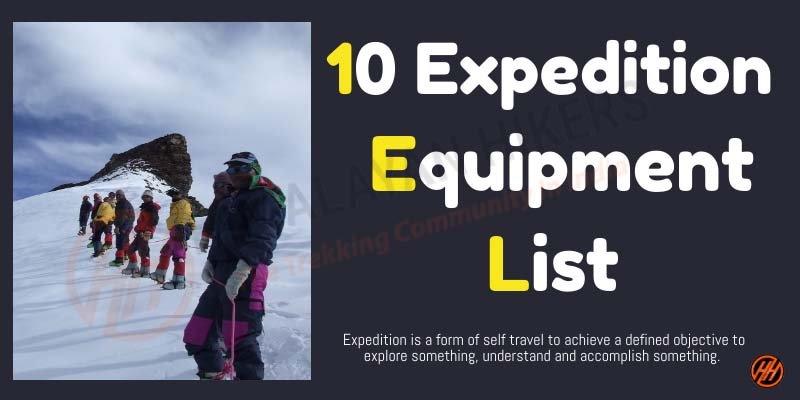 Expedition Equipment List
Expedition Equipment List 
Expedition Equipment You have To Add
1.Bodywear – Waterproof shell pants – Waterproof shell jackets, Expedition down jackets and pants, Insulated Jacket, Softshell climbing pants, Trekking shirt, 3 base layer top and Leggings, 4 – 5 underwear, Trekking, and Casual clothes
2.Headwear – Warm cap, Sun hat, Balaclava/Scarf, Bandana
3.Face Wear – 2 Sunglasses, Ski Goggles
4.Hand Wear – Fleece and Liner gloves 2 pair each, Mountaineering gloves, Expedition mittens
5.Foot Wear – 5 pair socks – Sturdy Expedition shoes – Lightweight sandals/shoes – Gaiters
6.Bags – Mountaineering backpack (70 – 90 liters), Duffle bag (20 – 30 liters)
7.Camping Gear – High-quality tents, Sleeping bags, Sleeping mat
8.Accessories – Water bottles with cover – Pocket Knife – Whistle – Personal toiletries – Personal medical kit – Sunscreen (50+ SPF) – Lip balm – Towel – Extra battery backups
9. Climbing Equipment – Crampons, Ice Axe, Harness, Climbing Helmet, Rescue Ropes, Locking and Non-Locking Carabiners (3 each), Mechanical ascenders, Prusik cord 10.Documents – Identity Proof and Copies.
Also read about  – Things To Carry On A Trek
INFORMATION GUIDE for Expedition Equipment List
The provided information is the guide to assist you in securing the necessary clothing and equipment for expeditions. So read thoroughly and get yourself prepared for your expedition.
Always select clothes and equipment which are light weighted and less bulky while still ensuring adequate functionality and warmth.
1.Body Wear : 1st Expedition Equipment List
Waterproof shell pants
Choose right shell pants, which allows your legs to move easily in the chilly cold weather. These should have full length zips on each leg to enable you to take them off and put them on while wearing your shoes and crampons.
Waterproof shell jackets
It should have water resistant zip closures and the jacket should not be too long. You can keep the sanitizer or sunscreen in the chest zips and underarm pit zips allow good ventilation and cooling.
Expedition down jackets and pants
At base camp and on lower camps, you will wear down clothing but not during your climb. Above, you will wear down clothing while climbing and rest breaks; depends on the weather conditions. Use separate down jacket and pant, wear them when it's cold and zip them off when you warm up. It is very useful on summit day but it adds weight so many trekkers choose to carry their shell garments. These should have full length zips on each leg to enable you to take them off and put them on while wearing your shoes and crampons. And, it should have a proper functional opening system for attending calls of nature.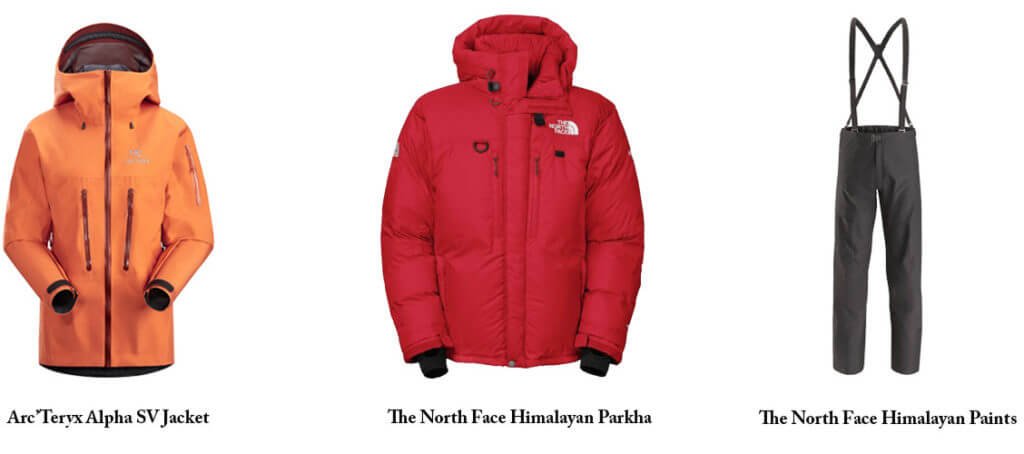 Insulated jackets
A synthetic insulated jacket or a thick fleece jacket keeps you warm. You can store some important items in the zip up pockets.
Softshell climbing pants
It is for lower climbing and it should be stretchable and dry fast.
Trekking shirt
It is a full sleeved and lightweight cotton shirt, wore when it is hot because it prevent sunburn.
3 base layer top and leggings
Bring light colored one expedition weight thermal and one light weight thermal. Shirts should be long sleeved and high neck with a zip would be best because it allows ventilation.
4 – 5 underwear
Bring polyester or merino underwear because they dry quickly when washed.
Also Read about – What we do during an emergency breakout in the Trekking?
Trekking and Casual clothes
Bring full light colored clothes suitable for trekking. Also keep casual clothes like lightweight shirts shorts or trousers to wear while travelling.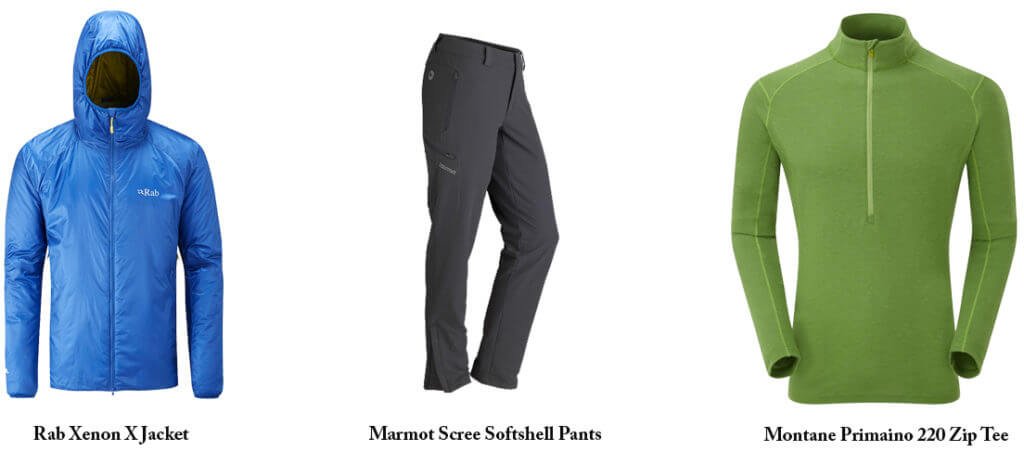 2.Head Wear : 2nd Expedition Equipment List
Warm cap
It can be windstopper, woolen, fleece or merino. It should cover the ears and be tight enough to not fly off in strong winds.
Sun hat
It is to protect you from the sun.
Balaclava/Scarf
Bring a balaclava or scarf for proper coverage. It can be Windstopper, woolen or fleece fabric.
Bandana
It is to protect the back of the neck from the sun and is used for covering the face.

3.Face Wear : 3rd Expedition Equipment List
2 Sunglasses
The glacier style glasses with side protection are preferred. The lens should be dark to protect against snow because it reflects 85% solar radiation. (Use polarized lenses with anti-fog coating).
Ski Goggles
Use dark polarized lens goggles and if you are using it with oxygen then we recommend a double lens.

4.Hand Wear : 4th Expedition Equipment List
Fleece and Liner gloves 2 pair each
Fleece gloves are to protect against cold and they are also good for protecting against sunburn. Liner gloves are thin and light-weighted, they are worn while climbing, they also protect against sunburn and cold injuries.
Mountaineering gloves
Buy those mountaineering gloves which have removable liners. They are not as warm as expedition mittens but are dexterous which helps when you deal with ropes.
Expedition mittens
Make sure you buy the mittens with loops that easily slides over your liner and fleece gloves.

5.Foot Wear : 5th Expedition Equipment List
5 pair socks
You need at least 5 pairs of socks, wear some on the lower climbing days and on summit day you will be needing clean and dry pair of socks. Some people wear just one pair inside and some wear thicker over the thinner.
Sturdy Expedition shoes
It should be strong and comfortable with good ankle support. High altitude shoes are warm and water-resistant, so take the one which comfortably fits you.
Lightweight sandals/shoes
Keep a pair of comfortable lightweight sandals or shoes with good sole to wear at campsites and while your travel.
Gaiters
It covers the top of shoes extending to the calf. It keeps snow out of the shoes.
6.Bags : 6th Expedition Equipment List
Mountaineering backpack (70-90 liters)
Keep a pair of comfortable lightweight sandals or shoes with good sole to wear at campsites and while your travel. Carry the items in this bag which are needed during the trek.
Duffle bag (20 – 30 liters)
Keep a pair of comfortable lightweight sandals or shoes with good sole to wear at campsites and while your travel. Carry other stuff in this bag, which is needed on the trek. Like glasses, gloves, toiletries, camera, etc.

7. Camping Gear
High-quality tents
The expedition tents should be of high quality which does not fly off with the strong winds, they are water-resistant and keeps the inner side warm.
Sleeping bags
They should be long and light-weighted with enough space for you to fit in with many layers.
Sleeping mat
A sleeping mat should be of full length.

8.Accessories
2 Headlamps
Headlamps are way better than hand torches because keep the hands free. Carry extra batteries including lithium batteries because they are unaffected by the cold and are best for summit day.
2 Water bottles with cover
Bring bottles with heat resistant capacity, a camelback type system is easy to carry and is useful but in the chilly cold mornings the water freezes. So, carry a 500 ml small bottle inside your jacket because it prevents water from freezing. – Do not forget to bring a water bottle cover because it stops water from freezing to some extent.
Pocket Knife
Carry a repair kit for equipment. Swiss Army Knife, Leatherman tool or equivalent.
Whistle
It is important because in case of an emergency you can blow it and call your teammates.
Personal toiletries
Bring your own items of personal use which must include a toothbrush, moisturizer, shampoo, razor, sanitizer, deodorant, soap, toilet paper, etc. Make sure the liquid containers do not break or leak.
Sunscreen (50+ SPF)
The SPF 50+ is very effective at high altitudes.
Lip balm
Small lip balms are useful which can be easily carried in pockets.
Towel
Bring a Towel for personal hygiene.
Extra battery backups
Keep extra batteries for your camera, mobile phone and torches, Lithium batteries are preferred over rechargeable batteries because they are unaffected by the cold.
9.Climbing Equipment
Crampons
Clip-on harness with a toe 'harness' is best but they should be properly fitted.
Ice Axe
Lightweight ice axes are preferred and its length should be chosen according to your height.
Harness
A lightweight climbing harness is important, it should have adjustable leg and waist loops.
Climbing Helmet
It protects the head in the event of rock and ice falling. Carry a helmet which fits over a warm cap.
Rescue Ropes
Bring enough strong ropes to cross difficult sections of your expedition safely.
Locking and Non Locking Carabiners (3 each)
Carry carabiners with simple twist locks and other non-locking lightweight carabiners.
Mechanical ascenders
For climbing fixed ropes, bring mechanical ascenders.
Prusik cord
Bring 6 mm, 3.2 m in length prusik cord for crevasse rescue.

Note We have a team of highly qualified and skilled leaders who have scaled high altitude Himalayan peaks. "Himalayan Hikers" provides special expedition packages and till now many avid trekkers have completed their expedition successfully with the team.
Written by – Tulika Negi