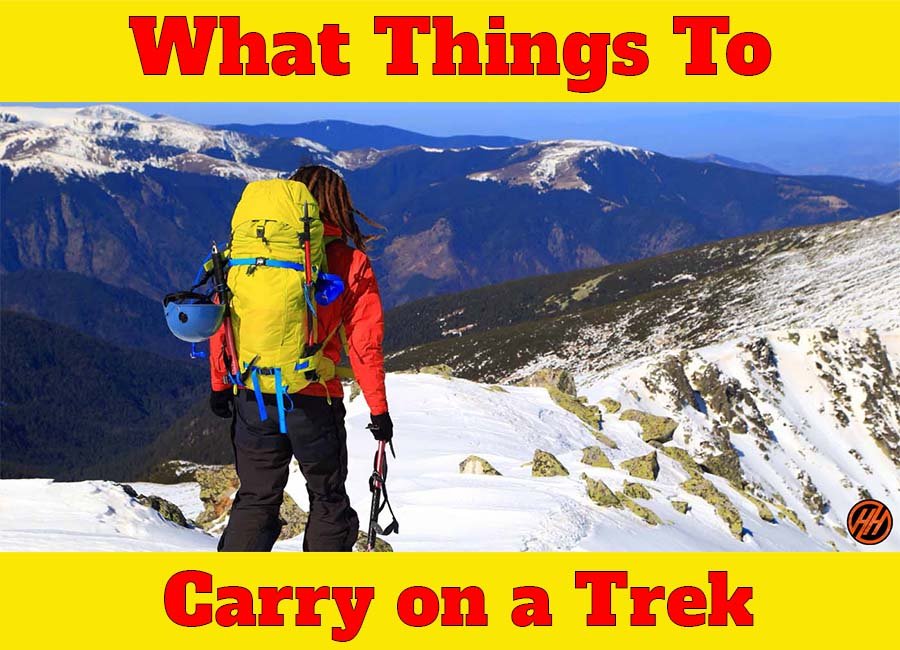 Things To Carry On A Trek
Things to Carry on a Trek
Things to carry on a Trek is most important before going on a Trek. Trekking is the topmost adventure activity that takes one close to nature's exquisiteness. It makes you dive deep into the pulchritude amid the serenity. India has tremendously beautiful regions that offer numerous trekking opportunities.
For a successful trek, before anything; you need to prepare! It is very important to be aware of 'What Things to Bring on a Trek'.
Also read about – Expedition Equipment List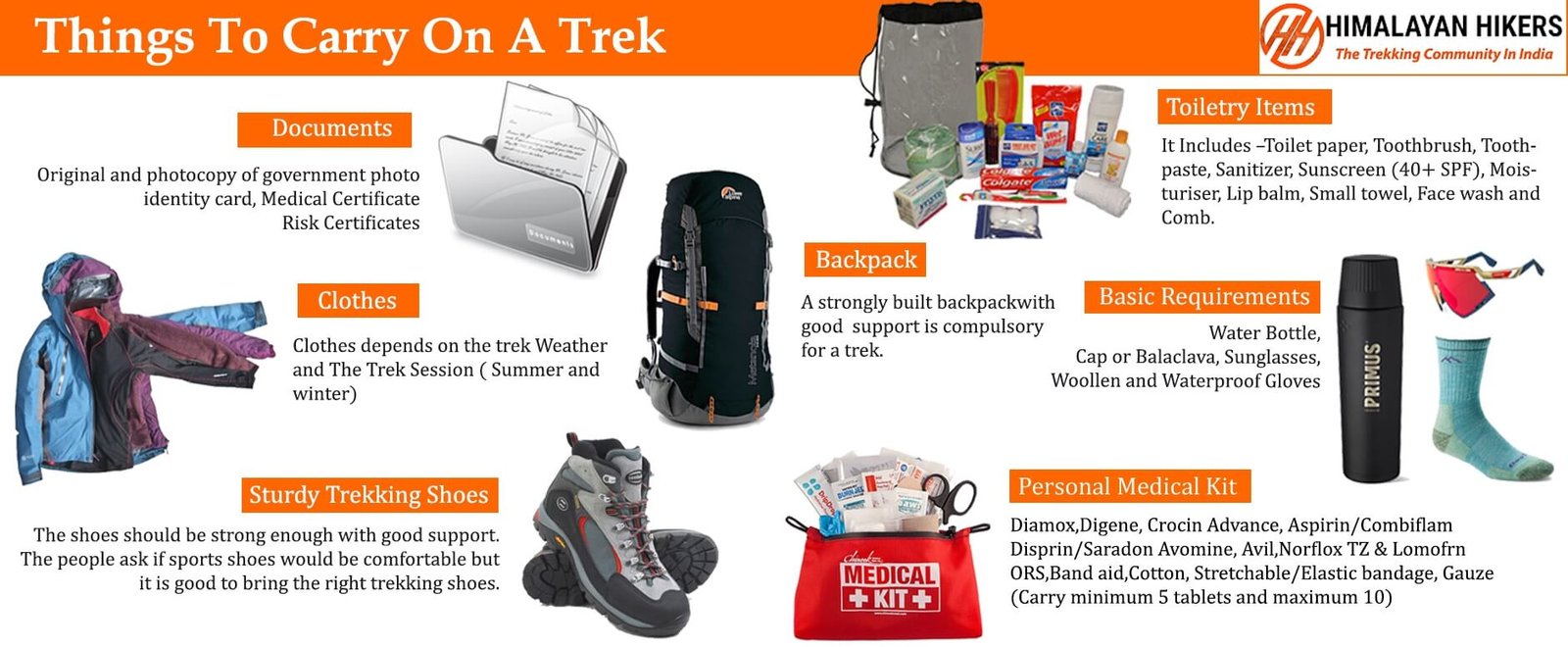 Here is a list of Things to Carry on a Trek
Follow this and make your hikes less worrisome.
Documents: 1st Things to Carry on a Trek
(It is mandatory to carry these documents)
Original and photocopy of government photo identity card- (Aadhar Card, Driving License, Voters ID, etc.)
Medical Certificate (First part should be filled by the Doctor and Second part by the Trekker)
Risk Certificates
Essentials on a Trek: 2nd Things to Carry on a Trek
Choose your Backpack and Shoes wisely
Backpack (50 to 60 liters)
A strongly built backpack with good support is compulsory for a trek. In the case of Rainfall, the bag needs to be protected so you will need Rain cover.
A good backpack is expensive so you can also rent it from Himalayan Hikers
Sturdy Trekking Shoes
The shoes should be strong enough with good support. The people ask if sports shoes would be comfortable but it is good to bring the right trekking shoes.
Clothes
 This depends on the season in which you are trekking (Summers or Winters).
Trek Pants :
The jeans are never suitable for a trek so you need at least 2-3 trek pants for treks like Kedarkantha, Dayara Bugyal, Rupin Supin, etc. Carry more for longer treks.
Jackets
Jackets are very important to carry on a trek it protects you against the chilly weather. So carry 2 jackets on a week-long trek.
Layers Of Warm Clothing
Including Jacket, you should carry warm woolen layers or fleece. Carry more layers during the winter season and less during summer.
Thermals
The Temperature decreases at night so you might need Thermals for the night.
T-shirts
The sunburns are very common at high altitudes so carry full-sleeved light t-shirts that cover the neck and arms. But only bring those t-shirts which dry fast.
Poncho
They are needed if you are trekking on a Rainy day it will keep you dry.
Basic Requirements: 3rd Things to Carry on a Trek
Water Bottle
Cap or Balaclava
Sunglasses
Woolen and Waterproof Gloves
Socks (Woollen and Regular)
Torch
Hiking pole
Toiletry Items the 4th Things to Carry on a Trek
It Includes :
Toilet paper, Toothbrush, Toothpaste, Sanitizer, Sunscreen (40+ SPF), Moisturiser, Lip balm, Small towel, Face wash, and Comb.
(Wet wipes are harmful to the environment as they are not biodegradable so do not carry them.)
(If you are carrying sanitary napkins bring them back with you in a small bag and do not dispose of them in mountains.)
Personal Medical Kit: 5th Things to Carry on a Trek
(Carry minimum 5 tablets and maximum 10)
Diamox – (Prevents altitude sickness)
Digene – (It cures discomfort in stomach, acidity)
Crocin Advance – (Cures fever and headache)
Aspirin/Combiflam – (Pain reliever)
Disprin – (Cures headache)
Avomine – (Prevents motion sickness)
Avil – (It treat allergies)
Norflox TZ & Lomofen – (Prevents Diarrhoea)
Ranitidine – (Reduces the amount of acid in the stomach)
Volini/Moov spray – (For sprains)
Betadine/Savlon – (Antiseptic cream)
ORS
Band-aid
Cotton
Stretchable/Elastic bandage
Gauze
Note: Use medicines only when prescribed by the doctor. In case you face any problem during your trek, discuss and take advice from the professional guide.
We provide all these following in the Trek Package
High-quality tents
Sleeping Bags
Pillow
Liner
Dining Table
Dining Chairs
Crampons
Gaiters
First Aid Kit
Oxygen Cylinders
Toilet Tents
Liner
Porters
Helper
Mules
Kitchen team
Radio Walkie Talkie for Communication
Good Experience Trek Leader guide and Technical guide
Mattress
All meals: breakfast, packed lunch, tea, coffee, snacks, soup, and dinner
Written by – Tulika Negi