THE RUPIN SUPIN HIMALAYAN TREK
OFFBEAT HIMALAYAN TREK IN THE "ABODE OF GODS" – RUPIN SUPIN TREK
Rupin Supin Trek Nestled in the grandeur of the Himalayas, Uttarakhand is known as "Dev Bhoomi" – The Abode of the Gods! If Lord Shiva had to make a real estate investment and live in a place, I believe he will surely choose Uttarakhand.
In addition, he has huge devotees and admirers in this state. Moreover, Uttarakhand has everything a nature lover looks for– forests, mountains, lakes, and rivers.
Wide-open clearings, Meadows, Flora and Fauna. Therefore, the hilly terrain of Uttarakhand provides plenty of opportunities for mountaineering, trekking, and rock climbing.
A trek in this state had been on my bucket list, so when I had the opportunity this week, I decided to grab it. I chose the Rupin Supin Trek.
Certainly, a trek off the beaten track, where there are fewer or no people. A trek that falls into the moderate category. The trek takes us to the Uttarkashi district of Uttarakhand.
A four to five days trek through one of the most beautiful and pristine spots of India.
While Himachal and Jammu Kashmir get the badges for being Trekkers paradise, Uttarakhand is Trek Heaven.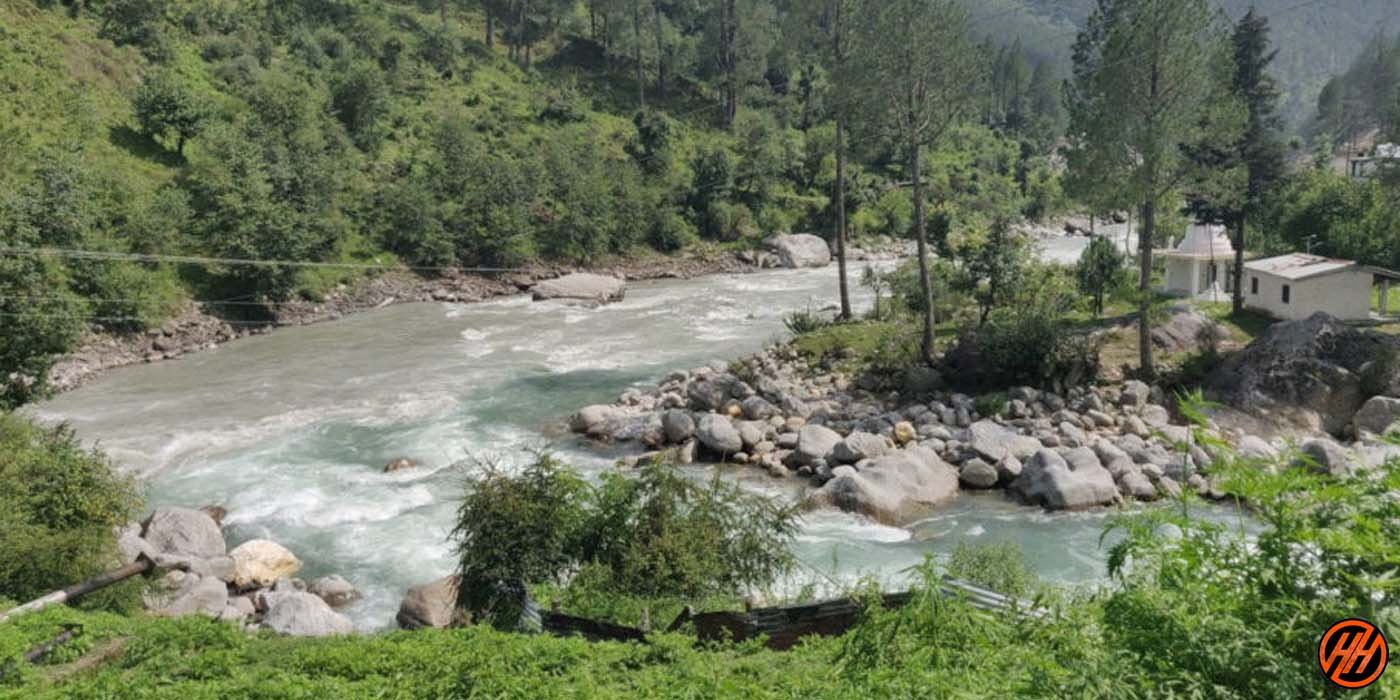 Picture Courtesy: Srikanth Natarajan
So, let's get into the details of Rupin Supin Trek
Day 1
Our journey began in Dehradun. We started early by 6 am and drove to Netwar for almost 6 hours.
The drive to Netwar is on beautiful mountain roads and further, it gains altitude quickly. On our way up we passed through three dynamic rivers. Tons, Rupin and Supin.
The landscape is beautiful with Pine, Birch, and Deodar trees with Apple and Pear trees line the road, laden with fruit.
Bhitri village – The first village on Rupin Supin Trek
Our drive is a laborious one and soon we reach the Bhitri village. 1554 m above mean sea level. A small but beautiful hamlet with wooden homes on stilts, a temple, and a very active cricket community.
We spent time watching a few boys play and they are no different from their city counterparts when it comes to the knowledge of the game.
They know the rules and mimic their idols.
Picture Courtesy: Srikanth Natarajan
Moreover, the hamlet depends on the wheat crop for its livelihood. It's an agrarian and cattle rearing village with warm and beautiful people.
Predominantly Hindu from the Garhwali area, this indigenous community live in these harsh conditions with almost no help from the Government. Poor sanitation facilities and lack of healthcare are the main issues.
But, the curious women folk opened to me over a conversation and confided at access and affordability to over the counter medicines and sanitary napkins were one of their many challenges.
That night hubby and I were treated to a warm and healthy meal of rotis made from the local grain and rice with dal, again from indigenous but healthy variety of grain.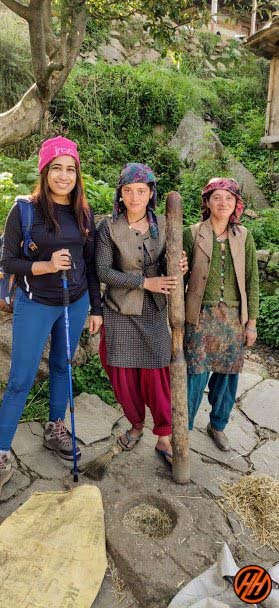 Picture Courtesy:
Srikanth Natarajan
Day 2 of Rupin Supin Trek
Ascent to Badang
This morning, we donned our trek boots, and the rubber met the rocks and grass. Our trek began at 8:15 before which the trek coordinator introduced Sanju our guide and Santu our cook; along with the mule man, during the trek, this trio was to take care of us.
The mules were to carry the rations and the tents. We set off walking amidst apple and pear trees and within half an hour, our city fed bodies were protesting.
High altitude breathlessness over steep climbs was the order of the day.
I quickly realized that the best way to do this was to walk at a modest pace that ensures the heart rate is consistently managed by spending a few seconds on your breath cycle every 100 meters up.
On the other hand, my better half wanted to race to the top with the momentum he had built into his strides. In no time, after huffing and puffing constantly, he realized that he had no interest to beat the clock and things became better as we progressed.
Again, the stunning landscape and the fresh mountain air rejuvenated our body and soul. Lunch was on the way, prepacked, Roti-sabzi, simple yet tasty.
Further, we crossed natural and man-made bridges. Meadows and valley, soaking in the greenery and the lush floral beauty. We did a total of 8 km in about 4.5 hours and reached Badang Thach.
Badang Thach
This is 2000 m above mean sea level now. Its 1 pm and our camp have been set up. A large tent for the cook and the guide to cook and stay.
A smaller insulated tent for us. Our vista includes beautiful wild horses grazing in the meadows, a couple of dogs (looks like a mix of Tibetan mastiff with the local mountain dogs) and some cows.
Thus, the smells are captivating: horse dung, vegetation, wood smoke, and petrichor.
Lives of the Nomadic
The simple lives of the nomadic mountain dwellers are evident when we had our first visitor. The patriarch of the local Gujjar family paid us a visit as we had camped close to their wooden cabin.
The Gujjars, not to be mistaken for the community from Haryana, are traditional shepherds. Their stock includes horses, mules, cattle, sheep, and goats.
Muslims by religion but Brahmanical in practice. They are vegetarians! Since they depend on the cow (Pashu as he said) for their livelihood, they do not consume any form of meat.
The old patriarch explains all this while we sit in their makeshift home, around a log of fire.
Originally from Sarangpur in Uttar Pradesh, they travel up the mountains in a nomadic way of life.
They spend 6 summer months allowing their livestock to graze off the land and then return to the plains to sell their stock.
The cycle continues, generation after generation. His two sons are with him along with his wife.
We exchange food. Dal is given and in return, they give us fresh curd. A wood smoked yogurt can't get more organic than this!
Picture Courtesy:
Srikanth Natarajan
Day 3
After a restful night, Day 3 begins with determination. This is the big day. We are expected to do 12 km. The climb to Vijay Top, at close to 4000 mts is the highlight.
The landscape is pretty much the same with streams, trees, and meadows. Flowers of every color imaginable dot the landscape. We get to see some towering peaks in the distance.
Clouds and mist roll in and out and the sun remains hidden behind the dark clouds. We reach Vijay Top and the stunning vista makes it all worth it. A total of 3.5 hours has been spent walking. Almost meditative.
Our able guide was trying to avoid the trek to Vijay Top as there was a constant drizzle but after a little persuasion, he obliged. Perhaps he did not want us to get drenched and fairly so.
We came down from Vijay Top and headed to our camp at Pachi Thach at 3000 m above mean sea level.
While scaling Vijay Top felt like a Crown on my head, the arduous walk to our camp which included multiple ascends and descends made me swear and curse my judgment. The adrenaline surge had plummeted and now it was a matter of reaching our campsite.
It took us another 3 hours and as our campsite was within the vicinity, the burst of hailstorm stunned us with the most perfectly formed balls of ice. Our tent took the beating.
It rained for the rest of the evening.
We missed the clear sky and the stars that we so badly wanted to see. After a quick dinner in between the rains we rested out the night.

Picture Courtesy: Srikanth Natarajan
Picture Courtesy:
Srikanth Natarajan
Day 4
It's a little over 9 in the morning. Our guide had decided, we could leave leisurely as it was a matter of just 7 km descent. It was a rainy morning that forced out our waterproof jackets and hood.
We set off from Pachi Thach to Bada Thach. I did expect the descent to be a bit challenging as our trip coordinator had forewarned us about it. But one is never really prepared for the descent.
While it was the knees that took a solid hammering for my better half, it was my toes that took a bad beating.
The Challenging Descend
A treacherous descent that began and ended with crevices. The forest is filled with decomposing leaves and compost. Incredible trees lined with moss and lichen, mushroom, fungi, and colorful flowers.
Bird calls and insect chirp as we make our way through this dense forest. The landscape soon changes to rocky trails. Fatigue hits you like a hammer.
Toes crunch with every step and at some point, I felt my toes took over my mind. Who said it is really about mind over matter now?
Hmmm….?!!? To add to my toe woes, my guide became very reflective and sat in a meditative state. He agreed with me on one point that this day was the hardest for him too to a degree where he was supremely bored with the duration of my descent.
That pumped my sore toes with some fuel to speed up my descent.
Picture Courtesy: Srikanth Natarajan
Towards the end, I was dying to take off my hiking shoes, so my better half raced the last 1 km to reach our camp by 1:30. The idea was that he could bring me my slippers to tend to my aching toes.
Now that the campsite was within sight I managed to trudge along. Again, I passed through a small hamlet. We arrive at the compound of a Govt school. Rains pour again heavily.
More tent time! More time to reflect on our trek and the experiences. We talk. It's the ultimate bonding time.
The carrot dangling at the end of our trek was to go be part of the local media which was to begin towards evening.
However, in the evening turns out to be a damp squib, thanks to the incessant rain. We stay in and caught up on more talk time.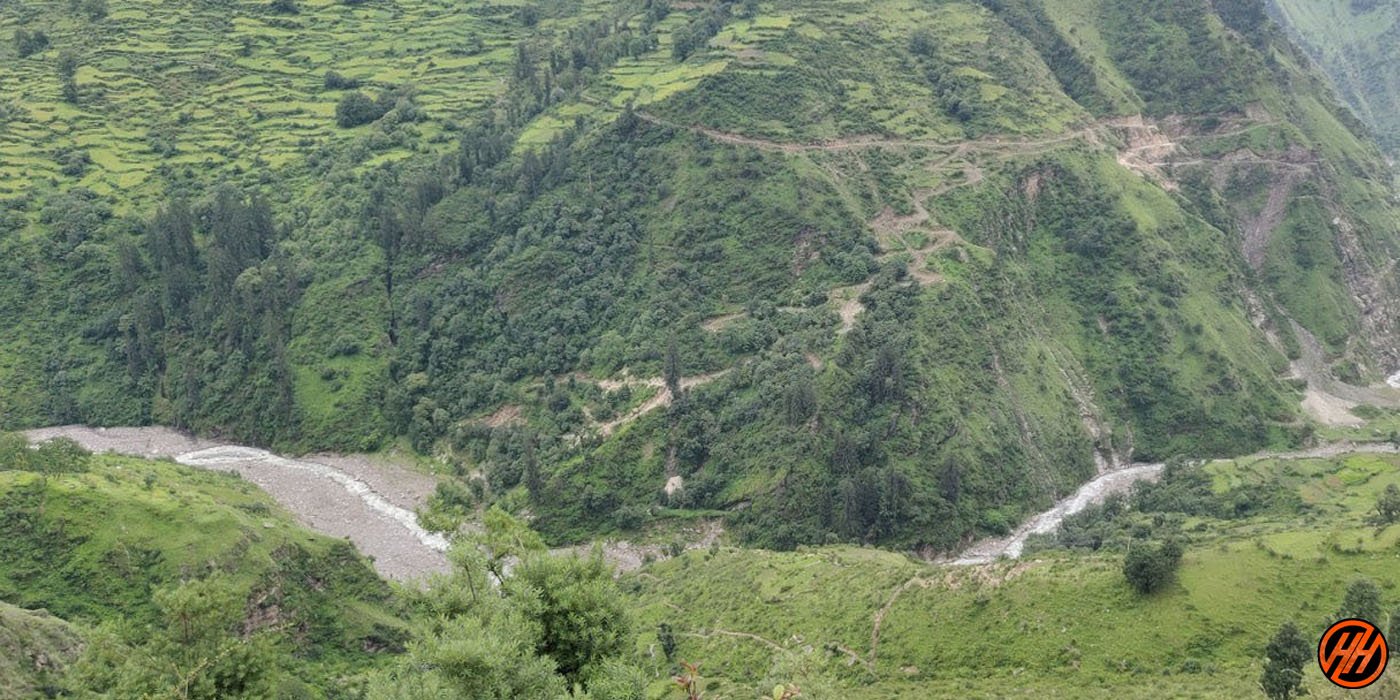 Picture Courtesy: Srikanth Natarajan
Day 5
We began early on day 5. It was our last 9 km trek down to the base camp at Sankri village.
Heavy rains had made the pathways slushy and walking down was difficult on this treacherous path. We did 3 very difficult kilometers to cover the plan but beyond a point it was impossible.
JCB's and road rollers were being used to clear debris and clear the path. So, we decided to call the trek off midway and flagged one of the Bolero that transport people.
End of the Descent
Soon the rock and roll ride down the stretch of 30 kilometers had us swaying and praying; The Tons river rushing in fury was on one side, while The Mules make it look so easy!
The descent ended with the Supin River insight. Every now and then people would hop in and out of the Bolero. Farmers carrying produce, students on the way to their school or men carrying fodder for their livestock were the passengers.
Every inch was used and taken, and the trip reminded me of the Fevicol ad: a bunch of passengers atop a truck/bus all glued together, with no one falling off.
The biradari culture of the mountain people was evident as no one was refused a ride irrespective of the difficulties. It was all "Give and take" in good spirits. Today we make a big deal of carpooling in the city but in the mountains, it's just another day.
Sankri Village arrived by noon and with our creaking bones, we were glad to get off the Bolero, only to hop on to another car to take us to Dehradun.
Our digital detox, after 5 days, soon came to an end when we got signal and data. 5 days of our necks being straight were soon replaced by our necks buried into our mobiles.
The memorable trip led us to discuss our next trek. So much to see and cover with so little time!
Heroes of the Trip
Our cook and guide were the true heroes of the trip, along with the Mule Man. Efficiency in what they did, the speed in which they performed their tasks and the care they delivered were unparalleled.
Almost Zen-like in their approach to the tasks and they were truly meditative in everything they did. So much to learn from them.
My Five Takeaways
Watch every step: Just like in life, every step needs to be measured and taken; one false move and you could be tumbling down the hill!
Be in the moment: while watching out for the next step, don't forget to look around and enjoy the views, the sights and let the senses enjoy what nature has to offer.
Patience is a virtue: Optimize your moment and don't let the momentum carry you forward however tempting it may be.
BREATHE: Watch your breath cycle. Be aware of your breathing as this helps conserve energy and makes it a pleasure experience rather than a palpitating one and avoid Altitude Sickness
Be Meditative: Economize your movements; when Physical movement, mental balance, and breathing come together, it puts you in a meditative zone.
Confession:
I had a million thoughts about Rupin Supin trek before it started. Was I capable? Will I have injuries? Can I complete this? All that goes away when you are there as you only focus on the next step! The present matters.
FACT BOX
On Rupin Supin trek, Total Kilometers Trekked: 32 kilometers, Over 100K steps
Best time to do Rupin Supin trek: Not in JULY! Plan for April-May or Sept or Oct when it has no rains or snow
Hiking Shoes is a must, light jackets, and tee-shirts; try not to stuff your backpack;
Toilet in a tent: Be open-minded and let go naturally!
Thanks to Mrs. Maha and Mr. Srikanth Natarajan for sharing their wonderful experience of Rupin Supin and Vijay Top trek through this amusing article.