Lord Curzon Explored "Kuari Pass Trek"
Kuari Pass Trek was explored by Lord Curzon when the British ruled India. It is a perfect Trek for Beginners which lies in the Garhwal Himalayas at an altitude of 4,264 meters.
So, if you are a beginner and thinking to start in the Himalayas then Kuari Pass can be the first trek of your Himalayan journey. And, it is best for nature lovers because of its untouched surroundings, scenic vistas and views of lofty peaks.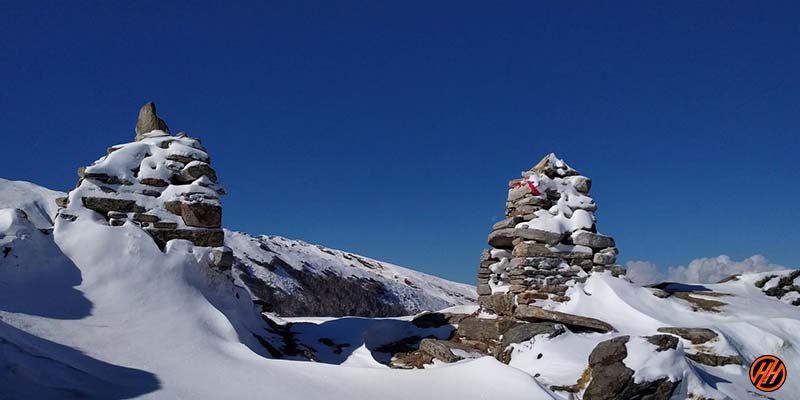 Why Kuari Pass Trek?
Firstly, Kuari Pass trek has perfect old forests of Rhododendrons and Oaks. And, the trail snaking its way through the dense forests is spectacular. On the way, come across mesmerizing clearings and lavish meadows and witness changing landscapes.
Secondly, this trek has perfect idyllic campsites like Chitrakatha and Khullara. One amidst the forest and the other with splendid view of Mt. Dronagiri in the backdrop.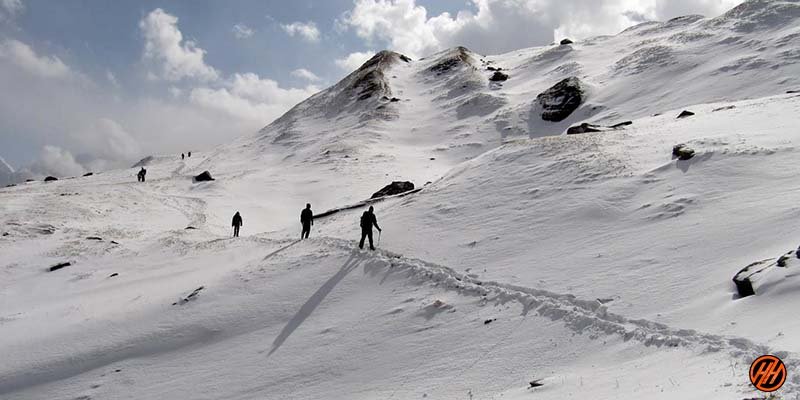 About Base camp Joshimath in Kuari Pass Trek
It is a picturesque town in Chamoli at an altitude of 1875 m nestled amid high Himalayan peaks. It is the basecamp of many Himalayan treks and the gateway to famous pilgrim sites like Badrinath.
There is spirituality in the air because of the presence of ancient temples. It is home to one of the four "Math" "Atharva Veda" by Adi Shankar Acharya. Joshimath has tranquil charm away from the cacophony of cities.
The gushing rivers and silent streams with the cover of verdant green and the pious ancient temples in the area will surely lure you to come here again and again.
Overwhelming sight of the Himalayas in Kuari Pass Trek
Get exotic mountain views from the very first day of the trek. Go higher and get welcomed by the great view of gigantic peaks which will accompany you all along the way.
Kuari pass top is known for the clear and overwhelming sight of the Himalayas because close and imposing views are the real attraction of this trek.
Therefore, the peaks visible from the summit are – Trishul, Chaukhamba, and Kamet, Nanda Devi peaks, Nanda Ghunti, Neelkanth, Dronagiri, Changbang, Mana, Mukut Parbat, Rishi pahad and others.
During the trek, pass through remote villages of the Himalayas and dense forests. Mainly of Oaks and Deodar. Moreover, spot Himalayan animals and rare species of birds on the way. And, in this region the Rhododendron (Burans) trees with beautiful crimson flowers are found in abundance.
In addition to the beauty of Kuari Pass trek, the meadows present here are lavish and walking on their velvety grass is a great pleasure!
Further, traverse Vinayak Pass and head to Kuari Top, it is the highest point of this trek. From here, Nanda Devi Massif looks beautiful among all other peaks and becomes the highlight.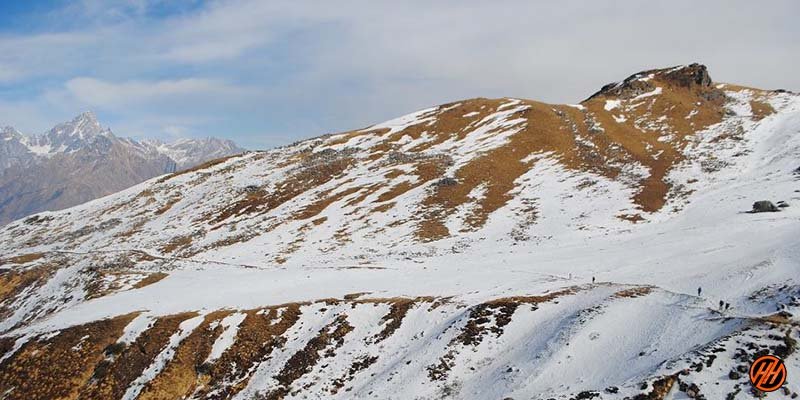 Why to chosse Kuari Pass Trek?
Before heading towards the itinerary, it is really essential to perceive the reason behind choosing Kuari pass trek.
See firstly, the trekking distance is a total of by taxi 625 Km and on foot 33 km which is to be covered into 6 days. .
Kuari pass is a best Uttarakhand Himalayas trek this is best trek for family, Students, Beginners Altitudes is 12516 feet
Need proper gear & clothing for sub-zero temperature winter?
You got to see so many heavenly bodies at one place like the panoramic view of the Himalayan ranges, meadows, one of the beautiful Trishul, Chaukhamba, and Kamet, Nanda Devi peaks, Nanda Ghunti, Neelkanth, Dronagiri, Changbang, Mana, Mukut Parbat, Rishi pahad and others. , pine forests, different variety of flora and fauna surpassing through bona fide Garhwali heritage and culture.
Do spare time in Interaction with locals, and you will get to know about some of the ancient tales of Indian mythology. And our Garhwali Cultures
And, in winter / summers, the Kuari pass trek turns totally different and amusing because of meadows, wildflowers and woods blooming in different colors.
Beautiful landscapes so carry proper photo gear & Extra battery backup.
The backpack should not exceed 10 to 12 kg only
Altitude we are going to cover in Kuari Pass Trek
Dehradun (1920 Meters)
Joshimath (1875 Meters)
Dhak – 6956 feet
Gulling camp – 9832 feet
Khullara camp – 11,102 feet
Kuari pass Summit – 12516 Feet
Auli – 8625 feet
Key Points of Kuari pass trek
Duration: –   5 Nights 6 Days
Base camp: – Joshimath
Summer Temperature: – Day (5°C to 15°C)   Night (2° C to 8° C)
Winter Temperature: – Day (-2°C to -5° C) Night (-5°C to -10°C)
Kuari pass Altitude: – 4264 Meters / 12516 Feet
Best Time: – All year
Trek Level: – Moderate
Trek distance: – On foot 33 Km – By taxi 544 km
Group Size: – 20 people
Short Itinerary ofKuari pass Trek –
Day 1– Drive from Dehradun to Joshimath Altitude – Joshimath by taxi (256 Km) (10/11 Hours) (1,875 m/ 6,152 feet)
Day 2– Drive from Joshimath to Dhak by taxi (12 km) same day trek to Gulling (06 km) (4/5 Hours) (Altitude –9,832 feet
Day 3– Trek from Gulling to Tail camp (05 km) (3/4 Hours) Altitude – 11,072 feet
Day 4– Trek from Tail camp to Kuari Pass (4,264/13,989 feet) back to Khullara camp (13km) (8/9 Hours)
Day 5– Trek from Khullara camp to via Gorson Bugyal to Auli / Joshimath (09 km) (5/6 Hours) over night stay hotel
Day 6– Drive from Joshimath to Haridwar via Rishikesh by taxi (258 km) (9/10 Hours)