Lord Curzon Explored "Kuari Pass Trek" in Himalaya
Kuari Pass Trek was explored by Lord Curzon when the British ruled India. It is a perfect Trek for Beginners which lies in the Garhwal Himalayas at an altitude of 4,264 meters.
So, if you are a beginner and thinking to start in the Himalayas then Kuari Pass can be the first trek of your Himalayan journey. And, it is best for nature lovers because of its untouched surroundings, scenic vistas and views of lofty peaks.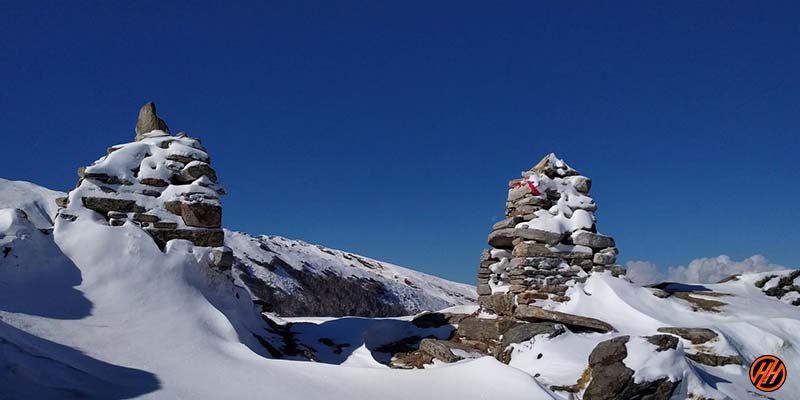 Why Kuari Pass Trek?
Firstly, Kuari Pass trek has perfect old forests of Rhododendrons and Oaks. And, the trail snaking its way through the dense forests is spectacular. On the way, come across mesmerizing clearings and lavish meadows and witness changing landscapes.
Secondly, this trek has perfect idyllic campsites like Chitrakatha and Khullara. One amidst the forest and the other with splendid view of Mt. Dronagiri in the backdrop.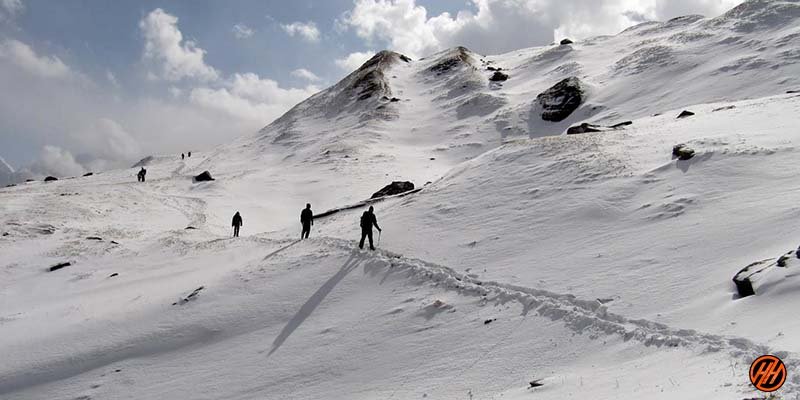 About Base camp Joshimath in Kuari Pass Trek
It is a picturesque town in Chamoli at an altitude of 1875 m nestled amid high Himalayan peaks. It is the basecamp of many Himalayan treks and the gateway to famous pilgrim sites like Badrinath.
There is spirituality in the air because of the presence of ancient temples. It is home to one of the four "Math" "Atharva Veda" by Adi Shankar Acharya. Joshimath has tranquil charm away from the cacophony of cities.
The gushing rivers and silent streams with the cover of verdant green and the pious ancient temples in the area will surely lure you to come here again and again.
Overwhelming sight of the Himalayas in Kuari Pass Trek
Get exotic mountain views from the very first day of the trek. Go higher and get welcomed by the great view of gigantic peaks which will accompany you all along the way.
Kuari pass top is known for the clear and overwhelming sight of the Himalayas because close and imposing views are the real attraction of this trek.
Therefore, the peaks visible from the summit are – Trishul, Chaukhamba, and Kamet, Nanda Devi peaks, Nanda Ghunti, Neelkanth, Dronagiri, Changbang, Mana, Mukut Parbat, Rishi pahad and others.
During the trek, pass through remote villages of the Himalayas and dense forests. Mainly of Oaks and Deodar. Moreover, spot Himalayan animals and rare species of birds on the way. And, in this region the Rhododendron (Burans) trees with beautiful crimson flowers are found in abundance.
In addition to the beauty of Kuari Pass trek, the meadows present here are lavish and walking on their velvety grass is a great pleasure!
Further, traverse Vinayak Pass and head to Kuari Top, it is the highest point of this trek. From here, Nanda Devi Massif looks beautiful among all other peaks and becomes the highlight.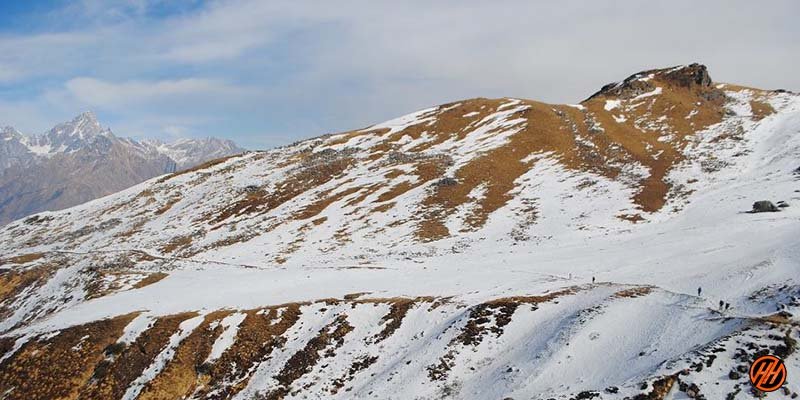 Why to choose Kuari Pass Trek?
Before heading towards the itinerary, it is really essential to perceive the reason behind choosing Kuari pass trek.
See firstly, the trekking distance is a total of by taxi 588 Kms and on foot 33 km which is to be covered into 6 days. .
Kuari pass is a best winter trek Uttarakhand Himalayas, this is best trek for family, Students, Beginners Altitudes is 12516 feet
Need proper gear & clothing for sub-zero temperature winter?
You got to see so many heavenly bodies at one place like the panoramic view of the Himalayan ranges, meadows, one of the beautiful Trishul, Chaukhamba, and Kamet, Nanda Devi peaks, Nanda Ghunti, Neelkanth, Dronagiri, Changbang, Mana, Mukut Parbat, Rishi pahad and others. , pine forests, different variety of flora and fauna surpassing through bona fide Garhwali heritage and culture.
Do spare time in Interaction with locals, and you will get to know about some of the ancient tales of Indian mythology. And our Garhwali Cultures
And, in winter / summers, the Kuari pass trek turns totally different and amusing because of meadows, wildflowers and woods blooming in different colors.
Beautiful landscapes so carry proper photo gear & Extra battery backup.
The backpack should not exceed 10 to 12 kg only
Is it safe trek for me ?
Yes the Kuari pass trek is very safe. All our professional strive our best to provide trekkers with the best experience possible. Kuari Pass Trek is a moderate trek that starts from Dhak Village. These treks are uphill, You can do this trek comfortably, it is a good way to go through beautiful forests, which makes your trek easy.
Whenever you go for a trek, do it with full enthusiasm, do not think much, you keep adding yourself day by day with Himalayas, then everything will be easy for you. all trek route more beautiful
During the day the temperature of Kuari pass is around Winter temperature is  -3°C to -5 °C  and during the night the temperature comes down to -5 °C  to -15 °C  which is not bad.
Summer may ot june months  temperature is  8 °C to 15 °C  and during the night the temperature comes down to  5 °C  to 12°C  which is not bad. this is very good for summer trek kuari pass
How to difficulty level kuari pass
Kuari pass trek   is a very beautiful winter or summer trek and an uphill trek in the uttarakhand Himalayas, The Kuari pass Trek is great for those people who have a great passion for mountaineering and consider it a special purpose in their life. Despite the fact that the top is relatively low in elevation, we recommend physical endurance and a strong fitness record.
You have to travel 544 kms from Dehradun to Joshimath and return Joshimath to Dehradun by taxi and 33 kms on foot from Dhak Village to kuari pass summit 12516 Feet and back to Joshimath
These treks are not very difficult but you can, we are doing it for the last 30 years, some people come from all over the world who have their own fitness level and all people easily do trek to Kuari pass
Don't think much, dedicate yourself to nature, it will be easy for you, and always take the help of your trek leader, wake up in the morning during the trek, do some yoga and pranayam per day morning
When does snow fall start in Kuari pass trek?
In Kuari pass  trek, especially snow fall time  occurs only in December, but sometimes it happens in early November as well, it is seasonal.
By the way, if it rains sometimes even in October, then the Kuari pass  trek Summit  becomes snowfall, but I do not know much longer.
The snow that falls from 15th December lasts for a long time.
Kuari pass  trek trek  has the highest snowfall in the months of January and February, which lasts till the last of May, does not melt easily.
 What should you keep in mind for the Kuari pass  trek?
Kuari pass  trek is as good as it is said, you also need to be prepared., Kuari pass  trek is a   moderate trek which starts from Dhak Village  and ends after trek  Dhak Village
So what are the special things to keep in mind before coming on this trek?
Kuari pass  trek is one such trek, which you can do this  trek all 12 months, winter, Summer, or Monsoon, this is very safe trek in Uttarakhand Himalayas
 Winter Season
In Kuari pass winter trek , you will need warm clothes a lot, for which you will need proper good uniform clothes
Winters are always cold, so only warm clothes can keep you safe on trek
Always take the information from the company with which you are booking the trek before going on the trek, what do we need to bring
In the winter season, the temperature always drops day by day , so warm clothes will help you a lot.
The minimum snowfall in Kunari Pass trek is 2 feet and more than 5 feet.
Summer Season
Summer trek to Kuari pass trek is very special, the view and the temperature are all favorable to you
For summer trek, you have to bring only normal clothes, so that your trek can be good, there is no need for hot clothes, but in hiking it is also necessary to bring all the equipment which is necessary for you.
It is necessary to have 3 pairs of clothes from trekking, especially the poncho, you will have to bring every season
In the summer season, the temperature is always normal, so there is no need for hot clothes.
 Monsoon Season
During the monsoon season, it rains occasionally during the Kuari pass trek especially in the Uttarakhand Himalayas , so if you have dry clothes here, it is very good, even when wet, it dries quickly.
At this time you have to bring at least 3 pairs of clothes, for monsoon trek you do not have to bring too warm clothes, at this time you, hiking pants and t-Sart, I can trek
It's only a little cold in the morning and evening and the day is a good temperature for you
Before going on any trek, it will be easy for you to take information related to each season.
Trekkers need to know about these, you can ask us anytime like, Kuari pass trek route, trek map, temperature, weather condition, difficulty level, trek starting point, end point, transport, view of the trek, best time to visit, How to reach Kuari pass  trek distance etc, Trek Location, keep this information before going
5. You also find some types of flowers in Kuari pass trek which are very beautiful, these treks are very safe trek for monsoon.
Altitude we are going to cover in Kuari Pass Trek
Dehradun (1920 Meters)
Joshimath (1875 Meters)
Dhak – 6956 feet
Gulling camp – 9832 feet
Khullara camp – 11,102 feet
Kuari pass Summit – 12516 Feet
Key Points of Kuari pass trek
Duration: –   5 Nights 6 Days
Base camp: – Joshimath
Summer Temperature: – Day (5°C to 15°C)   Night (2° C to 8° C)
Winter Temperature: – Day (-2°C to -5° C) Night (-5°C to -10°C)
Kuari pass Altitude: – 4264 Meters / 12516 Feet
Best Time: – Kuari Pass Trek is perfect for both Summer and Winter trek,
Trek Level: – Moderate
Trek distance: – On foot 33 Km – By taxi 588 km
Short Itinerary of Kuari pass Trek –
Day 1– Drive from Dehradun to Joshimath Altitude – Joshimath by taxi (294 Km) (10/11 Hours) (1,875 m/ 6,152 feet)
Day 2– Drive from Joshimath to Dhak by taxi (12 km) same day trek to Gulling (06 km) (4/5 Hours) (Altitude –9,832 feet
Day 3– Trek from Gulling to Tail camp (05 km) (3/4 Hours) Altitude – 11,072 feet
Day 4– Trek from Tail camp to Kuari Pass (4,264/13,989 feet) back to Khullara camp (13km) (8/9 Hours)
Day 5– Trek from Khullara camp to via Gorson Bugyal to Auli / Joshimath (09 km) (5/6 Hours) over night stay hotel
Day 6– Drive from Joshimath to Haridwar via Rishikesh by taxi (294 km) (9/10 Hours)
Your Travel Plan for the Kuari Pass Trek
You can book trains, air flights, and bus tickets for your journey only according to the information given by us.
The Kuari pass trek will be of 4 days and 02 days of your journey total of 06 Days from Haridwar to Haridwar or Dehradun to Dehradun
First of all, all the trekkers will have to book their flight and train bus according to our time table as our pick up is from 6 am to 7 am, you will have to reach Haridwar in the morning.
A taxi from Himalayan hikers will link you to the Haridwar railway station.
In the Haridwar railway station, you will get our staff that will arrange transport for you. The contacts no Transport coordinator or our office team will give you a week ago to your departure
Please you guys book your transport facility according to your own time table, after Himalayan Hikers take all the responsibility of Haridwar to Haridwar, that you will not face any problem.
How to reach Kuari Pass Trek ?
If you are traveling from Kolkata, Bangalore, Chennai, Pune, Mumbai, or Gujarat any other city, so you will have to come to Delhi, you will get a train from Delhi for Dehradun comfortably.
Option 01:- By Train
All trekkers booked yourself the,
Nanda Devi Express to Dehradun via Haridwar (Train no is 12402 Departure 11:30 pm: – Reached Haridwar 3:53 am a morning
Take the overnight train Dehradun via Haridwar to from new Delhi- Dehradun Special A/C train from Hazrat Nizamuddin railway station the best option for you. The train reached at Haridwar railway station morning 3:53 am to 4:30 am if you Meet to Our office Member – joining to our upcoming batches and Group.
Option 02:- By Air –
Jolly Grant airport is the nearest airport in Rishikesh or Haridwar, Located about 21 km for the Rishikesh city. There are flights available from all states to Dehradun Airport, you can go online and book your tickets. These are easy and easy ways for you and you also save your time, Taxis are available from the airport to Rishikesh or Haridwar at all time costs Rs. 1000/* one-way pay to directly
Option 03:- By Bus
You can reach Haridwar from Delhi by a bus, board it from (Delhi) Kashmiri Gate ISBT; it is good if you are booked the seats.
Haridwar to Joshimath Route Map
(Reach Haridwar Railway Station or bus stand between 5:00 am to 6:00 am and the vehicle will be arranged from there.)
What is the distance to reach Kuari pass  from other state
Delhi to Haridwar -Dehradun distance by flight -207 Kms) and Dehradun airport to  Joshimath 274 kms by taxi and  (Dakh to Kuari pass 33 km on foot )
Delhi to Haridwar- Dehradun distance by train 302 kms ) and Dehradun to Joshimath 272 kms by taxi and (Dhak to Kuari pass 33 km on foot)
Delhi to Haridwar -Dehradun distance by bus 249 kms) and Dehradun to Joshimath by taxi 272 kms, and (Dhak – Joshimath to Kuari pass 33 km on foot)
Bangalore to Haridwar -Dehradun distance by air 1924 kms) (By Train – 2371 kms) and Dehradun airport to  Joshimath  272 km by taxi, and (Dhak – Joshimath to Kuari pass 33 km on foot)
Mumbai to Haridwar- Dehradun distance by air 1344 kms) (By Train – 1724 kms ) and Dehradun to Joshimath 272 km by Taxi and (Dhak -Joshimath to Kuari pass 33 km on foot)
kolkata to Haridwar-dehradun distance by air 1518 kms ( By Train – 1694 km) and Dehradun to Joshimath 181 km by taxi and (Dhak- Joshimath to Kuari pass 33 km on foot)
ATM Point and Mobile Connectivity in Kuari pass Trek
ATM Point
Before starting the journey to Kuari trek, make sure that you need payments, and then take out the cash on the way, Joshimath, the market is the last place where you can withdraw cash from ATM,  (If you want to withdraw money then do it in Haridwar or Rishikesh.)
Mobile Connectivity
The phone does not work well on this trek. Therefore, you should ensure that you do not have to make any important calls. So make sure you finish all your important work and calls before starting the trek. Last Joshimath, your device will receive good networks.
What do we do for safety in Kuari Pass  trek?
First of all, the safety of trekkers is much more for us, if you see in the trek, then there are all the risks, which I do not think about.
Himalayan Hikers worry more about you that no one should ever have any problem in the trek.
What should we and you keep more safety in the trek
Whenever you are going for any trek, it is very important that you go completely fit and ready.
The trek is not difficult, if you make your feet and your mind calm and strong, you will find the trek very easy.
While trekking, keep in mind that you are walking on the right route or not always with your guide.
Most people look somewhere and where they are walking, this can cause twitching in your legs, which can ruin your entire trek.
It is important to ask your doctor if you have any medical problems
I should always keep my medical kit with me, it is very important.
Himalayan Hikers always keep a medical kit with you, such as oxygen cylinders, medicine to be given in emergency on the trek
If any trekkers have any more problems, then they are brought back to the base camp by laying them in the stretcher.
Our camp in Kuari pass trek is around the tree line where you can not have any problem of oxygen
In case of any medical problem, the help of your guide or a well-informed trekkers should be taken