Kuari Pass Trek Lord Curzon Explored  in Himalayas Uttarakhand -2023
Kuari Pass Trek was explored by Lord Curzon when the British ruled India. It is a perfect Trek for Beginners which lies in the Garhwal Himalayas at an altitude of 4,264 meters.
So, if you are a beginner and thinking to start in the Himalayas then Kuari Pass can be the first trek of your Himalayan journey. And, it is best for nature lovers because of its untouched surroundings, scenic vistas and views of lofty peaks.
The Kuari Pass Trek is a popular trekking route in the Garhwal region of the Indian state of Uttarakhand. Here is some important information you should know before planning your trip:
Trek Duration: The Kuari Pass trek is typically a 5-6 day trek, covering a total distance of around 33-35 km.
Trek Difficulty: The trek is considered to be of moderate difficulty level and can be done by beginners as well as experienced trekkers.
Best Time to Visit: The best time to do the Kuari Pass trek is between April to June and September to November. or Winter December to April end
Starting Point: The trek usually starts from a small village called Dhak in Uttarakhand.
Altitude: The highest point of the trek is the Kuari Pass which is situated at an altitude of 12,516 ft (3,815 m).
Weather Conditions: The weather conditions on the trek can be unpredictable and can change rapidly. It is important to be prepared for rain, snow and cold weather conditions.
Permits: A permit is required to do the trek, which can be obtained from the forest department office in Joshimath.
Accommodation: There are several options for accommodation on the trek, including tents, guesthouses and lodges.
Fitness Requirements: The trek requires a moderate level of fitness, and it is recommended to do some physical training before embarking on the trek.
Equipment: It is important to carry appropriate trekking equipment such as trekking shoes, warm clothes, rain gear, sleeping bags and a backpack.
Here are some of the notable peaks that are visible from the Kuari Pass summit:
Nanda Devi: Nanda Devi is the highest peak entirely within India, standing at an elevation of 7,816 meters (25,643 feet). It is one of the most prominent and revered peaks in the region.
Kamet: Kamet is the second highest peak in the Garhwal region, with an elevation of 7,756 meters (25,446 feet). It is known for its pyramid-like shape and challenging climbing routes.
Dronagiri: Dronagiri is a group of peaks, with the highest point reaching 7,066 meters (23,182 feet). It is notable for its picturesque beauty and mythological significance.
Chaukhamba: Chaukhamba is a group of four peaks, with the highest peak reaching an elevation of 7,138 meters (23,419 feet). The name Chaukhamba translates to "four pillars" and represents the four celestial deities.
Hathi Parvat: Hathi Parvat, meaning "Elephant Peak," is a prominent mountain in the region, resembling the shape of an elephant. It stands at an elevation of 6,727 meters (22,073 feet).
Ghori Parbat: Ghori Parbat is another significant peak visible from the Kuari Pass summit, reaching an elevation of 6,708 meters (22,008 feet).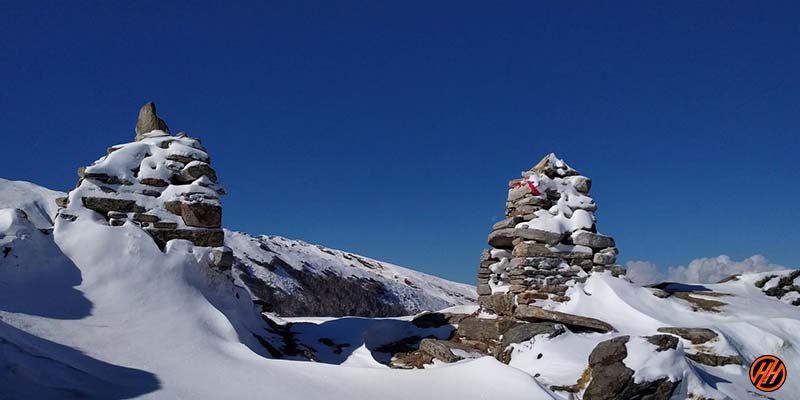 Why Kuari Pass Trek?
The Kuari Pass trek is a popular trek in the Indian state of Uttarakhand, known for its breathtaking views of the snow-capped Himalayan peaks. There are several reasons why people choose to do this trek:
Scenic Beauty: The Kuari Pass trek offers stunning vistas of some of the highest peaks in the world, including Nanda Devi, Kamet, and Trishul. The trail takes you through lush green meadows, dense forests, charming villages, and alpine landscapes, providing a visual treat for nature lovers and photographers.
Adventure and Challenge: The trek presents a moderate level of difficulty, making it suitable for both experienced trekkers and beginners. It involves ascending to an altitude of around 4,264 meters (13,990 feet) at Kuari Pass, which adds a sense of adventure and achievement. The trail includes steep climbs, narrow ridges, and sometimes even snow, providing a thrilling experience for adventure enthusiasts.
Cultural Immersion: The region is inhabited by local communities like the Garhwali and Tibetan people, giving trekkers an opportunity to interact with and learn about their rich culture and traditions. You can visit small mountain villages, interact with the locals, and get a glimpse of their lifestyle, architecture, and cuisine.
Flora and Fauna: The Kuari Pass trek takes you through diverse ecosystems, including oak and rhododendron forests, which are home to a wide variety of flora and fauna. You may come across different bird species, Himalayan wildlife like musk deer, and if you're lucky, you might spot the elusive snow leopard.
Solitude and Serenity: While the Kuari Pass trek is gaining popularity, it still offers a sense of solitude and tranquility compared to more crowded treks in the region. The pristine surroundings, untouched landscapes, and peaceful atmosphere make it an ideal choice for those seeking a break from the chaos of daily life.
Trekking Infrastructure: The trek is well-established with designated campsites, trekking routes, and experienced local guides and porters available. This infrastructure ensures a relatively comfortable and safe trekking experience, especially for those who are new to trekking or prefer some level of support.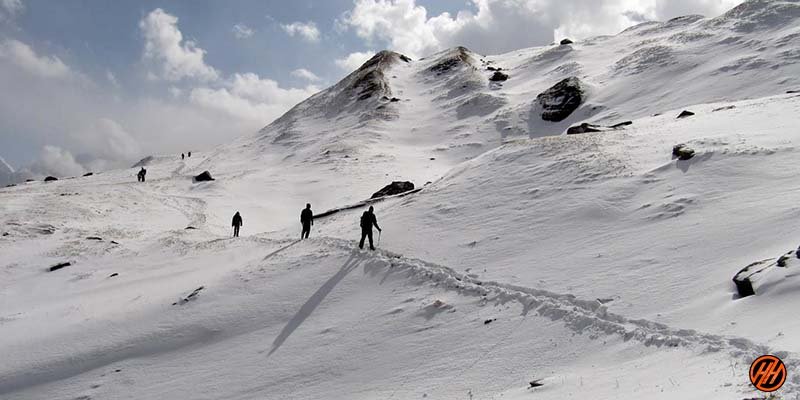 About Base camp Joshimath in Kuari Pass Trek
It is a picturesque town in Chamoli at an altitude of 1875 m nestled amid high Himalayan peaks. It is the base camp of many Himalayan treks and the gateway to famous pilgrim sites like Badrinath.
There is spirituality in the air because of the presence of ancient temples. It is home to one of the four "Math" "Atharva Veda" by Adi Shankar Acharya. Joshimath has a tranquil charm away from the cacophony of cities.
The gushing rivers and silent streams with the cover of verdant green and the pious ancient temples in the area will surely lure you to come here again and again.
Overwhelming sight of the Himalayas in Kuari Pass Trek
Get exotic mountain views from the very first day of the trek. Go higher and get welcomed by the great view of gigantic peaks which will accompany you all along the way.
Kuari pass top is known for the clear and overwhelming sight of the Himalayas because close and imposing views are the real attraction of this trek.
Therefore, the peaks visible from the summit are – Trishul, Chaukhamba, and Kamet, Nanda Devi peaks, Nanda Ghunti, Neelkanth, Dronagiri, Changbang, Mana, Mukut Parbat, Rishi pahad and others.
During the trek, pass through remote villages of the Himalayas and dense forests. Mainly of Oaks and Deodar. Moreover, spot Himalayan animals and rare species of birds on the way. And, in this region the Rhododendron (Burans) trees with beautiful crimson flowers are found in abundance.
In addition to the beauty of Kuari Pass trek, the meadows present here are lavish and walking on their velvety grass is a great pleasure!
Further, traverse Vinayak Pass and head to Kuari Top, it is the highest point of this trek. From here, Nanda Devi Massif looks beautiful among all other peaks and becomes the highlight.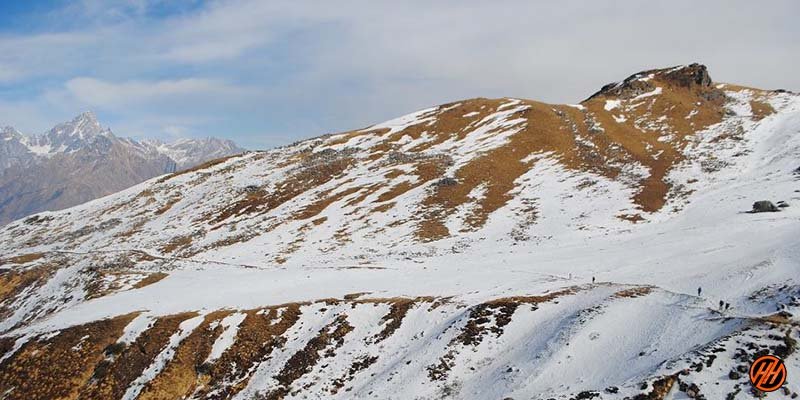 Here are some brief details about the Trek
Before heading towards the itinerary, it is really essential to perceive the reason behind choosing Kuari Pass trek.
See firstly, the trekking distance is a total of by taxi 588 Kms and on foot 33 km which is to be covered in 6 days.
Kuari pass is the best winter trek of Uttarakhand Himalayas, this is the best trek for families, Students, and Beginners Altitude is 12516 feet
Need proper gear & clothing for sub-zero temperature winter?
You got to see so many heavenly bodies in one place like the panoramic view of the Himalayan ranges, meadows, one of the beautiful Trishul, Chaukhamba, and Kamet, Nanda Devi peaks, Nanda Ghunti, Neelkanth, Dronagiri, Changbang, Mana, Mukut Parbat, Rishi pahad and others. , pine forests, and different variety of flora and fauna surpassing through bona fide Garhwali heritage and culture.
Do spare time in Interaction with locals, and you will get to know about some of the ancient tales of Indian mythology. And our Garhwali Culture
And, in winter / summer, the Kuari pass trek turns totally different and amusing because of meadows, wildflowers and woods blooming in different colors.
Beautiful landscapes so carry proper photo gear & Extra battery backup.
The backpack should not exceed 10 to 12 kg only
Is it safe trek for me ?
Yes the Kuari pass trek is very safe. All our professional strive our best to provide trekkers with the best experience possible. Kuari Pass Trek is a moderate trek that starts from Dhak Village. These treks are uphill, You can do this trek comfortably, it is a good way to go through beautiful forests, which makes your trek easy.
Whenever you go for a trek, do it with full enthusiasm, do not think much, you keep adding yourself day by day with Himalayas, then everything will be easy for you. all trek route more beautiful
During the day the temperature of Kuari pass is around Winter temperature is  -3°C to -5 °C  and during the night the temperature comes down to -5 °C  to -15 °C  which is not bad.
Summer may ot june months  temperature is  8 °C to 15 °C  and during the night the temperature comes down to  5 °C  to 12°C  which is not bad. this is very good for summer trek kuari pass
How to difficulty level kuari pass
Kuari pass trek   is a very beautiful winter or summer trek and an uphill trek in the uttarakhand Himalayas, The Kuari pass Trek is great for those people who have a great passion for mountaineering and consider it a special purpose in their life. Despite the fact that the top is relatively low in elevation, we recommend physical endurance and a strong fitness record.
You have to travel 544 kms from Dehradun to Joshimath and return Joshimath to Dehradun by taxi and 33 kms on foot from Dhak Village to kuari pass summit 12516 Feet and back to Joshimath
These treks are not very difficult but you can, we are doing it for the last 30 years, some people come from all over the world who have their own fitness level and all people easily do trek to Kuari pass
Don't think much, dedicate yourself to nature, it will be easy for you, and always take the help of your trek leader, wake up in the morning during the trek, do some yoga and pranayam per day morning
When does snowfall start in Kuari Pass trek?
In the Kuari pass trek, especially snowfall time occurs only in December, but sometimes it happens in early November as well, it is seasonal.
By the way, if it rains sometimes even in October, then the Kuari pass trek Summit  becomes snowfall, but I do not know much longer.
The snow that falls from 15th December lasts for a long time.
Kuari pass trek has the highest snowfall in the months of January and February, which lasts till the last of May, and does not melt easily.
 What should you keep in mind for the Kuari Pass trek?
Physical Fitness: The Kuari Pass trek involves moderate-level difficulty, including steep ascents and descents. It is advisable to engage in regular physical exercise and cardio workouts to build stamina and endurance before the trek. Additionally, consult with a healthcare professional to ensure you are physically fit for the trek.
Acclimatization: As the trek involves gaining significant altitude, it's essential to acclimatize properly to avoid altitude sickness. Plan your itinerary in a way that allows for gradual ascent and includes rest days at higher altitudes. Stay hydrated, maintain a slow and steady pace, and be aware of any symptoms of altitude sickness, such as headache, nausea, or dizziness.
Trekking Gear: Invest in appropriate trekking gear to ensure your comfort and safety on the trail. Essential items include sturdy trekking boots, moisture-wicking clothing, a warm and waterproof jacket, thermal layers, a sun hat, sunglasses, gloves, and a good quality backpack. Don't forget to pack essentials like a first aid kit, sunscreen, insect repellent, and a headlamp.
Weather Conditions: Be prepared for changing weather conditions in the mountains. Pack clothing that caters to both warm and cold temperatures, as the weather can vary throughout the day. Check the weather forecast before the trek and plan accordingly.
Permits and Regulations: Obtain the necessary permits from the forest department or local authorities before starting the trek. Familiarize yourself with the rules and regulations of the trekking area, and follow the guidelines to ensure minimal impact on the environment. Respect the local culture and customs during your interactions with the communities along the trail.
Hydration and Food: Carry an adequate supply of water and stay hydrated throughout the trek. There are several water sources along the trail, but it is advisable to treat or purify the water before consumption. Carry high-energy snacks and packed meals to keep yourself fueled during the trek.
Trekking Support: Consider hiring a local guide or trekking agency that has experience in organizing the Kuari Pass trek. They can provide valuable assistance, local knowledge, and ensure your safety throughout the journey. If you are trekking independently, inform someone about your itinerary and keep them updated on your progress.
Leave No Trace: Practice responsible trekking by following the principles of "Leave No Trace." Respect the environment by not littering and disposing of waste properly. Minimize your impact on the surroundings and leave the trail as you found it.
 Winter Season
In Kuari pass winter trek , you will need warm clothes a lot, for which you will need proper good uniform clothes
Winters are always cold, so only warm clothes can keep you safe on trek
Always take the information from the company with which you are booking the trek before going on the trek, what do we need to bring
In the winter season, the temperature always drops day by day , so warm clothes will help you a lot.
The minimum snowfall in Kunari Pass trek is 2 feet and more than 5 feet.
Summer Season
Summer trek to Kuari pass trek is very special, the view and the temperature are all favorable to you
For summer trek, you have to bring only normal clothes, so that your trek can be good, there is no need for hot clothes, but in hiking it is also necessary to bring all the equipment which is necessary for you.
It is necessary to have 3 pairs of clothes from trekking, especially the poncho, you will have to bring every season
In the summer season, the temperature is always normal, so there is no need for hot clothes.
 Monsoon Season
During the monsoon season, it rains occasionally during the Kuari pass trek especially in the Uttarakhand Himalayas , so if you have dry clothes here, it is very good, even when wet, it dries quickly.
At this time you have to bring at least 3 pairs of clothes, for monsoon trek you do not have to bring too warm clothes, at this time you, hiking pants and t-Sart, I can trek
It's only a little cold in the morning and evening and the day is a good temperature for you
Before going on any trek, it will be easy for you to take information related to each season.
Trekkers need to know about these, you can ask us anytime like, Kuari pass trek route, trek map, temperature, weather condition, difficulty level, trek starting point, end point, transport, view of the trek, best time to visit, How to reach Kuari pass  trek distance etc, Trek Location, keep this information before going
5. You also find some types of flowers in Kuari pass trek which are very beautiful, these treks are very safe trek for monsoon.
Altitude we are going to cover in Kuari Pass Trek
Dehradun (1920 Meters)
Joshimath (1875 Meters)
Dhak – 6956 feet
Gulling camp – 9832 feet
Khullara camp – 11,102 feet
Kuari pass Summit – 12516 Feet
Key Points of Kuari pass trek
Duration: –   5 Nights 6 Days from Rishikesh to Rishikesh
Base camp: – Joshimath
Summer Temperature: – Day (5°C to 15°C)   Night (2° C to 8° C)
Winter Temperature: – Day (-2°C to -5° C) Night (-5°C to -10°C)
Kuari pass Altitude: – 4264 Meters / 12516 Feet
Best Time: – Kuari Pass Trek is perfect for both Summer and Winter trek,
Trek Level: – Moderate
Trek distance: – On foot 33 Km – By taxi 588 km
Short Itinerary of Kuari pass Trek –
Day 1– Pick-up to you from Rishikesh drive  to Joshimath  by taxi (256 Km) (10/11 Hours) (1,875 m/ 6,152 feet) overnight stay Hotel
Day 2– Drive from Joshimath to Dhak by taxi (12 km) Same day trek to Gulling (06 km) (4/5 Hours)  ( Altitude –9,832 feet overnight stay Camp
Day 3– Trek from Gulling to  Khullara camp  (05 km) (3/4 Hours) Altitude – 11,072 feet overnight stay at Camp
Day 4– Trek from Khullara camp  to  Kuari Pass (4,264/13,989 feet) back to Khullara camp (12  km) (6/7 Hours)  overnight stay at Camp
Day 5– Trek from Khullara camp to Dhak Village same day Drive to Joshimath  (09km) (5/6 Hours) overnight stay at hotel
Day 6– Drive from Joshimath to Haridwar via Rishikesh by taxi  (258 km) (9/10 Hours)
Your Travel Plan for the Kuari Pass Trek
You can book trains, air flights, and bus tickets for your journey only according to the information given by us.
The Kuari pass trek will be of 4 days and 02 days of your journey total of 06 Days from Haridwar to Haridwar or Dehradun to Dehradun
First of all, all the trekkers will have to book their flight and train bus according to our timetable as our pick-up is from 6 am to 7 am, and you will have to reach Haridwar in the morning.
A taxi from Himalayan hikers will link you to the Haridwar railway station.
In the Haridwar railway station, you will get our staff that will arrange transport for you. The contacts no Transport coordinator or our office team will give you a week ago to your departure
Please you guys book your transport facility according to your own timetable, after Himalayan Hikers take all the responsibility of Haridwar to Haridwar, you will not face any problems.
How to reach Kuari Pass Trek?
To reach Rishikesh, the starting point for the Kuari Pass trek, you have several transportation options depending on your location. Here are some common ways to reach Rishikesh:
By Air: The nearest airport to Rishikesh is Jolly Grant Airport in Dehradun, which is approximately 21 kilometers away. From the airport, you can hire a taxi or take a pre-booked private transfer to reach Rishikesh. Several domestic airlines operate regular flights to Dehradun from major cities in India.
By Train: Rishikesh has its own railway station called "Rishikesh Railway Station" (IR station code: RKSH). It is well-connected to various major cities in India. From the railway station, you can hire a taxi or an auto-rickshaw to reach your desired location in Rishikesh.
By Road: Rishikesh is well-connected by road and can be reached by bus or taxi from nearby cities. Regular bus services operate from Delhi, Dehradun, Haridwar, and other major towns in Uttarakhand to Rishikesh. If you prefer a more comfortable and private journey, you can hire a taxi or take a self-drive car to reach Rishikesh.
Once you reach Rishikesh, you can make further travel arrangements to reach the specific starting point of the Kuari Pass trek, which is usually Joshimath. You can hire a taxi or take a shared cab from Rishikesh to Joshimath, which is approximately a 9 to 10-hour drive. Joshimath serves as a base camp for the trek, and from there, the trekking route to Kuari Pass begins.
It's advisable to plan your travel in advance, especially during the peak trekking season, and consider the weather conditions and road conditions while making your travel arrangements.
Haridwar to Joshimath Route Map
What is the distance to reach Kuari Pass from another state?
The distance to reach Rishikesh for the Kuari Pass trek from another state in India will depend on the specific starting location within that state. Here are the approximate distances from some major cities to Rishikesh:
Delhi: The distance from Delhi to Rishikesh is approximately 240 kilometers (149 miles) via road. It takes around 6-7 hours to reach Rishikesh from Delhi by car or bus.
Mumbai: The distance from Mumbai to Rishikesh is approximately 1,650 kilometers (1,025 miles) via road. It is a long journey, typically taking around 30-35 hours by car or bus.
Kolkata: The distance from Kolkata to Rishikesh is approximately 1,525 kilometers (948 miles) via road. It is a long journey, usually taking around 30-35 hours by car or bus.
Bengaluru: The distance from Bengaluru to Rishikesh is approximately 2,350 kilometers (1,460 miles) via road. It is a considerable distance, and travel time can range from 40-45 hours by car or bus.
Chennai: The distance from Chennai to Rishikesh is approximately 2,440 kilometers (1,516 miles) via road. It is a significant distance, and travel time can range from 40-45 hours by car or bus.
ATM Point and Mobile Connectivity in Kuari Pass Trek
ATM Point
Before starting the journey to Kuari trek, make sure that you need payments, and then take out the cash on the way, Joshimath, the market is the last place where you can withdraw cash from ATM,  (If you want to withdraw money then do it in Haridwar or Rishikesh.)
Mobile Connectivity
The phone does not work well on this trek. Therefore, you should ensure that you do not have to make any important calls. So make sure you finish all your important work and calls before starting the trek. Last Joshimath, your device will receive good networks.
What do we do for safety in Kuari Pass trek?
First of all, the safety of trekkers is much more for us, if you see at the trek, then there are all the risks, which I do not think about.
Himalayan Hikers worry more about you than no one should ever have any problem on the trek.
What should we and you keep more safety in the trek
Whenever you are going for any trek, it is very important that you go completely fit and ready.
The trek is not difficult, if you make your feet and your mind calm and strong, you will find the trek very easy.
While trekking, keep in mind that you are walking on the right route or not always with your guide.
Most people look somewhere and where they are walking, this can cause twitching in your legs, which can ruin your entire trek.
It is important to ask your doctor if you have any medical problems
I should always keep my medical kit with me, it is very important.
Himalayan Hikers always keep a medical kit with them, such as oxygen cylinders, and medicine to be given in an emergency on the trek
If any trekkers have any more problems, then they are brought back to the base camp by laying them on the stretcher.
Our camp in Kuari Pass trek is around the tree line where you can not have any problem with oxygen
In case of any medical problem, the help of your guide or well-informed trekkers should be taken