Nag Tibba Trek – the Highest peak in the lower Himalayan range
Nag Tibba Trek is to the highest peak in the lower Himalayan range, and it lies at an altitude of 3022 meters amidst Dhauladhar and Pin Panjal in the Garhwal Uttarakhand  Himalayas.
So, the picturesque route goes through a beautiful hill station; Mussoorie known as "The Queen of Hills."
Interestingly, Nag Tibba is believed to be the abode of Serpent God "Nag Devta."
Nag Tibba Trek The best weekend trek in Uttarakhand Himalayas
Nag Tibba Trek is a spectacular trek in the lap of Garhwal Himalayas. Which comes in the Jaunsar Bawar range Uttarakhand Himalayas, Nag Tibba trek is known in the country and the world today, people who come to Mussoorie from the country and abroad, they like to two days spend this beautiful mountain. Today Nag Tibba trek is the most loved trek, you can come here with your family and friends to make the weekend holidays memorable. Nag dune trek is considered an easy trek, so we consider this trek also useful for children.
Nag Tibba trek can be done from two places, 1. Pantwari 2. Dev Thach, There is a lot of pleasure in doing Nag Tibba trek from both the places. These are found in forest forests and beautiful trees like rhododendrons and oaks, pine trees, and some other trees. When we do this trek with Dev Thach, the dense forest and accompanying river drain and the sound of birds along with me makes this trek even more exciting,
The beauty of the mountains that looks special from this trek
It is believed by me and all the people who come to do this trek that when you climb this trek from Pantwari to Nag Tibba Base Camp, then you will get some more view of this trek and when you complete this trek, then back down If you get down, you will be able to see this beautiful valley with 150 degrees. You will know when you come to do this trek,
Why do the people of Nag Devta Fair believe here?
There is a beautiful and wonderful temple of Lord Nag Devta here in Nag Tibba Trek Base Camp, Jaunsar and Bawar and local people come here every year to worship, and pray to Lord Nag Devta for good health and good farming, and this fair I believe with great enthusiasm,
Short Nag Tibba Trek offers a plethora of pleasing views
Also, get rewarded by the Plethora of delightful opinions on this weekend trek. It is a perfect trek because of its short duration and for spending weekends with your family and friends. Therefore, rejuvenate yourself on this trek and break the monotony of life.
Most importantly, the temple of "Nag Devta" is an addition to the beauty of this trek and because of the Temple's great significance,it is highly worshiped by the villagers for protection of their cattle.
Mesmerizing views
This trek takes you through the dense forest which is wealthy in flora and fauna, and the route further will surprise you because of its beautiful clearings.
Consequently, get amazed by the views of Bandarpunch peak, Kedarkantha peak towards the north Kala Nag, Srikanta, Gangotri group of mountains Doon valley and snow peaks of Changabang are visible from the summit of Nag Tibba.
Indeed, this short trek has a  variety of landscapes which makes this trek an interesting one.
But, here are some more easy level treks for beginners – Phulara Ridge, Deoriatal Chandrashila trek and Valley of Flowers.
WHY TO CHOOSE  NAG TIBBA  TREK?
Before heading towards the itinerary, it is really essential to perceive the reason behind choosing Nag Tibba Trek.
See firstly, the trekking distance is a total of by taxi 190 Km and on foot 16 km which is to be covered into 2 days.  Dehradun to via  Mussoorie to nainbagh and pantwari village
Nag Tibba trek is a low altitude mountain trek Altitudes is 3022 Meters
The Starting trail is easy as compare to other treks this is easy trek. So this trek is best for family and beginners, school tour weekend trek
You got to see so many heavenly bodies at one place like the panoramic view of the Himalayan ranges, you can see pine forests, different variety of flora and fauna surpassing through bona fide Garhwali culture.
I think Do spare time in Interaction with our local team, and you will get to know about some of the ancient tales of Indian mythology and our local cultures, this is good ideas for trekkers
Beautiful landscapes so carry proper photo gear & Extra battery backup.
The backpack should not exceed 6 kg only.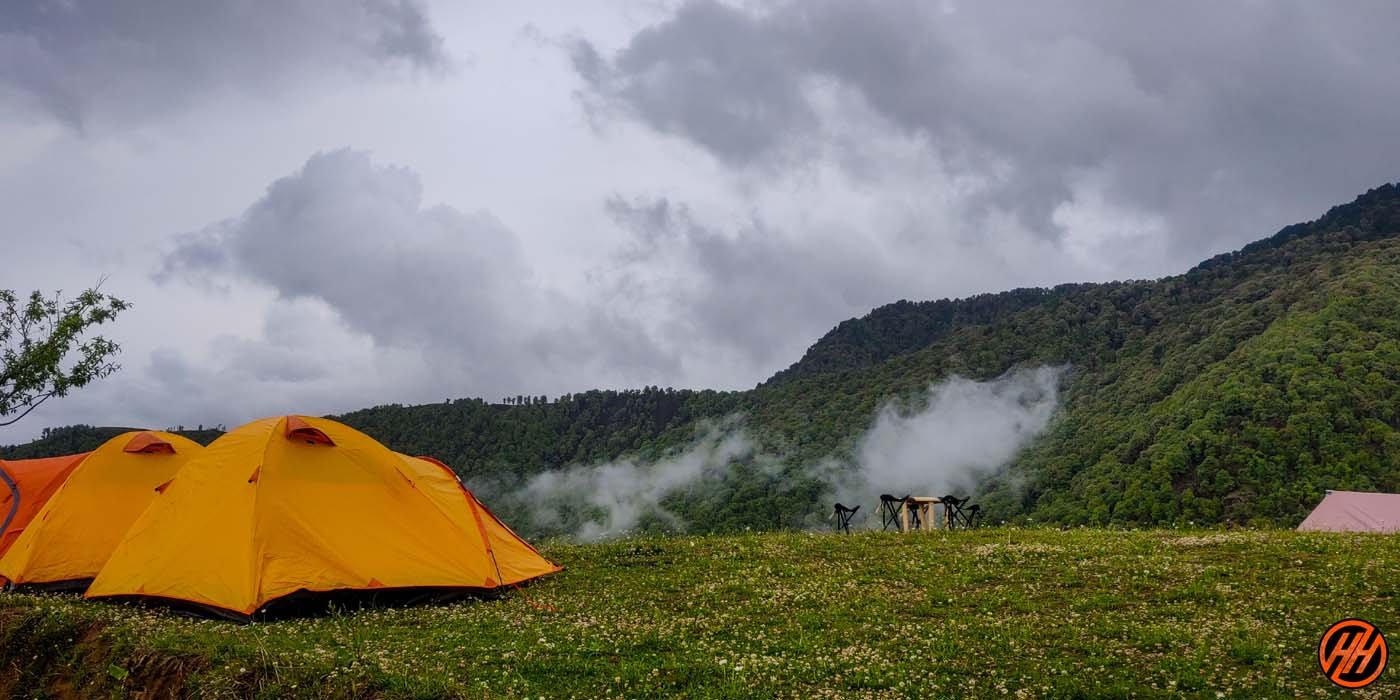 Key Points, Nag Tibba trek
Duration: –   1 Nights 2 Days from Pantwari to Pantwari
Base camp: –  Pantwari  market
Summer Temperature: –  Day  5°C  to 18°C)   Night 5° C to 10° C
Winter Temperature: –  Day  3°C  to 5°C)   Night -2° C to -5° C
Nag Tibba trek- Altitude: – 3022 Meters
Best Time: – All year
Trek Level: – Easy
Trek distance: – On foot 16 Km – By taxi 180 km
Group Size: – minimum 5 people maximum 15 people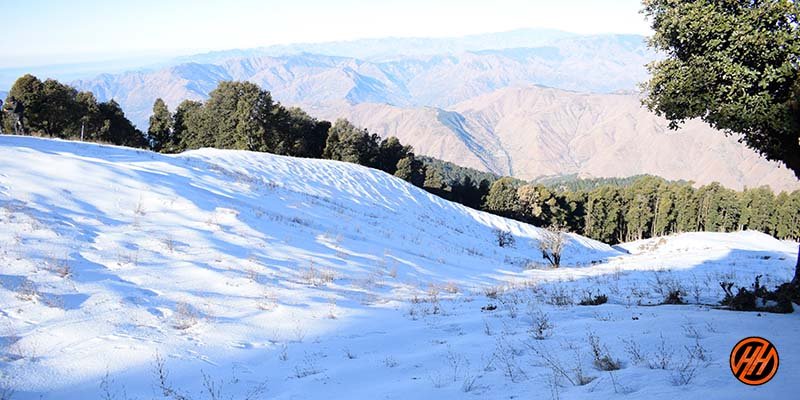 Short Itinerary Nag Tibba trek
Day 1: Pickup to you from Dehradun to Pantwari  by taxi , 90 km (4/5 Hours)  same day trek to Khatiyan (4km) (2/3 Hours)
Day 2:  Trek from Khathiyan to Nag Tibba Summit via Nag Tibba Base Camp (Nag Tibba temple) and return to Pantwari; Drive to Dehradun (4/5 Hours
Your travel plan for Nag Tibba trek
You can book train, air flight, and bus tickets for your journey only according to the information given by us.
The Nag Tibba trek will be of 2 days from Dehradun to Dehradun includes travel
First of all, all the trekkers will have to book their flight and train bus according to our time table as our pick up is from 6 am to 7 am, you will have to reach Dehradun in the morning.
A taxi from Himalayan hikers will link you to Dehradun railway station.
Himalayan Hikers organize transport to Pantwari base camp from Dehradun railway station. Our vehicles leave at 6:00 am to 7:00 am sharp from Dehradun. The taxi costs include your package for a Tempo Traveler. Sharing
In Dehradun railway station you will get our staff that will arranged transport for you. The contacts no Transport coordinator or our office team will be give you a week ago to your departure
Please you guys book your transport facility according to your own time table, after Himalayan hackers take all the responsibility of Dehradun to Dehradun, that you will not face any problem.
Dehardun to Pantwari Route Map
How will you Reach Nag Tibba Trek?
If you are travelling from Kolkata, Bangalore, Chennai, Pune, Mumbai or Gujarat any other city, so you will have to come to Delhi, you will get a train from Delhi for Dehradun comfortably.
Option 01:- By Train
All trekkers booked yourself the,
Nanda Devi Express to Dehradun (Train no is 12206 Departure 11:30 pm: – Reached Dehradun 5:45
Dehradun Express- to Dehradun (Train no is 12687 Departure -9:10 pm:- Reached Dehradun 5:00 am
Take the both overnight train Dehradun to from new Delhi- Dehradun Special A/C train from Hazrat nizamuddin railway station the best option to you. Train reached at dehradun railway station morning 5:45 to 6:30 am if you Meet to Our office Member – joining to our upcoming batches and Group.
Option 02:- By Air
Jolly Grant airport is the nearest airport in Dehradun. Located about 27 km for the Dehradun city. There are flights available from all states to Dehradun, you can go online and book your tickets. These are easy and easy ways for you and you also save your time, Taxis are available from the airport to Dehradun at all time costs Rs. 800/* one way pay to directly.
Option 03:- By Bus
You can reach Dehradun from Delhi by a bus, board it from (Delhi) Kashmiri Gate ISBT; it is good if you are booked the seats.
(Reach Dehradun Railway Station between 5:00 am to 6:00 am and vehicle will be arranged from there.)
ATM Point and Mobile Connectivity in Nag Tibba Trek
ATM Point
Before starting the journey to Nag Tibba trek, make sure that you need payments, and then take out the cash on the way Rajpur Road, (If you want to withdraw money then do it in Dehradun.)
Mobile Connectivity
The phone does not work on this trek. Therefore, you should ensure that you do not have to make any important calls. So make sure you finish all your important work and calls before starting the trek. Last Pantwari market, your device will receive good networks.