Buran Ghati Trek, this is a beautiful pass in Himachal Pradesh- Season 2023
Buran Ghati is a highly diverse trek and a thrilling pass that lies at a high altitude of 15,000 feet in the heart of Himachal. This amazing trek starts from Janglik and is perfect because it has got all the adventure which also includes sliding down and Rappelling down a snow wall.
Therefore, witness the changing landscapes, diverse vegetation, superb mountain views, verdant forests, and quaint idyllic villages during your trek.
Arguably, Buran Ghati is a diamond hiding in the hills because of its unparalleled adventure and beauty!
In Buren Ghati Pass Trek, every day you get to see something different, the scenery you can see in the Buren Valley is amazing, here you will have a different experience in every camping side
In the month of May, trekking here in Snow and Green Bugyal and the cool winds coming from the high hills will keep pulling you more and more in this trek.
The special stop of this trek is Chandranahan Lake, this is a beautiful lake which is in the middle of two hills. Elevation of about 4,260 m (13,980 ft) above sea level
Another special feature of this trek is that it starts from Junglik village and ends at Barua road head. Due to which you are not going to feel the same on this trek anywhere, every day you are waking up differently.
The Buran Ghati Pass Trek is a popular trekking route in the Indian state of Himachal Pradesh, known for its scenic beauty and challenging terrain. Here are some of the highlights of this trek:
Beautiful landscapes: The trek takes you through some of the most stunning landscapes of the region, including lush green forests, meadows, and snow-capped peaks.
Buran Ghati Pass: The trek culminates at the Buran Ghati Pass, which is situated at an altitude of 15,000 feet. The pass offers breathtaking views of the surrounding mountains and valleys.
River crossings: The trek involves crossing several rivers and streams, adding an element of adventure to the trek.
Campsites: The trek offers opportunities for camping in some of the most picturesque locations, including beside glacial lakes and in high altitude meadows.
Cultural experience: The trek takes you through several remote villages, allowing you to experience the local culture and traditions of the region.
Wildlife: The trek is home to a variety of wildlife, including Himalayan bears, snow leopards, and musk deer.
Overall, the Buran Ghati Pass Trek is a must-do for adventure enthusiasts looking for a challenging trek with stunning scenery and a unique cultural experience.
About – Janglik Village in Buran Ghati Trek
The base camp of the Janglik is a beautiful small Village altitude of 2804 Meter. There are small shops and some homestay, Witness unique wooden houses made of Deodar wood.
You can get most of the things in Janglik is the main base camp of Buran Ghati Pass Trek; you will start trek here.
Best Time to Do Buran Ghati Pass Trek ?
Buran Ghati Pass trek is a very beautiful and an Gradual uphill trek in the Himalayas, The Buran Ghati Pass trek is great for those people who have a great passion for mountaineering and consider it a special purpose in their life.
We are the local people Himachal border, who are doing this trek for years, we have every experience related to this trek.
The best time to do the Buran Ghati Pass Trek is from 5th May to the last of October, you can do it comfortably, it is safe, there is no problem of any kind here..
You get to see a lot in the trek, along with snow in May and June, you also get to see greenery which looks like a mini Switzerland. which makes your trek very memorable and also a little difficult. So this trek should not be considered too easy
Buran Ghati pass trek in May or June ?
Buran ghati Pass Trek Month in May and June gives a slightly different experience to Trekkers because in May you start getting snow after Dayara thach
The Buran ghati trek starts from Janglik  village  and its end point is Barua Village. road head
In May and June, you get a combination of both greenery and snow, which makes the trek very spectacular. The weather in May and June is quite good and trek friendly, which makes trekking a lot of fun.
During the day the temperature of Buran Pass trek is around ( 5°C to 10 °C  and during the night the temperature comes down to -1 °C  to -5 °C  which is not bad.
Views and treks in Buran ghati Pass provide a lot of peace to the mind during the day, while you wake up from one wake to another, Buran ghati Pass can always be one of the most close treks in your heart.
You will get to see the Kinnaur, Himachal  culture and Himachal beauty in this trek which will always keep you connected towards the mountain. Himalayas
Buran Ghati pass trek in July and August ?
In the month of July and August, you will get to see beautiful flowers and green bugyal beutiful Mountain range, this trek looks very beautiful in monsoon.
You also get a chance to do Chandranahane Lake along with this trek, for which people trek separately, you complete two treks with a single trek which can be very good.
There is some rain in the monsoon months of July and August, trek but it also has its own fun in trekking. and Not many people come here in monsoon, so you can have a peaceful atmosphere here.
Buran Ghati Pass trek in September or October
Buran ghati pass is a little different in the months of September and October, There is no snow here in September and October, so it is a bit difficult to pass the summit without a little snow, but at this time you can get to see very beautiful views, and the special thing is that the month of October can be here anytime. Snow can fall, you can experience it
During the day the temperature of Buran ghati Pass is around Day time  5°C to 12 °C  and during the night the temperature comes down to 5 °C  to -1 °C  which is very confirmable,
At this time the weather here will be very good for you , At this time it is even safe to trek here and there is no rain.
Attractions of Buran Ghati Trek
Consequently, Buran Pass offers 360-degree views.
On the other hand, enjoy doing 5 snow slides, which is the most adventurous part of this trek.
In addition, enjoy Rappelling down the snow wall.
During the trek, explore the lush green meadows of Dayara which bloom with wildflowers.
Afterward, Visit Chandranahan Lake.
Come across numerous streams on the way.
Further, pass through mixed forests and you will find a plethora of colorful flowers and shrubs.
At the end, go through Barua village, there are many fruit orchards.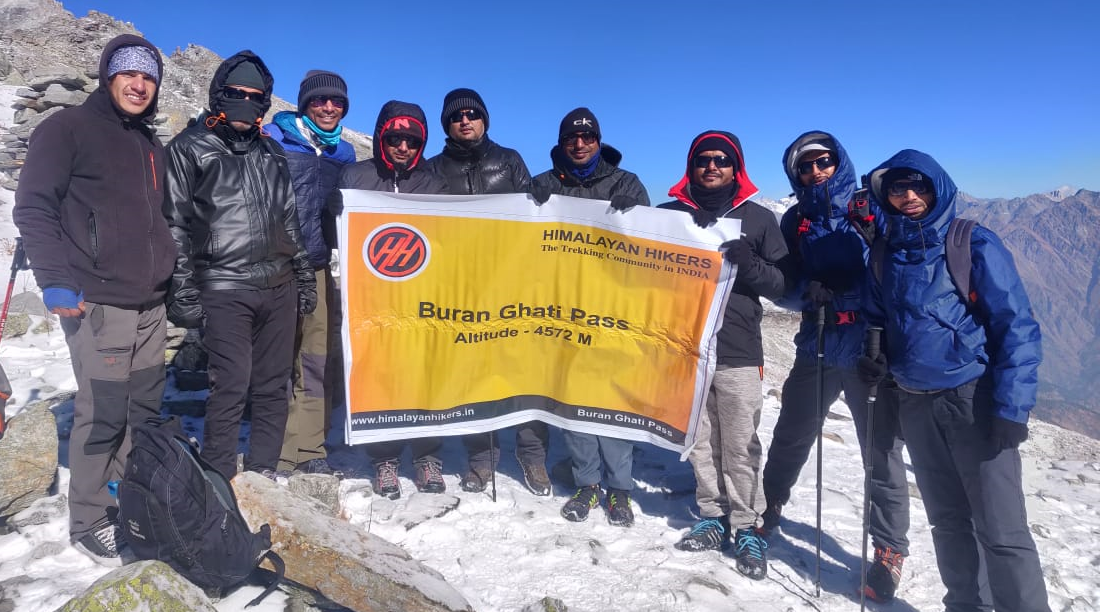 How Difficult is Buran ghati Pass Trek
Buran Ghati pass trek is Moderate trek , this trek comes in a moderate and difficult level,  I myself have done this trek sometimes with me, people who are trekking for the first time, we have done the entire trek, they used to need help somewhere, which we and our team used to help.
Buran Ghati Pass Treks to Base Camp are very easy, but a bit difficult  after that, uphill from Base Camp to the pass, and then complete Down Hill Trek after summit Buran ghati,
but if your fitness is good and you have it in your mind that I want to trek then you can do it absolutely. Where help is needed, our guides will support you, you just have to be strong and capable of the trek. One thing is that all you can do is to have courage and I myself am passionate.
 Buran Ghati Pass safe for me ?
Yes, Yes Buran ghati Pass Trek is a safe trek if you are going with a good trekking team which you must know before booking yourself, It is important for you to know that the bow trekking organization with which we are going is right or not,
And if possible, trek with local trekking organization, you can do the same help all the time. then your trek can be very good and memorable
The minimum age required to trek Buran Ghati  Pass is 14 years and maximum 55 years. The rest depends on your fitness .
About Base Camp Shimla in Buran Ghati Trek
"Shimla" is the capital of Himachal Pradesh, swathed by Rhododendrons, Oaks and Firs. It is the most loved hill station in India.
The fascinating beauty of Shimla even impressed the Bruisers and they declared it as the "Summer Capital" of British India. Apart from colonial buildings, there is high snow-covered Himalayas looming in the backdrop.
In Short, this capital city is blessed with enormous gifts which makes it one of the best destinations in India. Shimla is a starting pickup point of Buran Ghati pass trek,
Why to choose Buran Ghati Trek?
Before heading towards the itinerary, it is really essential to perceive the reason behind choosing Buran Ghati pass trek in Himachal Pradesh
See firstly, the trekking distance is a total of by taxi 375 Km and on foot 29 km which is to be covered into 6 nights and 07 days
Buran Ghati pass is a best Himachal, Pradesh this is the best trek for Experienced people Altitudes is 15000 feet
Need proper gear & clothing for sub-zero temperature winter?
You got to see so many heavenly bodies at one place like the panoramic view of the Himalayan ranges, Himachal Pradesh meadows, one of the beautiful pine forests, Apple orchid different variety of flora and fauna surpassing through bona fide Himachal and Kinnaur heritage and culture.
Do spare time in Interaction with locals, and you will get to know about some of the ancient tales of Indian mythology. And our Himachal and Kinnaur Cultures.
Beautiful landscapes so carry proper photo gear & Extra battery backup.
The backpack should not exceed 10 to 12 kg only
Weather conditions
The weather and temperature of Buran Ghati Trek always changes with time to time, which is always suitable for your trek, Months from May  to October  experience moderately good temperatures during the day with substantially colder nights accompanied by little to snow Buran ghati pass surrounding peak, You can get more information from us by phone or email.
Altitude we are going to cover in Buran Ghati Trek
Janglik village– 2804 Meter
Dayara Thach – 3376 Meter
Litham – 3578 Meter
Dhunda camp – 4075 Meter
Buran Ghati Pass – 4572 Meter
Key Points of Buran Ghati Trek
Duration: – 6 Nights 7 Days – from Shimla to Shimla
Base camp: – Janglik village
Summer Temperature : – Day (5°C to 10°C) Night (-2° C to 6° C)
Buran Ghati Altitude : – 4572 Meter
Best Time : – May, June, September, October
Trek Level : – Moderate
Trek distance : – On foot 29 Km – By taxi 375 km
Group Size : –  15 people max
Trek Route : – Shimala, Rohru, Janglik, Dayara thach, Litham, Chandranahan lake, Dhunda camp, Buran Ghati pass, River Camp, Barua Road head,
Short Itinerary of Buran Ghati Pass Trek
Day 1: Pickup to you from Shimla Drive to Janglik village by taxi (160 Km) (6/7 Hours) Altitude – 2,804 Meter,
Day 2: Trek from Janglik village to Dayara Thach ( 04 km) (4/5 Hours) (3376 Meter)
Day 3: Trek from Dayara Thach to Litham camp (03 km) (3/4 Hours) (3578 Meter)
Day 4: Short hike to Chandranahan Lake Explore some time here and back to Litham camp (03 km) (4/5 Hours) (4327 Meter)
Day 5: Trek from Litham camp to Dhunda Camp (04 km) (6/7 Hours) (4075 Meter)
Day 6: Trek from Dhunda to Buran Ghati Pass (4572 Meter) and River camp (3597 Meter) (07km) (7/8 Hours)
Day 7: Trek from River camp to Barua (05 km) Same day Drive to Shimla (275 Km)
Your Travel Plan for Buran Ghati Trek
You can book trains, air flights, and bus tickets for your journey only according to the information given by us.
1- The Buran Ghati pass trek will be of 5½ days and 01½ days of your journey total of 07 Days from Shimla to Shimla.
2- First of all, all the trekkers will have to book their flight and train bus according to our time table as our pick up is from 7:00 am to 8:00 am, you will have to reach Shimla Old Bus stand in the morning.
3- A taxi from Himalayan hikers will link you to Shimla's old bus stand.
4- Himalayan Hikers organize transport to Janglik base camp from Shimla old bus stand. Our vehicles leave at 7:00 am to 8:00 am sharp from Shimla. Sharing taxi costs pay to directly your taxi driver Rs 6,500 per vehicle one way.
5- In Shimla's old bus stand you will get our taxi staff that will arrange transport for you. The contacts no Transport coordinator or our office team will give you a week ago to your departure
6- Please you guys book your transport facility according to your own time table, after Himalayan hikers take all the responsibility of Shimla to Shimla, that you will not face any problem.
7- Your trek ends at Barua road head. Barua is a small village and you don't have any public transport here. Himalayan Hikers once again arranged for the transport for the return to Shimla on the same day 07.
You reach Shimla between at night 10.30 pm and 11.30 pm. It costs Rs 9,000 per vehicle on the way pay to directly your taxi driver
Shimla to Janglik Route Map
How will you Reach Buran Ghati Trek?
If you are traveling from Kolkata, Bangalore, Chennai, Pune, Mumbai or Gujarat any other city, so you will have to come to Delhi, you will get a train/flight from Delhi for Chandigarh comfortably.
Option 01:- By Air –
Himalayan hikers tell you that whenever you travel, you should reach your destination within 2 hours. Chandigarh airport is the nearest airport in Shimla. Located about 122 km for the Shimla city. There are flights available from all states to Chandigarh, you can go online and book your tickets. These are easy and easy ways for you and you also save your time,
If you find the flight to Chandigarh expensive, then you come by flight to Delhi or travel by bus from Delhi to Shimla, and it will be easy for you.
Option 02:- By Bus
If you have to go from Chandigarh to Shimla by bus then you will get a bus from Sector 43. Chandigarh, you will arrive here on time and book your bus ticket.
You can reach Shimla from Delhi by a bus, board it from (Delhi) Kasmiri get ISBT; it is good if you are booked the seats. It is a 10-11 hour bus journey from Delhi to Old bus stand Shimla
(Reach Shimla between 5:00 are to 6:00 am and the vehicle will be arranged from there.)
ATM Point and Mobile Connectivity in Buran Ghati Trek
ATM Point
Before starting the journey to Buran Ghati Trek, make sure that you need payments, and then take out the cash on the way, Janglik village base camp no bank and no ATM., Rohru market is the last place where you can withdraw cash from ATM.(If you want to withdraw money then do it in Shimla old bus stand ).
Mobile Connectivity
The phone does not work on this trek. Therefore, you should ensure that you do not have to make any important calls. So make sure you finish all your important work and calls before starting the trek. Last Janglik village available network.
Why you should choose us
We're here to give you the greatest experience possible through the eyes of highly skilled and qualified specialists who have a passion for adventure sports. We are community members attempting to promote our favorite adventure sports while also supporting local businesses. We, at Himalayan hikers, dedicate ourselves to providing you with an unforgettable experience.
Himalayan Hikers always make the trek from Trekkers memorable, I insist that you do not face any problem in any trek and you can always have a pleasant experience.
What should you keep in mind for the Buran Ghati  trek?
Buran Ghati pass trek  is as good as it is said, you also need to be prepared., Buran Ghati pass trek  is a   moderate trek which starts from from Shimla/ Jaglik village and ends after trek  Baru/ Shimla in Himachal Pardesh
So what are the special things to keep in mind before coming on this trek?
Buran Ghati pass trek  is one such trek, which you can do this  trek 1st week of May  to Last week of October , this is very safe trek in Himachal
 Summer Season
Summer trek to Buran Ghati pass trek is very special, the view and the temperature are all favorable to you this is best treks in himachal
For summer trek, you have to bring only normal clothes, so that your trek can be good, there is no need for hot clothes, but in hiking it is also necessary to bring all the equipment which is necessary for you.
It is necessary to have 3 pairs of clothes from trekking, especially the poncho, you will have to bring every season
In the summer season, the temperature is always normal, so there is no need for hot clothes.
Morning evening and nights are cold in Buran Ghati pass, so it is necessary to carry some warm clothes, good jacket, warm thermal, this will help you and stay comfortably in the high altitude camp
 Monsoon Season
Buran Ghati pass does not receive much rain in the month of July-August –
At this time you have to bring at least 3 pairs of clothes, for monsoon trek you do not have to bring too warm clothes, at this time you, hiking pants and t-Sart, I can trek
It's only a little cold in the morning and evening and the day is a good temperature for you
Before going on any trek, it will be easy for you to take information related to each season.
Trekkers need to know about these, you can ask us anytime like, Trek route, trek map, temperature, weather condition, difficulty level, trek starting point, end point, transport, view of the trek, best time to visit, How to reach Buran Ghati pass trek , trek Itinerary, trek distance, Location etc, keep this information before going
Winter  Season
Buran Ghati pass trek is not in winter trek , the right time to do this trek is from 1st week May to last week of November
It snows around 6 to 7 feet in the winter season and it can be very risky to go here
We have special treks for you for winters that are safe and beautiful
Such as Winter treks  – Kedarkantha Trek, Har ki dun Trek, Dayara Bugyal Trek, Kuari Pass Trek, Brahmatal Trek, Dodital Trek, Vijay Top Trek, Nag Tibba Trek and many more.
What do we do for safety in Buran Ghati pass trek?
First of all, the safety of trekkers is much more for us, if you see in the trek, then there are all the risks, which I do not think about.
Himalayan Hikers worry more about you that no one should ever have any problem in the trek.
What should we and you keep more safety in the trek
Whenever you are going for any trek, it is very important that you go completely fit and ready.
The trek is Moderate / difficult, if you make your feet and your mind calm and strong, you will find the trek very easy.
While trekking, keep in mind that you are walking on the right route or not always with your guide.
Most people look somewhere and where they are walking, this can cause twitching in your legs, which can ruin your entire trek.
It is important to ask your doctor if you have any medical problems
I should always keep my medical kit with me, it is very important.
Himalayan Hikers always keep a medical kit with you, such as oxygen cylinders, medicine to be given in emergency on the trek
If any trekkers have any more problems, then they are brought back to the base camp by laying them in the stretcher.
Our camp in Buran Ghati pass trek is around the 7000 ft to 12000 ft where you can not have any big problem of oxygen
In case of any medical problem, the help of your guide or a well-informed trekkers should be taken
If there is major health problems in Buran Ghati pass, then Nearest Hospital is in Rohru which is about 46 Kms away from Buran Ghati pass
Remember that when we go on any trek, we go from low altitude to high altitude, it does not cause much problem on us.
Our camps also move forward day by day and our bodies also work with the altitudes that are safe for trekkers
Along with the trek we keep getting acclimatization
Buran Ghati Trek is a Moderate trek, and it is important to take certain precautions and preparations before embarking on the journey. Here are some of the things that trekkers should keep in mind:
Physical fitness: Buran Ghati Trek requires a good level of physical fitness and endurance. It is recommended to start preparing for the trek at least a few weeks in advance by doing regular cardio exercises, running, or hiking. It is also recommended to consult with a doctor before starting the trek, especially if you have any pre-existing medical conditions.
Acclimatization: Buran Ghati Trek takes you to a high altitude, and it is important to acclimatize yourself to the altitude before starting the trek. It is recommended to spend a few days at the base camp before starting the trek to allow your body to adjust to the altitude.
Trekking gear: It is important to have the right trekking gear, including a sturdy pair of trekking shoes, warm clothes, rain gear, a sleeping bag, a tent, and a backpack. It is also recommended to carry a first-aid kit, sunscreen, insect repellent, and a water purifier.
Trekking permits: Trekkers need to obtain the necessary trekking permits and follow the rules and regulations of the local authorities.
Stay hydrated and eat well: It is important to stay hydrated and eat well during the trek. Carry enough water and snacks with you, and avoid consuming alcohol and smoking during the trek.
Leave no trace: It is important to follow the principles of Leave No Trace and ensure that you leave the environment as you found it. Do not litter and dispose of your waste properly.
Overall, Buran Ghati Trek requires proper preparation and precautions, and trekkers should take the necessary steps to ensure their safety and the safety of others on the trail.