Buran Ghati Trek, this is a beautiful pass in Himachal Pradesh
Buran Ghati is a highly diverse trek and a thrilling pass that lies at a high altitude of 15,000 feet in the heart of Himachal. This amazing trek starts from Janglik and is perfect because it has got all the adventure which also includes sliding down and Rappelling down a snow wall.
Therefore, witness the changing landscapes, diverse vegetation, superb mountain views, verdant forests, and quaint idyllic villages during your trek.
Arguably, Buran Ghati is a diamond hiding in the hills because of its unparalleled adventure and beauty!
About – Janglik Village in Buran Ghati Trek
The base camp of the Janglik is a beautiful small Village altitude of 2804 Meter. There are small shops and some homestay, Witness unique wooden houses made of Deodar wood.
You can get most of the things in Janglik is the main base camp of Buran Ghati Pass Trek; you will start trek here.
Attractions of Buran Ghati Trek
Consequently, Buran Pass offers 360-degree views.
On the other hand, enjoy doing 5 snow slides, which is the most adventurous part of this trek.
In addition, enjoy Rappelling down the snow wall.
During the trek, explore the lush green meadows of Dayara which bloom with wildflowers.
Afterward, Visit Chandranahan Lake.
Come across numerous streams on the way.
Further, pass through mixed forests and you will find a plethora of colorful flowers and shrubs.
At the end, go through Barua village, there are many fruit orchards.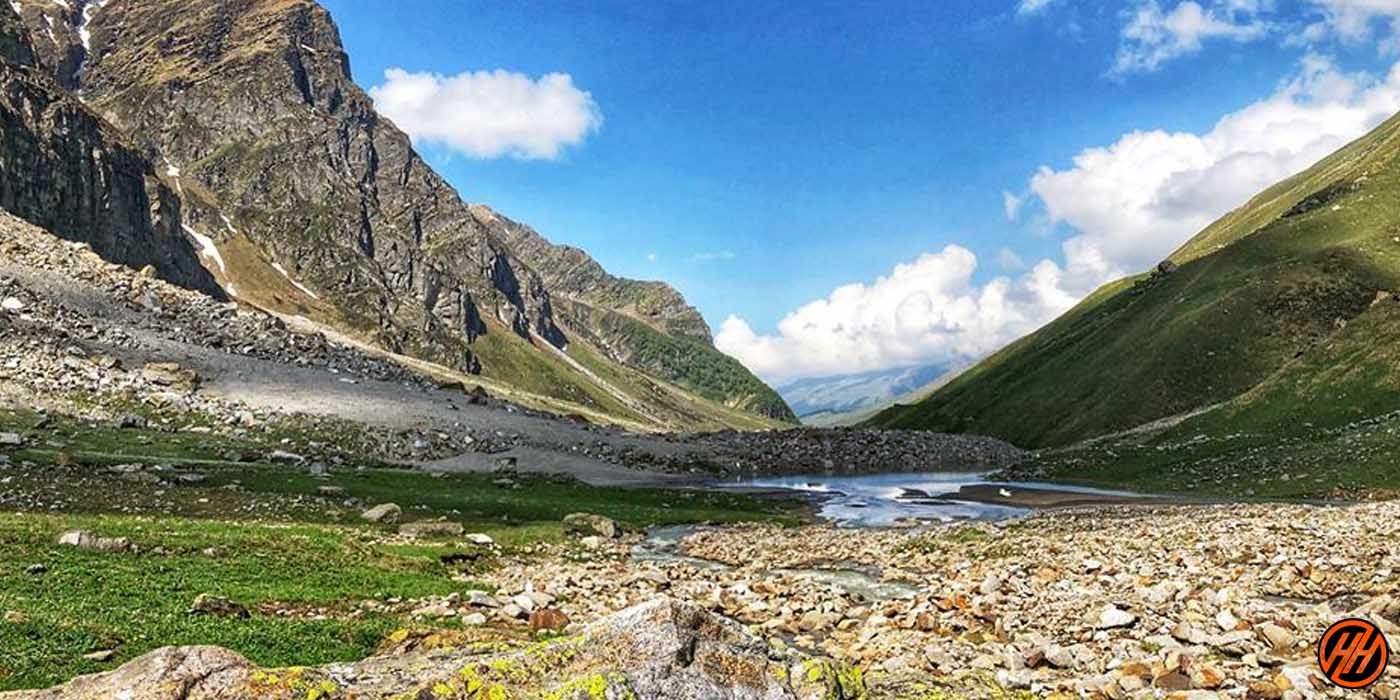 About Base Camp Shimla in Buran Ghati Trek
"Shimla" is the capital of Himachal Pradesh, swathed by Rhododendrons, Oaks and Firs. It is the most loved hill station in India.
The fascinating beauty of Shimla even impressed the Bruisers and they declared it as the "Summer Capital" of British India. Apart from colonial buildings, there is high snow-covered Himalayas looming in the backdrop.
In Short, this capital city is blessed with enormous gifts which makes it one of the best destinations in India. Shimla is a starting pickup point of Buran Ghati pass trek,
Why to choose Buran Ghati Trek?
Before heading towards the itinerary, it is really essential to perceive the reason behind choosing Buran Ghati pass trek in Himachal Pradesh
See firstly, the trekking distance is a total of by taxi 375 Km and on foot 29 km which is to be covered into 6 nights and 07 days
Buran Ghati pass is a best Himachal, Pradesh this is the best trek for Experienced people Altitudes is 15000 feet
Need proper gear & clothing for sub-zero temperature winter?
You got to see so many heavenly bodies at one place like the panoramic view of the Himalayan ranges, Himachali Pradesh meadows, one of the beautiful pine forests, Apple orchid different variety of flora and fauna surpassing through bona fide Himachali and Kinnaur heritage and culture.
Do spare time in Interaction with locals, and you will get to know about some of the ancient tales of Indian mythology. And our Himachal and Kinnaur Cultures.
Beautiful landscapes so carry proper photo gear & Extra battery backup.
The backpack should not exceed 10 to 12 kg only
Altitude we are going to cover in Buran Ghati Trek
Janglik – 2804 Meter
Dayara Thach – 3376 Meter
Litham – 3578 Meter
Dhunda camp – 4075 Meter
Buran Ghati Pass – 4572 Meter
Key Points of Buran Ghati Trek
Duration: – 6 Nights 7 Days – from Shimla to Shimla
Base camp: – Janglik
Summer Temperature: – Day (5°C to 10°C) Night (-2° C to 6° C)
Buran Ghati Altitude: – 4572 Meter
Best Time: – May, June, September, October
Trek Level: – Moderate
Trek distance: – On foot 29 Km – By taxi 375 km
Group Size: – 15 people
Short Itinerary of Buran Ghati Pass Trek
Day 1: Pickup to you from Shimla Drive to Janglik village by taxi (160 Km) (6/7 Hours) Altitude – 2,804 Meter,
Day 2: Trek from Janglik village to Dayara Thach ( 04 km) (4/5 Hours) (3376 Meter)
Day 3: Trek from Dayara Thach to Litham camp (03 km) (3/4 Hours) (3578 Meter)
Day 4: Short hike to Chandranahan Lake Explore some time here and back to Litham camp (03 km) (4/5 Hours) (4327 Meter)
Day 5: Trek from Litham camp to Dhunda Camp (04 km) (6/7 Hours) (4075 Meter)
Day 6: Trek from Dhunda to Buran Ghati Pass (4572 Meter) and River camp (3597 Meter) (07km) (7/8 Hours)
Day 7: Trek from River camp to Barua (05 km) Same day Drive to Shimla (275 Km)