Friendship Peak Expedition in Himachal 
Mount Friendship, also known as Friendship Peak, is a mountain peak in Himachal Pradesh, India, located in the Beas Kund area of the Pir Panjal range. It is known for its hard ascent and panoramic views of the Pir Panjal and Dhauladhar peaks, standing at an altitude of 5287 m (17353 ft.) above sea level. The trek, which extends to the friendship peak, encourages aspiring mountaineers and those looking for a challenging trail to enjoy the tranquility and grandeur of the Pir Panjal range. The road winds through the lovely Solang valley, which itself is thickly forested with a variety of alpine tree species, alongside numerous lavish streams leading to upland pastures, before climbing to the frozen surface with extensive tilts and crevasses. The view from the top is stunning, with snow-capped mountain ranges and endless vistas.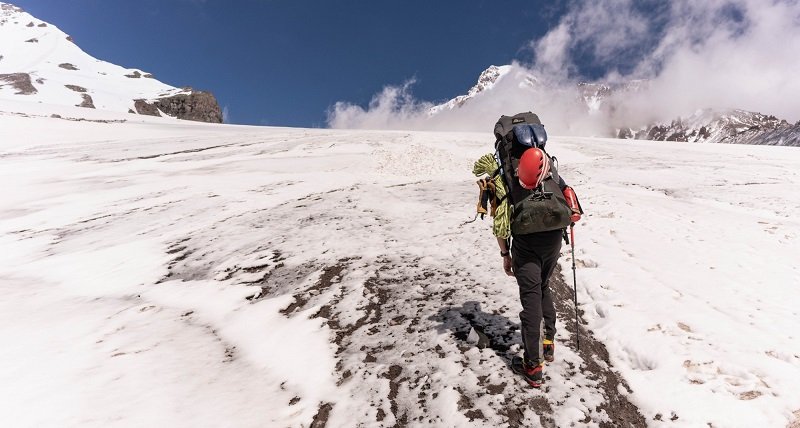 Why should you include Friendship Peak on your list of summer hikes this year?
Whether you've never done a trek before or have a long list of them under your belt, the obstacles and stops along the way will stick with you. And, as the name implies, we strongly advise you to bring your loved ones along on this thrilling adventure.
Best time to visit in Friendship Peak Summit
The best season to travel is from June to mid-October, when temperatures can reach as high as 20 degrees Celsius in the afternoon, which is ideal for team travel. The nights are substantially colder, with temperatures ranging from -2 to 6 degrees. The temperature increases to 12-18 degrees Celsius in the daytime and dips to -6 to 4 degrees at night from September to mid-October.
Difficulty level in Friendship Peak
Despite the fact that we enthusiastically invite aspiring mountaineers on this journey due to its achievable goal, we urge them to have prior experience due to the difficulty level. Strong physical endurance and altitude acclimation have become essential.
The altitude that will be covered in Friendship Peak
Manali-2050m

Solang Nala-3300m

Baker Thach camp/Beas Kund camp -3690m

Advance camp-4500m

Summit camp-4900m

Summit-5287m
Short Details  of Mt Friendship Peak Expedition 
Duration:

08 Days ( Manali to Manali )

Base Camp:

Manali 

Best Time to Do :

  June, July, August, September, 

Level:

Difficult 

Highest Point:

(5,287 m)

Temperature:

  (5°C to 10°C) (-2°C to -15°C)

Starting point:

Solang 

Group Size:

Minimum 4 and Maximum 10 people
Key Points about Mt Friendship Peak Expedition 
Level:  Difficult (so first-timers trekkers should avoid)

For this expedition, it is important to follow the Guideline and Rule of the IMF. Without this, it will not be an expedition

Proper conditioning & training of body required

Group size minimum of 03 maximum of 10 people

Need proper Expedition gear & clothing for sub-zero temperatures?

Shoes are the single most important equipment

High Altitude requires proper acclimatization

Phones don't work on the trek, we are provide to you Radio Walkie Talkie for Communication

Beautiful landscape so carry good photo gear (I couldn't carry my best equipment)

Travel light (my backpack was heavy at about 12 kg to 15 Kg )

Keep an extra day in your itinerary for attempt to summit account for bad weather

Alcohol and smoking is not allowed in during the Expedition

Total time for the journey
The minimum is eight days, but, depending on the conditions and the weather, the schedule may change by one or two days.
Things to consider
Because nights at higher elevations tend to be substantially colder, we suggest having well-graded, warm and comfortable clothing.
Despite the fact that we handle medical crises, we urge individuals to keep their emergency kits on hand in the case of personal underlying illnesses.
Since the journey provides you with a picturesque view, don't forget to bring your camera along with extra batteries.
Because connectivity along the route is unpredictable, we urge people to do all of their work ahead of time.
Why Himalayan hikers 
We're here to give you the greatest experience possible through the eyes of highly skilled and qualified specialists who have a passion for adventure sports. We are community members attempting to promote our favorite adventure sports while also supporting local businesses. We, at Himalayan Hikers, dedicate ourselves to providing you with an unforgettable experience.
Short  Itinerary friendship Peak Expedition
Day 1-

Drive from Manali-Solang base camp 

Day 2-

Solang – Baker Thach camp

Day 3 –

Baker Thach Camp – Beas Kund Camp

Day 4 –

A rest day may be necessary depending on the reaching conditions. and load ferry to Camp 01

Day 5-

Beas Kund Camp- Advance base  Camp 

Day 6-

Final Summit Attempt (Max Alt. 5287 M) and back to Base Camp (Climb 3 Kms and trek back around 9 Kms)

Day 7-

Reserve Days  for Second Attempt or  bad weather 

Day 8-

Base Camp to Dhundi and same day Driver to Manali
Your Travel Plan for friendship Peak Expedition
You can book trains, air flights, and bus tickets for your journey only according to the information given by us.
The friendship peak Expedition   will be of 7 nights 8  Days from Manali to Manali, includes travel.
First of all, all the trekkers will have to book their flight and train bus according to our time table as our pick up is from 9:00 am to 10:30 am, you will have to reach Manali Bus Stand, near by Mall Road in the morning.
A taxi from Himalayan hikers will link you to the Manali bus stand, near mall road.
Himalayan Hikers organize transport to the Solang  base camp from the Manali bus stand. Our vehicles leave at 9:00 am to 10:30 am sharp from Manali. Sharing taxi costs include your package.
In the Manali bus stand, you will get our taxi staff that will arrange transport for you. The contacts no Transport coordinator or our office team will give you a week ago to your departure.
Please you guys book your transport facility according to your own time table, after Himalayan hikers take all the responsibility of Manali to Manali, that you will not face any problem.
Your trek ends at Manali day 08th evening 6:30 pm. Manali is a beautiful city in Himachal here available public transport for all over State in India. Booked your return bus tickets directly Manali bus stands.
How to  reach the Friendship Peak Expedition?
If you are traveling from Kolkata, Bangalore, Chennai, Pune, Mumbai or Gujarat any other city, so you will have to come to Delhi, you will get a flight from Delhi for Bhuntar comfortably.
Option 01:- By Air Bhuntar Airport kullu
Himalayan hikers tell you that whenever you travel, you should reach your destination within 2 hours.  Bhuntar, Kullu airport is the nearest airport in Manali.
Located about 32 km for the Manali city. There are flights available to Bhuntar airport, you can go online and book your tickets. These are easy and easy ways for you and you also save your time, Bhuntar to Manali taxi available in airport 24×7.
If you find the flight to Bhuntar airport expensive, then you come by flight to Delhi or travel by bus from Delhi to Manali, and it will be easy for you. And many Volvo bus available.
Option 02:- By Bus
You can reach Manali from Delhi by a bus, board it from (Delhi) Kashmiri Gate, ISBT; it is good if you are booked the seats. It is a 10-11 hour bus journey from Delhi to Manali bus stand, near mall road.
(Reach Manali bus stand between 5:00 am to 6:30 am and the vehicle will be arranged from there)