Gorson Bugyal Trek Himalayan Trek for Amateurs in Uttarakhand near Auli 
Gorson Bugyal Trek is one of the easiest treks in the Himalayas starting from Auli if you are taking new steps in the world of adventure then without second thoughts go for it.
Pass through these exciting and picturesque trekking trails in Garhwal, it takes you through the thick alpines forests and undulating meadows 'Buygal'.
Gorson Bugyal Trek A short trek but very spectacular, it starts from Bugyal Auli and is spread over about 5 kms. In this trek, small lakes and beautiful forests spread all around, where the mind enjoys a lot.
Gorson Bugyal trek comes to Chamoli district and its altitude is 3050 m. but from 2018 camping can't be done here, You can go here only for trek.
Spectacular Views in Gorson Bugyal Trek
On Gorson Bugyal trek get jaw-dropping views of high Himalayan peaks like Kamet (7756 m), Mana Parvat (7237 m), Nanda Devi (7817 m), Dunagiri (7066 m), Hathi Ghodi and Nar Parvat. During your trek, get spectacular sight of these high peaks.
Discover the Charms in Gorson Bugyal Trek
Gorson Bugyal is a great summer Trek and winter trek but in summers this wide meadow comes alive, the greenery and the wildflowers blossom together with the pleasant song of flowing wind.
Witness the rich Flora and Fauna here with your family and friends, come across the village and you get an opportunity to know the lifestyle closely.
Best Time to Visit  Gorson Bugyal Trek?
Gorson Bugyal Trek is a very beautiful  and  Easy trek in the Uttarakhand Himalayas, The Gorson Bugyal Trek is great for those people who have a great passion for hiking in near Auli and consider it a special purpose in their life. Gorson Bugyal Trek is such a trek where you get to see more than one Himalayan mountain range. Gorson Bugyal Trek is very important for those people who have holidays only on weekends  3 nights to 4 Days from Dehradun to Dehradun.
You can do Gorson Bugyal Trek throughout the year, For those who like summer treks, they can go summer and winter treks are a very good time for those who want to see snow. and live snow fall,
Gorson Bugyal Trek is also a good trek for Monsoon trek at that time there are flowers and green greenery which makes the trek very memorable.
During the day the temperature of Gorson Bugyal Trek is around ( 08°C to 20 °C  and during the night the temperature comes down to  05 °C  to 10 °C  which is not bad.
You will never consider yourself boring in Gorson Bugyal Trek this trek can give you nothing but joy, You will get to see the Garhwali culture, Auli Skiing  in this trek which will always keep you connected towards the mountain. Himalayas.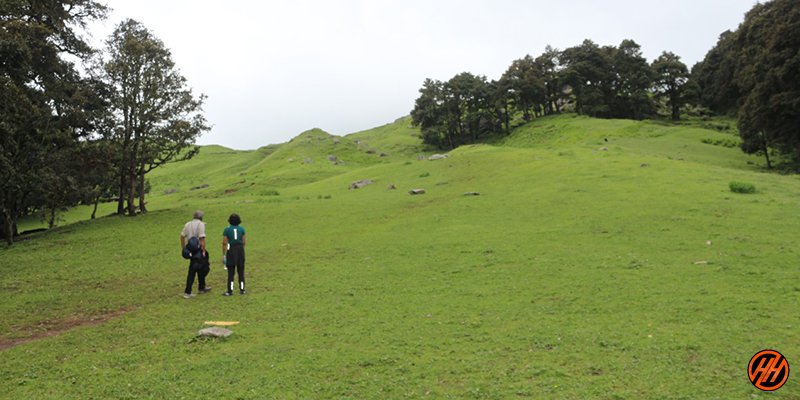 How Difficulty level  is  Gorson Bugyal Trek
Gorson Bugyal is Easy trek , this trek comes in a Easy level Gorson Bugyal Trek  is easy climbing while going, and when Gorson Bugyal Trek via Auli comes back from summit, it is completely down trek
 Gorson Bugyal Trek safe for me ?
Yes Gorson Bugyal Trek is a safe trek if you are going with a good trekking team which you must know before booking yourself, It is important for you to know that the bow trekking organization with which we are going is right or not,
And if possible, trek with local trekking organization in Uttarakhand , you can do the same help all the time. then your trek can be very good and memorable
The minimum age required to trek Gorson Bugyal Trek is 5 years and maximum 65 years. The rest depends on your fitness .and this is special for family and school group, adult.
Why you should choose us for Gorson Bugyal Trek
We're local here to give you the greatest experience possible through the eyes of highly skilled and qualified specialists who have a passion for adventure sports. We are community members attempting to promote our favorite adventure sports while also supporting local businesses. We, at Himalayan hikers, dedicate ourselves to providing you with an unforgettable experience.
Himalayan Hikers always make the trek from Trekkers memorable, I insist that you do not face any problem in any trek and you can always have a pleasant experience.
Weather conditions
Weather conditions depend on the time of the year trekkers are travelling. Weather of Gorson Bugyal trek always changes from time to time, so you can bring clothes for yourself according to the season in which you want to come. If possible, you can inform us about it
Key Points of Gorson Bugyal Trek
Level: Easy
Proper conditioning & training of body required
Need proper gear & clothing for sub-zero temperature
Shoes are the single most important equipment.
High Altitude requires proper acclimatization.
Beautiful landscapes so carry good photo gear & Extra battery backup.
Travel light
The backpack should not exceed 10 kgs.
Must Read about Gorson Bugyal Trek
Duration: 4 Days from Dehradun to Dehradun
Best Season: Throughout the year
Level: Easy
Highest Point: 3050 m
Weather: Nights are cold and the day temperature is pleasant during the season.
Summer Temperature: Day  5°C to 15°C) Night (2°C to 5°C)
Winter Temperature: Day  -2°C to -5°C) Night (-5°C to -10°C)
Starting point: Dehradun, Rishikesh, Haridwar
Short Itinerary  of Gorson Bugyal Trek
Day 1 – Pickup to you from Dehradun to Auli  by taxi (305 km) (11/12 hours) (2909 m ) over night stay Hotel
Day 2 – Rest Day for Acclimatization and hiking near Auli Skiing point
Day 3 – Trek from Alui to Gorson Bugyal summit 3519 m (6 km) back to hotel night stay hotel
Day 4 –  Drive from Auli to Dehradun Via Rishikesh by taxi (305 km) (11 /12 hours)
Your Travel Plan for the Gorson bugyal Trek
You can book trains, air flights, and bus tickets for your journey only according to the information given by us.
The Gorson bugyal trek will be of 2 days  only and 02 days of your journey total of 04 Days from   Dehradun to Dehradun
First of all, all the trekkers will have to book their flight and train bus according to our time table as our pick up is from 6 am to 7 am, you will have to reach Dehradun in the morning.
A taxi from Himalayan hikers will link you to the Dehradun railway station.
Himalayan Hikers Arranged  transport to Auli base camp from Dehradun railway station. Our vehicles leave at 6:00 am to 7:00 am sharp from Dehradun
In the Dehradun railway station, you will get our staff that will arrange transport for you. The contacts no Transport coordinator or our office team will give you a week ago to your departure
Please you guys book your transport facility according to your own time table, after Himalayan hikers take all the responsibility of Dehradun to Dehradun, that you will not face any problem.
How to reach Auli for Gorson bugyal Trek ?
If you are traveling from Kolkata, Bangalore, Chennai, Pune, Mumbai, or Gujarat any other city, so you will have to come to Delhi, you will get a train from Delhi for Dehradun comfortably.
Option 01:- By Train
All trekkers booked yourself the,
Nanda Devi Express to Dehradun via Haridwar (Train no is 12402 Departure 11:30 pm: – Reached Haridwar 3:53 am a morning
Take the overnight train Dehradun via Haridwar to from new Delhi- Dehradun Special A/C train from Hazrat Nizamuddin railway station the best option for you. The train reached at Dehradun railway station morning 5:40 am if you Meet to Our office Member – joining to our upcoming batches and Group.
Option 02:- By Air –
Jolly Grant airport is the nearest airport in Dehradun Rishikesh or Haridwar, Located about 21 km for the Rishikesh city. There are flights available from all states to Dehradun Airport, you can go online and book your tickets. These are easy and easy ways for you and you also save your time, Taxis are available from the airport to Rishikesh or Haridwar at all time costs Rs. 1000/* one-way pay to directly
Option 03:- By Bus
You can reach Dehradun from Delhi by a bus, board it from (Delhi) Kashmiri Gate ISBT; it is good if you are booked the seats.