Obra Gad is amidst two pleasant valleys Rupin and Supin
Obra Gad is located amidst the pleasant valleys of Rupin and Supin and is parallel to Har Ki Dun. Devkiyara is an ecstatic meadow which highlights Obra Gad, this meadow is the major attraction of this place which lies at an altitude of 4,100m.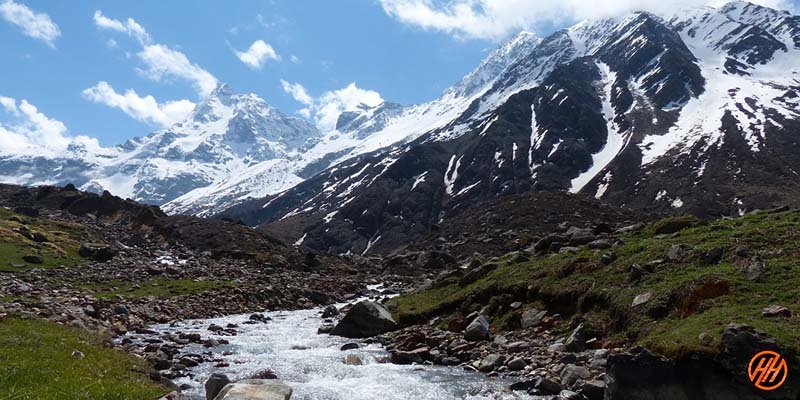 Experience Diversity and get overwhelmed by the Mountain Views in Obra Gad
In this trek cultural and natural diversity can be experienced as the trail takes you through different Himalayan villages dense forests and the meadows. The magnificent mountain views will leave you spell bound.
The Rangnala looks the most beautiful amongst all which is at a height of (5,400m) the view of ridges and unnamed peaks.
Devkyara Meadow and Obra Temple in Obra Gad
Near Obra valley there are mesmerizing Devkyara meadow is approximately 4 km long; camping here is a bliss! Here are some of the perfect campsites like Bhawa.
In Obra valley there is "Obra temple" which is made by the villagers and below flows Obra River, people from different villages visit this temple to worship Lord Someshwar and these people every year carry a pilgrimage from Jakhol to Obra valley.
Key points of Obra Gad Trek
Level: Easy to Moderate
Proper conditioning & training of body required
Need proper gear & clothing for sub-zero temperature?
Shoes are the single most important equipment.
High Altitude requires proper acclimatization.
Beautiful landscapes so carry good photo gear & Extra battery backup.
Travel light
The backpack should not exceed 10kgs.
Must Read about Obra Gad
Duration: 07 Days (Dehradun to Dehradun)
Best Season: May, June, July September and October
Level: Easy to Moderate
Highest Point: 4,100 meters
Trekking distance (total) – (46 km)
Weather: Nights are cold and day temperature is pleasant during the season.
Winter temperature: (-3°C to -5° C)
Summer temperature: (5°C to 15°C)
Starting point: Dehradun
Short Itinerary of Obra Gad Trek
Day 1: Dehradun to Sankri (210 km) (7/8 hours)
Day 2: Sankri to Jakhol (19 km) and trek to Obra (6 km) (4/5 hours) (2,500 m)
Day 3: Obra to Bhawa (8 km) (5/6 hours) (3,500 m)
Day 4: Bhawa to Devkiyara (5 km) (4/5 hours) (4,100m)
Day 5: Devkiyara to Obra (13 km) (8 hours) (3,500m)
Day 6: Obra to Jakhol (6 km) (4/5 hours) Jakhol to Sankri (19 km) (2 hours)
Day 7: Sankri to Dehradun (210 km) (7/8 hours)