Baraadsar Lake Trek to a phenomenal "Wish fulfilling Lake" "Baraadsar Lake".
Baraadsar Lake Trek lies amidst high ridges at an altitude of 4,300 meters and is worshiped by the people. It is one of the virgin treks not known by many.
This trek come under Govind Wildlife Sanctuary National park in Uttarkashi district Uttarakhand .No doubt, the Himalayas have enchanting beauty, bracing climate and desirable soothing green meadow.
So, what else can be better than spending some days here in the serenity !
Wishes never go unfulfilled in Baraadsar Lake Trek
Baraadsar is a High Altitude Lake at a height of 4,300 m.
It is one of the virgin treks not known by many but the local people of the area believe that this lake is sacred and possess some supernatural power of fulfilling wishes.
It is between two beguiling valleys of Rupin and Supin which are close to the border of Himachal Pradesh.
Baraadsar has very beautiful campsites; the trail is thrilling through dense forest, meadows with enchanted beauty and some steep ridges but the panorama views from the top cannot be described in words.
Trek to this sacred lake is a difficult one but as the beliefs of people wishes are fulfilled here so it's worth going there.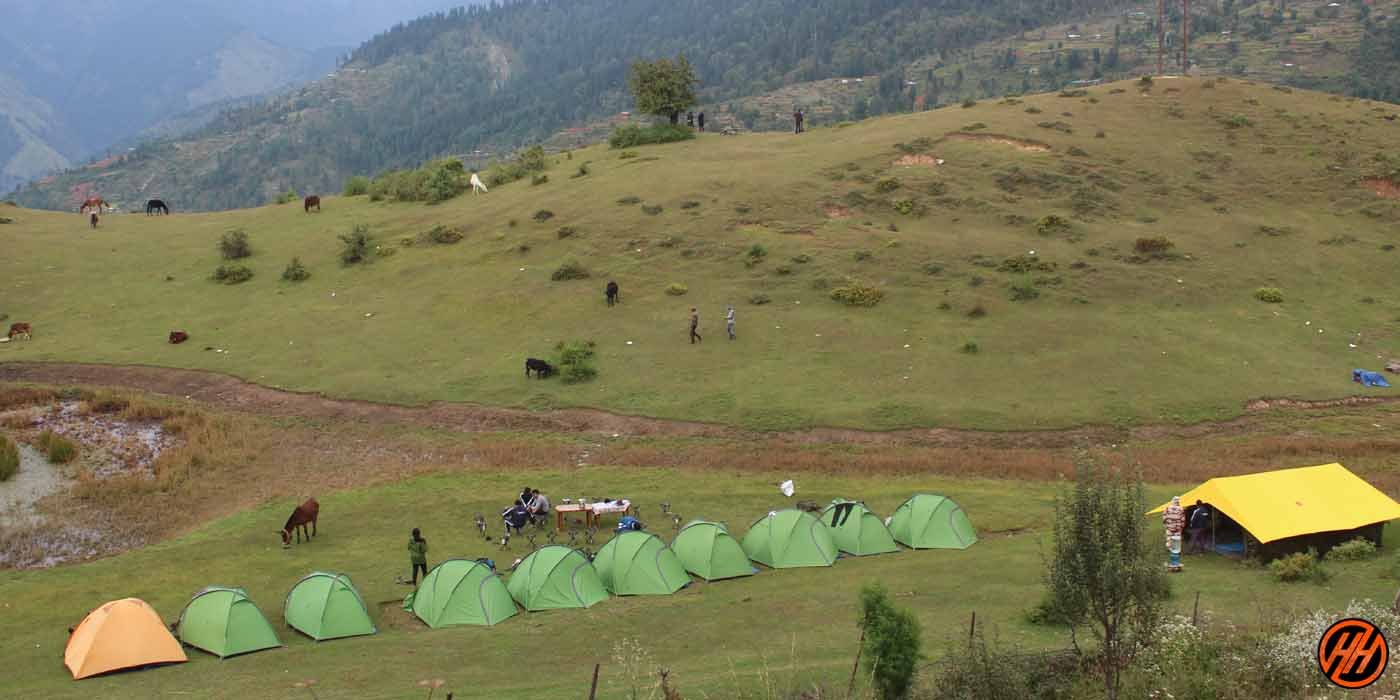 Lake amidst high ridges in Baraadsar Lake Trek
The sights are spectacular, high ridges surround this lake and are in lower middle part.
The trail is exhilarating and it takes you through alluring meadows and high ridges this trek is not at all for beginners because it varies from moderate to difficult.
The access is through the alluring valleys and further you have to cross a ridge that separates Rupin and Supin and then the area becomes barren with boulders all around.
The views from summit are enthralling, you get panoramic views from there of snow covered peaks and they capture all the attention of visitors.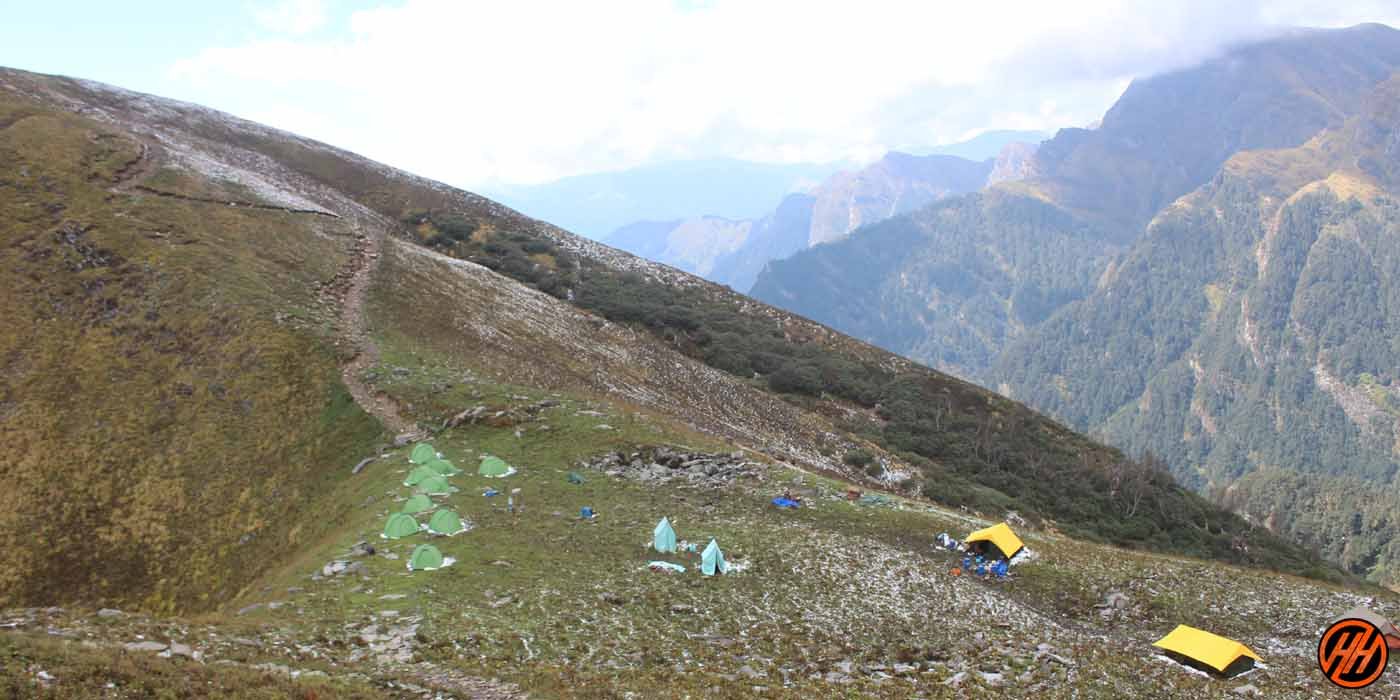 Why to choose Baraadsar Lake Trek?
Before heading towards the itinerary, it is really essential to perceive the reason behind choosing Baraadsar lake trek.
See firstly, the trekking distance is a total of by taxi 454 Km and on foot 59 km which is to be covered into 8 days. . Dehradun to via Mussoorie to Khanyasni camp , Vijay top, Dhaldhar , Devbasa , Baraadsar lake , fhitari , jakhol , Sankri
Baraadsar lake trek is a low altitude mountain trek Altitudes is 4300 Meters
The Starting trail is easy to moderate as compare to other treks this is Moderate trek. So this trek is best for family and beginners, school tour
Need proper gear & clothing for sub-zero temperature?
You got to see so many heavenly bodies at one place like the panoramic view of the Himalayan ranges, you can see pine forests, different variety of flora and fauna surpassing through bona fide Garhwali culture.
I think Do spare time in Interaction with our local's team, and you will get to know about some of the ancient tales of Indian mythology and our local cultures, this is good ideas for trekkers
Beautiful landscapes so carry proper photo gear & Extra battery backup.
The backpack should not exceed 12 kg only
Key Points of Baraadsar lake trek
Duration: – 7 Nights 8 Days from Dehradun to Dehradun
Base camp: – Khanyasni camp
Summer Temperature:- Day 5°C to 12°C) Night 2° C to 5° C
Baraadsar lake trek Altitude: – 4300 Meters
Best Time: – May, June, Sep, Oct, Nov
Trek Level: – Moderate
Trek distance: – On foot 59 Km – By taxi 454 km
Group Size: – minimum 5 people maximum 15 people
Altitude we are going to cover per day in Baraadsar Lake Trek
Dehradun – 478 Meter
Khanyasni camp – 1878 Meter
Sarutal – 2000 Meter
Badang camp – 2600 – Meter
Vijay Top – 3800 Meter
Dhaldhar camp – 3200 Meter
Devbasa camp – 3650 Meter
Baraadsar Lake – 4300 Meter
Short Itinerary of Baraadsar lake Trek
Day 1:Pickup to you from Dehradun railway station drive to Khanyasni camp (235 km) (9/10 Hours) (1878 Meter)
Day 2:Trek from Khanyasni camp to Sarutal camp (05 km) (3/4 Hours) (2000 Meter)
Day 3:Trek from Sarutal camp to Badang camp (08 km) (5/6 Hours) (2600 Meter)
Day 4:Trek from Badang camp to via Vijay Top (3800 Meter) Dhaldhar camp (13 km) (6/7 Hours) (3200 Meter)
Day 5– Trek from Dhaldhar camp to Devbasa camp (5 km) (3/4 hours) (3650 m) –Today we are cover only 6 km trek need for High Altitude requires proper acclimatization.
Day 6– Trek from Devbasa camp to Baraadsar lake explore beautiful lake and surrounding high altitude mountain range back to Camp (14 km) (7/8 hours) (4300 Meter)
Day 7– Trek from Devbasa camp via lower sural to Kasla (15 km) (6/7 hours) same day Drive to Sankri Hotel (29 km) (2 Hours)
Day 8 – Sankri to Dehradun by taxi (210 km) (8/9 Hours)