Dayara Bugyal – A Great Winter Trek in the Uttarakhand Himalayas
Dayara Bugyal Trek is a spectacular and beautiful Bugyal. Dayara Bugyal Trek lies in the Uttarkashi district of Uttarakhand, India and the maximum altitude of this Bugyal. 11,181 ft. It starts from a small village of Barsu.  Amazing mountain views Thrilling hikes, and some of Uttarakhand finest alpine meadows. Magnificent forest area, beautiful campsites, ancient villages, high points.
Dayara Bugyal Trek lies among the best treks in Uttarakhand. The vast meadows stretch from 10,000 to 11,181 ft in the Uttarkashi district, Uttarakhand.
This beautiful place stands in between high snow-covered peaks which together make an excellent sight. On the other hand, the meadows remain covered in snow. So, consequently, it turns out to be the most fantastic winter trek in Uttarakhand. And, also an excellent Skiing destination. Dayara Bugyal is around 28 km2 to 30 km2. I have spread.
The special thing is also that Bedni Bugyal enclosure in Dayara Bugyal Uttarakhand is the Biggest Bugyal, There is always a change in the weather in these mountains, and the temperature of Dayara Bugyal varies with time.
Excellent Himalayan Views and Surroundings in Dayara Bugyal Trek
Undulating meadows of Dayara are real bliss for the trekkers. It is a perfect trek that does choose in winters as well as summers! The charm and serene aura of this trek are attracting many people across the globe.
The white sheet of snow in winters gives trekkers a chance to do "Skiing" here and the blooming meadows become a feast for the eyes when the snow melts.
Subsequently, the Dayara Bugyal and Bakaria Top offer majestic views of high Himalayan peaks! The peaks visible from there are –, Rudregaira, Gangotri I, II & III, Jaonli, Draupadi ka Danda I & II, Black peak, Bandarpoonch, and many other unnamed peaks are visible from Dayara Bugyal meadow But, do not miss heavenly sunrise and sunsets views during your trek.
Also, this magical valley attracts trekkers across the globe. The carpeted wildflowers bloom together and make the scenery picturesque. The serene environment and walking under the shade of trees gives a sense of relief. Therefore, it is a great Winter and Summer Trek with excellent views and magnificent surroundings.
Beautiful Mountain Village in Dayara Bugyal Trek Route
Dayara Bugyal Trek is a High-altitude meadow for treks with natural scenery, campgrounds & historic mountain villages. I think this is a perfect Himalayas trek in Uttarakhand. For Dayara Bugyal Trek, we have to go through the village of Barsu.  You get a chance to cover the beauty of this village; there is also a beautiful pond in the middle of the village,
Barsu is a small hamlet at an altitude of 2,240 meters in the Uttarkashi district. The small village of Barsu has a GMVN Guest House and some hotels. There are also some home stays as well in the picturesque village. This place is excellent for bird watching because ground birds can be easily seen here.
People here are very good and helpful; these people always welcome travelers heartily, We continue to come here for the trek, so the people here are close to our heart, If you guys want to stay home for the truth, then you will know the people here, We hill people are always welcomed by the traveling people, Anyway, when you come for this trek, you can visit the village in Evening.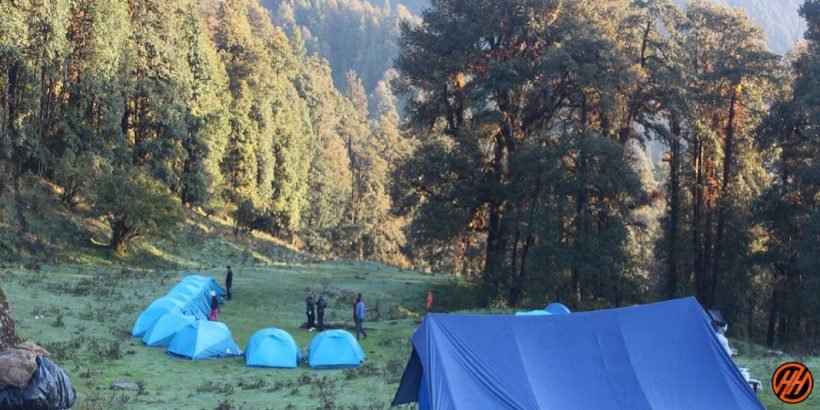 What can you see from Borasu to Barnala and how will it feel?
Bakariya top max 12698 ft and is a normal step ascends till Barnala. We pass through the beautiful landscape of laced of Rhododendrons, forest cover of Silver Oaks, Deodar. Barnala is a place from where the famed meadow of Dayara starts.
The miles of green undulating meadows stretching as far as your eye can see are a beautiful sight. The Barnala and Dayara ridges can be seen right from the lawns at Barsu. It is an easy-moderate climb with some stiff edges in between. Barnala, a small meadow, is on top of the first ridge. Take the pathway that goes beside the wall of passing the village fields.
The fields give way to trees within ten minutes of the climb. The trees, a mix of local deciduous varieties, oak and rhododendron, create a beautiful mix of colors when their leaves glisten in the morning sun.
The trail to the high alpine meadow Dayara Bugyal is through the Barnala meadows. The landscape is picturesque and the dense forests lend a sneak peek of the greater Himalayas. As you end the ascend at Dayara, the vast meadow unfolds in front of you.
Butter & Milk, Holy Festival Celebrated in Dayara Bugyal Trek
Every year, all the people of Dayara Bugyal, Barsu or Raithal Villages and Uttarkashi Gangotri area people, and trekkers from different parts of India. Took part in the annual 'Butter Festival' celebrate the Butter and holy Festival with great pomp.
This is the local festival here, on this day; Lord Krishna is done to make him happy. This butter festival is celebrated in the middle of Dayara Bugyal, which is very beautiful and wonderful.
Why choose Dayara Bugyal Trek?
Before heading towards the itinerary, it is really essential to perceive the reason behind choosing the Dayara Bugyal trek.
See firstly, the trekking distance is a total of 24 km which is to be covered into 6 days. Yet, it comes under a moderate level of easy to moderate because of the things that this trek has to offers.
No high altitude mountain sickness due to the forthcoming of the forest region and this is the easy level trek
The trail is not that abrupt and sheer as compared to other treks. So, beginners can easily do this trek. And family
You got to see so many heavenly bodies at one place like the panoramic view of the Himalayan ranges, meadows, lakes, pine forests, different variety of flora and fauna surpassing through bona fide Garhwali heritage and culture Gangotri range.
During the winter season, this fascinating Dayara Bugyal remains covered in snow and the white sheet of snow makes it look like a magical wide snow-land.
And, in summers, the valley turns totally different and amusing because of meadows, wildflowers and woods blooming in different colors.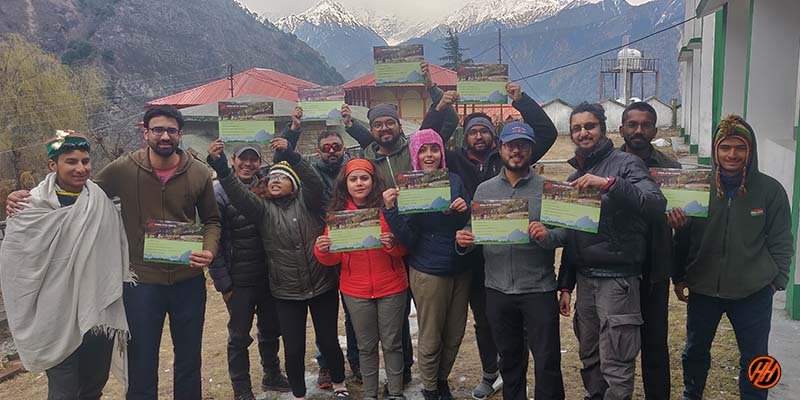 The altitude we are going to cover in Dayara Bugyal Trek
Barsu Village – 7,423 Ft
Barnala Tal camp – 9,884 ft
Dayara Bugyal Altitude – 11,181 ft
Bakaria Top – 12,645 ft
Gui – 9,750 ft
Key Points of Dayara Bugyal trek
Duration: – 5 Nights 6 Days from Dehradun to Dehradun
Base camp: – Barsu village
Summer Temperature: – Day (5°C to 15°C) Night (2° C to 8° C)
Winter Temperature: – Day (-2°C to -5° C) Night (-5°C to -12°C)
Dayara Bugyal Altitude: – 11,181 feet
Best Time: – All year
Trek Level: – Moderate
Trek distance: – On foot 24 Km – By taxi 350 km
Group Size: – 20 people
My personal belief is that people can do this trek from a minimum of 5 years to 60 years.
But it is necessary to be fit to do this trek
And you can do this trek in the year; these are the plan for both summer and winter,
For Winter Trek, I think it is necessary for people from 10 years to 55 years
This trek will be a relief and joy for the first time visitors. This trek will increase new energy and confidence in you
Short Itinerary of Dayara Bugyal Trek
Day 1- Pick up to you from Dehradun railway station – Drive to Barsu village – 175 Km (7/8 Hours (7,423 feet) overnight stay Hotel
Day 2 – Trek from Barsu village to Barnala Tal (05 km) (4/5 Hours) (9,884 feet) overnight stay camp
Day 3 – Trek from Barnala Tal camp to Exploration Day Bakaria top summit back to camp (4/5 Hours) overnight stay camp
Day 4 – Trek from Barnala Tal to Gui camp (05 km) (3/4 Hours) (9,750 feet) overnight camp
Day 5- Trek from Gui to Raithal village (4 km) (4/5 Hours) overnight stay camp
Day 6 –Drive from Raithal village to Dehradun by taxi (175 km) (7/8 Hours)
How to Teach Dayara Bugyal Trek?
First of all, you people have to come to Dehradun
From Dehradun itself, you will go with the Himalayan hikers for this trek.
In Dehradun, you will get our staff that will arrange transport for you. The contact no Transport coordinator or our office team will be give you a  week ago to your departure
Train and flight are always available from where you will go to Dehradun
Himalayan Hikers arranged for your transport from Dehradun railway station or Airport
Transport costs will be pay to directly your taxi driver pick up and drop both sides
Dehradun to Barsu Route Map
Your Travel Plan for the Dayara Bugyal Trek
If you are traveling from Kolkata, Bangalore, Chennai, Pune, Mumbai or Gujarat any other city, so you will have to come to Delhi, you will get a train from Delhi for Dehradun comfortably.
Option 01:- By Train
All trekkers booked yourself the,
Nanda Devi Express to Dehradun (Train no is 12206 Departure 11:30 pm: – Reached Dehradun 5:45
Dehradun Express- to Dehradun (Train no is 12687 Departure -9:10 pm:- Reached Dehradun 5:00 am
Take both overnight trains Dehradun to from new Delhi- Dehradun Special A/C train from Hazrat Nizamuddin railway station the best option to you. The train reached at Dehradun railway station morning 5:45 to 6:30 am if you Meet to Our office Member – joining to our upcoming batches and Group.
Option 02:- By Air –
Jolly Grant airport is the nearest airport in Dehradun. Located about 27 km for the Dehradun city. There are flights available from all states to Dehradun, you can go online and book your tickets. These are easy and easy ways for you and you also save your time, Taxis are available from the airport to Dehradun at all time costs Rs. 800/* one-way pay to directly
Option 03:- By Bus
You can reach Dehradun from Delhi by a bus, board it from (Delhi) ISBT, it is good if you are booked the seats.
(Reach Dehradun Railway Station between 5:00 am to 6:00 am and the vehicle will be arranged from there.)
ATM Point and Mobile Connectivity in Dayara Bugyal Trek
ATM Point
Before starting the journey to Dayara bugyal Trek, make sure that you need payments, and then take out the cash on the way, Barsu base camp no bank and ATM., Uttarkashi  market is the last place where you can withdraw cash from ATM,   (If you want to withdraw money then do it in Dehradun.)
Mobile Connectivity
The phone does not work well on it. Therefore, you should ensure that you do not have to make any important calls.  Only BSNL, Airtel, Idea, work in Base Camp Barsu, Remember, these networks also sometimes do not work. Because the signal strength is not good. So make sure you finish all your important work and calls before starting the trek. Last Uttarkashi, Bhatwari, your device will receive good networks.