Goethals Trek located in the state of Sikkim, India
Goechala Trek, Goecha-la is one of the famous place for Trekkers in India. The beautiful valleys, gardens, Flora and Fauna, thick forest, and the beauty of the Goecha captivate everyone who comes to visit this place. Daarjling is considered the gateway of Sikkim.
And from here one can choose a great trek. From where this trek is designed, that is known Kanchenjunga National Park.
Goecha-la is the attractive place who makes trek wonderful and fabulous between trekking communities. The Trekking Trail starts from Yoksom city. For its historical significance it is a main route in Sikkim.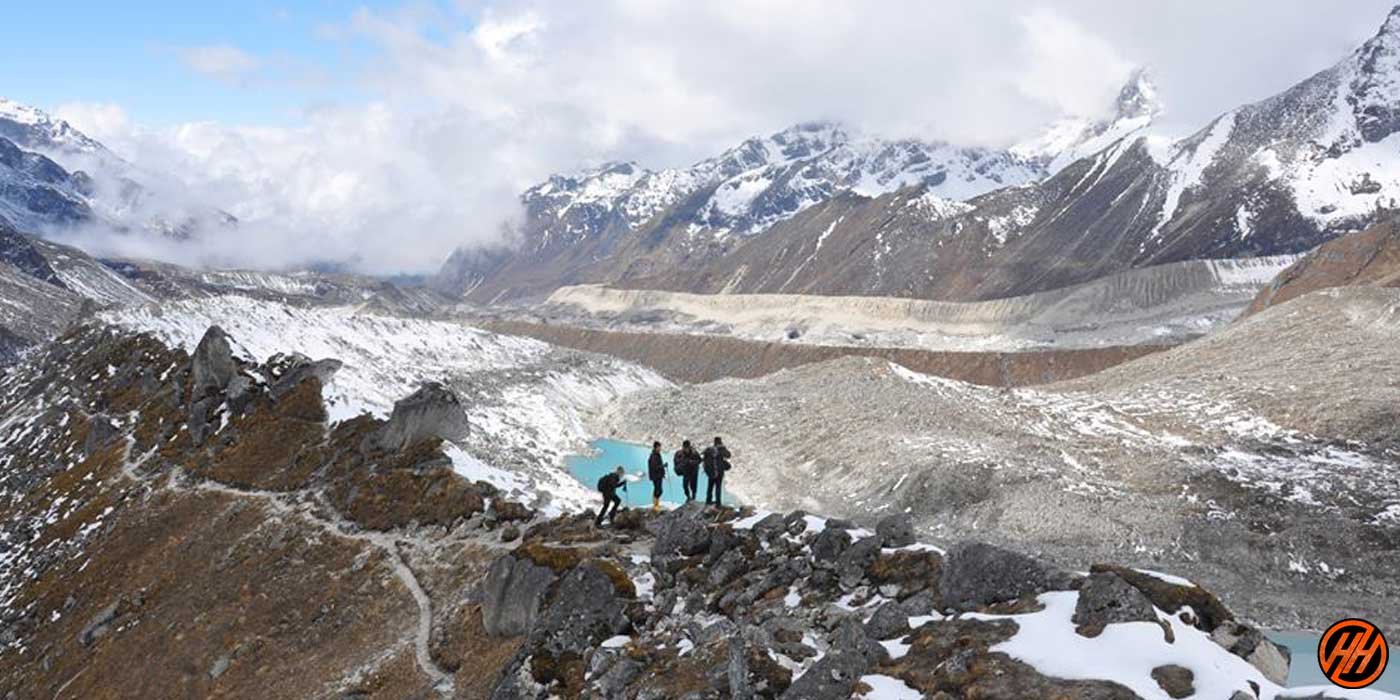 Why is Goechala Trek?
Goechala or Sikkim is also known for its prosperousness, traditional culture. On the other hand of trek we see Kanchenjunga's attractive green Mountains, meadows, snow-capped mountains.
Kanchenjunga is the third highest mountain in the world. People become happy by looking at the litigants.
Mount Pandim, Kabru, Goecha-la is the beautiful scenes of Rohtang. Who captivates to trekkers to come here. Rohtang is a notable place.
Kanchenjunga is one of the most visited places. On the way, you see wildflowers, lust Oak trees, and thick rhododendron forests.
Once you come here you realize that Kanchenjunga is the natural creation of God on the Earth.
Kanchenjunga is the natural creation of God.
Best Time to Visit Goechala  Trek ?
Goechala trek  is a very beautiful  and an Moderate  trek in the Sikkim Himalaya The Goechala trek  is great for those people who have a great passion for mountaineering and consider it a special purpose in their life. Goechala trek  is such a trek where you get to see more than one Himalayan mountain range..
You can do Goechala trek  throughout the year, For those who like summer treks, they can go summer and winter treks are a very good time for those who want to see snow. and live snow fall,
Goechala trek  is also a good trek for Monsoon trek at that time there are flowers and green greenery which makes the trek very memorable.
The Goechala trek  starts from Yuksom base camp in Sikkim, state in northeastern India which comes in Daarjling, Kangchenjunga Mountain  Range
During the day the temperature of Goechala trek  is around ( 08°C to 18 °C  and during the night the temperature comes down to  05 °C  to 08 °C  which is not bad.
You will never consider yourself boring in Goechala trek  , this trek can give you nothing but joy, You will get to see the Sikkim Traditional culture in this trek which will always keep you connected towards the mountain. Himalayas
How Difficult is  Goechala trek  Trek
Goechala trek  is Moderate trek , this trek comes in a moderate level,  Goechala trek  is climbing while going, and when Goechala trek  comes back from summit, it is completely down hill  trek
When you go on this trek, you will not even know when you have reached the camp, the beautiful view and the beautiful hills all around will continue to delight you.
 Goechala trek  trek safe for Beginner ?
Yes Goechala trek  is a safe trek if you are going with a good trekking team which you must know before booking yourself, It is important for you to know that the bow trekking organization with which we are going is right or not,
The minimum age required to trek Goechala trek  is 12 years and maximum 60 years. The rest depends on your fitness .
 What should you keep in mind for the Goechala trek  trek?
Goechala trek  is as good as it is said, you also need to be prepared., Goechala trek  is a   moderate trek which starts from Yuksom base camp and ends after trek same point Yuksom base camp
So what are the special things to keep in mind before coming on this trek?
Goechala trek  is one such trek, which you can do this  trek all 12 months, winter, Summer, or Monsoon, this is very safe trek in Sikkim Himalayas
Winter Season
In Goechala trek winter trek , you will need warm clothes a lot, for which you will need proper good uniform clothes
Winters are always cold, so only warm clothes can keep you safe on trek
Always take the information from the company with which you are booking the trek before going on the trek, what do we need to bring
In the winter season, the temperature always drops day by day , so warm clothes will help you a lot.
Summer Season
Summer trek to Goechala trek is very special, the view and the temperature are all favorable to you
For summer trek, you have to bring only normal clothes, so that your trek can be good, there is no need for hot clothes, but in hiking it is also necessary to bring all the equipment which is necessary for you.
It is necessary to have 3 pairs of clothes from trekking, especially the poncho, you will have to bring every season
In the summer season, the temperature is always normal, so there is no need for hot clothes.
 Monsoon Season
During the monsoon season, it rains occasionally during the Goechala trek especially in the Sikkim Himalaya , so if you have dry clothes here, it is very good, even when wet, it dries quickly.
At this time you have to bring at least 3 pairs of clothes, for monsoon trek you do not have to bring too warm clothes, at this time you, hiking pants and t-Sart, I can trek
It's only a little cold in the morning and evening and the day is a good temperature for you
Before going on any trek, it will be easy for you to take information related to each season.
Trekkers need to know about these, you can ask us anytime like, Goechala trek route, trek map, temperature, weather condition, difficulty level, trek starting point, end point, transport, view of the trek, best time to visit, How to reach, trek distance etc, Trek Location, keep this information before going
Brief details Goechala Trek?
Before heading towards the itinerary, it is really essential to perceive the reason behind choosing Goechala trek.
See firstly, the trekking distance is a total of by taxi 300 Km and on foot 86 km which is to be covered into 10 nights 11 days.
Goechala trek is a high altitude mountain trek Altitudes is 4940 Meters
The Starting trail is not that abrupt and sheer as compare to other treks. So this trek is not for beginners – try to another trek in Uttarakhand Himalayas
Need proper gear & clothing for sub-zero temperature?
You got to see so many heavenly bodies at one place like the panoramic view of the Sikkim Himalayan ranges, meadows, one of the beautiful, forests, waterfall, snow mountain, different cultures or wildlife animals, different variety of flora and fauna surpassing through bona fide Sikkim or west Bengal heritage and culture.
Do spare time in Interaction with locals, and you will get to know about some of the ancient tales of Indian mythology or local cultures
Goechala trek in summers, the Sikkim valley turns totally different and amusing because of meadows, wildflowers, and woods blooming in different colors.
Beautiful landscapes so carry proper photo gear & Extra battery backup.
The backpack should not exceed 12 kg only
Trekker carry your Photo ID, Adhar Card, Passport, Visa, for entry at Police check posts on the trek it is very important
Foreigners need to Inner line permit

Altitude we are going to cover per day in Goechala Trek
Yuksom Altitude- 5,700 feet.
Sachen Altitude – 7,200 feet.
Tshokha Altitude – 9,700 feet
Bakhim Altitude – 8,600 feet
Dzongri Altitude – 12,980 feet.
Dzongari Summit Altitude – 13,675 feet
Thansing Altitude – 12,900 feet
Lamuney Altitude- 13,650 feet.
Goechala Summit altitude – 15,100 feet
Getting to Base Camp Yuksom in Goechala Trek
You can reach Jalpaiguri or NJP Railway Station this is oldest or beautiful railway station in south west of Sikkim!
Vehicles will be arranged and there you can meet our office member.
Note: – Himalayan Hikers arrange vehicles for you from NJP Railway Station Pickup and Drop Tempo
You will be reach Yuksom hotel by 5:00 Pm to 6:00 pm
Key Points of Goechala Trek
Duration: – 10 Nights 11 Days from Jalpaiguri to Jalpaiguri station
Base camp: – Yuksom
Summer Temperature: – Day 12°C to 20°C and Night 2° C to 8° C
Goechala summit Altitude: – 4940 Meters
Best Time: – May, June, September, October,
Trek Level: – Moderate
Trek distance: – On foot 86 Km – By taxi 300 km
Group Size: – minimum 5 people maximum 15 people
Short Itinerary of Goechala Trek
Day 1– Pickup to you from New Jalpaiguri railway station (NJP) Drive to Yuksom base camp (150 km) (6/7 Hours) (5,700 feet) overnight stay Hotel house
Day 2– Trek from Yuksom base camp to Sachen camp (08 km) (5/6 Hours) (7,200 feet) over night stay camp
Day 3– Trek from Sachen to Tsokha camp (9700 feet) via Bakhim (07 km) (4/5 Hours) (8,600 feet) overnight stay in camp
Day 4– Trek from Tsokha camp to Dzongari camp (12980 feet) via Phedang (09 km) (8/9 Hours) (10500 feet) over night stay in camp
Day 5– Rest Day + Acclimatization Day
Day 6– Trek from Dzongari to Thansing camp (12900 feet) via Kokcharang (10 km) (6 hours) (12000 feet) over night stay in tent
Day 7– Trek from Thansing to Lamuney camp (04 km) (3/4 Hours) (13650 feet) Overnight stay in camp
Day 8– Trek from Lamuney to Goechala summit (15100 feet) via Samiti Lake and descent to Thansing (17 km) (11/12 Km) (12900 feet) overnight stay camp
Day 9– Trek from Thansing to Tsokha (9700 feet) via Phedang (16 km) (7/8 hours) overnight stay camp
Day 10– Trek from Tsokha to Yuksom (5700 feet) via Bakhim and Sachen (15 km) (6/7 Hours) over night stay Hotel
Day 11– After breakfast Drive from Yuksom to New Jalpaiguri (NJP) (150 km) (7/8 hours) reach evening 5 to 6 pm
Things Himalayan Hikers recommend
As previously stated, a camera, as well as spare batteries and memory cards, are recommended. We can assure and guarantee that you will be stopping frequently along the trail to observe the grandeur of the trekking experience.
After the trek, we strongly encourage trekkers to tag us on social media when they post any memories from the trip; this will not only prove invaluable to us with our work, but will also serve as a motivational example for all of our experts.
Why you should choose us
We're here to give you the greatest experience possible through the eyes of highly skilled and qualified specialists who have a passion for adventure sports. We are community members attempting to promote our favorite adventure sports while also supporting local businesses. We, at Himalayan hikers, dedicate ourselves to providing you with an unforgettable experience.
Weather conditions
Weather conditions depend on the time of the year trekkers are travelling.
Months from March to November experience moderately good temperatures during the day with substantially colder nights accompanied by little to no snow fall.
The peak season of winters experience low temperatures during the day and ever chillier temperatures during the night, one can even expect to witness a snowfall.
Things to carry
1) Because nights at higher elevations tend to be substantially colder, we suggest having well-graded, warm and comfortable clothing along with good quality shoes.
2) Despite the fact that we handle medical crises, we urge individuals to keep their emergency kits at hand in any case of personal underlying illnesses.
3) Since the journey provides you with a picturesque view, don't forget to bring your camera along with extra batteries.
4) All the trekking gears will be provided by our teams hence a we recommend carrying only the important luggage with essentials