Deoriatal Chandrashila Trek a Divine Lake in Chopta surrounded by several Mountains
Deoriatal Chandrashila Trek in the region of Uttarakhand named Chopta. Deoriatal is surrounded by snow-covered mountains and is in the lush green woods, this place is highly rich in Flora and Fauna.
You can get panorama views from here which are extremely beautiful, it is hard to find panorama views from places.
You can see these groups of mountains from Deoriatal – Chaukhamba, Bandarpoonch, Kedar range Kala Nag and Neel Kantha. It is believed that Bheema built this lake and many Devas have bathed in this lake which makes this lake placid.
The view here is even more interesting with the passage of time when you will find that you are in the lap of a Himalayan and you are surrounded by beautiful trees and flowers of the beautiful sixth part of the forest and small little ones. The waterfalls are going to pull you further; here you will be overwhelmed by the sight of the wild birds of different species and Monaal, the state bird of Uttarakhand, which makes this trek different from all treks.
The trail further goes to Tungnath and Chandrashila
As you will move forward, you will have different beauty every day, you may have never seen. From Deoriatal further, you can go to Tungnath and Chandrashila, it is the summit of Tunganath. Meaning of Chandrashila is "Moon Rock". It is one of the popular trek in Uttarakhand.
You will go through a thick dense forest covered with Rhododendron trees, the trail is beautiful you can see flowers blooming all around and in winters it gets covered by snow, there is the number of species of birds in the woods, you can spot a variety of birds there.
Best views Beauty from Tungnath and Chandrashila Summit
When you turn to Chopta Bugyal from Baniya Kund Camp and you will see Chopta Bugyal which is decorated with beautiful and velvety grass, These parts are amazing of this trek, till now you were trekking in the village and the forest, now you are moving towards Chopta Bugyal and Bhagwan Tungnath and Maa Chandrashila Peak, from where you will be able to see how beautiful the Himalayas really are,
When you are at the Chandrashila Summit, you will be able to see the beautiful Himalayas at 360 degrees view with your eyes, you will see that your four and snow-covered peaks, which are the highest peaks of India. Like
Nanda Devi Peak, whose height is 7,816, Meters it is the tallest peak in India, and it has got the title of the 23rd highest peak in the world, it is in Uttarakhand,
Nanda Ghunti Peak 6,309 meter high Mountain in Garhwal Himalayas, India. Here comes the peak Nanda Devi Sanctuary, it is said that this mountain was first surveyed by T. G. Long staff in 1907. Eric Shipton surveyed it from the west in 1931 which is a history in itself
Mt Kamet Expedition is surprisingly located where India, Nepal, and Tibet meet in the Chamoli district of Garhwal Himalayas at an altitude of 7,756 m.
Dunagiri Peak whose height (7,066 m) is one of the high peaks of the Chamoli District of Uttarakhand Himalayas.
There are other famous mountains like ( Mount Chaukhamba 6137 Meters), (Kedar Dome 6940, Meters) (Kedarnath Peak), (Mount Thalisagar Peak, (Gangotri Group 1,2,3), and more to see! It is in the beautiful places of Uttarakhand, which is a 360-degree view of all the highest mountains of India, to see people come from all over the country and the country, that is why it is seen from the Chandrashila Peak trek.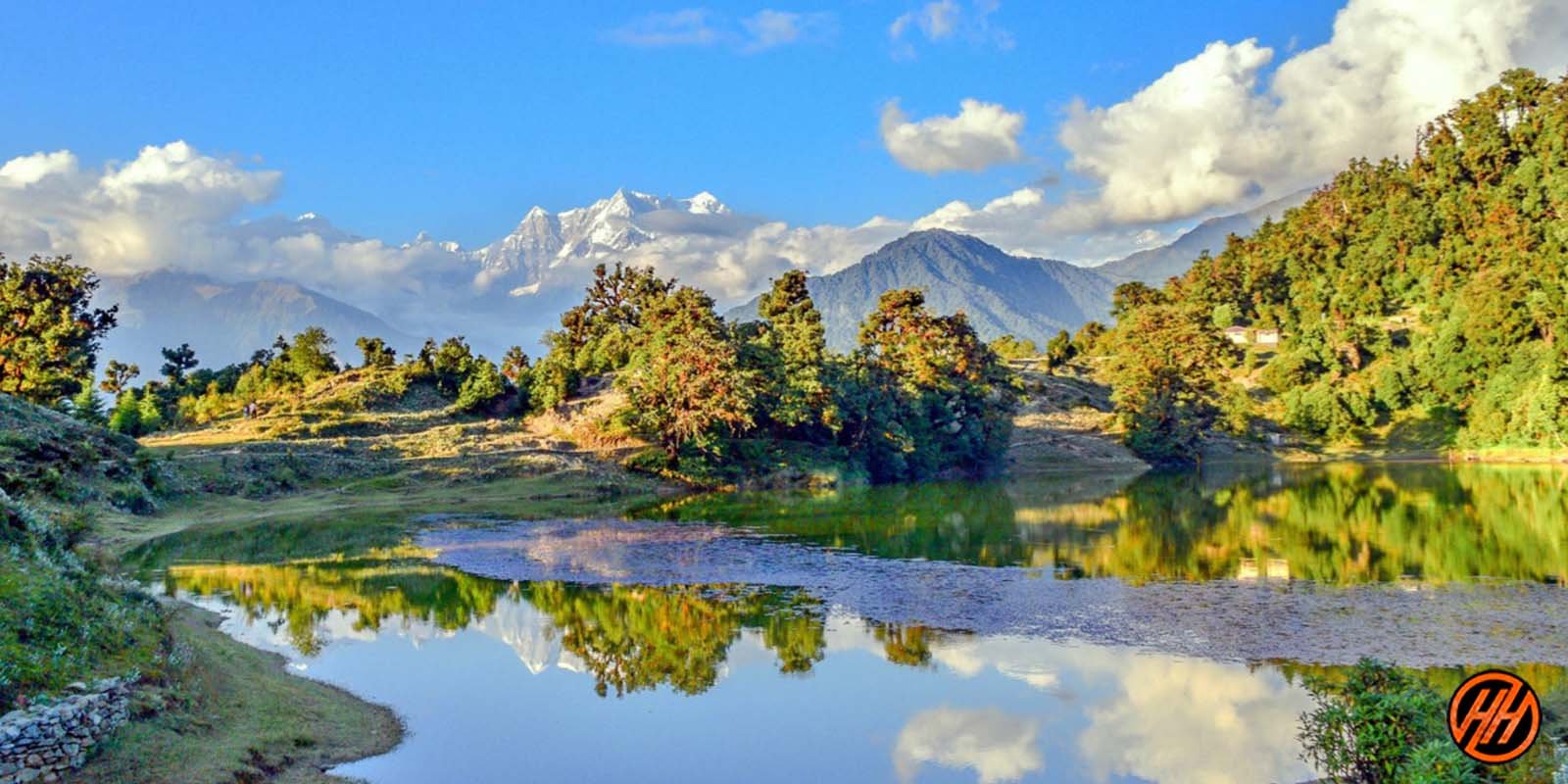 Why Tungnath Temple is special in Deoriatal Chandrashila Trek?
One special thing is that when we ask for something from God, we are very happy, you get rest, you go on a trek, but when you do this trek, pool, forest, flowers, grass fields, Wild Bird Mountain, and along with I have seen Lord Shiva, then you have done the work of your soul. Understand that Tungnath temple is considered not only in India but one of the highest Shiva temples in the world Altitude is 3,680 mand Lord Shiva Rudraprayag in the Indian state of Uttarakhand. The Chopta of the district is inhabited, which is known as the Tungnath Temple. This temple is built by Lord Sri Sankaracharya, it is the tallest of the five Panch Kedar temples in this mountain range. Tungnath Bhagwan Mountain connects the Mandakini and Alaknanda river valleys, Lord Shiva is worshiped here and it is known in a special place, where God is worshiped for 6 months. Lord III Kedar, Lord Tungnath's kapatas are closed for the winter on 6 November and after that it is worshiped in Guptkashi.
What other options can Deoriatal Chandrashila Trek have?
If you want to do more trek with us which is from Level  around Brahmatal , here are some more hidden gems in the Himalayas similar to Brahmatal – Kedarkantha, Dayara Bugyal, Dodital, Phulara Ridge Trek, Rupin Supin trek and Vijay Top, Kedarkantha,  Kuari pass, Har Ki Dun Trek. These are one of the treks we discovered.
Best Time to Do Chopta, Tungnath and ChandrashilaTrek 
Deoriatal, Chandrashila trek  is a very beautiful  and an Easy trek in the Uttarakhand Himalayas, The Nag Deoriatal, Chandrashila trek  is great for those people who have a great passion for mountaineering and consider it a special purpose in their life. Deoriatal, Chandrashila trek  is such a trek where you get to see more than one Himalayan mountain range. Deoriatal, Chandrashila trek  Trek is very important for those people who have holidays only on weekends 4 to 5 Days from Dehradun to Dehradun.
We are the local people in uttarakhand who are doing this trek for years, we have every experience related to this trek.
You can do Deoriatal, Chandrashila trek  Trek throughout the year, For those who like summer treks, they can go summer and winter treks are a very good time for those who want to see snow. and live snow fall,
Deoriatal, Chopta, Chandrashila trek  Trek is also a good trek for Monsoon trek at that time there are flowers and green greenery which makes the trek very memorable.
The Deoriatal, Chandrashila trek starts from Sari village Chopta, Village  in Uttarakhand which comes in Garhwal rudraprayag district
During the day the temperature of Deoriatal, Chandrashila trek is around ( 08°C to 20 °C  and during the night the temperature comes down to  05 °C  to 10 °C  which is not bad.
You will never consider yourself boring in Deoriatal, Chandrashila trek, this trek can give you nothing but joy, You will get to see the Garhwali culture in this trek which will always keep you connected towards the mountain. Himalayas.
How Difficult is  Deoriatal, Chandrashila trek
Deoriatal, Chandrashila trek is Easy trek , this trek comes in a Easy or moderate level, Chopta, Deoriatal, tungnath, Chandrashila trek is climbing while going, and when Tungnath,Chandrashila trek comes back from summit, it is completely down trek
When you go on this trek, you will not even know when you have reached the camp, the beautiful view and the beautiful hills all around will continue to delight you.
Deoriatal, Chandrashila trek safe for me ?
Yes Deoriatal, Chandrashila trek is a safe trek if you are going with a good trekking team which you must know before booking yourself, It is important for you to know that the bow trekking organization with which we are going is right or not,
And if possible, trek with local trekking organization in Uttarakhand , you can do the same help all the time. then your trek can be very good and memorable
The minimum age required to trek Deoriatal, Chandrashila trek is 6 years and maximum 65 years. The rest depends on your fitness .
Brief Details of Deoriatal Chandrashila Trek
Proper conditioning & training of body required
Need proper gear & clothing for sub-zero temperature?
Shoes are the single most important equipment.
High Altitude requires proper acclimatization.
 But it is necessary to be fit to do this trek
And you can do this trek in the year; these are the plan for both summer and winter,
 For Winter Trek, I think it is necessary for people from 8 years to 55 years
This trek will be a relief and joy for the first time visitors. This trek will increase new energy and confidence in you
Winter & Post monsoon or pre-monsoon is the best time. During rains, the region is prone to landslides.
Beautiful landscapes so carry good photo gear & Extra battery backup.
Altitude we are going to cover in Deoriatal Chandrashila Trek
Sari Village – Altitude 2,012, meters
Deoriatal – Altitude 2,390, meters
Tungnath – Altitude 3,680 meters
Chandrashila Peak – Altitude 3,683 meters
Key Points of Deoriatal Chandrashila Trek
Duration: – 4 Nights 5 Days from Haridwar to Haridwar
Deoriatal Chandrashila  trek Costs- Per Person Rs. 8,500/- from haridwar to haridwar
Base camp: – Sari Village
Summer Temperature: – Day (5°C to 17°C) Night (2° C to 10° C)
Winter Temperature: – Day (-1°C to -5° C) Night (-5°C to -12°C)
Best Time: – I can go through the whole year
Trek Level: – Easy-Moderate
Trek distance: – On foot 27 Km – By taxi 432 km
Group Size: – We will have a minimum group size of 5 people and a maximum 20 people, if someone has to be private for their group, then you will be given a full date.
Group Age – My personal belief is that people can do this trek from a minimum of 6 years to 55 years.
Why you should choose us ?
We're local here to give you the greatest experience possible through the eyes of highly skilled and qualified specialists who have a passion for adventure sports. We are community members attempting to promote our favorite adventure sports while also supporting local businesses. We, at Himalayan hikers, dedicate ourselves to providing you with an unforgettable experience.
Himalayan Hikers always make the trek from Trekkers memorable, I insist that you do not face any problem in any trek and you can always have a pleasant experience.
Weather conditions
Weather conditions depend on the time of the year trekkers are travelling. Weather of Deoriatal, Chandrashila trek always changes from time to time, so you can bring clothes for yourself according to the season in which you want to come. If possible, you can inform us about it
Short Itinerary of Deoriatal Chandrashila Trek
Day 1- Pickup to you from Haridwar or Rishikesh railway station – Drive to Sari Village – 212 Km (8/9 Hours (2,012 Meter) overnight stay Hotel
Day 2 – Trek from Sari village to Deoriatal (03 km) (1/2 Hours) (2,390 meter) overnight stay camp
Day 3 – Trek from Deoriatal to sari  same day drive to Chopta via taxi  (4/5 Hours) (2,610 Meters) overnight stay camp
Day 4 – Today early morning Trek Chopta  to Tungnath Chandrashila summit (3,683 Meter, 12,083 ft) back to Baniya Kund camp (08 km) (6/7 Hours) overnight stay camp
Day 5 – Drive from Baniya Kund to Haridwar via Rishikesh  (220 km) (9/10 Hours) you will reach Rishikesh or Haridwar between 5:30 pm to 7:30 pm
Your Travel plan for Deoriatal Chandrashila Trek in Uttarakhand
You can book trains, air flights, and bus tickets for your journey only according to the information given by us.
The Deoriatal Chopta, chandrashila trek will be of 3 days and 02 days of your journey total of 05 Days from Haridwar to Haridwar
First of all, all the trekkers will have to book their flight and train bus according to our time table as our pick up is from 6 am to 7 am, you will have to reach Haridwar in the morning.
A taxi from Himalayan hikers will link you to Haridwar railway station.
Himalayan Hikers organize transport to Sari village base camp from Haridwar railway station. Our vehicles leave at 6:00 am to 7:00 am sharp from Haridwar.
In Haridwar railway station you will get our staff that will arrange transport for you. The contacts no Transport coordinator or our office team will be give you a week ago to your departure
Please you guys book your transport facility according to your own time table, after Himalayan hackers take all the responsibility of Haridwar to Haridwar, that you will not face any problem.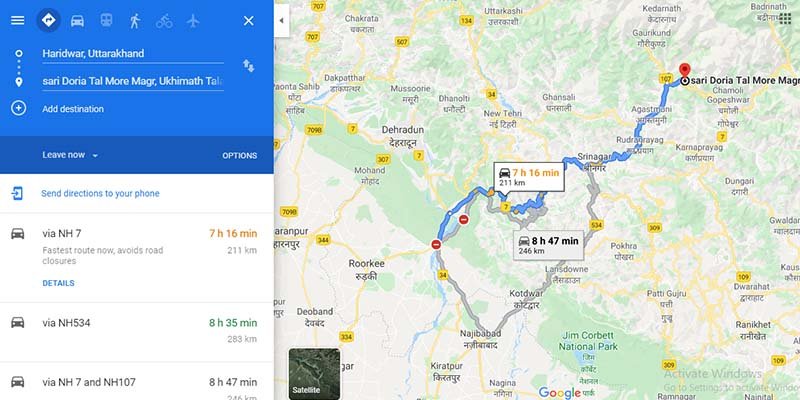 Haridwar to Sari Village Route Map
How to reach Chopta, Deoriatal Chandrashila Trek
If you are traveling from Kolkata, Bengaluru, Chennai, Pune, Mumbai, or Gujarat any other city, so you will have to come to Delhi, you will get a train from Delhi for Dehradun comfortably.
Option 01: By Train
All trekkers booked yourself the,
Nanda Devi Express to Dehradun (Train no is 12206 Departure 11:30 pm: – Reached Dehradun 5:45
Dehradun Express- to Dehradun (Train no is 12687 Departure -9:10 pm:- Reached Dehradun 5:00 am
Take the both overnight train Dehradun to from new Delhi- Dehradun Special A/C train from Hazrat Nizamuddin railway station the best option to you. The train reached at Dehradun railway station morning 5:45 to 6:30 am if you Meet to Our office Member – joining to our upcoming batches and Group.
Option 02:- By Air
Jolly Grant airport is the nearest airport in Rishikesh or Haridwar . Located about 21 km for the Rishikesh city. There are flights available from all states to Dehradun Airport, you can go online and book your tickets. These are easy and easy ways for you and you also save your time, Taxis are available from the airport to Rishikesh or Haridwar
Option 03:- By Bus
You can reach Haridwar from Delhi by a bus, board it from (Delhi) Kashmiri Gate ISBT; it is good if you are booked the seats.
(Reach Haridwar Railway Station or bus stand between 5:00 am to 6:00 am and vehicle will be arranged from there.)
What is the distance to reach Chopta  Deoriatal, Chandrashila Trek from other state
Delhi to dehradun distance by flight -207 Kms) and Dehradun airport to  Chopta 212 kms by Road
Delhi to dehradun distance by train 302 kms ) and Dehradun airport to  Chopta 212 kms by Road
Delhi to dehradun distance by bus 249 kms) and Dehradun airport to  Chopta 212 kms by Road
Bangalore to dehradun distance by air 1924 kms) (By Train – 2371 kms) and Dehradun airport to  Chopta 212 kms by Road
Mumbai to dehradun distance by air 1344 kms) (By Train – 1724 kms ) and Dehradun airport to  Chopta 212 kms by Road
kolkata to dehradun distance by air 1518 kms ( By Train – 1694 km) and Dehradun airport to  Chopta 212 kms by Road
What is the distance to Deoriatal, Chandrashila Trek on foot
Chopta,  Deoriatal, Tungnath temple and Chandrashila Trek Total of Distance on foot – 15 km only.
ATM Point and Mobile Connectivity in Deoriatal Chandrashila Trek
ATM Point
Before starting the journey to Deorital Chandrashila Trek, make sure that you need payments, and then take out the cash on the way, Sari village  base camp no bank and  no ATM., Devprayag or Rudraprayag   market is the last place where you can withdraw cash from ATM, (If you want to withdraw money then do it in Haridwar or Rishikesh.)
Mobile Connectivity
The phone does not work well on this trek. Therefore, you should ensure that you do not have to make any important calls.  . So make sure you finish all your important work and calls before starting the trek. Last Sari village, your device will receive good networks.