Ruinsara Tal Trek Lies in Govind Wildlife Sanctuary
Ruinsara Tal Trek is a sacred Lake which lies close to the source of Supin River or Ruinsara gad, in this trek come under Govind Wildlife Sanctuary National park in Uttarkashi district of Uttarakhand, in the Western Himalayas. No doubt, the Himalayas have enchanting beauty, bracing climate and desirable soothing green meadows.
So, what else can be better than spending some days here in the serenity! Altitude of 3500 meters nestled on the foot of Mt. Black Peak Expedition. The reason of its uniqueness is the surroundings i.e. alpine grasslands and dwarf Rhododendrons.
Ruinsara Tal Trek a most beautiful lake in Uttarakhand Himalayas Ruinsara Tal total length  1.7 km During the trek explore a sacred glacial tal "Ruinsara Tal " and further, pass through the route over Bali pass.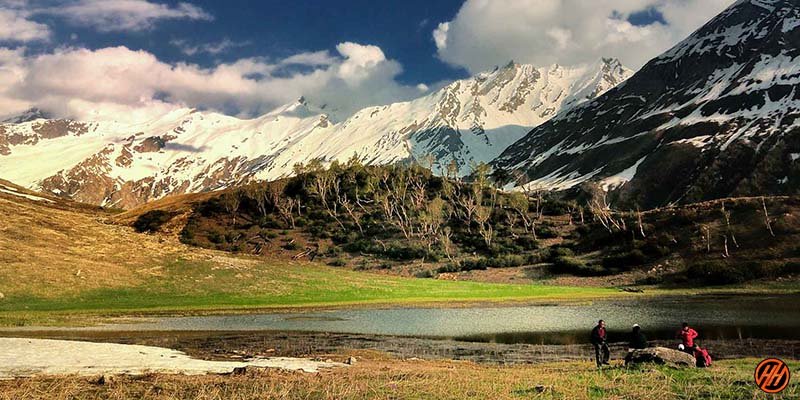 Overwhelming Views in Ruinsara Tal Trek
Ruinsara Tal lies amidst the pristine peaks and from there you can have magnificent views of Ruinsara Range, Mt. Black Peak, Bandarpunch, and Swargarohini (I) (II) (III). This is base camp of both Expedition or more 2 treks, Bali Pass, Dhumdhar kandi pass,
The trail from Devsu Bugyal to Ruinsara Tal, meandering next to the Ruinsara River is a beautiful and tricky one. The valley is narrow and one can be excused for comparing it with Rishi Gorge from Odari Nanda Devi Sanctuary, although it isn't as difficult as the latter and the array of alpine flowers across the river bank is astonishing.
The Ruinsara Tal is a special glacial lake resting amidst beautiful mountain ranges of Swargarohini.  The meadows around are neat and untouched. One can experience a sense of tranquility all around the lakeside.
Trek through Charming Villages in Ruinsara Tal Trek
Trek through the beautiful old fashioned villages with a taste of simplicity with highly rich tradition and culture, there are wooden houses and the architecture of their temples are rare. This Valley is breath-taking. On day one, the ancient villages of Dhatmir, Gangad and, Puwani, Osla strike a chord with unique village Traditional, cultures and folklore dance.
The ancient temples at Pawani, Osla have riveting Himachali architecture that can keep you absorbed for a long time. The approach to. Dhumdhar Kandi pass, Black Peak Expedition Bali Pass Trek, Swargarohini base camp is a challenging one. In the month of June and July, the higher regions of the pass are covered in snow.
Trekkers who enjoy high altitude pass traverses will find themselves totally at home. The pass crossing day is long over never-ending snow dunes and ridges to cross. Trek is a classic summer, winter Trek in the valleys.
Ruinsara Tal Trek provides a great opportunity for trekkers to see the scenic beauty and experience the life of remote villages of Garhwal Himalayas.
Must Read about Ruinsara Tal Trek
Duration – 8 Days from Dehradun to Dehradun
Best Season – March, April, May, June, Sep, Oct and Nov or December
Level – Moderate
Highest Point – 3500 m
Trekking distance (total) (36 km)
Weather – Nights are cold and day temperature is pleasant during the season.
Winter temperature – -2°C to -10°C)
Summer temperature– 5°C to 15°C)
Starting point – Dehradun, Uttarakhand
Short Itinerary Of Ruinsara Tal Trek
Day-1 – Pickup to you from Dehradun drive to Sankri (210 km) (8/9hours) (1920 meters)
Day-2 – Drive from Sankri to Taluka (11 km) Taluka same day trek to Cheludgad (12 km) (2700 m) (4/5 hours)
Day-3 – Trek from Cheludgad to Devsu Bugyal (6 km) (3/4 hours) (3000 m)
Day-4 – Trek from Devsu Bugyal to Ruinsara Tal (12 km) (6/7 hours) (3500 m)
Day-5 – Explore the Surroundings
Day-6 – Trek from Ruinsara Tal to Devsu Bugyal (12 km)
Day-7 – Trek from Devsu Bugyal to Taluka (18 km) (6/7 hours) Drive from Taluka to Sankri
Day-8 – Sankri to Dehradun (210 km) (7/8 hours)