Tapovan Trek Journey to the Base camp of Mt. Shivling peak, this is the most loved trek in Uttarakhand.
Tapovan Trek – The meaning of Tapovan is a tranquil holy place, where sages meditate to attain spirituality. It is a high altitude meadow at a height of 4,500 m. It lies on the bank of massive Gangotri glacier and at the base of lofty Shivling peak.
However, Tapovan trek starts from Gangotri and goes through some adventurous regions of the Himalayas, taking one to the base of Mt. Shivling.
Above all, Tapovan Trek is an Enthralling Gangotri valley in the Garhwal Himalayas of Uttarkashi district in Uttarakhand India, this trek come under Gangotri National park. No doubt, the Himalayas have enchanting beauty, bracing climate, and desirable soothing green meadow. So, what else can be better than spending some days here in the serenity!
The Gaumukh Tapovan Trek is a popular trekking route located in Uttarakhand, India, which takes you through some of the most stunning landscapes of the Himalayas. Here are some of the highlights of the trek:
Gaumukh Glacier: The trek starts from Gangotri, which is the origin of the holy river Ganges, and leads to the Gaumukh Glacier. The glacier is one of the main attractions of the trek, as it is the source of the Ganges and holds great religious significance.
Tapovan: After visiting the Gaumukh Glacier, the trek takes you to the beautiful meadow of Tapovan. The place offers breathtaking views of the surrounding peaks, including Shivling, Meru, and Bhagirathi.
Stunning Landscapes: The trek takes you through a variety of landscapes, from lush forests to rocky terrains to glacial moraines. You will witness some of the most beautiful landscapes of the Himalayas, including snow-capped peaks, turquoise rivers, and alpine meadows.
High Altitude: The trek takes you to a high altitude of around 4,400 meters, which can be a challenging experience for some trekkers. However, the stunning views and unique experiences make it all worthwhile.
Religious Significance: The trek holds great religious significance for Hindus, as it is believed to be the abode of Lord Shiva. Many pilgrims undertake this trek to seek blessings and to experience the divinity of the Himalayas.
Overall, the Gaumukh Tapovan trek is a once-in-a-lifetime experience that offers a unique blend of adventure, spirituality, and natural beauty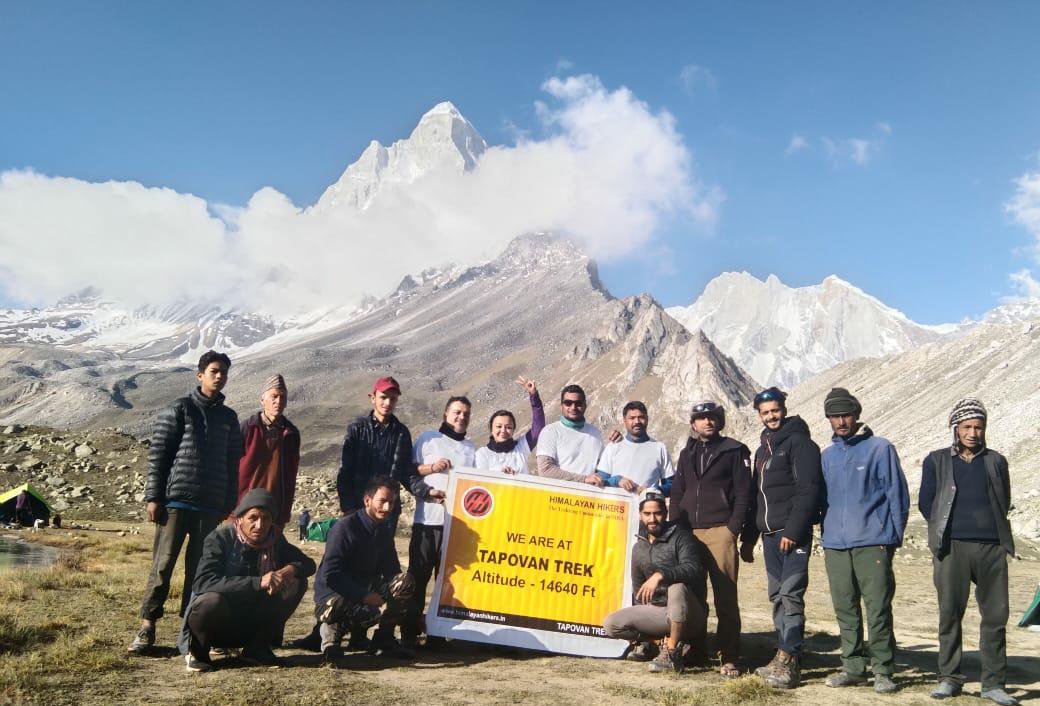 The best part of History Gaumukh or Topvan Trek
The special thing about the Gaumukh and Tapovan treks is that these treks are very ancient and religious, these treks we have heard for centuries that the sages and saints here used to meditate and meditate on the Lord. This is known as Tapo Bhoomi, hence the name Tapovan, And it is also said that the Bhakt Bhagirath did penance here to bring Mother Ganga from heaven to earth,
That is why today the beautiful stream that is fading of the Ganges is also the gift of Bhagirath Ji, So whenever you go trekking to Gaumukh and Tapovan, you will see and hear all these things from Gangotri itself. These treks are amazing, the climate and temperature here; the weather makes it very enjoyable. All around is the feeling of peace
Why should Tapovan trek?
What you will find and never say in Tapovan trek, these treks are treasures connected with spiritual and popular, In Gaumukh and Tapovan trek, you will find yourself in an environment where people yearn to come from Gangotri, When you go from Gangotri to Chirbasa, you have to trek along the Ganges River from the very beginning, This route will awaken even more desire in your mind for the days ahead, what will happen next. In this trek, you will initially see only pine trees and rhododendron trees and food, and other wild species.
When you move from Chirbasa Camp to Bhojbasa Camp, you will start to see very beautiful mountain range, this route becomes a little easy and I will see you and wild sheep which are also known as mountain goats. Bhojbasa is a beautiful camp where there are also ashrams of Rishi muni.
 Trek Route from Bhaojbasa to Tapovan via Gaumukh Glacier
Today is beg day the route from Bhojbasa to Gaumukh and Tapovan is a bit tricky. These are moderate routes, but after the direct route to Gaumukh, you get about 03Km Glaciers filled with stones and Cracks in the snow. One has to cross with the help of his guide, after crossing the glacier, there is about 1 km of steep climb which meets directly at Tapovan, and after completing this climb you will reach Tapovan camp, this is the place where all four and peace Apart from nothing else, Shivling Peak and the Bhagirathi group on its left, which creates a different feeling in your mind that this was to happen, beautiful camp and grassland along which I flow with the Amer Ganga, whose stagnant waters hold the supernatural peace within you Will wake you up this is the best part of this trek
History of Gangotri Dham base camp of Tapovan Trek
Gangotri is a starting point of Tapovan trek, Gangotri is a holy town perched at an altitude of 3,415 m on Bhagirathi River's banks in Uttarkashi district. According to the legend, it is Goddess Ganga's shrine, and this holy site is the part of Char Dham, which holds a great place in the heart of Hindu mythology and Hindu devotees.
A temple "Gangotri" is present in this region, which was built by "Amar Singh Thapa" in the 19th Century. Therefore, the purest deity "Ganga" is worshipped in this town. Here is the presence of many hot water springs nearby, and it is believed that a dip in the pure water of the Ganges washes all the sins.
During Ashwamedha Yagna, King Sagar sent his 60,000 sons along with a horse, and the horse got lost, and the sons went in search of the horse to saint Kapila's ashram; he was in deep meditation. The saint opened his eyes in anger and turned all 60,000 sons into ashes.
Then, Kapila advised Anshuman (grandson of King Sagar) to request Goddess Ganga to come on earth and cleanse all the ashes and provide salvation, but he failed.
Bhagirathi's extreme meditation made the goddess Ganga come down to earth. Lord Shiva tied Ganga then distributed the water into many streams to save the planet from the dominant force.
A mixture of Spirituality and Adventure! in Tapovan Trek
During your trek, go through the source of River Ganga "Gomukh." It is the snout of Gangotri Glacier. The trail makes its way through dense verdant forests, and the adventure begins. It is an excellent trek for adventure lovers because it includes crossing moraines, steep climbs, and traversing an amusing glacier.
So, the Tapovan trek is for both devotees and avid hikers. It is a mixture of both spirituality and adventure.
Best Time to Do Tapovan  Trek?
Tapovan trek  is a very beautiful and an uphill trek in the Uttarakhand Himalayas, The Tapovan Trek is great for those people who have a great passion for mountaineering and consider it a special purpose in their life. Tapovan is such a trek where you get to see more than one Himalayan mountain range.
We are the local people in the Uttarakhand District of Uttarkashi who are doing this trek for years, we have every experience related to this trek.
The right time to do tapovan trek is from April 1st week to the last of June and then from the last of August to the last month of October.
especially in the months of April, may,  and June, snow is found in abundance here, which makes your trek very memorable and also a little difficult after Gaumukh Glacier. So this trek should not be considered too easy.
Tapovan  trek in April to June ?
Tapovan Trek Month in April and june gives a slightly different experience to Trekkers because in May you start getting snow bhojbasa Camp
The Tapovan trek starts from Gangotri  in Uttarakhand which comes in Gangotri National Park Range
In April, May and June, you get a combination of both greenery and snow, which makes the trek very spectacular. The weather in April, May and June is quite good and trek friendly, which makes trekking a lot of fun.
During the day the temperature of Tapovan trek is around ( 5°C to 10 °C  and during the night the temperature comes down to -1 °C  to -3 °C  which is not bad.
Views and treks in Tapovan trek provide a lot of peace to the mind during the day, while you wake up from one wake to another, Gaumukh and Tapovan trek  can always be one of the most close treks in your heart.
You will never consider yourself boring in Tapovan Trek, this trek can give you nothing but joy, You will get to see the Garhwal culture in this trek which will always keep you connected towards the mountain. Himalayas
Tapovan  trek in September or October
Tapovan trek is a little different in the months of September and October, this is because you will  find snow only summit day. or Gaumukh Glacier and near shivling base Camp Nil tal
But the beauty of the trek will not be lacking, the trek and nature adorn themselves with time and in different colors. Month of September and October are very good days to trek, at this time total greenery and at the end of October sometimes you can get to see live snow fall.
During the day the temperature of Tapovan trek is around Day time  5°C to 12 °C  and during the night the temperature comes down to 5 °C  to – 1 °C  which is very confirmable,
At this time the weather here will be very good for you , At this time it is even safe to trek here and there is no rain.
How Difficult is  Gaumukh Tapovan Trek?
The Gaumukh Tapovan trek is considered to be a moderately difficult trek, suitable for experienced trekkers and individuals with a good level of fitness. It involves a combination of challenging terrain, high altitudes, and long trekking hours, which can be physically demanding. Here are some factors that contribute to the difficulty level:
Altitude: The trek starts at Gangotri (3,048 meters or 10,000 feet) and reaches an altitude of around 4,463 meters (14,640 feet) at Tapovan. Altitude sickness can be a concern, and acclimatization is crucial. It's important to take proper rest, hydrate well, and ascend gradually.
Trekking Distance: The trek covers a distance of approximately 45-50 kilometers (28-31 miles) round trip, which is spread over several days. The daily trekking hours can be long, averaging around 6-7 hours, with some days requiring more strenuous efforts.
Terrain and Trail Conditions: The trail consists of rocky terrain, steep ascents and descents, moraines, boulder fields, and river crossings. It demands agility and stability while navigating through these varied landscapes. The trail can be slippery in certain sections, especially during monsoon season.
Weather Conditions: Weather conditions in the Himalayas can be unpredictable. The trek is usually undertaken during the summer months (May to October) when the weather is relatively more favorable. However, even during this period, temperatures can drop significantly, especially at higher altitudes, and rainfall or snowfall may occur.
Physical Fitness: A good level of physical fitness is essential to tackle the challenges of the trek. Regular exercise and stamina-building activities such as hiking, jogging, or cycling can help prepare the body for the demands of the trail.
A Moderate Trek with Enticing Views
Most importantly, Mt. Shivling accompanies you until you reach the celestial meadow of Tapovan. Moreover, other peaks visible from Tapovan is – Join Heights and Bhagirathi groups 1, 2, and 3 of peaks with several more snow-covered mountains.
But, beginners should choose some Easy Level Treks and avoid treks like Tapovan. However, if your fitness is right and you are capable enough, then you can want to taste its adventure.
Is Tapovan Trek safe for Trekkers and Beginners?
The Tapovan trek is generally not recommended for beginners or inexperienced trekkers due to its moderate to challenging difficulty level and the high altitude involved. Here are a few factors to consider regarding safety:
Altitude: The trek reaches an altitude of around 4,463 meters (14,640 feet) at Tapovan. Altitude sickness is a concern, and inexperienced trekkers may be more susceptible to its effects. Proper acclimatization and knowledge of altitude-related risks are essential. Beginners may find it challenging to adapt to the altitude and cope with potential symptoms.
Physical Fitness: The trek requires a good level of physical fitness due to the long trekking hours, challenging terrain, and steep ascents and descents. Beginners may not be adequately prepared for the physical demands of the trek, which could increase the risk of injuries or exhaustion.
Trail Conditions: The trail consists of rocky terrain, moraines, boulder fields, and river crossings. It demands agility, stability, and the ability to navigate through varied landscapes. Beginners may find it more difficult to tackle these challenges without prior trekking experience.
Weather Conditions: Weather conditions in the Himalayas can be unpredictable and harsh. Even during the summer months, temperatures can drop significantly, especially at higher altitudes. Beginners may not have the necessary experience or equipment to cope with the potential weather challenges.
For beginners who are interested in exploring the Himalayas and undertaking treks, it is advisable to start with easier and less challenging treks at lower altitudes. Building up physical fitness, trekking experience, and knowledge of mountain safety is important before attempting more difficult treks like Tapovan.
Some special information about Tapovan Trek
Before heading towards the itinerary, it is essential to perceive the reason behind choosing the Gaumukh, Tapovan trek.
See firstly, the trekking distance is a total of by taxi 516 Km both sides and on foot 46 km, which is to cover eight days from Dehradun to Dehradun
Although, the Tapovan trek is a high-altitude mountain trek Altitudes is 4500 Meters – 14640 ft
The Starting trail is moderate as compared to other treks this is a difficult trek. So this trek is Not For Beginners
 Need proper gear & clothing for sub-zero temperatures?
In other words, You got to see so many heavenly bodies in one place like the panoramic view of the Himalayan ranges, you can see pine forests, and different varieties of flora and fauna surpassing bona fide Garhwali culture.
In fact, I think Do spare time Interaction with our local's team, and you will get to know about some of the ancient tales of Indian mythology and our local cultures, there is good ideas for trekkers
Beautiful landscapes so carry proper photo gear & Extra battery backup.
The backpack should not exceed 12 kg only
Weather conditions
The weather conditions during the Gaumukh Tapovan trek can vary depending on the season and altitude. Here is a general overview of the weather conditions you can expect:
Summer (May to June): This is considered the best time to undertake the trek. The weather is relatively pleasant during these months, with daytime temperatures ranging from 10 to 20 degrees Celsius (50 to 68 degrees Fahrenheit) at lower altitudes. However, as you ascend to higher altitudes, temperatures can drop significantly, especially during the nights, with sub-zero temperatures possible at Tapovan. It is advisable to carry warm clothing and be prepared for temperature variations.
Monsoon (July to September): The monsoon season brings heavy rainfall to the region, making the trail slippery and challenging. Rainfall can disrupt the trek and increase the risk of landslides. It is generally not recommended to undertake the trek during this period due to safety concerns.
Post-Monsoon (September to October): After the monsoon season, the weather starts to improve, and the trail becomes more accessible. The temperatures begin to drop, especially during the nights and at higher altitudes. Daytime temperatures range from 5 to 15 degrees Celsius (41 to 59 degrees Fahrenheit), and it can be colder at Tapovan. Proper warm clothing is necessary during this time.
It's important to note that weather conditions in the Himalayas can be unpredictable, and sudden changes are not uncommon. It is advisable to check the weather forecast before starting the trek and to be prepared for varying conditions. Carrying appropriate clothing, rain gear, and essential trekking equipment is crucial for a safe and comfortable journey. Additionally, consulting with local authorities or experienced trekking agencies can provide you with more accurate and updated information about the weather conditions specific to the time of your trek.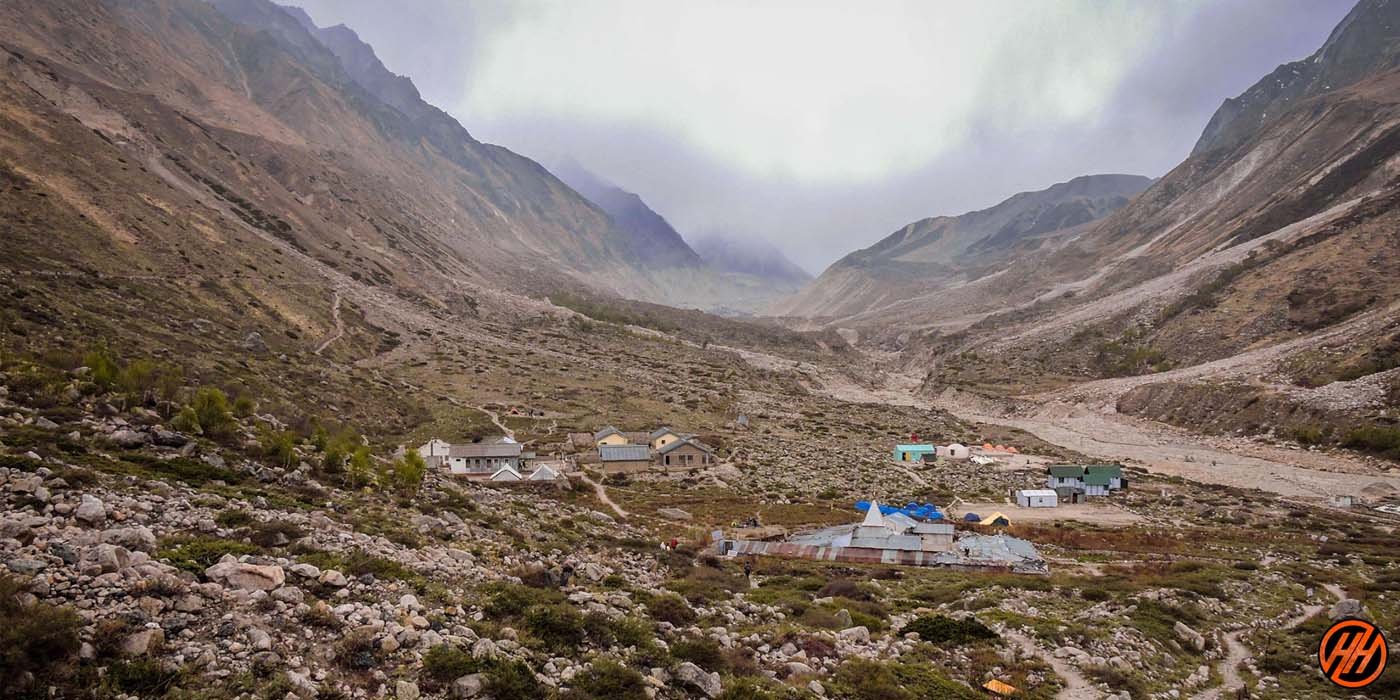 Why you should choose us?
We're here to give you the greatest experience possible through the eyes of highly skilled and qualified specialists who have a passion for adventure sports. We are community members attempting to promote our favorite adventure sports while also supporting local businesses. We, at Himalayan Hikers, dedicate ourselves to providing you with an unforgettable experience.
Here are some potential reasons why you might consider choosing Himalayan Hikers for the Gaumukh Tapovan trek:
Experience and Expertise: Himalayan Hikers may have a reputation for their experience and expertise in organizing treks in the Himalayas, including the Gaumukh Tapovan trek. They might have knowledgeable guides who are familiar with the route, weather conditions, and safety precautions specific to this trek. Assessing their experience, customer reviews, and track record can help you make an informed decision.
Safety Measures: A reputable trekking agency like Himalayan Hikers may prioritize safety by providing experienced guides, necessary permits, and well-maintained equipment. They might have protocols in place for monitoring and managing altitude sickness, weather-related risks, and emergency situations. Inquire about their safety measures and how they ensure the well-being of trekkers.
Logistics and Support: Organizing a trek can involve various logistical aspects such as transportation, accommodation, and meals. Himalayan Hikers might offer comprehensive packages that take care of these logistical arrangements, allowing you to focus on the trek itself. They might arrange transportation from the nearest city to the starting point of the trek and provide tents or guesthouse accommodation during the journey.
Local Knowledge and Cultural Immersion: Himalayan Hikers may have a deep understanding of the local culture, traditions, and communities along the trekking route. They might provide opportunities for cultural interactions and insights into the region's rich heritage. Learning from their local expertise can enhance your overall trekking experience.
Customized Itineraries and Flexibility: Depending on your preferences and requirements, Himalayan Hikers may offer customized itineraries or flexible options to tailor the trek to your needs. They might consider factors such as acclimatization, rest days, and alternative routes based on your fitness level and time constraints.
The altitude we are going to cover in Tapovan Trek
Gangotri – 3415 Meter
Chirbasa – 3580 Meter
Bhojbasa – 3775 Meter
Gomukh – 4255 Meter
Tapovan trek – 4500 Meter
Key Points of Tapovan Trek
Duration: – 7 Nights 8 Days – from Dehradun to Dehradun
Base camp: – Gangotri
Summer Temperature: – Day  5°C to 10°C) Night  2° C to 6° C)
Tapovan Altitude: – 4500 Meter
Best Time: – May, June, September, October
Trek Level: – Moderate
Trek distance: – On foot 46 Km – By taxi 516 km
 Tapovan Trek Route  – Start from Dehradun, Mussoorie, Suwakholi, Uttarkashi, Gangotri, Chirbasa, Bhojbasa, Gaumukh Glacier, Tapovan
 Short Itinerary of  Tapovan Trek 
Day 1- Pick up to you from Dehradun railway station – Drive to Gangotri – 258 km) (10/11 Hours) (3415 Meter) overnight stay at Hotel Mandakini at Gangotri
Day 2 – Trek from Gangotri to Chirbasa camp (09 km) (5/6 Hours) (3580 Meter) overnight stay at Camp
Day 3 – Trek from Chirbasa camp to Bhojbasa camp (5 km) (3/4 Hours) (3775 Meters) overnight stay at Camp
Day 4 – Trek from Bhojbasa camp via Gomukh to Tapovan camp (09 km) (6/7 Hours) (4500 Meters) overnight stay at Camp
Day 5 – Exploration Day Nil Tal and Shivling base camp (4619 Meters) back to camp (4/5 Hours) overnight stay at Camp
Day 6 – Trek from Tapovan to Bhojbasa camp (09 km) (5/6 Hours) (3775 Meters) overnight stay at Camp
Day 7 – Trek from Bhojbasa camp to Gangotri (14 km) (6/7 Hours) (3415 Meter) overnight stay at Hotel Mandakini at Gangotri
Day 8 – Drive from Gangotri to Dehradun by taxi (258 km) (10/ 11 Hours)
Your Travel Plan for Tapovan Trek
You can book train, air flight, and bus tickets for your journey only according to the information given by us.
The Tapovan trek will be of 6 days and 02 days of your journey total of 08 Days from Dehradun to Dehradun in Uttarakhand
First of all, all the trekkers will have to book their flight and train bus according to our timetable as our pick-up is from 6 am to 7 am, and you will have to reach Dehradun in the morning
A taxi from Himalayan hikers will link you to Dehradun railway station
Himalayan Hikers organize transport to Gangotri base camp from Dehradun railway station
Our vehicles leave at 6:00 am to 7:00 am sharp from Dehradun. The taxi costs include your package for a Sharing Tempo Traveler
At Dehradun railway station you will get our staff that will arrange transport for you
The contacts no Transport coordinator or our office team will give you a week ago to your departure
Please you guys book your transport facility according to your own time table after Himalayan Hikers take all the responsibility of Dehradun from Dehradun, you will not face any problem
How to reach Dehradun for Gaumukh  Tapovan Trek?
To reach Dehradun, the starting point for the Gaumukh Tapovan trek, you have several transportation options available. Here are the common modes of transportation:
By Air: The nearest airport to Dehradun is Jolly Grant Airport, located about 30 kilometers (18 miles) from the city center. Several domestic airlines operate regular flights to and from Dehradun. From the airport, you can hire a taxi or take a shared cab to reach Dehradun.
By Train: Dehradun has its own railway station, which is well-connected to major cities in India. Various trains, including express and superfast trains, run to and from Dehradun. Once you arrive at the Dehradun railway station, you can hire a taxi or take an auto-rickshaw to reach your desired location in the city.
By Road: Dehradun is well-connected to major cities in North India by a network of national highways. You can reach Dehradun by bus or hire a taxi or private car. Buses operated by the Uttarakhand State Road Transport Corporation (USRTC) and private bus operators run regular services to Dehradun from various cities.
After reaching Dehradun, you can make your way to Gangotri, the starting point of the Gaumukh Tapovan trek. Here's how you can reach Gangotri from Dehradun:
By Road: From Dehradun, you can take a shared taxi or a private cab to reach Gangotri. The journey takes approximately 10-12 hours, depending on the road conditions and traffic. The route passes through scenic landscapes and towns like Uttarkashi.
Shared Transport: You can also look for shared jeeps or shared taxis that operate from Dehradun to Gangotri. These are a more budget-friendly option and can be found at the Dehradun bus stand or nearby locations. However, availability and frequency might vary, so it's advisable to check in advance.
It's recommended to plan your journey well in advance, especially during the peak trekking season, and make necessary reservations for flights, trains, or taxis. Additionally, check the weather and road conditions before embarking on your journey to ensure a smooth and hassle-free travel experience.
Dehradun to Gangotri Route Map
ATM Point and Mobile Connectivity in Tapovan Trek
ATM Point
Before starting the journey to Tapovan trek, make sure that you need payments, and then take out the cash on the way, Uttarkashi market is the last place where you can withdraw cash from ATM, (If you want to withdraw money then do it in Dehradun.)
Mobile Connectivity
The phone does not work on this trek. Therefore, you should ensure that you do not have to make any important calls. . So make sure you finish all your important work and calls before starting the trek. Last Gangotri, your device will receive good networks.
What should you keep in mind for the Tapovan trek?
Tapovan  trek  is as good as it is said, you also need to be prepared., Tapovan  trek  is a   moderate trek that starts from Gangotri via Gamukh and ends after trekking same point of Gangotri in Uttarakhand Himalayas
So what are the special things to keep in mind before coming on this trek?
Tapovan  trek  is one such trek, which you can do this  trek 1st week of April  to the Last week of October, this is a very safe trek in District of Uttarkashi Uttarakhand
 Summer  Season
Summer trek to Tapovan trek is very special, the view and the temperature are all favorable to you
For the summer trek, you have to bring only normal clothes, so that your trek can be good, there is no need for hot clothes, but in hiking it is also necessary to bring all the equipment which is necessary for you.
It is necessary to have 3 pairs of clothes for trekking, especially the poncho, you will have to bring every season
There is a very strong wind in the evening and in the morning in Tapovan
In the summer season, the temperature is always normal, so there is no need for hot clothes.
Morning evening and nights are cold in Tapovan trek, so it is necessary to carry some warm clothes, a good jacket, warm thermal, this will help you stay comfortably in the high-altitude camp
Monsoon Season
The main reason why you should not do this trek in the monsoon season is that Uttarakhand receives a lot of rain during the monsoon season. months of July and August
Due to this, there is a fear of falling stones from the mountains while going from Gangotri to Gaumukh.
Trekkers need to know about these, you can ask us anytime about like, Trek route, trek map, Temperature, weather conditions, difficulty level, trek starting point, endpoint, transport, view of the trek, best time to visit, How to reach tapovan trek , trek Itinerary, trek distance, Location etc, keep this information before going
Winter  Season
Tapovan trek is not in winter trek, the right time to do this trek is from 1st week of April to the last week of November
It snows around 6 to 8 feet in the winter season and it can be very risky to go here
We have special treks for you for winters that are safe and beautiful
Such as – Kedarkantha Trek, Har ki dun Trek, Dayara Bugyal Trek, Kuari Pass Trek, Brahmatal Trek, Dodital Trek, Vijay Top Trek, Nag Tibba Trek, and many more.
What do we do for safety in the Tapovan Trek trek?
First of all, the safety of trekkers is much more for us, if you see in the trek, then there are all the risks, which I do not think about.
Himalayan Hikers worry more about you that no one should ever have any problem in the trek.
What should we and you keep more safety in the trek
Whenever you are going for any trek, it is very important that you go completely fit and ready.
The trek is Moderate/difficult, if you make your feet and your mind calm and strong, you will find the trek very easy.
While trekking, keep in mind that you are walking on the right route or not always with your guide.
Most people look somewhere and where they are walking, this can cause twitching in your legs, which can ruin your entire trek.
It is important to ask your doctor if you have any medical problems
I should always keep my medical kit with me, it is very important.
Himalayan Hikers always keep a medical kit with you, such as oxygen cylinders, and medicine to be given in an emergency on the trek
If any trekkers have any more problems, then they are brought back to the base camp by laying them in the stretcher.
Our camp in Tapovan trek is around 7000 ft to 14000 ft where you can not have any big problem of oxygen
In case of any medical problem, the help of your guide or well-informed trekkers should be taken
If there is major health problems in the Tapovan trek, then Nearest Hospital is in Uttarkashi which is about 116 Kms away from the Gaumukh Tapovan trek
Remember that when we go on any trek, we go from low altitude to high altitude, it does not cause much problem on us.
Our camps also move forward day by day and our bodies also work with the altitudes that are safe for trekkers
Along with the trek we keep getting acclimatization
How to get fit for the Gaumukh Tapovan trek?
Preparing yourself physically for the Gaumukh Tapovan trek is essential to ensure a more enjoyable and comfortable experience. Here are some tips to get fit for the trek:
Cardiovascular Fitness: Focus on activities that improve your cardiovascular endurance, as trekking involves long hours of walking and ascending at higher altitudes. Engage in activities like jogging, brisk walking, cycling, swimming, or stair climbing to improve your stamina and cardiovascular fitness. Aim for at least 30 minutes of moderate-intensity cardio exercises on most days of the week.
Strength Training: Strengthening your muscles, especially your legs, core, and upper body, will help you tackle the demanding terrain and carry your backpack during the trek. Incorporate exercises like squats, lunges, step-ups, planks, push-ups, and resistance training to build strength. Include both bodyweight exercises and weight training, if possible.
Endurance Training: Gradually increase the duration and intensity of your workouts to build endurance. Incorporate longer walks or hikes, preferably on hilly terrain, to simulate trekking conditions. Start with shorter distances and gradually increase the distance and difficulty level over time.
Flexibility and Stretching: Flexibility is important to prevent injuries and improve overall mobility during the trek. Incorporate stretching exercises, such as yoga or dynamic stretches, to improve flexibility and range of motion. Pay attention to stretching your leg muscles, hips, back, and shoulders.
Trek-Specific Training: Try to simulate trekking conditions during your training. Find trails or hilly areas to practice walking uphill and downhill. Increase the intensity and duration of your practice hikes to build your endurance and get accustomed to carrying a backpack. If possible, gradually increase the weight of your backpack to match the expected load during the trek.
Hydration and Nutrition: Stay hydrated throughout your training period and during the trek. Drink plenty of water and fluids to maintain your hydration levels. Focus on a balanced diet that includes carbohydrates for energy, protein for muscle recovery, and healthy fats. Include fruits, vegetables, whole grains, and lean proteins in your meals.
Mental Preparation: Trekking can be physically and mentally demanding. Practice mental resilience, positive thinking, and determination during your training period. Develop a mindset that embraces challenges and keeps you motivated throughout the trek.