Tarsar Marsar Trek, the Prettiest Lakes in Kashmir Aru valley -INDIA-2023
Tarsar Marsar Trek lies in the fascinating beauty of Kashmir which is well known across the globe. Therefore, on Tarsar Marsar Trek go deep in the heart of Kashmir and get totally different experiences of Trekking in India.
During the trek, get a chance to camp beside the serene bluish alpine lakes. And, all the way to Tarsar get multiple sights of the same Lake.
On the other hand, Marsar which remains hidden under a sheet of clouds. Witness its splendor from an overhang lying below 600-700 feet. But, the lake can only be seen until the clouds are clear. So, certainly, Tarsar Marsar is the prettiest lake in India.
The trail hides in a thick blanket of snow and green valley. The lush verdant forests turn white making it a small wonderland! The Tarsar Marsar trek is not only for experienced trekkers but for amateurs and children too families, school groups.
The Tarsar Marsar Trek is a Popular trekking route in the Kashmir Valley
Here are some of the main points of interest along the Trek:
Aru Valley: The trek starts from the picturesque Aru Valley, located about 12 km from the town of Pahalgam.
Lidderwat: After crossing the Lidder River, the trek leads to Lidderwat, a beautiful meadow surrounded by towering mountains.
Sheeshnag: The next stop is Sheeshnag, a glacial lake nestled amidst the mountains. The lake is named after the seven peaks that surround it, which are said to resemble the heads of a mythical creature.
Tarsar Lake: The highlight of the trek is Tarsar Lake, a stunning high-altitude lake located at an elevation of 3,962 meters. The lake is surrounded by lush green meadows and snow-capped peaks, and is a popular camping site.
Marsar Lake: After Tarsar, the trek leads to Marsar Lake, another high-altitude lake situated at an elevation of 3,798 meters. The lake is known for its crystal-clear blue waters and is surrounded by snow-covered mountains.
Homwas: The trek ends at Homwas, a small village located on the banks of the Wangath River.
Overall, the Tarsar Marsar Trek is a challenging but rewarding trek that offers stunning views of some of the most beautiful landscapes in the Kashmir Valley region.
The Astounding Campsites in Tarsar Marsar Trek
The first highlight of this trek is camping beside snow-fed alpine lakes which is the most important and best part of this trek. In addition, witness the changing colors of the lakes as the sun shines upon them. Do not miss the spellbinding sunset and sunrise views over the Lake at Tarsar and Sundersar campsites.
Moreover, explore the amazing clearings lying after the dense coniferous forests and spot few Gujjar huts on the way.
Best Time to Do Tarsar Marsar Trek
Tarsar marsar  trek  is a very beautiful and moderate trek in the Kashmir aru Valley, The Tarsar marsar Trek is great for those people who have a great passion for mountaineering. Hills and consider it a special purpose in their life.
We are are doing this trek for years, we have every experience related to this trek. The right time to do this trek is from 5th June to the last of September, especially in the months of June, green and colorful bugyal meadows, snow is found in abundance here, which makes your trek very memorable
During the day the temperature of tarsar marsar trek is around ( 05°C to 15 °C  and during the night the temperature comes down to 03 °C  to  05 °C  which is not bad.
You will never consider yourself boring in tarsar marsar Trek, this trek can give you nothing but joy, You will get to see the culture and beauty of  Kashmir valley in this trek which will always keep you connected towards the mountain.
Aru Base Camp & Exotic Grasslands in Tarsar Marsar Trek
Aru is the base camp of Tarsar Marsar trek, it is a small idyllic village surrounded by lavish grasslands. The village is famous because of some cottages, poplar trees, and a rivulet flowing through this village's heart.
The Aru villagers so heartily welcome trekkers that they surely come again to do another trek. The nature of Kashmir – meadows, rivers, streams, birds, animals and flowers everything is attracting people to visit it. Really, Jammu and Kashmir valley is no less than a paradise which is also known as the Taj of India
Before, Sundersar campsite, pass through wide Jagmargi grasslands. Therefore, get amazed by its pulchritude because the wide grasslands are surrounded by mountains and a small rivulet flows through the pristine valley blooming with colorful flowers in yellow, blue and pink shades.

How Difficult is the Tarsar Marsar Trek?
The Tarsar Marsar trek is considered a moderate to challenging trek, suitable for experienced trekkers or those with a good level of fitness and hiking experience. The difficulty level can vary depending on factors such as weather conditions, personal fitness, and previous trekking experience. Here are some factors to consider:
Terrain: The trek involves traversing through various terrains such as meadows, forests, rocky trails, steep ascents, and descents. The terrain can be uneven and challenging at times, requiring a certain level of physical fitness and stamina.
Altitude: The trek reaches a maximum altitude of around 13,500 feet (4,115 meters) at the Tarsar Pass. Altitude sickness can be a concern, so it's important to acclimatize properly, stay hydrated, and take necessary precautions.
Distance and Duration: The trek covers a distance of approximately 45-50 kilometers, which is typically completed in 7 days. The daily walking duration can range from 4-7 hours, depending on the itinerary and individual pacing.
Weather and Temperature: The weather in the region can be unpredictable, with cold temperatures, rain, and snow possible even during the trekking season. It's important to be prepared for varying weather conditions and pack appropriate clothing and gear.
Camping and Facilities: The trek involves camping at various locations along the route. Basic facilities such as tents and sleeping bags are usually provided by trek organizers, but it's advisable to check in advance. There may be limited or no access to amenities like electricity, running water, or mobile network coverage in certain areas.
Is Tarsar Marsar Trek  Safe for me ?
The Tarsar Marsar trek can be moderate, especially for beginners or those with limited trekking experience. However, with proper preparation, guidance, and taking necessary precautions, it can still be a safe and enjoyable experience. Here are some points to consider:
Physical Fitness: The trek requires a reasonable level of physical fitness and endurance. Beginners should assess their fitness level and undertake suitable training before attempting the trek. Regular exercise, cardio workouts, and building stamina through hiking or walking can help prepare the body for the demands of the trek.
Guided Trek: For beginners, it's advisable to join a guided trek where experienced guides can provide assistance, support, and knowledge about the route. They can help with navigation, and safety precautions, and offer guidance during challenging sections of the trek.
Acclimatization: Proper acclimatization is essential, especially when trekking at high altitudes. Beginners should take the necessary time to acclimatize and adjust to the altitude before attempting the Tarsar Marsar trek. It's important to follow gradual ascent techniques, stay hydrated, and be aware of the symptoms of altitude sickness.
Safety Precautions: It's crucial to prioritize safety during the trek. This includes following the guidance of the trek leaders, maintaining a steady pace, using appropriate trekking gear, staying hydrated, and avoiding overexertion. Understanding the risks associated with the trek, such as weather conditions or challenging terrains, is important for making informed decisions.
Preparation and Equipment: Beginners should ensure they have the necessary equipment, clothing, and gear suitable for trekking in varying weather conditions. This includes proper hiking boots, warm clothing, rain gear, a sleeping bag, a first aid kit, and other essential items. It's advisable to consult with experienced trekkers or seek professional advice to ensure you have the right gear.
Travel Insurance: It's always recommended to have travel insurance that covers trekking activities, including emergency medical evacuation, in case of unforeseen circumstances or emergencies.
Why choose Tarsar Marsar Trek?
Before heading towards the itinerary, it is really essential to perceive the reason behind choosing Tarsar Marsar  Trek.
See firstly, the trekking distance is a total of by taxi 224 Km and on foot 48 km which is to be covered into 6 nights 7 days. From Srinagar to Srinagar
Tarsar Marsar Trek is a low altitude mountain trek Altitudes is 13205 feet
The Starting trail is easy to moderate as compared to other treks this is a Moderate trek. So this trek is best for family and beginners, school tour
Need proper gear & clothing for sub-zero temperatures?
You got to see so many heavenly bodies at one place like the panoramic view of the Himalayan ranges, you can see pine forests, and different varieties of flora and fauna surpassing bona fide Kashmir culture.
I think Do spare time in Interaction with our local's team, and you will get to know about some of the ancient tales of Indian mythology and our local cultures, these is good ideas for trekkers
Beautiful landscapes so carry proper photo gear & Extra battery backup.
The backpack should not exceed 12 kg only
Trekkers carry your Photo ID, Adhar Card, Passport, Visa, medical certificate trek insurance  for entry at forest check posts on the trek it is very important
What should you keep in mind for the July, Aug, Sep, Season trek to Tarsar Marsar Trek?
Tarsar Marsar Trek is as good as it is said, you also need to be prepared., Tarsar Marsar Trek is a moderate trek that starts from Srinagar and ends after the trek same point,
So what are the special things to keep in mind before coming on this trek?
Summer Season
Summer trek to Tarsar Marsar Trek is very special, the view and the temperature are all favorable to you
For summer trek, you have to bring only normal clothes, so that your trek can be good, there is no need for hot clothes, but in hiking it is also necessary to bring all the equipment which is necessary for you.
It is necessary to have 3 pairs of clothes from trekking, especially the poncho, you will have to bring every season
In the summer season, the temperature is always normal, so there is no need for hot clothes.
 Monsoon Season
During the monsoon season, it rains occasionally during the Tarsar marsar Trek, especially in the Kashmir valley, so if you have dry clothes here, it is very good, even when wet, it dries quickly.
At this time you have to bring at least 3 pairs of clothes, for monsoon trek you do not have to bring too warm clothes, at this time you, hiking pants and t-Sart, I can trek
It's only a little cold in the morning and evening and the day is a good temperature for you
Before going on any trek, it will be easy for you to take information related to each season.
Trekkers need to know about these, you can ask us anytime like, trek route, trek map, temperature, weather condition, difficulty level, trek starting point, end point, transport, view of the trek, best time to visit, How to reach, trek distance etc, Trek Location, keep this information before going
Altitude we are going to cover in Tarsar Marsar Trek
Aru Village – 7958 feet)
Lidderwat – 9136 feet)
Shekwas camp -11089 feet)
Tarsar Lake – 12500 feet)
Marsar Lake – 11500 feet)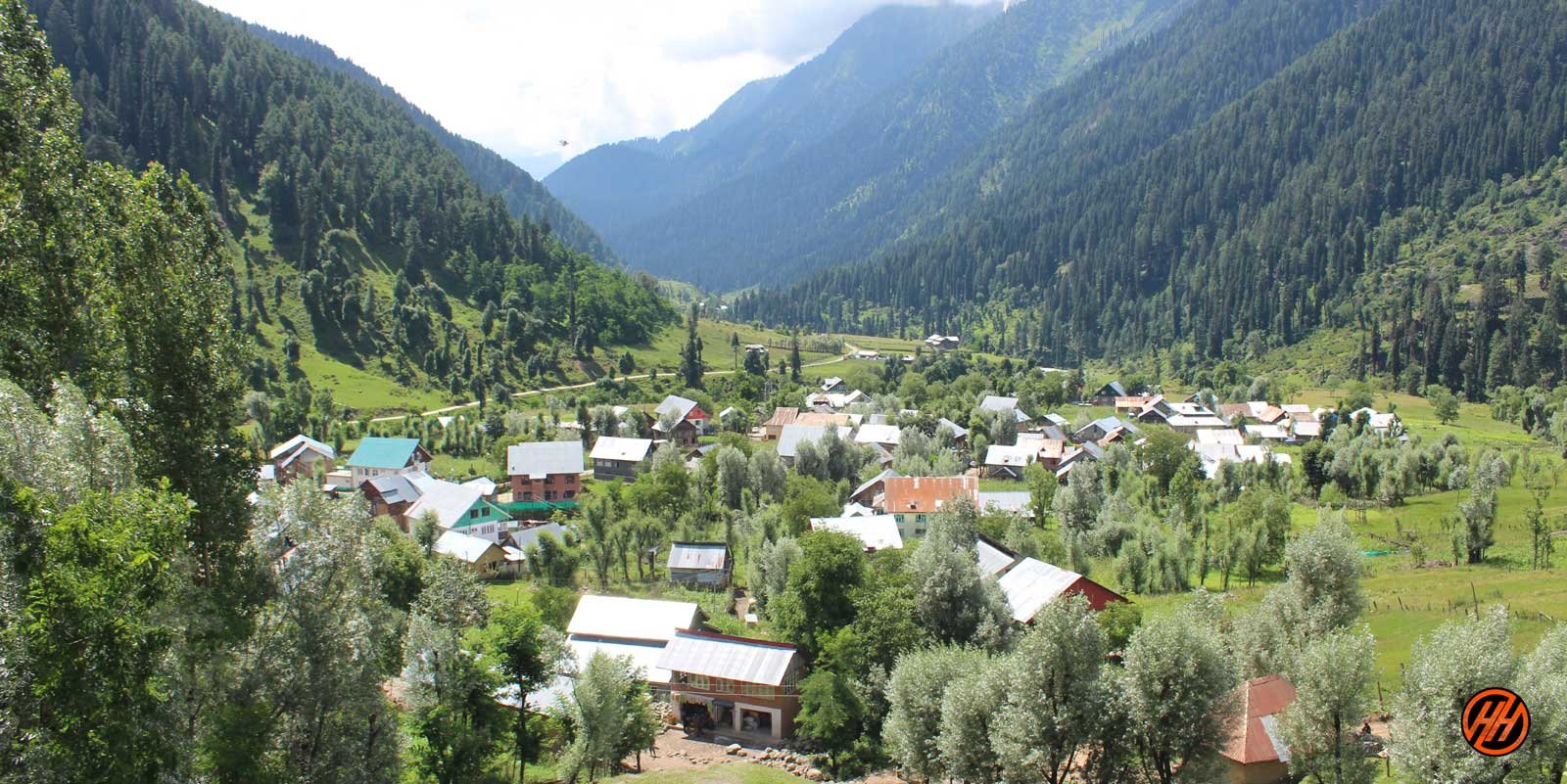 Key Points of Tarsar Marsar Trek
Duration: – 06 Nights  07 Days
Base camp: – Aru Village
Monsoon Temperature: – Day (5°C to 15°C) Night (2° C to 5° C)
Tarsar Marsar – Altitude: – 13205 Feet
Best Time: – June, July August, September
Trek Level: – Moderate
Trek distance: – On foot 23 Km – By taxi 420 km
Group Size: – 8 to 15 people
Short Itinerary of Tarsar Marsar Trek
Day 1- Pickup to you from Srinagar TRC office 1:00 pm  – Drive to Aru village – 112 Km (4/5 Hours (7958 feet) overnight stay Home stay
Day 2 – Trek from Aru village to Lidderwat (10 km) (5/6 Hours) (9136 feet) overnight stay at camp
Day 3 – Trek from Lidderwat to Shekwas camp (06 km) (4/5 Hours) (11089 feet) (overnight stay our campsite
Day 4 – Trek from Shekwas camp to Tarsar Lake (05 km) (3/4 Hours) (12500 feet) overnight stay camp.
Day 5 – Trek from Tarsar Lake to Sundersar camp (05 km) (3/4 Hours) (12978 Feet) overnight stay camp
Day 6 – Trek from Sundersar camp to visit Marsar Lake go to Homwas camp (09 km) (6/7 Hours) (11500 Feet) overnight stay camp
Day 7 – Trek from Homwas to Aru Village (13km) same day drive to Srinagar by taxi (112 km) – 4/5 Hours
How to Reach Tarsar Marsar Trek?
To reach Aru, Srinagar for the Tarsar Marsar trek, you can follow these steps:
Arrive in Srinagar: Book a flight to Srinagar International Airport, which is well-connected to major cities in India. Alternatively, you can also reach Srinagar by train or bus from other parts of the country.
Travel to Pahalgam: From Srinagar, you need to travel to Pahalgam, which is the starting point of the Tarsar Marsar trek. You have a few options to reach Pahalgam:
Private Taxi: Hire a private taxi from Srinagar to Pahalgam. This is the most convenient option but can be a bit expensive.
Shared Taxi: You can find shared taxis or cabs near the Tourist Reception Center (TRC) in Srinagar. These taxis follow a fixed route and are a more affordable option.
Public Bus: Take a public bus from Srinagar to Pahalgam. The Srinagar Bus Stand near Lal Chowk is the main bus terminal in the city.
Reach Aru: Aru is a small village located around 12 kilometers from Pahalgam. Once you reach Pahalgam, you can hire a local taxi or take a shared cab from the taxi stand to reach Aru. The journey from Pahalgam to Aru takes approximately 30-40 minutes.
Start the Tarsar Marsar Trek: Aru serves as the starting point for the Tarsar Marsar trek. You can find local trekking guides and porters in Aru if you require their services. Make sure to carry all the necessary trekking gear, equipment, and supplies for the trek.
Please note that it's always a good idea to check the current travel conditions and any restrictions or permits required for the trek before planning your trip. It's also recommended to consult with local authorities, tour operators, or experienced trekkers for the most up-to-date information regarding the Tarsar Marsar trek.
Will there be electricity in the Tarsar Marsar trek
Let me tell you that there is no electricity in the forest area of the Tarsar Marsar trek. Here we use Stobe Light and or Solar Light, candle light at the nights
If you come on this trek, then you should bring your own headlight and your camera with full charge, if possible, it would be good to bring extra battery backup, and also bring the phone after full charge, today people most of phones use the same
You will get the last electricity only in our Home Stay Aru Village, where you have to charge the battery of your phone and camera at night.
What to pack for Tarsar Marsar Trek
When packing for the Tarsar Marsar trek, it's important to strike a balance between carrying essential items and keeping your backpack light. Here's a list of items you should consider packing:
Clothing:
Base Layers: Moisture-wicking and quick-drying T-shirts and thermal tops.
Insulating Layers: Fleece jackets or down jackets to keep you warm during colder temperatures.
Waterproof Jacket: A durable rain jacket or windbreaker to protect against rain and wind.
Trekking Pants: Lightweight, quick-drying pants that provide comfort and flexibility.
Warm Layers: A couple of warm sweaters or hoodies for cooler evenings.
Undergarments and Socks: Carry enough pairs for the duration of the trek, preferably moisture-wicking and comfortable.
Footwear:
Hiking Boots: Sturdy, ankle-supporting waterproof boots with good traction.
Camp Shoes: Lightweight and comfortable sandals or slippers for wearing at campsites.
Gear and Equipment:
Backpack: A well-fitting backpack with a capacity of around 50-60 liters to carry your gear.
Sleeping Bag: A warm and lightweight sleeping bag suitable for the temperatures during the trek.
Trekking Poles: Optional but helpful for stability and reducing strain on your knees during ascents and descents.
Headlamp or Flashlight: Essential for navigating in the dark and during early morning or late evening hikes.
Water Bottle and Water Purification: Carry a reusable water bottle and water purification tablets or a water filter to ensure a safe drinking water supply.
Trekking or Hiking Tent: If you prefer to carry your own tent, choose a lightweight and sturdy tent suitable for camping during the trek.
Sleeping Pad: A lightweight inflatable sleeping pad or foam pad for insulation and comfort during camping.
Personal Toiletries: Toothbrush, toothpaste, biodegradable soap, hand sanitizer, toilet paper, and wet wipes.
Sun Protection: Sunscreen, sunglasses, and a wide-brimmed hat to protect against the sun's rays.
Miscellaneous:
First Aid Kit: Carry a basic first aid kit with essential medications, band-aids, antiseptic ointment, and any personal medications you may require.
Navigation and Communication: A map, compass, or GPS device for navigation, and a fully charged mobile phone with a power bank for communication (keep in mind that network coverage may be limited in certain areas).
Snacks and Energy Bars: Carry lightweight and high-energy snacks such as nuts, energy bars, and dried fruits for quick energy boosts during the trek.
Cash and Identification: Carry sufficient cash in small denominations and a valid identification document.
Remember to pack light and only carry the essential items to avoid unnecessary weight. Additionally, check the weather forecast and the specific requirements of your trek with the trek organizers to ensure you have all the necessary gear and equipment.
 Self-Certificate of Emergency Breakout
 What we do during an emergency breakout in the Tarsar marsar Trekking?
Trekking in the Himalayas is not a cup of tea but it is a rewarding experience. However, it's important to keep things in mind when it comes to Safety. One must know about the weather conditions, the altitude gain, fitness and other factors that can wreck your experience. In such adverse conditions, you are solely responsible for your well being and act maturely.
Read About Safety Tips For Safe Trekking
Preparations before the Trek
You've to understand that treks are away from cities and medical help is not always easily available. So, if you are heading for an adventurous trekking trip, stick to certain trekking guidelines and tips. Following these simple tips will help make the trek more fun and experiential for you as well as your fellow trekkers.
These tips and guidelines cater to useful and requisite information about your fitness training, packing and health precautions to be taken before and during the trek.
Firstly, when you start, target 5 km in 40 minutes
Then gradually increase your pace by running at least 4 times a week. Then try to bring it down to 5 km in less than 37 minutes
If you are a person who prefers cycling over running then your target must be 22 km means you should be able to cover 22 km in 60 minutes.
Walking is a great exercise that gives great shape to your legs and your body. It helps in burning calories and cut down excess weight and strengthens the heart.
Jogging is effective in increasing the human lifespan and makes your lungs stronger. It is an aerobic activity that requires a lot of oxygen. This is a great exercise for fighting obesity and staying healthy.
Squats are the best form of functional exercises to improve stability. They also strengthen your legs, thighs, hips, and hamstring.
Another great cardiovascular exercise is pushing your body upstairs after stairs. This is regarded as the best exercise for increasing strength and power
What we do during an emergency breakout in the Tarsar Marsar Trek?
First of all, the safety of trekkers is much more for us, if you see in the trek, then there are all the risks, which I do not think about.
Himalayan Hikers worry more about you that no one should ever have any problem in the trek.
What should we and you keep more safety in the trek
Whenever you are going for any trek, it is very important that you go completely fit and ready.
The trek is not difficult, if you make your feet and your mind calm and strong, you will find the trek very easy.
While trekking, keep in mind that you are walking on the right route or not always with your guide.
Most people look somewhere and where they are walking, this can cause twitching in your legs, which can ruin your entire trek.
It is important to ask your doctor if you have any medical problems
I should always keep my medical kit with me, it is very important.
Himalayan Hikers always keep a medical kit with you, such as oxygen cylinders, medicine to be given in emergency on the trek
If any trekkers have any more problems, then they are brought back to the base camp by laying them in the stretcher.
Our camp in Tarsar marsar trek is around the 6000 feet to 13000 feet where you can not have any problem of oxygen
In case of any medical problem, the help of your guide or well-informed trekkers should be taken
If there is major health problems in Tarsar marsar trek , then Nearest Hospital is in Srinagar which is about 112  Kms away from Tarsar Marsar Trek
Along with the trek we keep getting acclimatization