Valley Of Flowers trek Listed in the World Heritage Sites in Uttarakhand Himalayas most popular monsoon trek
Valley Of Flowers Trek is extremely vast, furnished with never-ending meadows and was declared a national park in 1982. Now it is a World Heritage Site. Altitude is – 12140 feet If you didn't know It is home to endangered species and rare animals. From the Asiatic black bear, snow leopard, musk bear, brown bear to red fox and blue sheep and even birds, you will also find high altitude birds like Himalayan Monal Pheasant
Think of the days when your eyes glued to one of the most charming valleys of Uttarakhand, India during the monsoon season. Valley of flowers will literally rejuvenate your soul and you will reminisce about your journey.
The valley not only is welcoming you with flowers but on the way get to witness huge gorge and small streams flowing by. After hours of laborious trekking, your heart will skip a beat, and the enthusiasm is electrifying" Boom" there goes the vast endless drop-dead gorgeous, exquisite valley. The feeling will be so compelling and sensational. This will remind of those hours how one has struggled to come here just to witness this magic which can melt anyone's heart.
About Valley Of Flowers Trek
A few hours of trekking would be slightly difficult, but once you reach the valley you will forget about everything. Enjoy the tranquility and the hush around the valley. Watch the rise of the moon around
Midnight, ogled at the stars shimmering millions of light-years away with your friends and family by lying inside the tent. Get to see the different kinds of flowers. This would be a treat to tour eyes, as you witness the different types of Himalayan flowers. It has gained so much importance and adorned with a diversity of Alpine flowers, representative of the Western Himalayan Alpine shrub and meadow ecoregion. The valley is also blessed with various colors of
Flowers, taking on diverse shades of colors as time advanced. Brahma Kamal is one of the most famous. Himalayan flower which can be seen in the month of July- August.
World's Highest Sikh Temple in Valley Of Flowers Trek
Further, the climb to Govindghat and Hemkund Sahib Ji is a tough and steep one. But, the thrilling climb and adventure will surely give you chills!
During your trek, explore the World's highest Gurudwara "Hemkund Sahib Ji" which lies at a height of 4400 Meter
In addition to its beauty just behind the Gurudwara lies a lake that remains frozen for 6 months. Govind Singh Ji the 10th Guru of the Sikh faith meditated on the bank of this lake during ancient times.
Therefore, the clear Hemkund Lake is serene and peaceful with the Brahma Kamals growing in abundance on the banks.
You wouldn't be surprised to know that there are few treks like Valley of Flowers which offer some splendorous Hiking routes ie Hemkund Sahib. It is also known as the Hemkund Sahib Ji Valley which runs parallel 10 km south.
Hemkund Sahib – 4,160 m
Shri Hemkund Sahib also known as Hum Hemkunt) This is a place of faith and belief where you will feel peace of mind, which today formally known as Gurdwara Shri Hemkund Sahib Ji, this place There is a Sikh Gurdwara in Chamoli district of Uttarakhand, India, where people come for their worship and faith and worship wholeheartedly and is a place of pilgrimage. This Gurdwara is dedicated to the tenth Sikh Guru, Guru Gobind Singh (1666–1708), and the place finds mention in the Dasam Granth, directed by Guruji himself, where mythological components are present in the work. According to the Survey of India, situated at an altitude of 4,160 meters in the Himalayas, is a glacial lake setting surrounded by seven Himalayan mountain peaks, each adorned with a Nishan Sahib on its rock. It is approached from Govindghat on the Badrinath Highway. It is at a distance of about 19 kms from Govindghat, the nearest main town is Joshimath. The elevation of the lake at Hemkund is about 4,160 m.
Today people who go for the Valley of Flowers trek, I also like to visit this place, which is also associated with our Valley of Flowers trek itinerary.
You can get 360 degree view from Hemkund sahib
Its distance from Ghangaria Base Camp is 6 kilometers on one side, it is about 12 kilometers on both sides.
It is said that those who go here to ask for something from their heart, their every wish is fulfilled.
Going to Hemkund Sahib is also very special because here you also get to see flowers like Brahmakamal and Fankamal, which are not found in the Valley of Flowers trek. You can find these flowers only in a place at an altitude of 13000 feet. above
Valley Of Flowers Trek : The Floral Dreamland!
Enter the divine valley and colorful heaven "Valley of Flowers", its impeccable beauty is enough to leave you speechless because the carpeted alpine flowers spreading their magical scents together make the valley more like a dreamland.
Moreover, it is believed that from here Lord Hanuman collected Sanjeevani Buti to cure Laxman and according to the local beliefs, this valley was inhabited by fairies. No wonder, it's a fairyland.
So, the prominent flowers which can be seen here are – Blue Poppy, Dog flower, Hooked stick seed, Snake foil, Meadow Geranium, and Himalayan Rose.
In Short, the peak months to visit Valley of Flowers are July and August. So, do not miss the trek this monsoon!
Is it safe trek for me ?
Yes the valley of flowers trek is very safe. All our professional strive our best to provide trekkers with the best experience possible. Flowers are always a very invaluable thing in the life of any human being, people awaken love and joy from flowers.
Valley of flowers trek is a very safe trek where you can go without any fear, We keep on doing treks in some family and school groups every year in which small children up to 6 years of age are taken. No point is difficult in this trek, it is definitely that this trek is Govindghat to Ghnagaria uphill and after completed summit valley of flowers Ghangari to Govindghat downhill trek
Best time to visit Valley of flowers trek only July and August, you get a combination of both greenery and flowers, which makes the trek very spectacular. The weather in July and August is quite good but monsoon time  and trek friendly, which makes trekking a lot of fun.
During the day the temperature of Valley of flowers is around  temperature is Day  10 °C to 15 °C  and during the night the temperature comes down to 6°C  to 10 °C  which is not bad.
Difficulty level of valley of flowers trek
Valley of flowers  is a very beautiful trek heaven in earth or Monsoon  trek and an uphill trek in the Uttarakhand Himalayas, The valley of flowers Trek is great for those people who have a great passion for Flowers beauty and consider it a special purpose in their life. Despite the fact that the top is relatively low in elevation, we recommend physical endurance and a strong fitness record.
We can say that if I want to do anything in my mind, then I should prepare myself for that first with my heart and mind, then nothing is difficult, I am happy again in life.
About Base camp Joshimath in Valley Of Flowers Trek
Above all, It is a pictorial town in Chamoli at an altitude of 1875 m nestled amid high Himalayan peaks. It is the base camp of 10 above Himalayan treks and the gateway to famous pilgrim sites like Badrinath Dham and Hemkund Sahib Ji.
There is spirituality in the air because of the presence of ancient temples. It is home to one of the four "Math" "Atharva Veda" by Adi Shankar Acharya. Joshimath has tranquil charm away from the cacophony of cities.
The gushing rivers and silent streams with the cover of verdant green and the pious ancient temples in the area will surely lure you to come here again and again.
Why To Choose Valley Of Flowers Trek?
Certainly Valley Of Flower is an Indian National Park, located in the Chamoli district, in the state of Uttarakhand.
Before heading towards the itinerary, it is really essential to perceive the reason behind choosing the Valley of flowers trek.
First of all, the trekking distance is a total of by taxi 568 Km and on foot 42 km which is to be covered into 5 nights 6 days.
Valley of flowers is the best monsoon trek Uttarakhand Himalayas trek.
This is the best trek for family, Students, Beginners, Altitudes is 12140 feet – (3700 Meter). Need proper gear & clothing for sub-zero temperature winter?
You got to see so many heavenly bodies at one place like the panoramic view of the Himalayan ranges, Valley of flowers, pine forests, different variety of flora and fauna surpassing through bona fide Garhwali heritage and culture.
Do spare time in Interaction with locals, and you will get to know about some of the ancient tales of Indian mythology. And our Garhwali Cultures
Beautiful landscapes so carry proper photo gear & Extra battery backup.
The backpack should not exceed 10 to 12 kg only
Read more about Valley Of Flowers Trek
Valley Of Flower is an Indian National Park, located in Chamoli district, in the state of Uttarakhand.
The Valley of Flower discovered by British Mountaineer, Frank Smyth, in 1931.
The Valley of flower declared as a national park in 1980.
Hence In 1982, the park renamed Nanda Devi National Park and now it is a World Heritage Site
The Valley of Flowers extends over a region of 87.50 sq km– a territory.
Also Smyth authored a book called the "valley of Flowers."
It is in the middle of the Nar-Var and Gandhi -Maidan Mountains.
Frank Smyth carried 250 seeds of different flower species with him, and he exposed
That there are more than 2,500 species of flowers.
Altitude we are going to cover in Valley Of Flowers Trek
Joshimath Altitude -6152 ft)
Govindghat Altitude-  5906 ft
Ghangaria Altitude – 10101 ft
Valley of flowers Altitude  – 12,140 ft
Hemkund Sahib Altitude  – 14100 ft
Best tome to do Valley of flowers trek
Valley of flowers trek  is a very beautiful and an uphill trek in the Uttarakhand Himalayas, The Valley of  flowers Trek is great for those people who have a great passion for mountaineering,Those who love flowers very much, who feel their fragrance  and consider it a special purpose in their life.
We are the local people who are doing this trek for very monsoon season , we have every experience related to this trek.
The right time to do this trek is from 25th June  to the last week of  August
When you come here inside this valley, you get lost here with flowers painted in color, this is very wonderful and a memorable moment for you.
What should you keep in mind for the Monsoon Valley of flowers Trek ?
Valley of flowers  trek is as good as it is said, you also need to be prepared., Valley of flowers  trek is a Easy moderate trek which starts from Govindghat and ends after trek same point ,
So what are the special things to keep in mind before coming on this trek?
Monsoon Season
During the monsoon season, it rains occasionally during the Valley of flowers Trek, especially in the Uttarakhand Himalayas, so if you have dry clothes here, it is very good, even when wet, it dries quickly.
At this time you have to bring at least 3 pairs of clothes, for monsoon trek you do not have to bring too warm clothes, at this time you, hiking pants and t-Sart, I can trek
It's only a little cold in the morning and evening and the day is a good temperature for you
Before going on any trek, it will be easy for you to take information related to each season.
Trekkers need to know about these, you can ask us anytime like, trek route, trek map, temperature, weather condition, difficulty level, trek starting point, end point, transport, view of the trek, best time to visit, How to reach, trek distance etc, Trek Location, keep this information before going
Why you should choose us for Valley of flowers 
We're local here to give you the greatest experience possible through the eyes of highly skilled and qualified specialists who have a passion for adventure sports. We are community members attempting to promote our favorite adventure sports while also supporting local businesses. We, at Himalayan hikers, dedicate ourselves to providing you with an unforgettable experience.
Himalayan Hikers always make the trek from Trekkers memorable, I insist that you do not face any problem in any trek and you can always have a pleasant experience.
Key Points of Valley of Flowers Trek
Duration: – 05 Nights 06 Days from Haridwar to Haridwar- or Rishikesh 
Base camp: – Joshimath Market
Monsoon Temperature: – Day (5°C to 15°C) Night (6° C to 12° C)
Valley of flowers – Altitude: – (12,140 feet)
Best Time: – July, August,
Trek Level: – Moderate
Trek distance: – On foot 33 Km – By taxi 544 km
Pickup and Drop Service :-We provide pickup and drop service from all parts of Dehradun and Haridwar and Rishikesh 
Weather conditions
Weather conditions depend on the time of the year trekkers are travelling. Weather of Valley of flowers trek always changes from time to time, so you can bring clothes for yourself according to the season in which you want to come. If possible, you can inform us about it
Short Itinerary of Valley of Flowers Trek
Day 1– Pickup to you  from Haridwar Railway station 6:30 am  drive  to Joshimath via Rishikesh  by Tempo Travellers  (288 Km) (10/11 Hours) (1,875 m/ 6152 feet)
Day 2– after breakfast  Drive from Joshimath to Govindghat by taxi (18 km) (01 Hours) same day trek to Ghangaria (09 km) (5/6 Hours) (Altitude –10101 feet
Day 3– Trek from Ghangaria to Valley of flowers (10 km) (7/8 Hours) Altitude – 12140 feet back to Ghangaria Hotel
Day 4– Trek from Ghangaria to Hemkund Sahib (12 km) (7/8 Hours) 14,100 feet) back to Hotel
Day 5– Trek from Ghangaria to Govind Ghat (09km) (5/6 Hours) / same day drive to Joshimath (18 km) (01 Hours) overnight stay hotel
Day 6– Drive from Joshimath to  Haridwar via Rishikesh by taxi (258 km) (9/10 Hours) reach evening  7:00 pm 
We provide pickup and drop service from all parts of  Haridwar and Rishikesh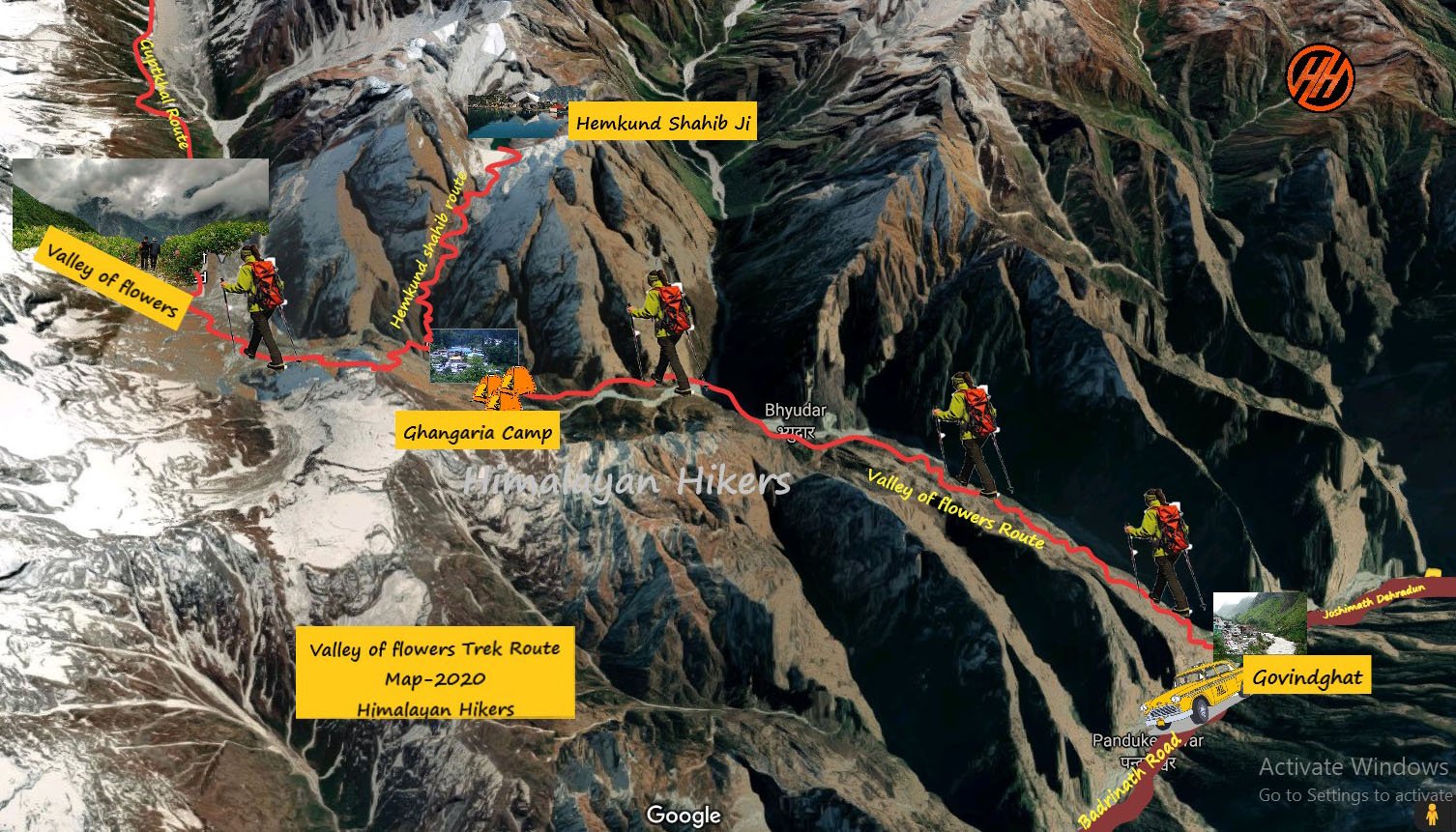 Your Travel Plan for Valley of Flowers Trek
You can book trains, air flights, and bus tickets for your journey only according to the information given by us.
The Valley of flowers trek will be of 4 days and 02 days of your journey total of 06 Days from haridwar to haridwar
First of all, all the trekkers will have to book their flight and train bus according to our time table as our pick up is from 6 am to 7 am, you will have to reach Haridwar  in the morning.
A taxi from Himalayan hikers will link you to the Haridwar railway station. morning 6:00 am 
In the Haridwar  or Haridwar railway station you will get our staff that will arrange transport for you. The contacts no Transport coordinator or our office team will give you a week ago to your departure
Please you guys book your transport facility according to your own time table, after Himalayan Hikers take all the responsibility of Haridwar to Haridwar, that you will not face any problem.
How to Reach Valley of Flowers Trek ?
If you are traveling from Kolkata, Bangalore, Chennai, Pune, Mumbai, or Gujarat any other city, so you will have to come to Delhi, you will get a train from Delhi for Dehradun comfortably.
Haridwar to Joshimath Route Map
Option 01:- By Train
All trekkers booked yourself the,
Nanda Devi Express to Haridwar  (Train no is 12206 Departure 11:30 pm: – Reached Haridwar  4:45
Dehradun Express- to Haridwar  (Train no is 12687 Departure -9:10 pm:- Reached Haridwar  4:00 am
Take both overnight trains Haridwar  to from new Delhi- Haridwar  Special A/C train from Hazrat Nizamuddin railway station the best option to you. The train reached at Haridwar  railway station morning 4:45 to 5:30 am if you Meet to Our office Member – joining to our upcoming batches and Group.
Option 02:- By Air –
Jolly Grant airport is the nearest airport in Rishikesh or Haridwar, Located about 21 km for the Rishikesh city. There are flights available from all states to Dehradun Airport, you can go online and book your tickets. These are easy and easy ways for you and you also save your time, Taxis are available from the airport to Rishikesh or Haridwar at all time costs Rs. 1000/* one-way pay to directly
Option 03:- By Bus
You can reach Haridwar from Delhi by a bus, board it from (Delhi) Kashmiri Gate ISBT; it is good if you are booked the seats.
(Reach Haridwar Railway Station or bus stand between 5:00 am to 6:00 am and the vehicle will be arranged from there.)
What is the distance to reach Valley of flowers Trek from other state
Delhi to dehradun/haridwar distance by flight -207 Kms) and Dehradun airport to  Govindghat 310 kms by Road
Delhi to dehradun/haridwar distance by train 302 kms ) and Dehradun to Govindghat 310  kms by Road
Delhi to dehradun distance by bus 249 kms) and Dehradun  to   Govindghat 310  kms by Road
Bangalore to dehradun distance by air 1924 kms) (By Train – 2371 kms) and Dehradun  to  Govindghat 310  kms by Road
Mumbai to dehradun distance by air 1344 kms) (By Train – 1724 kms ) and Dehradun to  Govindghat 310 kms by Road
kolkata to dehradun distance by air 1518 kms ( By Train – 1694 km) and Dehradun  to  Govindghat 310 kms by Road
What is the distance to Valley of flowers trek on foot
Govindghat to Valley of flowers or Hemuknd shahib both way  Trek Total of Distance on foot – 44 km only
ATM Point and Mobile Connectivity in Valley of flowers trek
ATM Point
Before starting the journey to Valley of the trek, make sure that you need payments, and then take out the cash on the way, Joshimath, the market is the last place where you can withdraw cash from ATM,   (If you want to withdraw money then do it in Haridwar or Rishikesh.)
Mobile Connectivity
The phone does not work well on valley of flowers trek. Therefore, you should ensure that you do not have to make any important calls. So make sure you finish all your important work and calls before starting the trek. Last Joshimath or Govindghat, your device will receive good networks. JIO only Ghangaria or Hemkund Sahib ji During the Trek
What do we do for safety in Valley of flowers trek or Hemukh Sahib ?
First of all, the safety of trekkers is much more for us, if you see in the trek, then there are all the risks, which I do not think about.
Himalayan Hikers worry more about you that no one should ever have any problem in the trek.
What should we and you keep more safety in the trek
Whenever you are going for any trek, it is very important that you go completely fit and ready.
Valley of flowers trek is Moderate, if you make your feet and your mind calm and strong, you will find the trek very easy.
While trekking, keep in mind that you are walking on the right route or not always with your guide.
Most people look somewhere and where they are walking, this can cause twitching in your legs, which can ruin your entire trek.
It is important to ask your doctor if you have any medical problems
I should always keep my medical kit with me, it is very important.
Himalayan Hikers always keep a medical kit with you, such as oxygen cylinders, medicine to be given in emergency on the trek
If any trekkers have any more problems, then they are brought back to the base camp by laying them in the stretcher.
Our Hotel and Camp in valley of flowers trek is around the 6000 ft to 10,000 ft where you can not have any problem of oxygen, this is tree line area
In case of any medical problem, the help of your guide or a well-informed trekkers should be taken
If there is major health problems in valley of flowers trek, then Nearest Hospital is in Joshimath which is about 40  Kms away from valley of flowers trek & Hemkund sahib trek
Remember that when we go on any trek, we go from low altitude to high altitude, it does not cause much problem on us.
Our camps also move forward day by day and our bodies also work with the altitudes that are safe for trekkers
Along with the trek we keep getting acclimatization