Kedarkantha Trek – A Summit Peak at an altitude of 3800m in Uttarakhand Himalayas
If you want to do Kedarkantha  Trek with a local trekking organization then welcome with Himalayan Hikers Team. We treat our trekkers like a family and we have the Most luxurious and expensive hotel and homestay in Sankri like the Grand shiva hotel or Swargarohini Hotel for your luxurious stay and camping stay including with the trek. Trek route is Sankri, Juda ka Talab, Kedarkantha Base Camp, Hargaon Camp, and we also provide delicious food every day 4 to 5 times to our trekkers. We have an experienced local Guide, Cooking Team, Helpers and Transport are always ready to serve you.
Kedarkantha Trek is a beautiful winter trek in Uttarkashi Uttarakhand, India
Here are some highlights of Kedarkantha Trek:
Snow-covered landscapes: Kedarkantha trek is famous for its snow-covered landscapes, which offer a breathtaking view of the Himalayan peaks.
Summit climb: The trek involves a summit climb to the Kedarkantha peak, which stands at an elevation of 12,500 feet.
Stunning views: From the summit, you can enjoy stunning views of the surrounding peaks, including Swargarohini, Bandarpoonch, and Kalanag.
Campsites: The trek offers some of the most beautiful camping sites, where you can spend the night under the starry sky.
Local culture: The trek takes you through traditional villages of the Uttarakhand region, where you can get a glimpse of the local culture and way of life.
Difficulty level: The trek is considered moderate in difficulty, making it ideal for both beginners and experienced trekkers.
Accessibility: Kedarkantha trek is easily accessible from major cities like Delhi, making it a popular weekend getaway.
Juda ka Talab is a scenic high-altitude lake located in the Kedarnath Wildlife Sanctuary in Uttarakhand, India. Here are some of the highlights of this beautiful destination
Natural Beauty: The lake is surrounded by the majestic Himalayas, with stunning views of snow-capped peaks and lush green forests.
Trekking: The lake can be reached via a moderate trek from the town of Sari, which is famous for its picturesque apple orchards and oak forests.
Camping: There are several campsites around the lake where you can spend the night under the stars and enjoy the peaceful ambiance of the surrounding wilderness.
Bird Watching: Juda ka Talab is home to a variety of rare bird species, including Himalayan monals, snow pigeons, and koklass pheasants, making it a paradise for bird watchers.
Flora and Fauna: The lake is surrounded by dense forests of rhododendron, oak, and deodar, which are home to a variety of wildlife species like musk deer, bharal, and leopards.
Religious Significance: The lake is considered sacred by the locals, who believe that it is connected to the Mahabharata epic.
Overall, the Kedarkantha trek is a perfect blend of adventure, natural beauty, and cultural exploration.
We always have Trekking Equipment available on Rent, which you can pick up from our Himalayan Hikers Shop at Sankri Base Camp
About Kedarkantha Trek The most popular Winter  Trek 
Kedarkantha is considered one of the most popular winter trek and hiking location in Uttarakhand, India Altitude is 12500 feet,  It is best trek to fulfill your satisfaction about trekking. Kedarkantha trek is quite special because it has stunning views and it provides the best views of the entire mountains cape.  Today Kedarkantha is the topmost trek of Uttarakhand Himalayas. Kedarkantha is an incredible place to stay there and enjoy the sunrise and sunset.  The Trek is a classic winter trek that provides a great opportunity for trekkers to explore something new about nature, and experience the life of remote villages of Garhwal Himalayas.
Best time to see snow on Kedarkantha Trek
Every year the snowfall in Kedarkantha starts from the middle of November month. And it starts any time in the month of December too, so a good time to see you here is Snowy December,
Kedarkantha experiences maximum snowfall in January and February, in these two months there is maximum snowfall and there is a white blanket of snow on the entire trek.
You will get to see snow in Kedarkantha from December to March end, which makes this trek a special winter trek.
The most special is the frozen lake, Local name is Juda ka Talab which is in our first camp side it completely freezes in winter.
Kedarkantha Mountains Range is Highly Photogenic.
Kedarkantha Trek lies in the Uttarkashi district of Uttarakhand. It starts from the traditional village of Sour – Sankri which is in the Govind Wildlife Sanctuary national park. Sour village is quite beautiful with snow covered mountains and the sparkling tons river flowing through it. If you visit it once, then no doubt you will definitely visit here again. The charm is the most beautiful thing about this place.  the Sankri is a delightful place set apart by the mountains and chilly climate & Weather. Houses  made of wood look very beautiful and adorable. In sour village  there are  various  conventions, fairs , and rituals. the people of the village wear traditional costumes and cook traditional food. Folk dances( Naati, raas, and taandi) of the area are a part  for amusement and entertainment.
This trek can be seen in the beauty of the Himalayas. The altitude of the Kedarkantha trek is 3800 meters. one unique thing is about Kedarkantha trek ,is that Kedarkantha is a triangle-shaped mountain. Which makes this trek more exploring.  A huge fair is organized every year   on 15 June in Kedarkantha  . Here Shiva and Ganesha are worshiped, which is spoken in the local language  Meru Bagwan!
Kedarkantha is a place of faith for us, where we worship Lord Shiva and Ganesha every year.
Every year a fair is organized in Kedarkantha, and people from every village come here to see the fair, this fair is held on 15th of June.
These are special moments when people celebrate this festival together with local music and drums.
The view from the Kedarkantha Summit
The quite unique thing about the Kedarkantha trek is that from here also the most beautiful mountain range of the Himalayas is seen. Which are Swargarohini Peak -I. II.III (6300 meters), Black Peak (6387 meters), Bandarpunch Peak (6300 meters) and all the mountains are seen from here like Rupin pass range, Supin range, Khimloga Peak, Baraadsar Lake range, Vishkhopri range, Ranglana Peak 5800 meters, etc.
From here, the view of all the treks is easily visible from Har Ki Dun Valley and Ruinsara Valley Bali Pass, Borasu Pass, Sarutal, Fachu Kandi Pass Trek. You can view all the treks from a single trek.
Best Time to Visit  Kedarkantha Trek
Kedarkantha is one such trek that you can do throughout the year, it is more popular, especially for winter trek. I believe that these treks are for all those people who consider their second home in the mountain!  If you want to spend your time in the mountains then it is an opportunity for you .
from Kedarkantha trek you will absolutely get some experiences about life that how local people spend their life in  backward areas. you will also get peace and satisfaction which everyone wants.
In the early days of my travel every time I went for a hiking or trekking trip. I have done this trek more than 100 times; no one else knows more about this trek than I know! These treks start from near my village, today it seems like when people take this trek and there is a joy on everyone's face. These treks are not very easy and not very difficult.
Age Limit for Kedarkantha Trek
Our personal belief is that people can do this trek for a minimum of 5 years to 60 years but it is necessary to be fit to do this trek. And you can do this trek in the year. These are the plan for both summer and winter.
For Winter Trek, I think it is necessary for people from 10 years to 55 years and this trek will be a relief and joy for first-time visitors. This trek will increase new energy and confidence in you.
You can do Kedarkantha trek in 05 nights and 06 days. from Dehradun to Dehradun and if anyone has less time, then people can do this trek in 04 nights 05 days, from Dehradun to Dehradun
Why Kedarkantha is the Most Popular Winter Trek in Uttarakhand, India?
It is true that Kedarkantha is considered to be the most popular winter trek in Uttarakhand and the world today. Therefore, the Kedarkantha trek is the prominent and most popular winter trek in Uttarakhand. It has got unmatched beauty in winter and the trail hides in a thick blanket of snow almost winter. Kedarkantha trek will offer a large number of stunning views like green stretches of land,fresh flowing water, and thick forests. The snow-clad mountain tops along with the thick forests make the trip worthwhile.
The lush green forests usually turn white, making it a small Switzerland. As a result, The Kedarkantha trek is not only for experienced trekkers but this trek is also for amateurs and children too. Trekking through the forests you can see adorable sights of traditionally dressed villagers collecting fodder for their cattle. It's a beautiful area to spot various trees like pine,oak, and rhododendron.
The Winter view is a bit different here. There should be snow all around, snow-capped mountains and beautiful river rivulets and birds. Once someone has reached the Sankri market base camp, they have come to another world of mind, Sankri is a small and beautiful market which is famous for shopping among tourists. There are plenty of hotels and homestays that you can spend the night in and then continue with your trek.  When you see the sunrise and sunset view here, you will see yourself so close to the sky.
Kedarkantha Winter is different fun playing snowman sliding and throwing snow at each other's equipment and making snowfall is even more enjoyable. Taking beautiful photos in the snow is a memorable moment and a winter trek can be the best trek in your life. The best thing is that when snow falls, it is a different sight; most people come to see it.
The Moon from the Sankri base camp seems so close that touching it feels possible. And, the sunrise from Sankri is gorgeous because the golden rays of the sun eagerly welcome and wake you up. The day ends, and we don't even realize – someone said it right that we Kuldeep Ji, you are lucky that you live here. The trekkers told me if the office, airport, everything was here, they would never leave the mountains.
My only answer was – if every facility were here, then the mesmerizing beauty of the mountains would have lost somewhere. The untouched beauty is the thing that provides peace and a spark to know about the hills. We are fortunate and happy to be "Pahadis."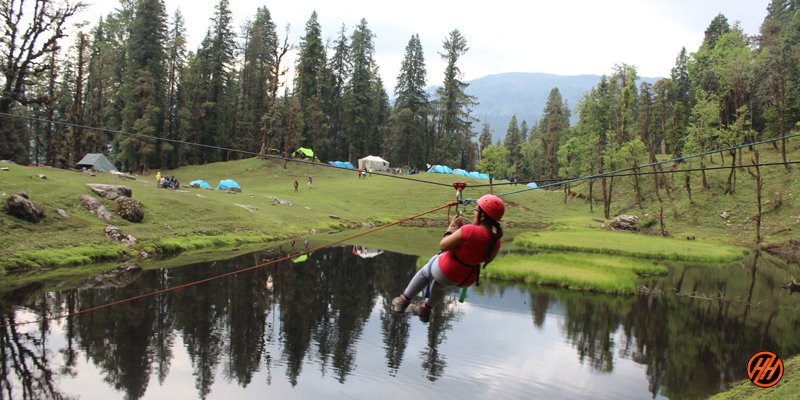 Come know about the camp of Kedarkantha
The meaning of pond is like a bunch of hair. These are seen in summer when there is no snow here. In Winter, I do not see it because the snow is covered with pure The Juda ka Talab is an incredible camp, where there are dense forests and the beautiful Bugyal in the center, so this is considered a camp. Kedarkantha Base Camp is a beautiful Bugyal. From where you can see the starting Kedarkantha Peak, Kedarkantha Base Camp is in open ground. Kedarkantha Base Camp is a big campsite in this trek, From here you start to see views of the entire Himalayas. It is very nice to spend the night here.
Is it a safe trek for me?
Yes the Kedarkantha trek is very safe. All our professionals strive our best to provide trekkers with the best experience possible.
Kedarkantha Trek is our village's local trek, which we have been doing for years, here the trek was first done by Himalayan Hikers in 2003 to the children of Woodstock School, Mussoorie since then it has become very popular here. for the winter season,
Difficulty level
Kedarkantha is a very beautiful winter trek and an uphill trek in the Uttarakhand Himalayas, The Kedarkantha Trek is great for those people who have a great passion for mountaineering and consider it a special purpose in their life.
Despite the fact that the top is relatively low in elevation, we recommend physical endurance and a strong fitness record. All groups will be guided by our pros for trekking equipment and impending terrain during the course. We strongly urge beginner trekkers to attempt the Kedarkantha summit due to its modest difficulty.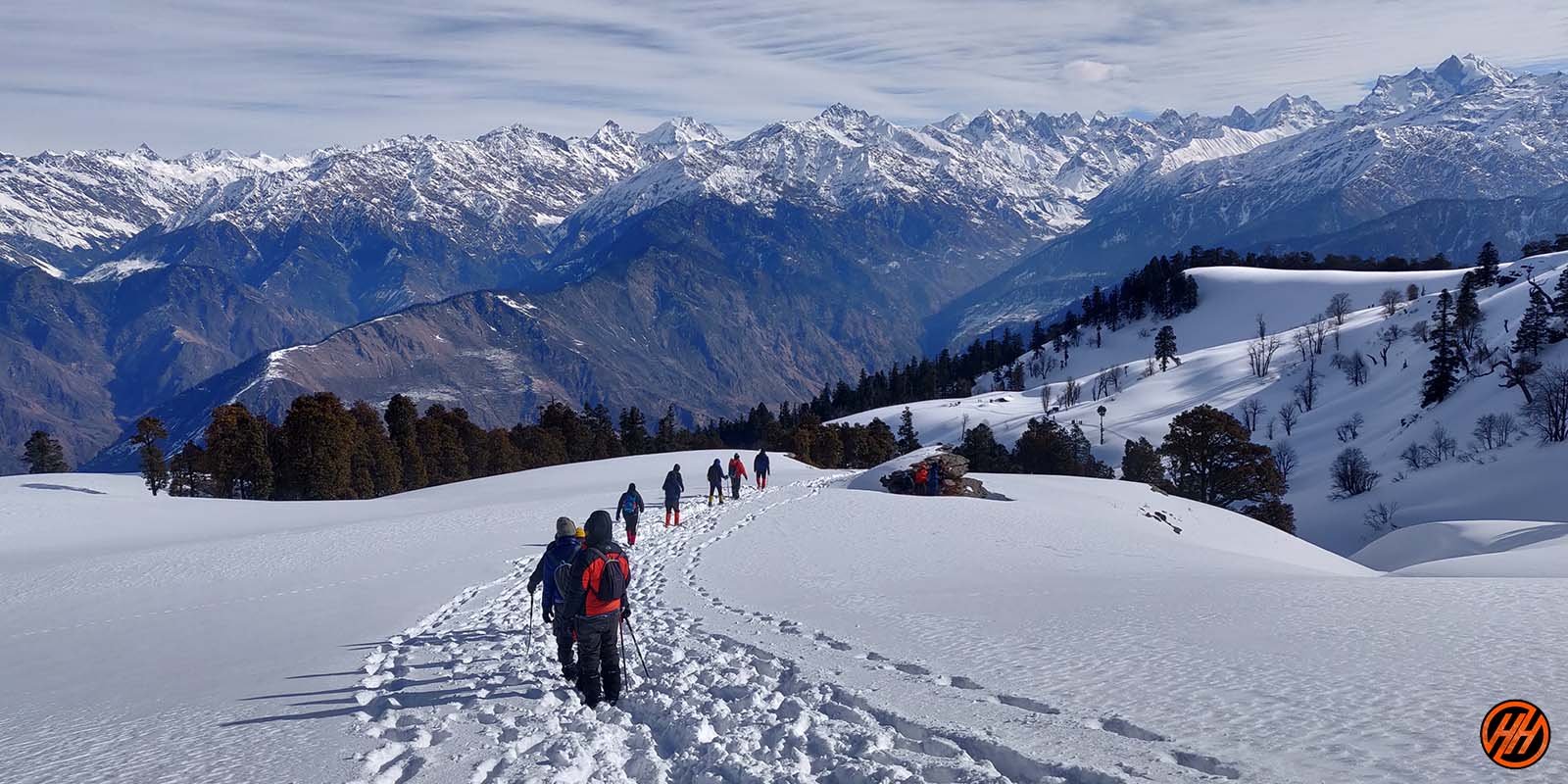 When does snowfall start in the Kedarkantha trek?
In the Kedarkantha trek, especially snowfall time occurs only in December, but sometimes it happens in early November as well, it is seasonal.
By the way, if it rains sometimes even in October, then the Kedarkantha peak becomes snowfall, but I do not know much longer.
The snow that falls from 15th December lasts for a long time.
Kedarkantha has the highest snowfall in the months of January and February, which lasts till the last of May and does not melt easily.
What should you keep in mind some things for doing Kedarkantha Trek?
Kedarkantha trek is as good as it is said, you also need to be prepared., Kedarkantha trek is a moderate trek that starts from Sankri and ends at, So what are the special things to keep in mind before coming on this trek?
Winter Season
1.  In Kedarkantha Trek Winter Trek, you will need warm clothes a lot, for which you will need proper good uniform clothes
2. Winters are always cold, so only warm clothes can keep you safe on the Kedarkantha trek
3. Always take the information from the company with which you are booking the trek before going on the trek, what do you need to bring
4.  In the winter season, the temperature always drops day by day , so warm clothes will help you a lot.
Summer Season
1. Summer trek to Kedarkantha is very special, the view and the temperature are all favorable to you
2. For the summer trek, you have to bring only normal clothes so that your trek can be good, there is no need for hot clothes, but in hiking it is also necessary to bring all the equipment which is necessary for you.
3. It is necessary to have 3 pairs of clothes for trekking, especially the poncho, which you will have to bring every season
4. In the summer season, the temperature is always normal, so there is no need for hot clothes.
Monsoon Season
1. During the monsoon season, it rains occasionally during the Kedarkantha trek, especially in the Uttarakhand Himalayas, so if you have dry clothes here, it is very good, even when wet, it dries quickly.
2. At this time you have to bring at least 4 pairs of clothes, for the monsoon trek you do not have to bring too warm clothes, at this time you, hiking pants and t-Sart, I can trek
3. It's only a little cold in the morning and evening and the day is a good temperature for you
4. Before going on any trek, it will be easy for you to take information related to each season.
5. Trekkers need to know about these, you can ask us anytime like, Trek route, trek map, temperature, weather conditions, difficulty level, trek starting point, endpoint, transport, view of the trek, the best time to visit, How to reach Kedar Kantha, trek distance, Location, etc, keep this information before going.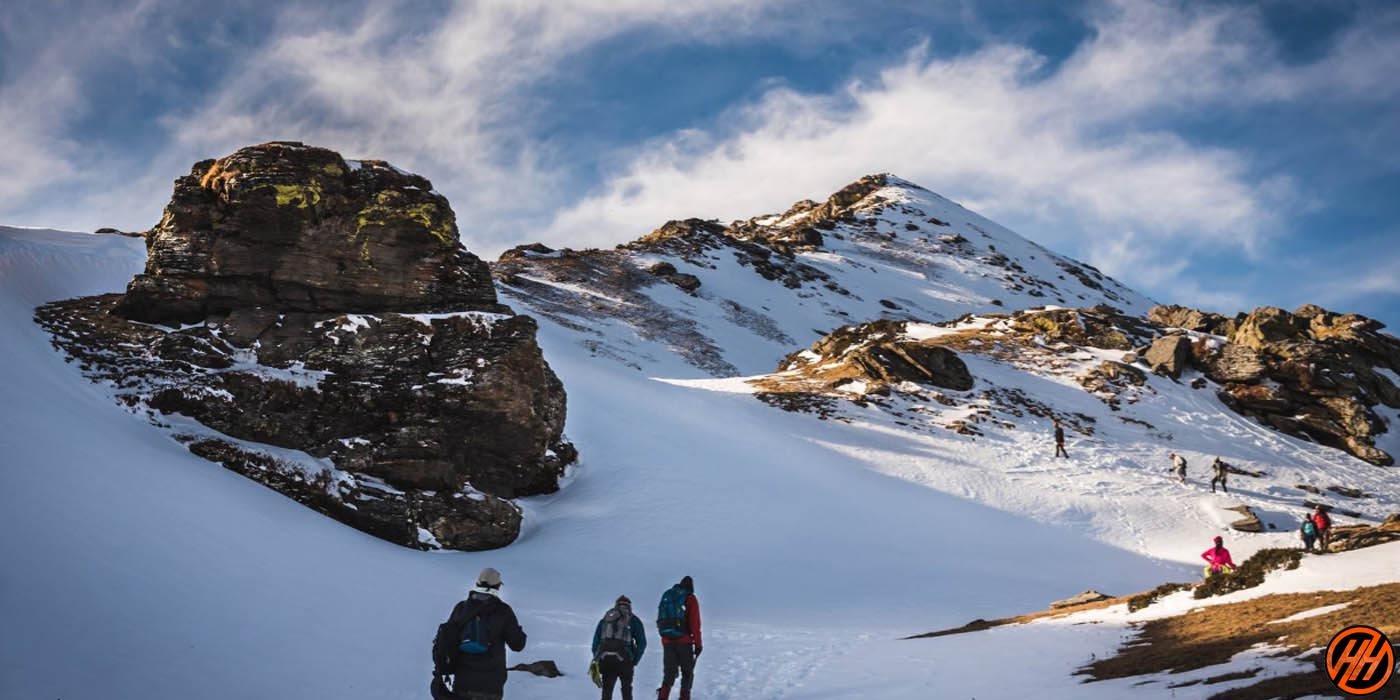 The Altitude we are going to Cover in Kedarkantha Trek 
Sankri Base -Altitude – 1920 m
Juda Ka Talab- Altitude -2700 m
Kedarkantha base camp- Altitude -3200 m
Kedarkantha summit- Altitude -3800 m
Hargaon thach- Altitude (2645 m
Key Points of Kedarkantha Trek
Duration: 05 Nights 06 Days from Dehradun to Dehradun
Kedarkantha Trek Cost: Rs. 7,000.00 Per Person including all costs of the trek from 05 nights 06 Days from Dehradun to Dehradun
Kedarkantha Trek Cost: Rs. 6,000.00 Per Person including all costs of the trek from 04 nights 05 Days from Dehradun to Dehradun
 Summer Temperature:-  Day 5°C to 15°C  and Night 2° C to 5° C
 Winter Temperature:-  Day -2°C to -5° C and Night -5°C to -10°C
Altitude:  – 12,500 feet
Kedarkantha Weather Conditions – Kedarkantha is one such trek that can be done throughout the year, Here the weather changes every month, But where the weather is very nice and favorable during the day, the night or morning is also cold according to the time.
Best Time: All year (summer or winter)
Trek Level: Moderate
Trek distance: On foot 23 Km – By taxi 420 km
Group Size: – We will have a minimum group size of 5 people and a maximum of 30 people, if someone has to be private for their group, then you will be given a full date.
Short Itinerary of Kedarkantha Trek
 Day 1 – Pick up to you from Dehradun railway station  07:00 am – Drive to Sankri Market – 190 Km (8/9 Hours (1920 Meters) overnight stay at Hotel Swargarohini at Sankri and  The Grand Shiva Hotel at Sankri
 Day 2 – Trek from Sankri to Juda ka Talab (05 km) (4/5 Hours) (2700 Meters) overnight stay at Camp
 Day 3 – Trek from Juda ka Talab to Kedarkantha base camp trek (3.5 km) (2/3 Hours) (3200 Meters) (overnight stay our camp
 Day 4 – Trek from Kedarkantha base camp to Kedarkantha summit (12500 Feet) (3800 Meters back to Hargaon  campsite – 9 km) (5/6 Hours) (2645 Meters) overnight stay camp
 Day 5 – Trek from Hargaon camp to Sankri base camp – (05 km) (4/5 Hours) (1920 Meters) overnight stay at Hotel
 Day 6 – Drive from Sankri to Dehradun by taxi (190 km)(8/9 Hours) Drop evening at 6:00 pm at Dehradun railway station
Note: – Our service will remain from Dehradun to Dehradun – for more details please check includes or excludes 
How to Reach Sankri Base Camp?
The journey from Dehradun to the Sankri is beautiful and it is you in Dehradun.  The way to Sankri is 190 km and it takes 7-8 hours to reach there, the drive is picturesque because you go through some of the beauteous places.
Also, read about – Sankri – A Small Paradise in the Himalayas, Uttarakashi, Uttarkhand
From Rajpur Road you will go and they will come to Mussoorie which is a hill station and it is known as the "Queen of Hills" it is situated at the foothills of Greater Garhwal ranges and the aura of this place is aesthetic and the environment is soothing so it justifies its title
.After Mussoorie, you will come to Kampitfall. Here you will stop for breakfast. For 45 minutes after breakfast in kampitfall, you will come along the Yamuna River – Purola, here you will stay for lunch for 1 hour. After that, you will be taken straight to the place where our team will be ready to welcome you.
The drive to Sankri (From where the Kedarkantha trek starts) is one of the most picturesque drives in the Himalayas through Dehradun, Mussoorie, Nain bag, Damta , Nawgano , Purola, Mori, Netwar, Sankri along the Rupin Supin or Tons River Kedarkantha trek is one the easiest treks in the Himalayas to enjoy thick snow cover. With this, you will start seeing the beautiful mountain range.
Will there be electricity in the Kedarkantha trek?
Let me tell you that there is no electricity in the forest area of the Kedarkantha trek . Here we use Stobe Light and or Solar Light, candlelight at the nights
If you come on this trek, then you should bring your own headlight and your camera with full charge, if possible, it would be good to bring extra battery backup, and also bring the phone after full charge, today people most of the phones use the same
You will get the last electricity only in our hotel Sankri base, where you have to charge the battery of your phone and camera at night.
Phone connectivity and transactions
1) Only Jio network works in Sankri base camp, , so we will tell our trekkers that if you have any very important thing to do, then Mori, or Purola to good network in your phone It would be better if you call from here to come. Connectivity along the route is unpredictable, so we advise people to complete all their work well in advance.
I will be able to get only Wi-Fi in Sankri, for this you have to pay 50 to 100 rupees.
2) In case of emergency, Himalaya Hikers trekkers will be provided with walkie-talkies in advance so that they can send their messages to the base camp
ATM- The last available ATM transaction will be in Dehradun or Purola. We advise travelers to deposit cash before or while in Dehradun as ATMs available at other locations may not dispense cash at times.
We pick up to you from Dehradun so take out cash from there itself.
How to reach the Kedarkantha trek
The easiest way to reach Dehradun is by flight, Direct flights are always available for Dehradun from Bangalore, Chennai , Delhi, Mumbai, Lucknow, Pune, Kolkata, Gujrat, more
You can also easily reach Dehradun by train Via Delhi . Trains are available from all states India.
Trains
1. Nanda Devi Express -12205 ( New Delhi to Dehradun ) · Classes: 1A,2A,3A ·
2. Trains from Dehradun DDN to Howrah Jn HWH DDN SPL 02327)
3. Doon Express -13010
4. Mussoorie Express -14041 ( Delhi S Rohilla to Dehradun )
5. Dehradun Shatabdi Express, 12017
Himalayan Hikers will arrange transport for you to go from Dehradun to Sankri Base Camp
Mode of Transport is Tempo travelers and Bolero taxi, Swift taxi, more
Sankri is our main base Camp office of Kedarkantha trek and Har Ki Dun, Rupin Pass, Bali pass, Borasu pass, Baraadsar lake , more treks
You can reach Dehradun from Delhi by a bus, board it from (Delhi) ISBT, Kashmiri Gate  it is good if you are booking the seats.
(Reach  ISBT between 5:30 am to 7:00 am and the vehicle will be arranged from there.)
What is the distance to reach Kedarkantha from other state
Delhi to dehradun distance by flight -207 Kms) and Dehradun airport to  Sankri 217 kms by taxi and  (Sankri to Kedarkantha 23 km on foot )
Delhi to dehradun distance by train 302 kms ) and Dehradun to Sankri 190 kms by taxi and (Sankri to Kedarkantha 23 km on foot )
Delhi to dehradun distance by bus 249 kms) and Dehradun to Sankri by taxi  190 kms, and (Sankri to Kedarkantha 23 km on foot )
Bangalore to dehradun distance by air 1924 kms) (By Train – 2371 kms) and Dehradun airport to  Sankri 217 km by taxi, and (Sankri to Kedarkantha 23 km on foot )
Mumbai to dehradun distance by air 1344 kms) (By Train – 1724 kms ) and Dehradun to Sankri 190 km by Taxi and (Sankri to Kedarkantha 23 km on foot )
kolkata to dehradun distance by air 1518 kms ( By Train – 1694 km) and Dehradun to Sankri 190 km by taxi and (Sankri to Kedarkantha 23 km on foot )
The distance from Dehradun to Sankri is 190 kms.
Musoorie to Sankri distance is 160 km.
What do we do for safety in Kedarkantha trek?
First of all, the safety of trekkers is much more for us, if you see in the trek, then there are all the risks, which I do not think about.
Himalayan Hikers worry more about you that no one should ever have any problem in the trek.
What should we and you keep more safety in the trek
Whenever you are going for any trek, it is very important that you go completely fit and ready.
The trek is not difficult, if you make your feet and your mind calm and strong, you will find the trek very easy.
While trekking, keep in mind that you are walking on the right route or not always with your guide.
Most people look somewhere and where they are walking, this can cause twitching in your legs, which can ruin your entire trek.
It is important to ask your doctor if you have any medical problems
I should always keep my medical kit with me, it is very important.
Himalayan Hikers always keep a medical kit with you, such as oxygen cylinders, medicine to be given in emergency on the trek
If any trekkers have any more problems, then they are brought back to the base camp by laying them in the stretcher.
Our camp in Kedarkantha trek is around the tree line where you can not have any problem of oxygen
In case of any medical problem, the help of your guide or well-informed trekkers should be taken
Why should you go for the Kedarkantha trek with Himalayan Hikers?
Himalayan Hikers is one of the oldest trekking organizations, which is organizing trekking and adventure expedition in Uttarakhand Himalayas from almost past 30 years.
Himalayan Hikers have started their journey from  Sankri Base Camp.  Sankri is  base camp of more than 25 treks, Which we are organizing  like – Kedarkantha, Har Ki Dun, Phulara Ridge trek, Bali pass, Borasu Pass, Rupin Pass. Dhumdharkandi pass. fachu kandi pass. Baraadsar lake, Rupin Supin trek, Nalgan pass, Kanasar lake and many more.
We are the local people of Sankri village who can provide you the best experience here
Good and experienced people from more than 20 villages are working with us, who will continue to serve you in your trek and will always be there with you throughout the trek.
Himalayan Hikers provide the safety of their trekkers and good experience throughout the trek as well as share every story related to the mountains with you.
Himalayan hikers  will  feed you with good, healthy and delicious food every day during the trek
Where you can get the experience of Himalaya Hikers
Himalayan Hikers own 1 hotel and 1 home stay in Sankri – Sour Village where you can spend some quality time with your family, friends and your loved once.
PARTICIPANTS MUST BRING FOR KEDARKANTHA TREK: SEASON 2023
Backpack of 50 -60 ltrs
Sturdy hiking boots: preferably all leather upper as it provides better ankle support. If you do not own a pair yet, it is advisable that you buy one  as soon as possible & wear it often so that they are well broken. This will help prevent blisters.
Lightweight tennis shoes/sandals: for wearing in camp
Wool socks: 2 pairs: preferably thick wool socks.
Nylon socks: 2- Pairs, of the type you wear daily to be worm under the wool socks to prevent blisters.
Hiking shirt: 1 Preferably long sleeve
Long John top: 2 also known as thermal underwear, preferably wool to be worm as the first layer.
Warm shirts & pants for camp : 2 each
Rain cot/ Poncho  1 each • Warm Jacket: 1
Wool gloves: 1 pairs as thick as available in the market.
Long John bottoms: Preferably wool to be worm as first layer.
Under wear: 2-3 changes Hiking shorts/ pants: 1
Sun hat: Cotton or nylon. Sun Glasses: Preferably with an anchor
Sun Protection Lotion: optional Lip balm/chap stick: optional
Water bottle: 2 Bottles of 1 Liter capacity (Pepsi bottles work well) please insure that they do not leak.
Head lamp / flashlight: Preferably a headlamp as it leaves your hands free to work please bring extra batteries.
Toilet articles: Tooth brush, tooth paste, etc+ And personal medical kit small one