Har Ki Dun Trek is an Enthralling valley in the Himalayas, Uttarakhand-2023
Hello are you ready to trek with a local trekking organisation then welcome to Himalayan Hikers team we treat you like a family not like trekkers we have from Sankri to har ki doon Most expensive and luxurious hotel  stay home stay, like The Grand Shiva Hotel camping stay and delicious food are provided to you every day 4 to 5 times, good local guide cooking team helpers and good  Transport  are ready to serve you.
About Har Ki Dun Trek 
Har Ki Dun Trek comes under Govind Wildlife Sanctuary National Park. No doubt, the Himalayas have enchanting beauty, bracing climate, and desirable useful green meadow. So, what else can be better than spending some days here in the serenity.
Har Ki Dun trek, which is the most popular trek in Garhwal Himalayas.  The height of Har Ki Dun trek is 3600 meters.  It is start from Sankri – A Small Paradise and Taluka which are the last road point of this trek.  Har ki Dun trek comes along this route in 4 Himalayan Villages, the first Dhatmir, Gangad, Panwani, and Osla village are the last villages of this area which Are called marginal villages, Har ki dun trek is a very popular trek not only in India but also in the world.
My grandfather used to say, at some time, foreign tourists used to come here a lot, and then people in India did not know much about trekking. That's why Har Ki Doon treks are the oldest and special.
People go for others treks by this route, like, Bali Pass, Borasu Pass, Dhumdhar Kandi Pass, Maldaru Lake, Bainya Top, Black Peak Expedition, Swargarohini Peak Expedition, Ruinsara Tal, there are more so people come here all year round Live on.
The temperature of the Har Ki Dun Trek always varies with time. The summer temperature of this is Day – (5°C to 15°C), Night – (2° C to 8° C) and the winter temperature is Day (-2°C to -5° C) Night (-5°C to -12°C).
Many People also called this trek is Har Ki Doon or Har Ki Doon Valley because they may not know the exact name of this trek. Many People search this trek on google in a different name like Harkidun, Har Ki Doon, Har Ki Doon Valley, and etc.
Trekking to this enthralling valley can be a divine experience for a lifetime.
Har Ki Dun trek or Har Ki Doon Trek comes in the category of epic historic adventure treks. There you can find the essence of mythologies. You can find here also lavish meadows, grasslands, You will go through a thick dense forest covered with Rhododendron trees, many others trees, the trail is beautiful you can see flowers blooming all around and in winters it gets covered by snow, there is the number of species of birds in the woods, you can spot a variety of birds there. mountain ridges, pine forests, glacial ranges, and jaw-dropping views of the Great Himalayas.
Har Ki Doon (The Valley of Gods) or Har Ki dun is the only valley from where you can have a glimpse of elevated peaks. Like Bandarpoonch, Black peak, Kalanag, Bali Pass, Ruinsara Lake, and Swargarohini – I, II, and III.  And many other peaks!
During the trek, you will come across the ancient villages. It's about 300 decades old and will surely take you back in time. On the trail, you will encounter the local lifestyle and communities with lavish vegetation grown in the fields.
Today also, the local people there still worship Duryodhana As their deity. Thus, Har Ki Dun trek is filled with solemn surroundings and legendary culture. It is a must-go for all the travel lovers and nature seekers out there.
Har Ki Dun Trek the Majestic valley in Garhwal Himalayas
Har Ki Dun Situated in the charming Garhwal region of the Great Himalayas in Uttarakhand. It's a large-sized valley that follows in the footsteps of Indian mythology and, till today, is known to be "Har Ki Dun."
It has been present for more than 500 decades, no doubt famous as the "Valley of the Gods". Har Ki Dun has the essence of history and mythology along with the natural beauty. There is the lush climate surrounded by the soothing greenery desired. So that's the reason why Har Ki Dun is known as "Valley of Gods".

Truth Behind The Myths
Many fables and tales of the era of Mahabharata are admired here. But, it is essential aware of the readers and trekkers about the real facts and myths.
Many trekking companies claim myths about the worship of Duryodhana in the temple of Yudhishthira. Local people believe that they reach heaven via Har Ki Dun Trek. The truth is none of this exists here as per accurate facts and research. On the contrary, the chronicle of Yudhishthir reaching heaven through the Har ki Dun trail never exists here.
Instead, the saga of reaching heaven was through the path of Badrinath towards Swargarohini peak at Narayan Parvat (mountain).
The locations elapsed are Laxmi van, Chakaratir, Sahastradhara, and Satopanth Lake.
Furthermore, there is no existence of any Duryodhana temple at the Mori district of Uttarkashi. Instead, the temple, which is claimed as Duryodhana Temple, is the Someshwar Mahadev temple, a chapel of Lord Shiva.
Thus, Har Ki Dun is also known as "The valley of Shiva."
Why Choose Har Ki Dun Trek?
Before heading towards the itinerary, it is essential to perceive the reason behind choosing Har Ki Dun trek.
See firstly. The trekking distance of Har Ki Dun Trek is 56 km, which is covered into 7 days. Har Ki Dun Trek is a Moderate Level Trek because of the things that this trek has to offers.
These are:
No high altitude mountain sickness due to the forthcoming of the forest region.
The trail is not that abrupt and sheer as compared to other treks. So, beginners can easily do this trek.
You got to see so many heavenly bodies at one place like the panoramic view of the Himalayan ranges, meadows, lakes, pine forests, different variety of flora and fauna surpassing through bona fide Garhwali heritage and culture.
Do spare time in Interaction with locals, and you will get to know about some of the ancient tales of Indian mythology.
During the winter season, this fascinating valley remains covered in snow, and the white sheet of snow makes it look like a magical wide snow-land.
And, in summers, the valley turns different and amusing because of meadows, wildflowers, and woods blooming in different colors.

Best Time to do Har Ki Dun Trek ?
Har Ki Dun trek  is a very beautiful  and an Moderate  trek in the Uttarakhand Himalayas, The  Har Ki Dun trek  is great for those people who have a great passion for mountaineering and consider it a special purpose in their life. Har Ki Dun trek    is such a trek where you get to see more than one Himalayan mountain range..
We are the local people from Sankri village in uttarakhand who are doing this trek for years, we have every experience related to this trek.
You can do Har Ki Dun trek  throughout the year, For those who like summer treks, they can go summer, and winter treks are a very good time for those who want to see snow.
is also a good trek for Monsoon trek at that time there are flowers and green greenery which makes the trek very memorable.
Note :- If you want to do Har ki doon trek in winter, then keep the date till 1st week of December then last week of December, after that there is a lot of snow due to which forest trek does not permit.
The Har Ki Dun trek  starts from Sankri  village in Uttarakhand which comes in Ranwai Garhwal district Uttarkashi
How Difficult is  Har Ki Dun trek
Har Ki Dun trek  is Moderate trek , this trek comes in a moderate level, Har Ki Dun trek  is hill trek  while going, and when Har Ki Dun trek   comes back from Har Ki Dun , it is completely down hill trek,
Harkidoon trek are not too difficult because these treks are along the Supin River which attracts you and always and these treks are mostly straight.
When you go on this trek, you will not even know when you have reached the camp, the beautiful view and the beautiful hills supin river, forest tree line all around will continue to delight you.
Har Ki Dun trek safe for me ?
Yes Har Ki Dun trek is a safe trek if you are going with a good trekking team which you must know before booking yourself, It is important for you to know that the bow trekking organization with which we are going is right or not,
And if possible, trek with local trekking organization in Uttarakhand , you can do the same help all the time. then your trek can be very good and memorable
The minimum age required to trek Har Ki Dun trek is 8 years and maximum 65 years. The rest depends on your fitness .
Weather conditions
Weather conditions depend on the time of the year trekkers are travelling. Weather of Har Ki Dun trek always changes from time to time, so you can bring clothes for yourself according to the season in which you want to come. If possible, you can inform us about it
What should you keep in mind for the winter trek to Har Ki Dun Trek?
Har Ki Dun Trek is as good as it is said, you also need to be prepared., Har Ki Dun Trek is a moderate trek which starts from Sankri and ends after trek same point Sankri ,
So what are the special things to keep in mind before coming on this trek?
Har ki doon Trek  is one such trek, which you can trek all 12 months in Uttarakhand
Winter Season
In Har Ki Dun Trek Winter Trek, you will need warm clothes a lot, for which you will need proper good uniform clothes
Winters are always cold, so only warm clothes can keep you safe on trek feet.
Always take the information from the company with which you are booking the trek before going on the trek, what do we need to bring
In the winter season, the temperature always drops day by day , so warm clothes will help you a lot.
Summer Season
Summer trek to Har Ki Dun Trek is very special, the view and the temperature are all favorable to you
For summer trek, you have to bring only normal clothes, so that your trek can be good, there is no need for hot clothes, but in hiking it is also necessary to bring all the equipment which is necessary for you.
It is necessary to have 3 pairs of clothes from trekking, especially the poncho, you will have to bring every season
In the summer season, the temperature is always normal, so there is no need for hot clothes.
 Monsoon Season
During the monsoon season, it rains occasionally during the Har Ki Dun Trek, especially in the Uttarakhand Himalayas , so if you have dry clothes here, it is very good, even when wet, it dries quickly.
At this time you have to bring at least 3 pairs of clothes, for monsoon trek you do not have to bring too warm clothes, at this time you, hiking pants and t-Sart, I can trek
It's only a little cold in the morning and evening and the day is a good temperature for you
Before going on any trek, it will be easy for you to take information related to each season.
Trekkers need to know about these, you can ask us anytime like, trek route, trek map, temperature, weather condition, difficulty level, trek starting point, end point, transport, view of the trek, best time to visit, How to reach, trek distance etc, Trek Location, keep this information before going
About Base camp Sankri in Har Ki Dun Trek
Not only Sankri is the base camp for the Har Ki Dun Trek but also for 25 + Himalayan treks. Thus, it always remains busy by the hustle and bustle of trekkers. This small village is genuinely beautiful because of its pleasant setting and calm environment.
There are quaint wooden houses made of Deodar wood. And also some hotels and restaurants serving delicious local food. Their specialty is "Red Rice." So, get to know the villagers and have a glimpse of their lifestyle.
It is the best place to explore the Himalayan culture and tradition.
You will also have some excellent views of lofty Swargarohini Peaks and Bandarpoonch. And yes, do not miss their glorifying sunrise and sunset views.
Moreover, the nearest village to Sankri is "Saur" The temple of Someshwar Devta there is highly worshiped by the villagers.
Therefore, the base camp will leave you admiring with its exquisite beauty.
The altitude we are going to cover at Har Ki Dun Trek
Sankri – 1920 Meters
Cheludgad camp – 2600 Meters
Har Ki Dun Camp – 3645 Meters
Key Points of Har Ki Dun Trek
Duration: – 06 Nights 07 Days from Dehradun to Dehradun
Base camp: – Sankri
Summer Temperature: – Day (5°C to 15°C) Night (2° C to 8° C)
Winter Temperature: – Day (-2°C to -5° C) Night (-5°C to -12°C)
Har Ki Dun Altitude: – 3500 Meters
Best Time: – All year
Trek Level: – Moderate
Trek distance: – On foot 64 Km – By taxi 442 km
Group Size: – 20 people
Short Itinerary of Har Ki Dun Trek
Day 1- Pick up to you from Dehradun railway station 07:00 am  – Drive to Sankri Market – 210 Km (8/9 Hours (1920 Meters) overnight stay The Grand shiva hotel Sankri- and Swargarohini Hotel
Day 2 – Trek from Sankri to taluka by taxi – 11 km same day trek to Cheludgad camp (12 km) (4/5 Hours) (2600 Meters) overnight stay Camp
Day 3 – Trek from Cheludgad camp to Bhasla camp Har Ki Dun (13 km) (6/7 Hours) (3500 Meters) overnight stay Camp
Day 4 – Exploration Day (Manida Lake) (Jaundhar Glacier) Har Ki Dun valley back to camp (4/5 Hours) overnight stay Camp
Day 5  – Trek from Har Ki Dun to Cheludgad via OSLA village (13 km) (5/6 Hours) (2600 Meters) overnight stay Camp
Day 6 – Trek from Cheludgad camp to Taluka (12 km) (4/5 Hours) Same day Drive to Sankri Hotel same Hotel
Day 7 – Drive from Sankri to Dehradun by taxi (210 km) (8/9 Hours) reach Dehradun railway station 5:00pm to 6:00 pm evening
                                                              Har ki dun Trek Route map
How to Reach Har Ki Dun Trek?
First of all, you people have to come to Dehradun Uttarakhand
From Dehradun itself, you will go with the Himalayan hikers for this Har Ki Dun trek.
In Dehradun, you will get our staff that will arrange transport for you. The contact no Transport coordinator or our office team will give you a  week ago to your departure
Train and flight are always available from where you will go to Dehradun.
Himalayan Hikers arranged for your transport from Dehradun railway station or Airport
Transport costs you can pay directly to your taxi driver both sides pick up and drop
Your Travel Plan for Har Ki Dun Trek
If you are traveling from Kolkata, Bangalore, Chennai, Pune, Mumbai, or Gujarat any other city, so you will have to come to Delhi, you will get a train from Delhi for Dehradun comfortably.
Option 01:- By Train
All trekkers booked yourself the,
Nanda Devi Express to Dehradun (Train no is 12206 Departure 11:30 pm: – Reached Dehradun 5:45
Dehradun Express- to Dehradun (Train no is 12687 Departure -9:10 pm:- Reached Dehradun 5:00 am
Take both overnight trains Dehradun to from new Delhi- Dehradun Special A/C train from Hazrat Nizamuddin railway station the best option to you. The train reached at Dehradun railway station morning 5:45 to 6:30 am if you Meet to Our office Member – joining to our upcoming batches and Group.
Option 02:- By Air
Jolly Grant airport is the nearest airport in Dehradun which is 27 km away from Dehradun city. There are flights available to Dehradun from all states in India and you can go online and book your tickets. This is the very easy way for saving your time and there are taxis also available in the airport for Dehradun city at all time and the one cost of a taxi is around Rs. 800. You can pay directly to the taxi driver.
Option 03:- By Bus
You can reach Dehradun from Delhi by a bus, board it from (Delhi) ISBT, it is good if you are booking the seats.
(Reach Dehradun Railway Station between 5:00 am to 6:00 am and the vehicle will be arranged from there.)
Reach Sankri by yourself
Take a bus from the Railway station of Dehradun, the first one leaves at 5:30 am, the other one at 6:30 am and the last bus leaves at 7:00 am. So reach there on time.
You can also hire a taxi from Dehradun Railway Station, the fare is Rs 5500 from Dehradun to Sankri (210 km)
A short story of your journey Dehradun to Sankri ?
The journey from Dehradun to the Sankri is beautiful and it is you in Dehradun. From Rajpur Road you will go and they will come to Mussoorie which is called the queen of the mountains. After Mussoorie you will come to Kampitfall. Here you will stop 45 minutes for breakfast and after breakfast, you will come along the Yamuna River – Purola, here you will stay for lunch for 1 hour. After that you will be taken straight to the place where our team Himalayan Hikers will be ready to welcome you.
ATM Point
Before starting the journey to Har Ki Dun trek, make sure that you need payments, and then take out the cash on the way, no bank and ATM. No, Purola market is the last place where you can withdraw cash from ATM,   (If you want to withdraw money then do it in Dehradun.)
Mobile Connectivity
The phone does not work well on it. Therefore, you should ensure that you do not have to make any important calls.  Only Jio or BSNL and Vodafone work in Base Camp sankri , Remember, these networks also sometimes do not work. Because the signal strength is not good. So make sure you finish all your important work and calls before starting the trek. Last Purola or mori  your device will receive good networks.
The Grand Shiva Home Stay in Sankri, Uttarakashi, Uttarakhand
The Grand Shiva Home Stay is our newly constructed luxurious hotel in Sankri (the base camp of Kedarkantha Trek). It offers you local and delicious food prepared by our local family members, 24 Horse Hot Water, Cold Water, Free Wi-Fi, Room Services and much more, with the help of which we provide our guests with a special can provide experience. Our Home stay has exquisite furnishings with luxurious furniture and high quality toiletries.
Luxury Rooms in The Grand Shiva Home Stay Sankri
The Grand Shiva Home Stay rooms are spacious, elegant and comfortable all at once, equipped with everything you need for a wonderfully rejuvenating stay. Every detail of the design and features have been carefully considered. Suites feature lavish furnishings with sleeping and sitting areas and a host of other amenities, including complimentary Wi-Fi Internet,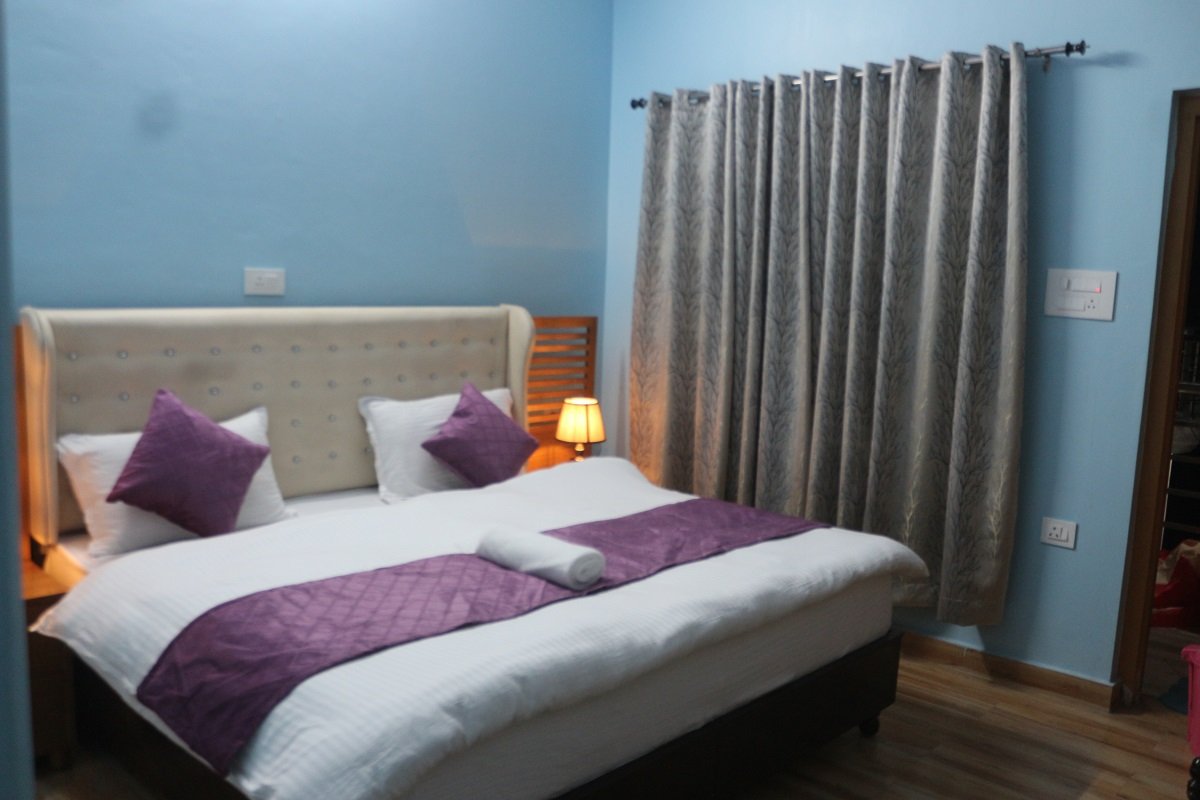 What do we do for safety in Har Ki Dun trek?
First of all, the safety of trekkers is much more for us, if you see in the trek, then there are all the risks, which I do not think about.
Himalayan Hikers worry more about you that no one should ever have any problem in the trek.
What should we and you keep more safety in the trek
Whenever you are going for any trek, it is very important that you go completely fit and ready.
The trek is not difficult, if you make your feet and your mind calm and strong, you will find the trek very easy.
While trekking, keep in mind that you are walking on the right route or not always with your guide.
Most people look somewhere and where they are walking, this can cause twitching in your legs, which can ruin your entire trek.
It is important to ask your doctor if you have any medical problems
I should always keep my medical kit with me, it is very important.
Himalayan Hikers always keep a medical kit with you, such as oxygen cylinders, medicine to be given in emergency on the trek
If any trekkers have any more problems, then they are brought back to the base camp by laying them in the stretcher.
Our camp in Har Ki Dun trek is around the tree line where you can not have any problem of oxygen
In case of any medical problem, the help of your guide or a well-informed trekkers should be taken
If there is major health problems in Har Ki Dun trek, then Nearest Hospital is in Mori which is about 46 Kms away from Har Ki Dun trek .