Why Kedarkantha Trek is Most Famous and Most Popular Trekking Destination in Uttarkhand
Today KedarKantha is a beautiful, not only is it considered to be one of the emerging famous trek in the world. Which is located in the sankri range Govind Wildlife Sanctuary in the Uttarkashi district of Uttarakhand . This trek is about in the height of 12500 ft.  There is a track which is counted among the world's famous treks in Uttarakhand, here today thousands of people not only from the country but also from abroad come here every year, especially in winter, it is believed to be the most popular trek in the Sankri range. Sankri Base Camp is one such In the country, from where about 25 treks move, from here on the Expedition and somewhere else.
After all, why people have started Hiking Kedarkantha trek so much?
The main reason behind this is that this trek is an easy to moderate trek route, where minimum seven-eight-year-olds to senior citizens of 65 years of age can also come, this trek has to be covered 4 to 5 kilometers daily before sankri. The day comes to Juda Ka Talab Camp, which is a beautiful article dropped from the forest, known as Juda Talab, this pond is completely frozen in winter in winter, where a beautiful view is seen covered with white sheets of snow. There is beautiful forest all around this year, where deodar trees and many other types of forest plants are found, where people enjoy the first day of this trek, here the enjoyment of the camping site on the banks of the pond is something different here. But people make the special moments of their life even more memorable with great ease, here during the camping, they do rappelling, zipline, monkey crawling and many other activities, understand that spending the night here is a special experience, I believe that people who come here He gets mesmerized seeing this scene.
Juda Ka Talab to Kedarkantha Base camp
On the third day from Juda Ka Talab, we go to Kedarkantha Base Camp, which is a trek of about 3 kilometers, to go here, through a special light trail in the middle of a very beautiful forest, we slowly move upwards. Where you slowly start seeing open skies, open forests, open jungles, and on seeing you people have no idea when you reach.
Kedarkantha Base Camp, enjoying in a lot of things, but this trekroute is very amazing and It is unimaginable that the greatest joy of life is experienced in this trek route, it seems as if we are going on the route of heaven and it is also said that heaven resides in the mountains, Uttarakhand is anyway known as Devbhoomi here. But you can easily hear the sounds of birds and wild animals in the beautiful forest mountains and snow-covered mountains all around. But to spend some special moments of your life, visit your family and friends. They come along with them which is also the real truth and you then reach your camp at Kedarkantha base on the third day from where the experience of walking in the snow is very different.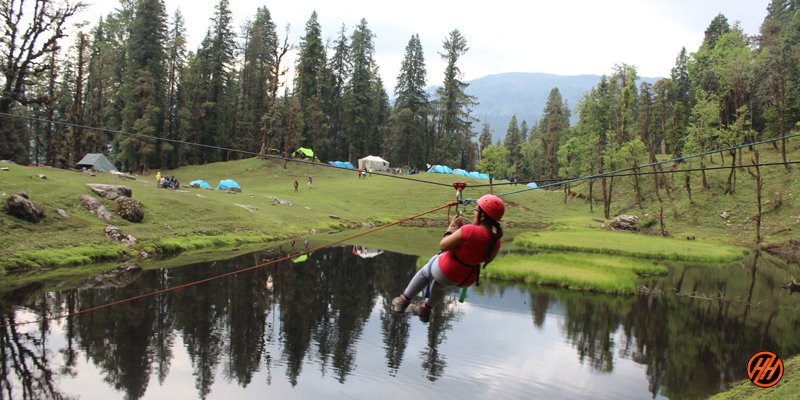 Kedarkantha Base Camp to Kedarkantha Summit 12500 ft
In the morning of the fourth day, we have to be ready for Kedarkantha summit 12500 ft, only at 3:00am in the morning, for which our team, our guides give you a complete brief in the evening itself that we should be ready at 3:00am in the morning to cover Kedarkantha. Kedarkantha is a wonderful unimaginable sight, where everyone wants to go today, there is a special time behind it.
Kedarkantha is a wonderful and special place of Lord Shiva, where people wake up from Kedarkantha base camp at 3:00am in the morning and have a light breakfast. After doing thorough preparation, taking your day pack and leaving for Kedarkantha summit, from there you will need the help of Crampons an Gaiters, head light which is provided to you by Himalayan Hikers team as well as our guide to you guys. Proper briefs you in every way, how many clothes you have to carry, how many clothes you have to wear and for what you have to wear and carry, for this, take special care that the trekkers also do not take this trek route in easy, for which you have to You will have to go ready after getting well prepared, but for this you people should be comfortable. With good thinking and faith in my heart, if you leave Kedarkantha Base Camp at 3:00am in the morning to assemble in the name of God, then it will be easy, there is a difference of about 4 kilometers to reach Kedarkantha Base, which reaches slowly in time. – Slowly with light feet, in slow slow slow, you move forward with ease and gradually you will experience a special night trek which is wonderful Keep moving towards Kedarkantha summit and you will suddenly see a beautiful rays coming out from the front which will move towards your face in golden form and you can see this scene and feel as if we are in another world because Bandarpoonch, Black Peak The sun emerging from the middle of Swargarohini, its rays spread golden color all around, seeing which gives a lot of joy and relaxation to the mind, this trek route looks very wonderful and unimaginable, as you move forward, you are the sun.
The beautiful Himalayas all around will start to see the fullness of the rays of the The mountain which you will start seeing and the statue of Baba Bholenath Shankar located there, the talent of Lord Ganesha and the whole there is a small trident where Lord Shiva is seated and from there you can see the view itself. How wonderful and beautiful the trek is, this is a special experience and you guys will take your photo after reaching there and take the supernatural image of there with you, will take the memories of there with you, our team will take you there for about 2 hours photo session, rest and some memorable moments.
After that you will move from Kedarkantha towards Base Camp which is a complete downhill trek and gradually you will move downhill while walking on top of you. When you leave, you will feel peace in your mind. This calming trek will make you even more thrilled
After lunch from Kedarkantha we come to Hargaon Camp and spend the night of the day at Hargaon Camp, it is a beautiful campsite from where you can enjoy the experience of camping under the open sky.
Some special tips for visiting Kedarkantha?
Whenever you guys go for Kedarkantha trek, make sure that you make sure of some good and reliable company for Kedarkantha trek which will make your trek happy and relaxed.
Be sure to avoid them, because KedarKantha trek is a trek where you have to do outdoor camping Hiking and many activities, for this make sure that your guide is professional, your company is professional, they are well Registration should be done, check all their documents, where you are residing, the address of the company, everything must be with you so that you do not face any kind of inconvenience during this trek, then only narrow key for this trek Select tour operators that other companies use the same local people and type the same local people as well as you people, then it would be better if you book this trek directly with local and the money you have go to the local people there We work whole night and day for you because if you book through a travel agent, you may end up with the wrong person so that your trek may not be good.
Next morning after breakfast from Hargaon, we leave for Sankri at around 8:00 AM, Sankri base Camp people reach till lunch.