Churdhar Trek the Best trek short trek near Chandigarh
Churdhar trek lies in Himachal Pradesh near Chandigarh and Churdhar peak is the highest peak in the outer Himalayan range lying at an altitude of 3655 meters.
This peak is also known as Churi-Chandni-Dhar. It is named after Shri Chureshwar or Shirgul Maharaj because locals believe that they lived here in ancient times.
Near Chandigarh, Himachal Pradesh's Churdhar trek takes you up to Churdhar Peak, This peak is also known as Churi-Chandni-Dhar, and it is named after ShriChureshwar or ShirgulMaharaj, who is believed to have lived here in ancient times.Churdhar, considered holy due to its association with "ShriChureshwarMaharaj," is rich in local legends and temples for worship.
The top offers an unbelievable, clear view of the famous Himalayan peaks like KinnerKailash, ShrikhandMahadev, Kedarnath and Badrinath.This trek is a delight for its explorers, winding through various terrains. The first part of the journey is a steep hill, with the last few hours covered in morrains. The stunning Churdhaar wildlife sanctuary is undoubtedly the highlight of this trek.This sanctuary is hampered by exquisite fauna such as the Himalayan Black Bear, Musk deer Lanhur, and many others.
Experience the best of Churdhar peak
Get to learn the local legends and their importance surrounding this place
Experience the beauty of Churdhar Wildlife Sanctuary
Get a panaromic view of many distant peaks visible form the top.
George Everest's Astronomical Readings in Churdhar Trek
The Surveyour General of India "George Everest" in 1834 made astronomical readings and recorded some high Himalayan peaks from Churdhar.
The highest peak of the world "Mount Everest" (8848 m) is also named after George Everest.
Fascinating Views in Churdhar Trek
The views offered are unbelievable, such clear views are feast for the eyes. The Himalayan peaks visible are Kinner Kailash, Shrikhand Mahadev, Kedarnath and Badrinath.
The other beautiful sights are of Shimla, Kufri, Chakrata, Kasauli and Sutlej River.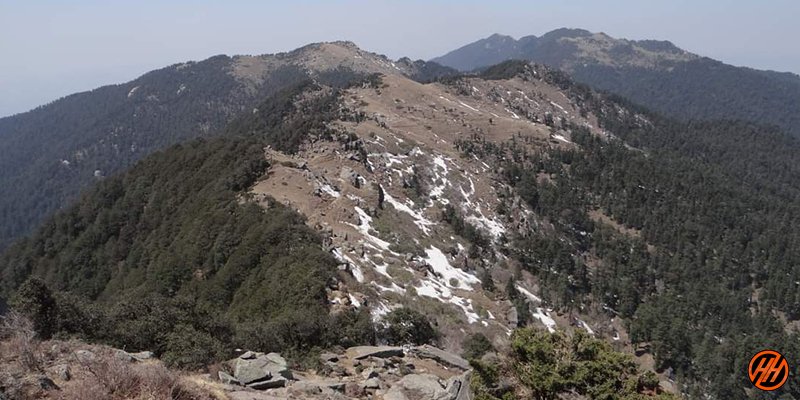 Key Points of Churdhar Trek
Level: Easy -Moderate
Proper conditioning & training of body required
Need proper gear & clothing for sub-zero temperature?
Shoes are the single most important equipment.
High Altitude requires proper acclimatization.
Beautiful landscapes so carry good photo gear & Extra battery backup.
Travel light
The backpack should not exceed 10 kgs.
Key Points of Churdhar trek
Duration
2 Nights 3 Days from Chandigarh to Chandigarh (please keep a day or two spare for the schedule considering, acclimatization and weather conditions)
Terrain Type
Forest, steep hills, morrains
Temperature
Day (25°C to 15° C) Night (18°C to 12°C)
Altitude:
 3655m.
Trek Weather
Winters are covered with snow summits and peaks whereas summers experience higher temperatures
Best Time:
All Years
Trek Level:
Easy -Moderate
Trek distance:
23 Km
Group Size:
A minimum group size of 5 people and a maximum of 30 people.

(In case anyone wants to book a private tour for their friends and family we provide a different procedure for it)

Trek Fee
 Short Itinerary of Churdhar Trek
Day 1 – Chandigarh to Nauradhar (2175 m) (130 km) and trek to Jam Nallah (2855 m) (7 km)
Day 2 – Jam Nallah to Churdhar peak (3655 m) (9 km) and return (9 km)
Day 3 – Jam Nallah to Nauradhar (7 km) and drive to Chandigarh (130 km)
Some of the trek highlights
This trek leads hikers to the highest point in the outer Himalayas. Trek officially commences from a small town famous for its picturesque holiday site and usually remains crowded during peak seasons. Trail leads up through a steep ascent with occasional muddy terrain, and gradually enters the pine forests.Trekkers will enjoy the opportunity of camping under the star studded sky of Jam Nallah campsite, surrounded by cedar and pine trees.
As trekkers move towards the peak the sight of high and mighty Himalayan peaks become clearer and fully once they reach the top.
Things to Look out for-
The trek is certain to provide unrivalled feelings of accomplishment.
Explore the enthralling forest ofcedar and pine.
The splendid distant view of snow-covered peaks.
The altitude covered in Churdhar trek 
Nauradhar- 2175m
Jan Nallah-2855m
Churdhar peak- 3655m
Best Time to Visit  Churdhar Trek
Both the ascent and the descent of Churdhar are moderate in difficulty with initial steep ascents. The best time to hike these paths is duringMay, June, October and November. The ufavorable temperatures and precipitation make this trek a pre and post monsoon season trek. Temperatures typically range from 25 to 15 degrees Celsius during the day, with substantially colder nights.
Is it safe Trek for first timer  
Set amidst the high altitude ranges, concerns among the beginners regarding Churdhar trek safety are indeed very valid questions. We have all the possible probabilities calculated if anything goes off the schedule. All our professional strive their best to provide trekkers with the best experience possible.
Since this is beginner friendly trek we advise trekkers to wary themselves of the path and high altitude medical conditions before proceeding to this trek.
 Difficulty level
Even though the top is relatively average in elevation, we still recommend a reasonable level of physical fitness. The moderate journey of 14-15 km to be covered in a short span of time can be a challenging task for beginners. We strongly advise trekkers to physically and mentally prepare themselves prior to this trek. Throughout the course, all groups will be guided by our experts for trekking equipment and any impending terrain.
Any medical assistance that is required will be provided at any point of the journey; however, trekkers must consult their professional care before beginning any trek. We also strongly advise trekkers to learn about altitude sickness and to notify our teams as soon as any symptoms appear.
Weather conditions
Weather conditions depend on the time of the year trekkers are travelling. Months from pre and post monsoon experience moderate temperatures during the day with substantially colder nights.
Things to carry
1) Because nights at elevations tend to be considerably colder, we suggest having well-graded, warm and comfortable clothing along with good quality shoes.
2) Despite the fact that we handle medical crises, we urge individuals to keep their emergency kits at hand in any case of personal underlying illnesses.
3) Since the journey provides you with a picturesque view of many peaks, don't forget to bring your camera along with extra batteries.
4) Our staff will consult with fellow trekkers about their luggage and, if lacking, will assist trekkers in obtaining any necessary equipment. Only the relevant luggage should be brought, as a result.
Other trekking Essentials-
Connectivity and Transactions
1) Because connectivity along the route is unpredictable, we urge people to do all of their work ahead of time.
2) Trekkers will be provided with walkie- talkies beforehand in case of emergency
3) Last ATM transactions available will be at Mundoli but we recommend travellers to collect cash beforehand or while in Chandigarh as ATM available at other places might not dispense cash at times.
How to Reach Churdhar Trek 
If you are travelling from any metropolitan city in India or from outside India, getting to the capital city of Delhi may be the first and most important step. All major modes of transportation, such as air, road, and rail, can take you to Delhi.
Chandigarh is connected to most major cities in India via all chief modes of transportation. Trekkers could perhaps conduct extensive research for their direct mode of transportation to ensure a much smoother arrival.
How to reach Chandigarh from Delhi
By air– Chandigarh Airport is the nearest airport to Chandigarh. It is well connected to Delhi and many chief cities with daily flights.
By road-Delhi have direct road routes to Chandigarh. Trekkers will have to book either a bus or private cabs. Prior booking for cabs and bus are easily available at various sites.
Delhi>Chandigarh>Nauradha
By railway– Nearest Railway station to Chandigarh will be ChandigarhRailway station. Since Chandigarh is connected to all major railway routes, trekkers can opt for a direct route or via Delhi.
.Some important points to note-
Please note that we don't provide timings schedules for transportation before Chandigarh. Subjected to various conditions the scheduled timings and availability of particular rides may differ. We recommend trekkers to reach out our teams for any queries. You can drop an email or call us for an initial guided session.
Our teams will be collecting trekkers at fixed points of airports, railway stations and bus stands.
It is recommended that unless any delay arrives, trekkers are advised to reach the destinations at least 2 hours prior.
Things Himalayan hikers recommend
As previously stated, a camera, as well as spare batteries and memory cards, are recommended. We can assure and guarantee that you will be stopping frequently along the trail to observe the grandeur of the trekking experience.
We strongly recommend trekkers to prepare beforehand for the journey ahead. Regular practicing physical fitnessand mental endurance will surely assist trekkers in great time.
After the trek, we strongly encourage trekkers to tag us on social media when they post any memories from the trip; this will not only prove invaluable to us with our work, but will also serve as a motivational example for all of our experts.
Why you should choose us
We're here to give you the greatest experience possible through the eyes of highly skilled and qualified specialists who have a passion for adventure sports. We are community members attempting to promote our favorite adventure sports while also supporting local businesses. We, at Himalayan hikers, dedicate ourselves to providing you with an unforgettable experience.