Gartang Gali Trek World's Oldest Trek Route Gali in Uttarakhand Himalayas 
Gartang Gali Trek is situated at a distance of 90 km from Uttarkashi district, Uttarakhand. This is a very old trek route street, which is a rare path made by cutting huge mountains, which is known as Gartang Gali. This bridge was built 150 years ago, which is the trade between China and Barhat Market Uttarkashi. There is a connecting trek route which was closed in 1962 after the Indo China War. But on 20th August it was reopened for trekkers and locals.
It is said that the Pathans, who came from Peshawar to Gartang Gali, built this difficult bridge 150 years ago at an altitude of 11000 feet. Gartang Gali Trek comes to Gangotri area in Uttarkashi district
The elderly people here say that before independence, the people of Uttarkashi district had built the Tibet track via Nelong Valley for trade with Tibet. This trek in Gangotri National Highway was prepared by cutting the steep and complex rocks near Bhairon Ghati, by laying an iron rod and laying wood on it. Through this route wool, leather cloth and salt were transported from Tibet to Badahat of Uttarkashi. This bridge gives an exciting view of the Nelang Valley.
About 150 meters long stairs of Gartang Gali are now visible in a new color. The stairs of Gartang Gali, built at an altitude of 11 thousand feet, are considered to be a unique example of engineering. Now this trek route has been re-opened for tourists. Keeping in mind the Corona guidelines and security, only 10 people will be sent on the bridge at a time.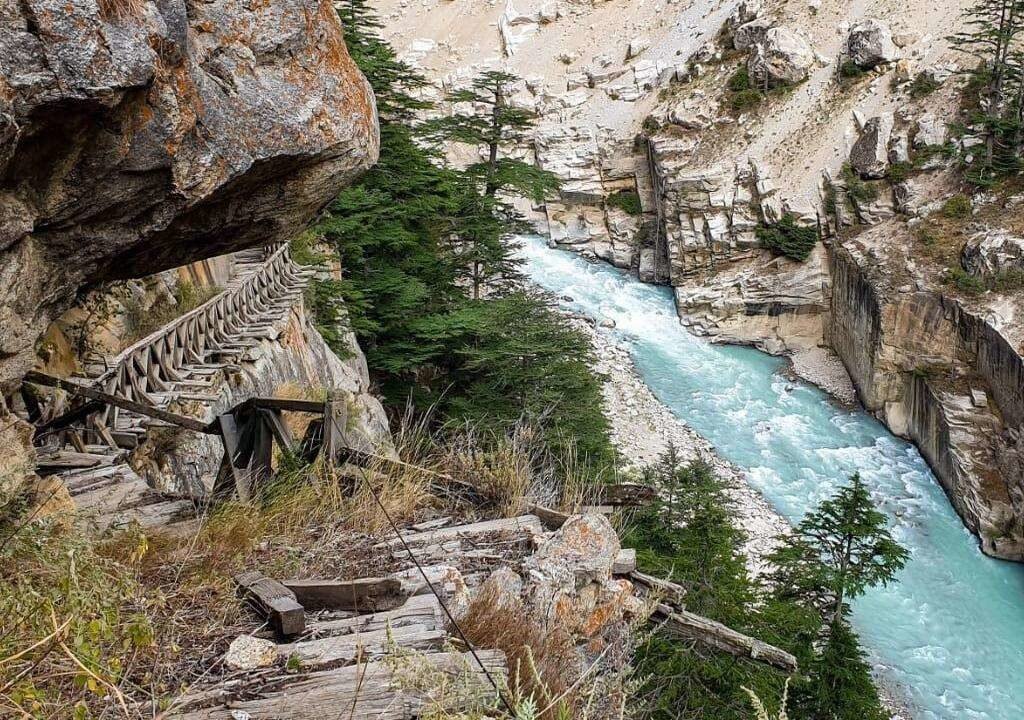 Best Time to Visit Gartang Gali Trek?
Best time to visit the Gartang Gali trek is May, June, July, Aug, September, October. Only this is a summer trek where you get a combination of both greenery and snow, which makes the trek very spectacular. The weather in May and June is quite good and trek friendly, which makes trekking a lot of fun.
During the day the temperature of Gartang Gali  Day is 10°C to 15 °C  and during the night the temperature comes down to 5 °C  to 10 °C  which is not bad.
Difficulty level in Gartang Gali Trek
Gartang Gali  is a very beautiful summer trek and an Moderate  trek in the District Uttarkashi uttarakhand Himalayas, The Gartang Gali  Trek is great for those people who have a great passion for Visit oldest reek route Nelang valley trek and mountaineering and consider it a special purpose in their life. Despite the fact that the top is relatively low in elevation, we recommend physical endurance and a strong fitness record. 
Key Points of  Gartang Gali  Trek
Duration: –

3 Nights 4 Days from Dehradun to Dehradun

Base camp: –

Trek Start Bhairon Ghati, Near Gangotri 

Gartang Gali  Altitude

: – 11,000 feet

Best Time to Visit :

– May, June, July, Aug, September, October 

Trek Level:

– Moderate

Trek Distance: –

The bridge is located inside the Gangotri National Park and is at a distance of 90 km from Uttarkashi district main market 

My personal belief is that people can do this trek from a minimum age of 5 year to 60 year.

But it is necessary to be fit to do this trek
How to Reach Gartang Gali Trek?
First of all, you people have to come to Dehradun
From Dehradun itself, you will go with the Himalayan hikers for this trek.
In Dehradun, you will get our staff that will arrange transport for you. The contact no Transport coordinator or our office team will be give you a  week ago to your departure
Train and flight are always available from where you will go to Dehradun uttarakhand
Himalayan Hikers arranged for your transport from Dehradun railway station or Airport to Bhairon Ghati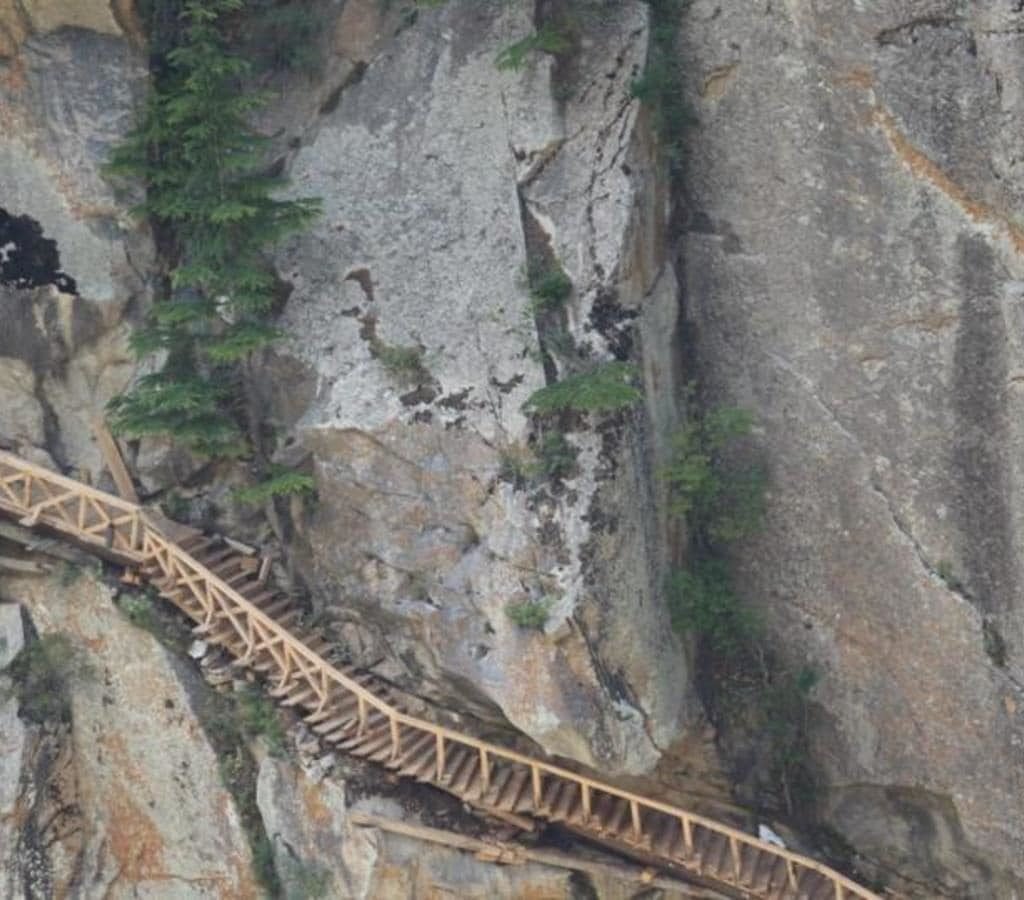 What do we do for safety on the Gartang Gali Trek?
First of all, the safety of trekkers is much more for us. If you see the trek, then there are all the risks, which I do not think about.
Himalayan Hikers worry more about you that no one should ever have any problem in the trek.
What should we and you keep more safety in the trek
Whenever you are going for any trek, it is very important that you go completely fit and ready.
The trek is not difficult, if you make your feet and your mind calm and strong, you will find the trek very easy.
While trekking, keep in mind that you are walking on the right route or not always with your guide.
Most people look somewhere and where they are walking, this can cause twitching in your legs, which can ruin your entire trek.
It is important to ask your doctor if you have any medical problems
I should always keep my medical kit with me, it is very important.
Himalayan Hikers always keep a medical kit with you, and oxygen cylinders, medicine to be given in emergency on the trek
If any trekkers have any more problems, then they are brought back to the base camp by laying them in the stretcher.
In case of any medical problem, the help of your guide or a well-informed trekkers should be taken
If there are major health problems in Gartang Gali, then Nearest Hospital is in Uttarkashi, which is about 90 km away from Gartang Gali.