Bagini Glacier Trek an Untouched Adventurous Trek in Himalayas
Bagini Glacier Trek  is an untouched adventurous trek with raw beauty in Garhwal Himalayas. Towering at a height of 4515 meters it gives you the opportunity to witness great Himalayan peaks i.e. Changbang, Kalanka and Dunagiri.
Bagini Glacier flows down from origin Trishul peaks and Changbang (northwards) and then then Bagini River joins waters of Dunagiri glacier (westwards) ahead Lampak stream joins it and they flow into Dhauli Ganga.
Bagini Glacier Trek is a wonderful trek which is located near Joshimath village of Chamoli district in Uttarakhand Himalaya
You will experience a special adventure in this trek, not many people do this trek but it is not a treasure trove for special people in a Himalayas where you can spend a few days comfortably
Bagini Glacier Trek an Exciting Trek in Uttarakhand
Bagini Glacier is an easy to moderate trek which passes through some quaint villages, blossoming meadows and dense forests.
Spot the views many high Himalayan peaks – Rishi, Trishul, Changbang, Hathi, Ghori, Dunagiri (east), Garur and Satminal which makes it an exciting trek in Uttarakhand.
Best Time to Do Bagini Glacier  Trek ?
Bagini Glacier trek  is a very beautiful and an uphill trek in the Uttarakhand Himalayas, The Bagini Glacier trek  is great for those people who have a great passion for mountaineering and consider it a special purpose in their life. Bagini Glacier trek  is such a trek where you get to see more than one Himalayan mountain range.
The right time to do Bagini Glacier trek  is from May 1st week to the last of June and then from the last of August to the last month of October.
specially in the months of  may,  and June, snow is found in abundance here, which makes your trek very memorable and also a little difficult after Longatulli base camp. So this trek should not be considered too easy trek
 Bagini Glacier trek in May to June ?
Bagini Glacier trek  Month in may and june gives a slightly different experience to Trekkers because in May you start getting snow Longatulli base camp
The Bagini Glacier trek  starts from Joshimath in Uttarakhand which comes in Chamoli District
In  May and June, you get a combination of both greenery and snow, which makes the trek very spectacular. The weather in May and June is quite good and trek friendly, which makes trekking a lot of fun.
During the day the temperature of Bagini Glacier trek  is around ( 5°C to 12 °C  and during the night the temperature comes down to -1 °C  to -5 °C  which is not bad.
Views and treks in Bagini Glacier trek  provide a lot of peace to the mind during the day, while you wake up from one wake to another Bagini Glacier trek  can always be one of the most close treks in your heart.
Bagini Glacier trek  in September or October
Bagini Glacier trek  is a little different in the months of September and October, this is because you will  find snow only summit day. or Bagini Glacier trek
But the beauty of the trek will not be lacking, the trek and nature adorn themselves with time and in different colors. Month of September and October are very good days to trek, at this time total greenery and at the end of October sometimes you can get to see live snow fall.
During the day the temperature of Bagini Glacier trek  is around Day time  8°C to 15 °C  and during the night the temperature comes down to 7 °C  to – 3 °C  which is very confirmable,
At this time the weather here will be very good for you , At this time it is even safe to trek here and there is no rain.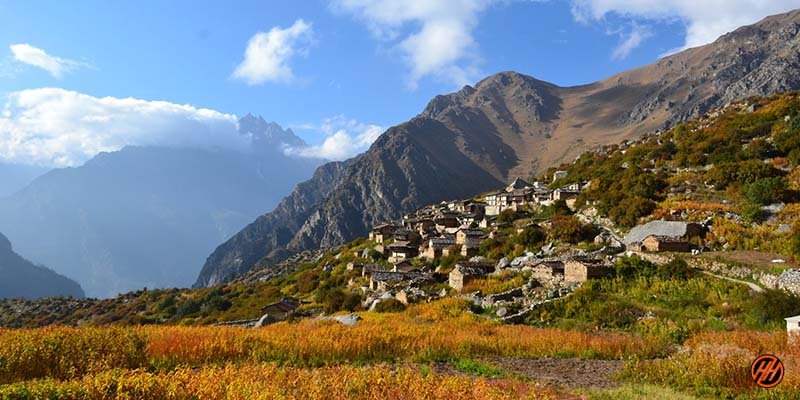 Key Points of Bagini Glacier Trek
Level:  Difficult (so first timers trekkers should avoid)
Proper conditioning & training of body required
Need proper gear & clothing for sub-zero temperatures?
Shoes are the single most important equipment
High Altitude requires proper acclimatization
Post monsoon or pre-monsoon is the best time. During rains the region is prone to landslides
Phones don't work on the trek
Beautiful landscape so carry good photo gear (I couldn't carry my best equipment)
Travel light (my backpack was heavy at about 10 kg to 12 Kg )
Keep an extra day in your itinerary for crossing the pass to account for bad weather
If you choose Good and local trekking company Himalayan Hikers than it is better for you because Himalayan Hikers is local company our mission is safe treks, growth of locals.
How Difficulty level  is  Bagini Glacier trek 
Bagini Glacier trek  is Moderate trek , this trek comes in a moderate level,  I myself have done this trek sometimes with me, people who are trekking for the first time, we have done the entire trek, they used to need help somewhere, which we and our team used to help.
This trek is a bit difficult, Longatulli base camp after uphill trek  but if your fitness is good and you have it in your mind that I want to trek then you can do it absolutely. Where help is needed, our guides will support you, you just have to be strong and capable of the trek. One thing is that all you can do is to have courage and I myself am passionate.
Bagini Glacier trek  safe for me ?
Yes Bagini Glacier trek  is a safe trek if you are going with a good trekking team which you must know before booking yourself, It is important for you to know that the bow trekking organization with which we are going is right or not,
And if possible, trek with local trekking organization, you can do the same help all the time. then your trek can be very good and memorable
The minimum age required to trek Bagini Glacier trek  is 15 years and maximum 55 years. The rest depends on your fitness .
Why you should choose us
We're here to give you the greatest experience possible through the eyes of highly skilled and qualified specialists who have a passion for adventure sports. We are community members attempting to promote our favorite adventure sports while also supporting local businesses. We, at Himalayan hikers, dedicate ourselves to providing you with an unforgettable experience.
Himalayan Hikers always make the trek from Trekkers memorable, I insist that you do not face any problem in any trek and you can always have a pleasant experience.
Weather conditions
Weather conditions depend on the time of the year trekkers are travelling.
Months from  1st week of May, June to September experience moderately good temperatures during the day with substantially colder nights accompanied by little to snow Bagini Glacier trek Camp  surrounding peak
Must Read about Bagini Glacier Trek
Duration – 9 Days from Haridwar to Haridwar
Best Season – May to June and Sep to Oct
Level – Moderate
Highest point – 4515 m
Weather – Nights are cold and day temperature is pleasant during the season.
Starting point – Haridwar Railway Station 
Short Itinerary  Bagini Glacier Trek
Day-1 – Pickup to you from haridwar railway station drive to  Joshimath (2049 m) (276 km) (11 hours)
Day-2 – Drive from Joshimath to Jumma and trek to Ruing village (2800 m) (3 km)
Day-3 – Trek from Ruin village to Dronagiri village (3610 m) (8 km)
Day-4 – Trek from Dronagiri village to Longatulli (3800 m) (6 km)
Day-5 – Trek from Longatulli to Basecamp (4484 m) (5 km)
Day-6 – Trek from Basecamp to Bagini Glacier (4515 m) and return (10 km) (5/6 hours)
Day-7 – Trek from Basecamp to Ruing village (18 km) ( 7/8 hours) overnight stay camp
Day-8 – Ruing village to Jumma Road head   (3 km) (2 hours) same day Drive to Joshimath via taxi
Day-9 –  Drive from Joshimath to Haridwar  (276  km) (11 hours)
How to Reach  Bagini Glacier  Trek
You can book trains, air flights, and bus tickets for your journey only according to the information given by us.
The Bagini Glacier trek will be of  07 days and 02 days of your journey total of 09 Days from Haridwar to Haridwar
First of all, all the trekkers will have to book their flight and train bus according to our time table as our pick up is from 6 am to 7 am, you will have to reach Haridwar in the morning.
A taxi from Himalayan hikers will link you to the Haridwar railway station.
Himalayan Hikers organize transport to Joshimath base camp from Haridwar railway station. Our vehicles leave at 6:00 am to 7:00 am sharp from Haridwar.
In the Haridwar railway station, you will get our staff that will arrange transport for you. The contacts no Transport coordinator or our office team will give you a week ago to your departure
Please you guys book your transport facility according to your own time table, after Himalayan Hikers take all the responsibility of Haridwar to Haridwar, that you will not face any problem.