Bagini Glacier Trek an Untouched Adventurous Trek in Himalayas
Bagini Glacier Trek  is an untouched adventurous trek with raw beauty in Garhwal Himalayas. Towering at a height of 4515 meters it gives you the opportunity to witness great Himalayan peaks i.e. Changbang, Kalanka and Dunagiri.
Bagini Glacier flows down from origin Trishul peaks and Changbang (northwards) and then then Bagini River joins waters of Dunagiri glacier (westwards) ahead Lampak stream joins it and they flow into Dhauli Ganga.
Bagini Glacier Trek an Exciting Trek in Uttarakhand
Bagini Glacier is an easy to moderate trek which passes through some quaint villages, blossoming meadows and dense forests.
Spot the views many high Himalayan peaks – Rishi, Trishul, Changbang, Hathi, Ghori, Dunagiri (east), Garur and Satminal which makes it an exciting trek in Uttarakhand.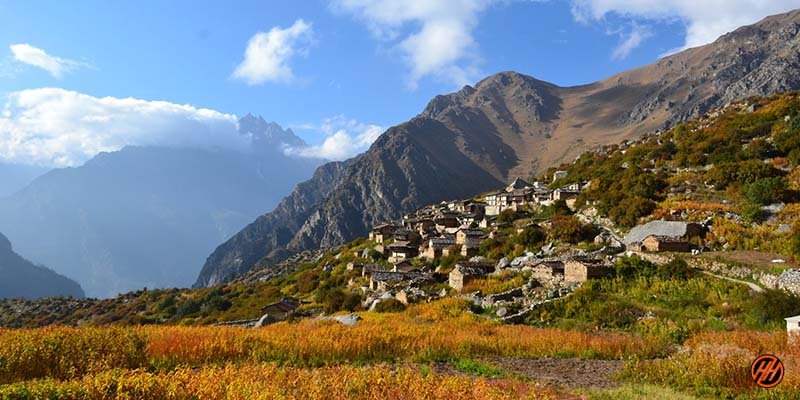 Key Points of Bagini Glacier Trek
Level:  Difficult (so first timers trekkers should avoid)
Proper conditioning & training of body required
Need proper gear & clothing for sub-zero temperatures?
Shoes are the single most important equipment
High Altitude requires proper acclimatization
Post monsoon or pre-monsoon is the best time. During rains the region is prone to landslides
Phones don't work on the trek
Beautiful landscape so carry good photo gear (I couldn't carry my best equipment)
Travel light (my backpack was heavy at about 10 kg to 12 Kg )
Keep an extra day in your itinerary for crossing the pass to account for bad weather
If you choose Good and local trekking company Himalayan Hikers than it is better for you because Himalayan Hikers is local company our mission is safe treks, growth of locals.
Must Read about Bagini Glacier Trek
Duration – 9 Days (Dehradun to Dehradun)
Best Season – May to June and Sep to Oct
Level – Moderate
Highest point – 4515 m
Weather – Nights are cold and day temperature is pleasant during the season.
Temperature –May to June:(15°C to 20°C)(7°C to -2°C)
Sep to Oct:(10°C to 15°C)(5°C to -5°C)
Starting point – Dehradun
Short Itinerary  Bagini Glacier Trek
Day-1 – Dehradun to Joshimath (2049 m) (256 km)
Day-2 – Joshimath to Jumma and trek to Ruing village (2800 m) (3 km)
Day-3 – Ruin village to Dronagiri village (3610 m) (8 km)
Day-4 – Dronagiri village to Longatulli (3800 m) (6 km)
Day-5 – Longatulli to Basecamp (4484 m) (5 km)
Day-6 – Basecamp to Bagini Glacier (4515 m) and return (10 km)
Day-7 – Basecamp to Ruing village (18 km)
Day-8 – Ruing village to Joshimath (3 km)
Day-9 – Joshimath to Dehradun (256 km)