Heaven On Earth Markha valley Trek
Markha valley Trek, Kashmir is the most sought tourist place. No doubt it is called heaven on Earth. It is the place for adventurers and trekkers and a popular gateway for its raw and arid thrills with spectacular trails.
Magnificent barren Landscapes in Markha Valley Trek
Markha valley Trek Give Us From lush green to yellow barren landscapes, it is quite a thrilling adventure of 8 days passing alongside the Indus river. Markha Valley is the largest valley in the region of course, Leh is the start point of Markha valley Trek, which is an added advantage to explore the Buddhist monuments in Leh. You will be astonished to traverse through the tiny hamlets as you gain altitude.
Spectacular villages and several mountain ranges in Markha Valley Trek
At Markha valley Trek You will be left in awe once you traverse through the tiny hamlets as you gain altitude. These villages have cae and tea houses that will rejuvenate your soul when you are tired from the strenuous hike.
One after another, Rumbak, Yurutse, Skui, Markha, Hankar, Nimaling settlements will revitalize you. Not only that most of the villages have preserved monasteries, ruined forts, and temples. Amongst them, the Tacha monastery is an eye and heart catcher that lies between the mountains.
Ganda La and Kongmaru La are the two cardinal passes to be crossed en route. These passes are known for the panoramic views of infinite Karakoram and Ladakh ranges. The stunning sights of K2 mountain, Stok Kangri and Kang Yatse peaks are fulfilling and the motivation of this trek.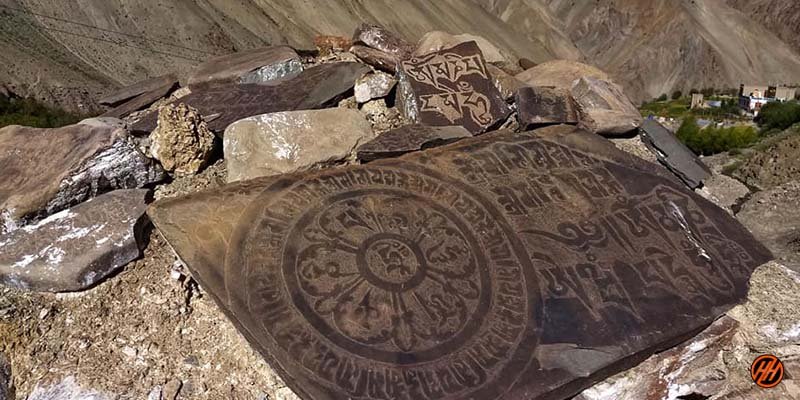 Why to choose Markha Valley Trek ?
See firstly, the trekking distance is a total of 128km by taxi it is 64km. By foot 64km which is to be covered into the 8 days. Leh- Chilling- Skiu-Sara- Markha-Hankar- Nimaling- Chokdo- Kongmaru La- Leh
Before heading towards the itinerary, it is really essential to perceive the reason behind choosing the Markha Valley trek
Markha valley Trek is a high-altitude mountain trek Altitudes is 5200M
The Starting trail is moderate– difficult as compare. So, this trek is for the people who have done high altitude treks before. Not meant for beginners, or family or school tour
Need proper gear & clothing for sub-zero temperature for Markha valley Trek
You got to see so many heavenly bodies at one place like the panoramic view of the Himalayan ranges, like Karakoram and Ladakhi ranges. You can see pine forests, different variety of flora and fauna surpassing
I think Do spare time in Interaction with our local's team, and you will get to know about some of the ancient tales of Indian mythology and our local cultures, this is good ideas for trekkers
Beautiful landscapes so carry proper photo gear & Extra battery backup.
The backpack should not exceed 12 kg only
Getting to our Base Camp Bara Hazar
Option 01 – By Air Direct flight to Leh is available across the country
Delhi- Leh
Kolkata- Leh
Pune – Leh
Bombay- Leh
Jet Airways, Go Air and Air India provide daily (once every day) flight service between New Delhi and Leh.
In the summer season, the services may even be provided twice a day.
However, if you plan a trip to this area of the country, you must try to book your tickets well in advance.
This might even cut down the prices which may be levied on booking at the last time.
You would enjoy the flight as you would fly over many untouched areas and even some mountain ranges.
The aerial view is just fascinating and gives a great start to your tour.
Option 02 – By Road
The road from Manali to Leh is only open in the summers.
The road trip may take you 2 days, but depending upon the weather conditions, the travel may also extend to 3 or even 4 days.
You should also make sure that you carry at least two spare tires.
Good advice would be to carry a sleeping bag with you well, as the bus may stop in the middle of nowhere for the overnight stay.
Another route to Leh via Srinagar also takes around two days.
On this route, you would pass through some lonely yet famous villages like Kargil and Khalsi.
You can reach Leh around 5:00 am to 7:00 am, vehicles will be arranged and
there you can meet our office members.
ATM Point & amp; Mobile connectivity in Markha Valley Trek
ATM POINT: Withdraw money before your journey, Manali is the last point
where you will find ATM.
(If you want to withdraw the money then do it in Leh.)
Note:-  Himalayan Hikers arrange vehicles for you from Leh and Drop Tempo
Key Points Markha Valley Trek
Duration: –   7 Nights Days from Leh to Leh
Base camp: –  Skiu base camp
Summer Temperature: –  10°C to 15°C and Night: 0°C to 7°C
Markha Valley- Altitude: –  5200m
Best Time: – May to June and September to October
Trek Level: –   Moderate- Difficult
Trek distance: –   65km
Group Size: – a minimum of 5 people a maximum of 15 people
The altitude we are going to cover per day
Leh–  3500m
Chilling– 3200m
Skiu  –     3400m
Sara  –   3500m
Markha –  3700m
Hankar  –   4000m
Nimaling – 4700m
Chokdo –    3700m
Kongmaru – 5200m
Short Itinerary of Markha valley Trek
Day 1: Pick up to you from Leh( No trekking)(3500m)
 Day 2: Acclimatization Day At Leh(Walk around nearby) (3500m)
Day 3: Drive Leh to Chilling and trek to Skiu (65km By car) (2/3 hours) (4171m)(9km by foot)(4/5hours)(3400m)
Day 4: Trek from Skiu to Sara(10km) (3/4hours)(3500m)
Day 5: Trek from Sara to Markha (10 km)( 3/4 hours)(3700m)
Day 6: Trek from Markha to Hankar(11km) (5/6hours) (4000m)
Day 7: Trek from Hankar to Nimaling(9km)(3/4hours)(4700m)
Day 8: Trek from Nimaling to Chokdo Via Kongmaru La drive to Leh(16km)(7/8hours)(5200m)