The best Panchachuli Base Camp Trek in Uttarakhand
Panchachuli Base Camp Trek comes in Eastern Kumaon Garhwal region of Uttarakhand Himalayas and it's height is 4,260 meters. If we look at the history of Panchachuli so, it is said that the Panchachuli Peaks are a group of five Himalayan peaks which are situated at Kumaon Garhwal in the Himalayas.
Panchachuli Base Camp Trek is a moderate Trek from Dharchula Base Camp. Dar road head is a starting point of Panchachuli Base Camp Trek or Expedition and at the end of East Kumaon region is located near Darma Valley. The height of these peaks ranges from 6,334 meters to 6,904 meters. The first ascent of Panchachuli Peak 01 (I.T.B.P) team was made in 1972, via Uttam Balati Glacier, under the leadership of Mr. Hukam Singh.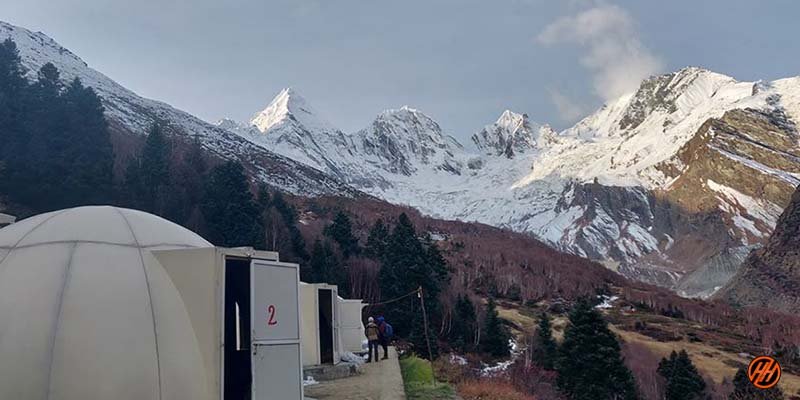 He is local from here and is also a very good mountaineer, which is a history of its own; these Panchachuli Peaks also form a watershed between the wonderful uncanny valleys like Sundar Gori and Darmaganga here.
Why Panchachuli Base Camp Trek is India's most famous Trek?
Panchachuli Base Camp Trek s are beautiful and exciting, these Trek s are the beauty of Kumaon Garhwal in the Himalayas, Panchachuli Trek is known not only in India but all over the world, There are many Base Camp Trek s in our Uttarakhand like Nanda Devi Base Camp Trek, this one also comes in Kumaon Garhwal which is another beautiful Base Camp Trek, thus Panchachuli Base Camp Trek is one of those base camps which is very adventurous Treks in Uttarakhand.
These Trek s are about 40 to 45 km Trek from Dharchula, Dar Road to Panchachuli Base Camp and Panchachuli Glacier, The beautiful valleys of Panchachuli and snow-capped peaks in the lap of the Himalayas when viewed with one's own eyes, thus the beautiful city in the base is known for its amazing and natural grandeur in the Darma Valley in Pithoragarh district.
Natural View of Panchachuli Base Camp Trek
Panchachuli Base Camp gives you the main thrilling view, and beautiful this glacier-filled road looks adventurous and has panoramic icy views, grassy forest, and wild birds that make this road special.
Special types of vegetation are also found here, which are useful in medicine, and the wild animals found here make this Trek even more special. There are many wild animals and birds in the Himalayas which you can see also there.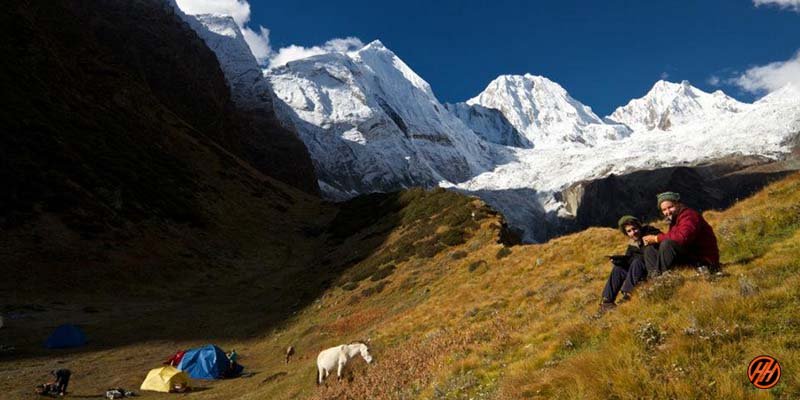 Why you should do the Panchachuli Base Camp Trek along with the local?
Note: – Whenever you do this Panchachuli Base Camp Trek, Do it with the local people here Dharchula or with experienced people like us who are local here. Many local people working with Himalayan Hikers. Whoever can help you from the local here, if you Trek with the local, and then the experience will be very good for you Also, the guides, porters, helpers, mule who go with you will have their income so that the locals here can give good education to their children and eat good food, etc.
And so local provide you with good and helpful service and it will be useful for you all the time. This is why we have to say that sometimes there are seasonal changes in nature, for which we all have to be ready, this is the law of adventure.
Must Read about Panchachuli Base Camp Trek
Duration – 09 Days from Kathgodam to Kathgodam
Best Season – May 15th to June last week and September or October 1st week
Level- Moderate or Difficult
Highest Point- 4,260, Meters
Trek king Distance – 66 Km on foot and by taxi 580 Km
Weather: Nights are cold and the day temperature is pleasant during the season. It is unpredicted and can change anytime so do keep an extra day in the itinerary
Temperature:(2°C to -5°C)
Trek Costs– per Person Rs. 30,000/* from Kathgodam to Kathgodam including all costs of the Trek.
Key Points about Panchachuli Base Camp Trek
Level: Moderate -Difficult (so first-timers Trekkers should avoid)
Proper conditioning & training of body required
Group size minimum of 03 maximum of 10 people
Need proper Expedition gear & clothing for sub-zero temperatures?
Shoes are the single most important equipment
High Altitude requires proper acclimatization
Post monsoon or pre-monsoon is the best time. During rains, the region is prone to landslides
Phones don't work on the Trek, we provide to you Radio Willkie Talkie for Communication
The beautiful landscape so carry good photo gear (I couldn't carry my best equipment)
Travel light (my backpack was heavy at about 12 kg to 15 Kg)
Keep an extra day in your itinerary for the attempt to summit account for bad weather
If you choose Good and local Trekking company Himalayan Hikers than it is better for you because Himalayan Hikers is a local company our mission is safe Trek s, growth of locals. Some groups come with us for the Expedition and high altitude Treks. Alcohol and smoking are not allowed during the Expedition.
Your Travel Plan for Panchachuli Base Camp Trek
You can book trains, air flights, and bus tickets for your journey only according to the information given by us.
The Panchachuli base Trek will be of 7 days and 2 days of your journey total of days 09 from Kathgodam to Kathgodam.
First of all, all the Trekkers will have to book their flight and train bus according to our time table as our pick up is from 6 am to 7 am, you will have to reach Kathgodam in the morning.
A taxi from Himalayan hikers will link you to Kathgodam railway station.
Himalayan Hikers organize transport to Dharchula from Kathgodam railway station. Our vehicles leave at 6:00 am to 7:00 am sharp from Kathgodam. The taxi includes your package.
In Kathgodam railway station you will get our staff that will arrange transport for you. The contacts no Transport coordinator or our office team will give you a week ago to your departure.
Planning your onward Air flight/train/ Bus booking
If you are traveling from Kolkata, Bangalore, Chennai, Pune, Mumbai, or Gujarat any other city, so you will have to come to Delhi, you will get a train from Delhi for Dehradun comfortably.
Option 01:- By Train
All Trekkers booked you the Ranikhet Express
Ranikhet Express to Kathgodam (Train no is 15013 Departure 10:05 pm: – Reached Kathgodam 5:05 am the train starts from Jaisalmer city. This is the best option for you
Option 02:- By Bus
You can reach Kathgodam from Delhi by a bus, board it from Delhi's Anand Vihar ISBT; it is good if you are booking the seats. Directly bus stand. But to get the bus tickets booked you have to come to the bus stand a little early
The bus leaves from Kathgodam from Delhi at around 9.00 pm. frequent buses are available until midnight. It is a journey of about 8 hours to 9 hours.
(Reach Kathgodam Railway Station between 5:00 am to 6:00 am and the vehicle will be arranged from there.)
ATM Point and Mobile Connectivity in Panchachuli Base Camp Trek
ATM Point
When you leave for Panchachuli Base Camp Trek, you bring cash as per your requirement and if you want to get cash on the way, you will have to go to Kathgodam or Dharchula, further you will not find ATM of banks.
Mobile Connectivity
During Panchachuli Base Camp Trek the phone does not work, so it would be good to do it from Dharchula Base Camp on day 01, there will be no further network, you can contact your family members at our head office to talk emergency.