8 Best Himalayan Monsoon Treks In India
The Monsoon Treks across India begins in June and ends in September. The weather varies from place to place. As a trekker, there might be some questions in your mind like – Is it possible to trek during these months? Would it be safe? And many more! So, here I am going to discuss the Himalayan Treks During Monsoon
Do not choose treks in north-east India during monsoon
North East India receives heavy rainfall during this period and the rains are vigorous which makes trekking difficult. So avoid treks lying there from May-Sep.
Here are some tips to go on Himalayan Treks During Monsoon:
Monsoon Treks In June – Best Time to Go On High Altitude Treks
Many parts of India may experience heavy rains in June but the Monsoon reaches Uttarakhand after the first week of July and a few days later it heads over to Himachal Pradesh, till then the Himalayas remain dry. So, June is the best time to trek in the Himalayas.
Treks in June :
Rupin Pass Trek
Kuari Pass Trek
Buran Ghati Trek
Rupin Pass Trek
Rupin Pass Trek is a high altitude trek at an elevation of 15,380 feet and it starts from Dhaula in Uttarakhand and ends up at Sangla in Himachal Pradesh crossing Uttarakhand near Kinnaur. Hence, this route is also used by shepherds.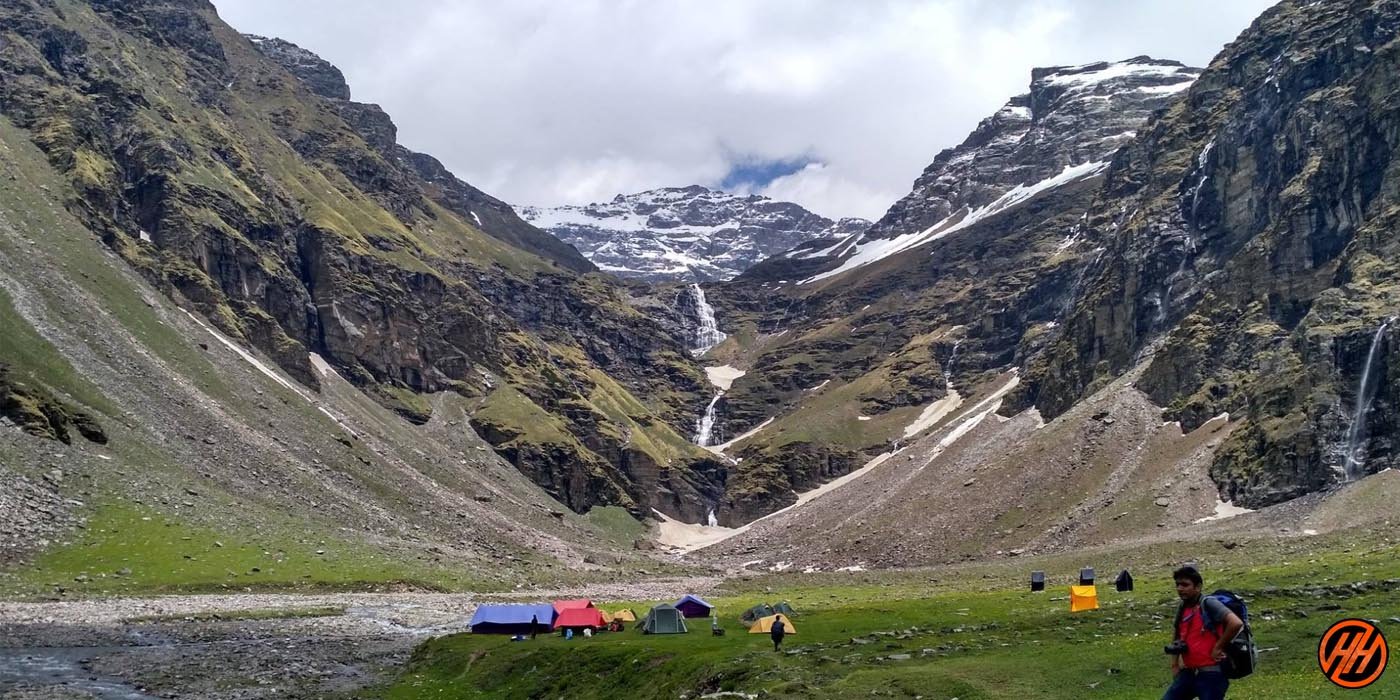 Kuari Pass Trek
Kuari Pass Trek was explored by Lord Curzon when the British ruled India. It is a perfect trek for beginners which lies in the Garhwal Himalayas at an altitude of 4,264 meters.
So, if you are a beginner and thinking to start in the Himalayas then Kuari Pass can be the first trek of your Himalayan journey. And, it is best for nature lovers because of its untouched surroundings, scenic vistas, and views of lofty peaks.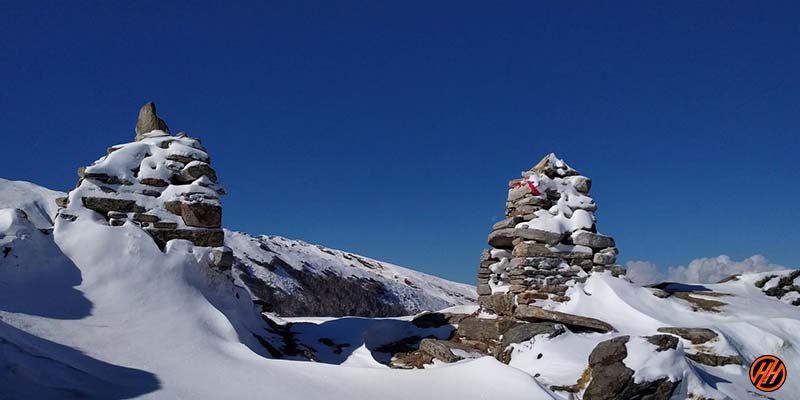 Buran Ghati Trek
At this period of time, they remain at full bloom. The deep valleys are dark and charming, the meadows blossom and the mountain flanks still have thick snow.
Buran Ghati Trek is a highly diverse trek and a thrilling pass that lies at a high altitude of 15,000 feet in the heart of Himachal.
This amazing trek starts from Janglik and is perfect because it has got all the adventure which also includes sliding down and rappelling down a snow wall.
Monsoon Treks in July – It is possible to go on Himalayan treks during July
Trekking in July is possible but the rains are frequent – not very much to wretch your trek. But the real rains occur in the month of August.
Now, we move to Kashmir and Himachal Pradesh. Treks in Himachal start only after the snow melts and the passes become accessible (mid-June). By mid- July monsoon reaches Himachal.
Treks in July :
Hampta Pass Trek
Valley of Flowers Trek
Kanamo Peak Trek
Hampta Pass Trek
Hampta Pass Trek the rains reduce, once you cross the Lahaul and after traversing the pass you enter the rain shadow region. So rains occur only on one side of the trek.
Valley of Flowers Trek
Valley of flowers is an unmatched monsoon trek of Uttarakhand in India. It is at its best during this time because frequent rains make thousands of varied Himalayan flowers bloom making the valley picturesque.
Kanamo Peak Trek
Kanamo Peak Trek is a great trek to do in July. The trails are through Spiti via quaint villages of Kibber and Kaza. Kashmir treks are also open in July because it is a rain shadow region and experiences very little rainfall.
Monson Treks in AUGUST – Experience the blooming trails
The treks turn prettier in the month of August and Kashmir experiences more rains during this time but the trekking is not affected. During the end of August witness Kashmir at its best.
Treks in August :
In the August end, these are wonderful treks to do in Kashmir.
Tarsar Marsar Trek
Kashmir Great Lakes
Tarsar Marsar
Tarsar Marsar Trek lies in the fascinating beauty of Kashmir which is well known across the globe. Therefore, on Tarsar Marsar trek go deep in the heart of Kashmir and get totally different experiences of trekking in India.
During the trek, get a chance to camp beside the serene bluish alpine lakes and, all the way to Tarsar get multiple sights of the same Lake.
Kashmir Great Lakes
The Kashmir Great Lakes is an extremely beautiful trek because of "Five Alpine Lakes" in a series. Kashmir has always been compared to heaven because of its exotic beauty and fascinating places; untouched and serene.
Their beauty is incomparable! During the trek, go through the lavish meadows, get panorama views of the mountains and explore the aqua-green alpine lakes. Certainly, each day on this trek is perfect!
Monsoon Treks in September – The Season of high altitude treks
After September's third week there is snowfall on the passes and monsoon ends in mid-September. At this time high altitude treks can be done.
Treks In September:
Rupin Pass Trek
Buran Ghati Trek
Do not be worried about trekking in monsoon you only have to choose your treks wisely and it will be the best season to trek in India.
Written by – Tulika Negi