Satopanth Tal  – Most beautiful Divine Vicinity  Lake in Uttarakhand 
Perched amid towering peaks, Satopanth Tal is the sacred lake lying at an elevation of 4600 meter near Chaukhamba massif's base. Start the trek from last village "Mana" and the main attraction of this place is Vasudhara falls.
Trek to a phenomenal "Wish fulfilling Tal" "On this trek go through Laxmi Van which is a thick forest, reach the pristine Lake and spend time at the divine vicinity. Located at Chamoli distract in Uttarakhand
Wishes here never go unfulfilled in Satopanth Tal
Satopanth Tal is a High Altitude Lake at a height of 4,600 Meter. It is one of the virgin treks not known by many but the trekker and sadhu sant or local people of the area believe that this lake is sacred and possess some supernatural power of fulfilling wishes.
The Satopanth Tal is between two beguiling the trail is thrilling through dense forest, meadows with enchanted beauty and some steep ridges but the panorama views from the top cannot be described in words.
Trek to this sacred Tal is a difficult one but as the beliefs of people wishes are fulfilled here so it's worth going there, this part of swargarohini the way to Heaven.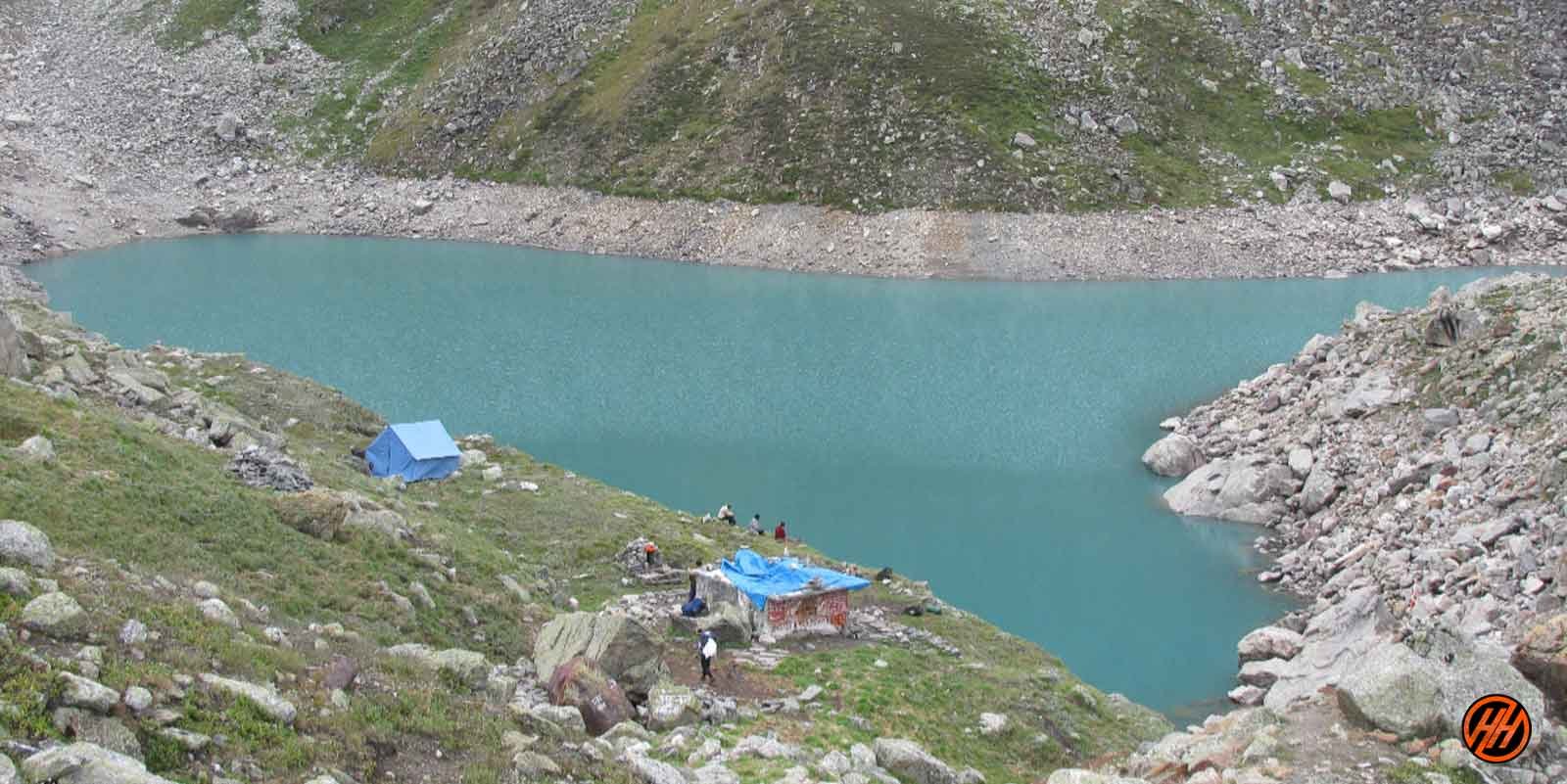 Story of Satopanth Tal Trek
It is believed that Lord Brahma, Vishnu and Mahesh often took bath in the waters of Satopanth Tal since then it is considered sacred and pure. Devotees believe that a holy dip in Satopanth Tal will wash away so every year thousands of people visit this place.
To reach this Lake, trek through some Himalayan villages, wide meadows with several streams en route and go through glaciated tracks. It is going to be an adventurous journey.
Mountain views, the great snow-capped peaks visible are Nilkanth, Swargarohini, Narayan Parbat and Balakun with some thrilling views of Chaukhamba Peaks.
Best Time to Visit Satopanth Tal  Trek ?
Satopanth Tal trek  is a very beautiful  and an Moderate  trek in the Uttarakhand Himalaya The Satopanth Tal trek  is great for those people who have a great passion for mountaineering and consider it a special purpose in their life. Satopanth Tal trek  is such a trek where you get to see more than one Himalayan mountain range..
You can do Satopanth Tal trek  May, June, July, September, October, For those who like summer treks, they can go summer treks are a very good time for those who want to see snow Glacier Greenery .
Satopanth Tal trek  is also a good trek for Monsoon trek at that time there are flowers and green greenery which makes the trek very memorable.
The Satopanth Tal trek  starts from Mana Village near Badrinath in Uttarakhand, state India which comes in Gharwal Mountain  Range  District Chamoli
During the day the temperature of Satopanth Tal trek  is around ( 08°C to 18 °C  and during the night the temperature comes down to  05 °C  to 08 °C  which is not bad.
You will never consider yourself boring in Satopanth Tal trek  , this trek can give you nothing but joy, You will get to see the Garhwali and Bhotiya, Traditional culture in mana village this trek which will always keep you connected towards the mountain. Himalayas.
 Difficulty level is  Satopanth Tal trek ?
Satopanth Tal trek is Moderate trek , this trek comes in a moderate level,  Satopanth Tal trek  is climbing while going, and when Satopanth Tal trek  comes back from summit, Satopanth tal it is completely down hill  trek after satopanth tal end of mana village mana village is last border village in uttarakhand.
When you go on this trek, you will not even know when you have reached the camp, the beautiful view and the beautiful hills all around will continue to delight you.
 Satopanth Tal trek  trek safe for Beginner ?
Yes Satopanth Tal trek  is a safe trek if you are going with a good trekking team which you must know before booking yourself, It is important for you to know that the bow trekking organization with which we are going is right or not,
The minimum age required to trek Satopanth Tal trek  is 12 years and maximum 60 years. The rest depends on your fitness .
What should you keep in mind for the Satopanth Tal trek?
Satopanth Tal trek  trek is as good as it is said, you also need to be prepared., Satopanth Tal is a   moderate trek which starts from Mana Village  and ends after trek  Mana Village
So what are the special things to keep in mind before coming on this trek?
Satopanth Tal trek  is one such trek, which you can do this  trek Summer, or Monsoon, this is very safe trek in Uttarakhand Himalayas.
Summer Season
Summer trek to Satopanth Tal is very special, the view and the temperature are all favorable to you
For summer trek, you have to bring only normal clothes, so that your trek can be good, there is no need for hot clothes, but in hiking it is also necessary to bring all the equipment which is necessary for you.
It is necessary to have 3 pairs of clothes from trekking, especially the poncho, you will have to bring every season
In the summer season, the temperature is always normal, so there is no need for hot clothes.
 Monsoon Season
During the monsoon season, it rains occasionally during the Satopanth Tal trek especially in the Uttarakhand Himalayas , so if you have dry clothes here, it is very good, even when wet, it dries quickly.
At this time you have to bring at least 3 pairs of clothes, for monsoon trek you do not have to bring too warm clothes, at this time you, hiking pants and t-Sart, I can trek
It's only a little cold in the morning and evening and the day is a good temperature for you
Before going on any trek, it will be easy for you to take information related to each season.
Trekkers need to know about these, you can ask us anytime like, Satopanth Tal trek route, trek map, temperature, weather condition, difficulty level, trek starting point, end point, transport, view of the trek, best time to visit, How to reach Satopanth Tal distance etc, Trek Location, keep this information before going
5. You also find some types of flowers in Satopanth Tal which are very beautiful, these treks are very safe trek for monsoon.
Brief Details of Satopanth Tal?
Before heading towards the itinerary, it is really essential to perceive the reason behind choosing Satopanth Tal trek.
See firstly, the trekking distance is a total of by taxi 680 Km both side and on foot 46 km which is to be covered into 07 days. Dehradun to Dehradun
Satopanth Tal is a high altitude mountain trek Altitudes is 4600 meters
The Starting trail is moderate as compare to other treks this is moderate trek. So this trek is good for beginners' trekkers
Need proper gear & clothing for sub-zero temperature?
You got to see so many heavenly bodies at one place like the panoramic view of the Himalayan ranges, you can see pine forests, different variety of flora and fauna surpassing through bona fide Garhwali culture.
I think Do spare time in Interaction with our local's team, and you will get to know about some of the ancient tales of Indian mythology and our local cultures, this is good ideas for trekkers
Beautiful landscapes so carry proper photo gear & Extra battery backup.
The backpack should not exceed 12 kg only
Trekker carry your Photo ID , Adhar card , Passport , Visa , for entry at forest check posts on the trek it is very important
Alcohol and non-Veg and smoking is not allowed in during the trek

Altitude we are going to cover in Satopanth Tal
Joshimath (6152 feet)
Laxmivan (08 km) (4/5 Hours) (12,510 feet)
Chakratirth (13,655 feet)
Satopanth tal (14,755 feet)

Key Points of Satopanth Tal Trek
Duration: – 07 Nights 08 Days from Dehradun to Dehradun
Base camp: – Badrinath
Summer Temperature: – Day (5°C to 15°C) Night (6° C to 12° C)
Satopanth Tal – Altitude: – (17,987 feet)
Best Time: – May, June, September, October
Trek Level: – Moderate
Trek distance: – On foot 46 Km – By taxi 680 km
Group Size: – 15 people
Short Itinerary of Satopanth Tal –
Day 1– Drive from Dehradun to Joshimath Altitude – Joshimath by taxi (256 Km) (10/11 Hours) (1,875 m/ 6152 feet)
Day 2- Drive from Joshimath to Badrinath by taxi (48 km) (2/3 Hours) Reach hotel need proper acclimatization
Day 3- Trek from Badrinath to Laxmivan (08 km) (4/5 Hours) (12,510 feet)
Day 4- Trek from Laxmivan to Chakratirth (10 km) (5/6 Hours) (13,655 feet)
Day 5- Trek from Chakratirth to satopanth Tal (10 km) (8/9Hours) (14,755 feet) back to Camp
Day 6- Trek from Chakratirth to Laxmivan (10 km) (4/5 Hours)
Day 7- Trek from Laxmivan to Badrinath via mana village (08 km)
Day 8- Drive from Badrinath to Dehradun by taxi (380 km) (11/12 Hours)
Things Himalayan Hikers recommend
As previously stated, a camera, as well as spare batteries and memory cards, are recommended. We can assure and guarantee that you will be stopping frequently along the trail to observe the grandeur of the trekking experience.
After the trek, we strongly encourage trekkers to tag us on social media when they post any memories from the trip; this will not only prove invaluable to us with our work, but will also serve as a motivational example for all of our experts.
Why you should choose us
We're here to give you the greatest experience possible through the eyes of highly skilled and qualified specialists who have a passion for adventure sports. We are community members attempting to promote our favorite adventure sports while also supporting local businesses. We, at Himalayan hikers Local trekking organization in Uttarakhand , dedicate ourselves to providing you with an unforgettable experience.
Weather conditions satopanth tal
Weather conditions depend on the time of the year trekkers are travelling.
Months from May to October  experience moderately good temperatures during the day with substantially colder nights accompanied by little to no snow fall.
The peak season of summer experience good  temperatures during the day.
 Things to carry
1) Because nights at higher elevations tend to be substantially colder, we suggest having well-graded, warm and comfortable clothing along with good quality shoes.
2) Despite the fact that we handle medical crises, we urge individuals to keep their emergency kits at hand in any case of personal underlying illnesses.
3) Since the journey provides you with a picturesque view, don't forget to bring your camera along with extra batteries.
4) All the trekking gears will be provided by our teams hence a we recommend carrying only the important luggage with essentials
Your Travel Plan for the Satopanth Tal Trek
You can book trains, air flights, and bus tickets for your journey only according to the information given by us.
The Satopanth Tal  trek will be of 6 days and 02 days of your journey total of 08 Days from Dehradun to Dehradun
First of all, all the trekkers will have to book their flight and train bus according to our time table as our pick up is from 6 am to 7 am, you will have to reach Dehradun in the morning.
A taxi from Himalayan Hikers will link you to the Dehradun Railway station.
Himalayan Hikers organize transport to Badrinath  base camp from Dehradun Railway station. Our vehicles leave at 6:00 am to 7:00 am sharp from Dehradun
In the Dehradun  Railway Station, you will get our staff that will arrange transport for you. The contacts no Transport coordinator or our office team will give you a week ago to your departure
Please you guys book your transport facility according to your own time table, after Himalayan Hikers take all the responsibility of Dehradun to Dehradun , that you will not face any problem.
How to reach Satopanth Tal Trek ?
If you are Traveling from Kolkata, Bangalore, Chennai, Pune, Mumbai, Maharashtra,  or Gujarat, Delhi Hyderabad any other State , so you will have to come to Delhi, you will get a train from Delhi for Dehradun comfortably.
Option 01:- By Train
All trekkers booked yourself the,
Nanda Devi Express to Dehradun v (Train no is 12402 Departure 11:30 pm: – Reached Haridwar 3:53 am a morning
Take the overnight train Dehradun to from new Delhi- Dehradun Special A/C train from Hazrat Nizamuddin railway station the best option for you. The train reached at Haridwar railway station morning 3:53 am to 4:30 am if you Meet to Our office Member – joining to our upcoming batches and Group.
Option 02:- By Air –
Jolly Grant airport is the nearest airport in Dehradun , Rishikesh or Haridwar, Located about 27 km for the Dehradun main city. There are flights available from all states to Dehradun Airport, you can go online and book your tickets. These are easy and easy ways for you and you also save your time, Taxis are available from the airport to Dehradun, Rishikesh or Haridwar at all time costs Rs. 1000/* one-way pay to directly
Option 03:- By Bus
You can reach Dehradun Bus Stand ISBT from Delhi by a bus, board it from (Delhi) Kashmiri Gate ISBT; it is good if you are booked the seats.