Auden's Col Trek is a high altitude trek In Uttarakhand
Auden's Col Trek is one of the famous treks in Indian Himalayas. This trek was discovered by Mr.John Bicknell Auden in 1935, that's why this trek is known as Auden's  Col trek.
It connects Rudugaira valley and Bhilangana valley. Auden's col trek is situated 5490 Meters above sea level. Auden's  Col is a mountain pass that connects the ridge of Gangotri and Jogin. The last point of this trek is Kedarnath.
Auden"s Col  trek come under Gangotri National park. No doubt, the Himalayas have enchanting beauty, bracing climate, and desirable soothing green meadow. So, what else can be better than spending some days here in the serenity!
Why Auden's col Trek ?
Auden's Col, at 5490 m, is a high altitude mountain pass that connects the Rudugaira and Bhilangna valleys. The pass is named after John Bicknell Auden of the Geological Survey of India, who discovered it in 1935 and crossed it in 1939. It connects the ridge from Gangotri III peak on the north-west to the ridge from Jogin I on the east, as well as a glacier from Jogin I on the north side of Rudugaira valley and the dangerous Khatling glacier on the south side of Bhilangna valley.
Auden's col trek is considered to be one of the difficult treks in the Himalayan region. As the trail ascends with time, the challenges become more and more. We highly recommend for trekkers planning on Auden's col expedition to only travel with local experts and strongly familiarize themselves with the expected difficulties and challenges.
With explosively difficult challenges comes a victory of abundant rewards; on a clear day, the majestic sight of the Gharwal Himalayas from the trek is one that trekkers will remember for the rest of their lives. The awe-inspiring sights of Gangotri and Bhagirati peaks differentiate this trek from others. Trekkers aiming for many higher peaks of 6000m and above will be able to take all of their experiences from this trek and use them to guide them through their other difficult ascent treks. Also, if desired, one can trek from Gangotri to Kedarnath, two of the holiest Hindu temples, by crossing Auden's Col and then Mayali Pass.
Best Time to Do Auden's Col  Trek ?
Audens Col trek  is a very beautiful and an uphill Difficult trek in the Uttarakhand Himalayas, The Auden"s col Trek is great for those people who have a great passion for Expedition mountaineering or Difficult trek and consider it a special purpose in their life. Auden"s col is such a trek where you get to see more than one Himalayan mountain range.
We are the local people in uttarakhand District of Uttarkashi  who are doing Auden"s col for years, we have every experience related to this trek.
The right time to do Auden"s col is from May 2nd week to the last of June and then from the last of August to the 2nd week of  October. every year
specially in the months of may,  and June, snow is found in abundance here, which makes your trek very memorable and also a  difficult after Gaumukh Glacier. So this trek should not be considered too easy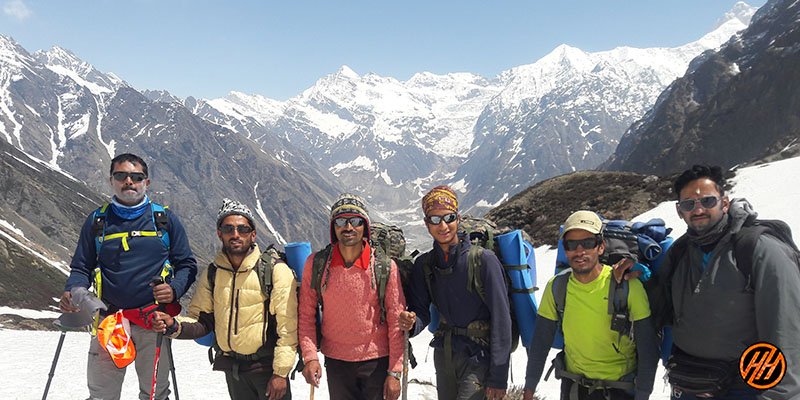 Explore the Auden's Col Trek
You will get a chance to see the holy pilgrimage sites and shrines with some mind-boggling views at the backdrop. There are dangerous parts of this trek, like narrow cliffs, moraines, and crevassed glaciers. Only professionals can go for this expedition because of the difficulty level.
It is a challenging trek and requires being fit and has experienced a difficult trek.
Due to the difficulty of this trek you need experienced trekking community and guide, who has vast experience of this trek.
And you must need a technical guide, technical equipment,  good quality sleeping bags, and tents.
The trek starts from Dehradun the route through thick alpine forests, snow-capped mountains, and lush green meadows covered with various species of flowers, dense Deodar tree forests, flora and fauna Rhododendron, pine forests and through beautiful villages.
This is one of the most scenic walks in the Himalaya.
The campsite offers closer views of Gangotri or Bhagirathi peaks.
There are steep climbing, rock falls zone and river crossing on the way of Auden's Col trek.
So enjoy this challenging trek with local, and experienced trekking community like Himalayan Hikers who have vast experienced 28 to 30 years.
Some of the trek highlights of Auden's Col Trek
Auden's col trek is considered extremely dangerous due to its unpredictability. This trek is only for experienced trekkers who have trekked over difficult terrain such as glaciers and arduous peaks. This trek is a difficult journey through morrains, ice crevasses, landslide prone areas, and sliding grounds.
The trek begins with an easy and manageable terrain from Gangotri Valley to Rudugaira Valley, passing through some landslide zones and thick snow patches. The narrow slopes just before and after the last trail to Auden's col are a risky walk that should only be attempted with extreme caution and equipment skills. As trekkers descend from the summit, they will have the opportunity to visit the holy site of Kedarnath just before their final stop at Gaurikund.
The bad weather, heavy snowfall, and low visibility along with the challenging terrain are just a few of the issues we concern hikers about. The route acclimatization and the stop days will be added as needed to base on the weather and the condition of the trekkers.
The altitude covered in Auden's col trek 
Dehradun to Gangotri -10100ft.
Nala Camp-12335ft.
Rudugaira Camp-14800ft
Auden's Col base camp-16000ft.
Khatling glacier camp-16800ft.
Zero points-12700ft.
Chowki-11750ft.
Masar Tal-14960ft.
Vasuki Tal-14435ft.
Mayali Pass-16900ft.
Kedarnath-11800ft.
Best Time to Visit  Auden's col Trek
Both the ascent and the descent of Auden's col are challenging. The best time to hike these paths is from June to September and again in the first week of October. The snow sheets and patches observed in this area may vary depending on the length of the previous winters. The temperature typically ranges from -2 to -5 degrees Celsius. Because the weather over the top is frequently unpredictable, trekkers may or may not be able to camp near the top.
FAQ's
1) Detailed Itinerary
2)Is it safe
3)Difficulty level
4)Weather conditions
5)Things to carry
6)Connectivity and transaction
7)includes and excludes
Must Read about Auden's Col Trek
Duration: 14 Days from Dehradun to Dehradun)
Best Season: June and September or October 1st week
Level:Difficult
Highest Point: 5,490 meters
Trekking Distance (total) – 115 km
Weather: It is unpredictable and can change anytime so do keep an extra day in the itinerary
Temperature:(-2°C to -5°C)
Key Points About Auden's Col Trek
Level: Difficult (so first-timers trekkers should avoid)
Proper conditioning & training of body required
Need proper gear & clothing for sub-zero temperatures?
Shoes are the single most important equipment
High Altitude requires proper acclimatization
Post monsoon or pre-monsoon is the best time. During rains, the region is prone to landslides
Phones don't work on the trek
The beautiful landscape so carry good photo gear (I couldn't carry my best equipment)
light (my backpack was heavy at about 10 kg to 12 Kg )
Keep an extra day in your itinerary for crossing the pass to account for bad weather
If you choose Good and local trekking company Himalayan Hikers than it is better for you because Himalayan Hikers is a local company our mission is safe treks, growth of locals.
Short Itinerary of Auden's Col Trek
Day 1 – Drive from Dehradun to Gangotri (10100 feet) (245 km) (10/11 Hours) overnight stay hotel
Day 2- Acclimatization Day at Gangotri
Day-3 Gangotri to Nala Camp (12335 feet) (7 km)
Day 4- Nala Camp to Rudugaira Camp (14800 feet) (4 km)
Day-5 Acclimatization Day at Rudugaira Camp
Day 6- Rudugaira Camp to Auden's Col base camp (16000 feet) via Gangotri base camp (7 km)
Day 7– Auden's Col base camp to Auden's Col (18000 feet) and Khatling glacier camp (16800 feet) (5 km)
Day 8- Khatling glacier camp to Zero points (12700 feet) (10 km)
Day 9- Rest Day + Acclimatization
Day 10- Zero point to Chowki (11750 feet) (7 km)
Day 11- Chowki to Masar Tal (14960 feet) (8 km)
Day 12- Masar Tal to Vasuki Tal (14435 feet) via Mayali Pass (16900 feet) (12 km)
Day 13- Vasuki Tal to Kedarnath (11800 feet) (7 km)
Day 14- Kedarnath to Gaurikund ((14 km) Same day to Rishikesh or Dehradun by taxi
Is it safe Trek 
Set amidst the high altitude ranges, concerns regarding Auden's col trek safety are indeed very valid questions. We have all the possible probabilities calculated if anything goes off the schedule. At every stop point of the journey, trekkers will be going through a proper guided session informing them about the upcoming terrains. All our professional strive their best to provide trekkers with the best experience possible.
Difficulty level
Because the top is relatively high in elevation, we recommend a reasonable level of physical fitness. We strongly advise trekkers to be physically and mentally prepared for an endurance process as the arduous journey throws obstacles at every step and inch. Throughout the course, all groups will be guided by our experts for trekking equipment and any impending terrain.
Weather conditions
Weather conditions depend on the time of the year trekkers are travelling. Months from May to October experience moderate temperatures during the day with substantially colder nights.
During the day the temperature of Auden's col trek is around ( 3°C to 8 °C  and during the night the temperature comes down to -5 °C  to – 8°C  which is not easy trek
Things to carry
1) Because nights at elevations tend to be considerably colder, we suggest having well-graded, warm and comfortable clothing along with good quality shoes.
2) Despite the fact that we handle medical crises, we urge individuals to keep their emergency kits at hand in any case of personal underlying illnesses.
3) Since the journey provides you with a picturesque view of many peaks, don't forget to bring your camera along with extra batteries.
4) All the trekking gears will be provided by our teams hence we recommend carrying only the important luggage with essentials
Connectivity and Transactions
1) Because connectivity along the route is unpredictable, we urge people to do all of their work ahead of time.
2) Trekkers will be provided with walkie- talkies beforehand in case of emergency
3)last ATM transactions available will be at Dehradun but we recommend travellers to collect cash beforehand or while in Dehradun as ATM available at other places might not dispense cash at times
Will there be electricity in Auden's Col trek
Let me tell you that there is no electricity in the forest area of Auden's col trek. Here we use Stobe Light and or Solar Light, candal light at the nights
If you come on this trek, then you should bring your own head light and your camera with full charge, if possible, it would be good to bring extra battery backup, and also bring the phone after full charge, today people most of the phone use the same
Note :- Day 1 Electricity available at Gangotri base Camp charge your all phone and camera here
Your Travel Plan for Auden's Col Trek
You can book the train, air flight, and bus tickets for your journey only according to the information given by us.
The Auden's Col trek will be of 12 days and 02 days of your journey total of 14 Days from Dehradun to Dehradun in Uttarakhand.
First of all, all the trekkers will have to book their flight and train bus according to our time table as our pick up is from 6 am to 7 am, you will have to reach Dehradun in the morning.
A taxi from Himalayan hikers will link you to the Dehradun railway station.
Himalayan Hikers organize transport to Gangotri base camp from Dehradun railway station. Our vehicles leave at 6:00 am to 7:00 am sharp from Dehradun. The taxi costs include your package for a Tempo Traveler.
At Dehradun railway station you will get our staff that will arrange transport for you. The contacts no Transport coordinator or our office team will give you a week ago to your departure.
Please you guys book your transport facility according to your own time table, after Himalayan Hikers take all the responsibility of Dehradun from Dehradun, that you will not face any problem.
What to pack for  Auden's Col trek
Warm clothes, sleeves, wind shelter, comfortable clothing, and extra warm clothes so that you can enjoy trekking. A raincoat is the necessary
Footwear: A well-fitted trekking footwear shoes are highly recommended. If you wear an uncomfortable pair of shoes, your feet will be hurt.
Self-Certificate of Emergency Breakout
What we do during an emergency breakout in the Auden's col trek Trekking?
Trekking in the Himalayas is not a cup of tea but it is a rewarding experience. However, it's important to keep things in mind when it comes to Safety. One must know about the weather conditions, the altitude gain, fitness and other factors that can wreck your experience. In such adverse conditions, you are solely responsible for your wellbeing and act maturely.
Also Read About – Safety Tips For Safe Trekking.
Preparations before the Trek
You've to understand that treks are away from cities and medical help is not always easily available. So, if you are heading for an adventurous trekking trip, stick to certain trekking guidelines and tips. Following these simple tips will help make the trek more fun and experiential for you as well as your fellow trekkers.
These tips and guidelines cater to useful and requisite information about your fitness training, packing and health precautions to be taken before and during the trek.
Firstly, when you start, target 5 km in 40 minutes
Then gradually increase your pace by running at least 4 times a week. Then try to bring it down to 5 km in less than 37 minutes
If you are a person who prefers cycling over running then your target must be 22 km means you should be able to cover 22 km in 60 minutes.
Walking is a great exercise that gives great shape to your legs and your body. It helps in burning calories and cut down excess weight and strengthens the heart.
Jogging is effective in increasing the human lifespan and makes your lungs stronger. It is an aerobic activity that requires a lot of oxygen. This is a great exercise for fighting obesity and staying healthy.
Squats are the best form of functional exercises to improve stability. They also strengthen your legs, thighs, hips, and hamstring.
Another great cardiovascular exercise is pushing your body upstairs after stairs. This is regarded as the best exercise for increasing strength and power
What we do during an emergency breakout in the Auden's Col trek
First of all, the safety of trekkers is much more for us, if you see in the trek, then there are all the risks, which I do not think about.
Himalayan Hikers worry more about you that no one should ever have any problem in the trek.
What should we and you keep more safety in the trek
Whenever you are going for any high altitude trek, it is very important that you go completely fit and ready.
The trek is not difficult, if you make your feet and your mind calm and strong, you will find the trek very easy.
While trekking, keep in mind that you are walking on the right route or not always with your guide.
Most people look somewhere and where they are walking, this can cause twitching in your legs, which can ruin your entire trek.
It is important to ask your doctor if you have any medical problems
I should always keep my medical kit with me, it is very important.
Himalayan Hikers always keep a medical kit with you, such as oxygen cylinders, Diamox ablate , medicine to be given in emergency on the trek and Technical equipments
If any trekkers have any more problems, then they are brought back to the base camp by laying them in the stretcher.
Our camp in Audens col trek around the 9,000 feet to 17,000 feet where you can not have any big  problem of oxygen
In case of any medical problem, the help of your guide or a well-informed trekkers should be taken
If there is major health problems in Auden's Col trek , then Nearest Hospital is in Uttarkashi which is about 149  Kms away from Auden's Col Expedition trek
Along with the trek we keep getting acclimatization