Auden's Col Trek is a high altitude trek In Uttarakhand
Auden's Col Trek is one of the famous treks in Indian Himalayas. This trek was discovered by Mr.John Bicknell Auden in 1935, that's why this trek is known as Auden's  Col trek.
It connects Rudugaira valley and Bhilangana valley. Auden's col trek is situated 5490 Meters above sea level. Auden's  Col is a mountain pass that connects the ridge of Gangotri and Jogin. The last point of this trek is Kedarnath.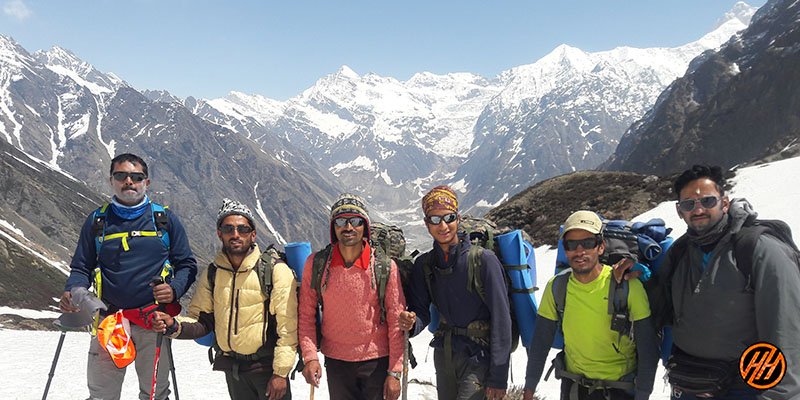 Explore the Auden's Col Trek
You will get a chance to see the holy pilgrimage sites and shrines with some mind-boggling views at the backdrop. There are dangerous parts of this trek, like narrow cliffs, moraines, and crevassed glaciers. Only professionals can go for this expedition because of the difficulty level.
It is a challenging trek and requires being fit and has experienced a difficult trek.
Due to the difficulty of this trek you need experienced trekking community and guide, who has vast experience of this trek.
And you must need a technical guide, technical equipment,  good quality sleeping bags, and tents.
The trek starts from Dehradun the route through thick alpine forests, snow-capped mountains, and lush green meadows covered with various species of flowers, dense Deodar tree forests, flora and fauna Rhododendron, pine forests and through beautiful villages.
This is one of the most scenic walks in the Himalaya.
The campsite offers closer views of Gangotri or Bhagirathi peaks.
There are steep climbing, rock falls zone and river crossing on the way of Auden's Col trek.
So enjoy this challenging trek with local, and experienced trekking community like Himalayan Hikers who have vast experienced 28 to 30 years.
Must Read about Auden's Col Trek
Duration: 14 Days from Dehradun to Dehradun)
Best Season: June and September or October 1st week
Level:Difficult
Highest Point: 5,490 meters
Trekking Distance (total) – 115 km
Weather: It is unpredictable and can change anytime so do keep an extra day in the itinerary
Temperature:(-2°C to -5°C)
Key Points About Auden's Col Trek
Level: Difficult (so first-timers trekkers should avoid)
Proper conditioning & training of body required
Need proper gear & clothing for sub-zero temperatures?
Shoes are the single most important equipment
High Altitude requires proper acclimatization
Post monsoon or pre-monsoon is the best time. During rains, the region is prone to landslides
Phones don't work on the trek
The beautiful landscape so carry good photo gear (I couldn't carry my best equipment)
light (my backpack was heavy at about 10 kg to 12 Kg )
Keep an extra day in your itinerary for crossing the pass to account for bad weather
If you choose Good and local trekking company Himalayan Hikers than it is better for you because Himalayan Hikers is a local company our mission is safe treks, growth of locals.
Short Itinerary of Auden's Col Trek
Day 1 – Drive from Dehradun to Gangotri (10100 feet) (245 km) (10/11 Hours) overnight stay hotel
Day 2- Acclimatization Day at Gangotri
Day-3 Gangotri to Nala Camp (12335 feet) (7 km)
Day 4- Nala Camp to Rudugaira Camp (14800 feet) (4 km)
Day-5 Acclimatization Day at Rudugaira Camp
Day 6- Rudugaira Camp to Auden's Col base camp (16000 feet) via Gangotri base camp (7 km)
Day 7– Auden's Col base camp to Auden's Col (18000 feet) and Khatling glacier camp (16800 feet) (5 km)
Day 8- Khatling glacier camp to Zero points (12700 feet) (10 km)
Day 9- Rest Day + Acclimatization
Day 10- Zero point to Chowki (11750 feet) (7 km)
Day 11- Chowki to Masar Tal (14960 feet) (8 km)
Day 12- Masar Tal to Vasuki Tal (14435 feet) via Mayali Pass (16900 feet) (12 km)
Day 13- Vasuki Tal to Kedarnath (11800 feet) (7 km)
Day 14- Kedarnath to Gaurikund ((14 km) Same day to Rishikesh or Dehradun by taxi