Maldaru Lake is considered sacred by the villagers
Maldaru Lake is a high altitude holy Lake located near Osla village in Har Ki Dun valley. It is considered as "Abode of Gods" and is worshiped by the villagers.
Maldaru Lake is 3 to 4 Km long glacial lake at an altitude of 4,200 meters located southeast of this trek come under Govind Wildlife Sanctuary National park in Uttarkashi district Uttarakhand .No doubt, the Himalayas have enchanting beauty, bracing climate and desirable soothing green meadow. So, what else can be better than spending some days here in the serenity!
It is considered sacred by the villagers and they worship its ecstatic waters. This Lake is accessible through both Supin and Tons valley and the lake water feeds Tons River.

About Maldaru Lake Trek
The Maldaru Lake is beautiful on the rocky banks of this lake wild plants grow, it is considered sacred and people worship the waters of Maldaru Lake, the prayers are fulfilled here. In the history when the villagers of Osla Faced a draught and they prayed to this holy Lake, in return the village received rains.
Highlights Maldaru Lake Trek
Trek through some quaint Himalayan villages, Vishkhopri and Rashi's alpine meadows with various colorful wild flowers blooming and through dense pine forests.
Borahma Kamal and Phen Kamal are fund here in abundance.
The trail is exhilarating because of the challenges but the ridges offer delicious views of tall standing peaks and lofty mountains.
Swargarohini peak, or Black Peak and Bandarpunch can be clearly seen with other Himalayan peaks.
Why to choose Maldaru Lake Trek?
Before heading towards the itinerary, it is really essential to perceive the reason behind choosing Maldaru lake trek.
See firstly, the trekking distance is a total of by taxi 440 Km and on foot 64 km which is to be covered into 8 days. .
Maldaru lake is a high altitude mountain trek Altitudes is 4200 Meters
The Starting trail is not that abrupt and sheer as compare to other treks. So this trek is not for beginners
Need proper gear & clothing for sub-zero temperature?
You got to see so many heavenly bodies at one place like the panoramic view of the Himalayan ranges, meadows, pine forests, wildlife animals, different variety of flora and fauna surpassing through bona fide Garhwali heritage and culture.
Do spare time in Interaction with locals, and you will get to know about some of the ancient tales of Indian mythology.
And, in summers, the Bali Pass Valley turns totally different and amusing because of meadows, wildflowers and woods blooming in different colors.
Beautiful landscapes so carry proper photo gear & Extra battery backup.
The backpack should not exceed 10 to 12 kg only

Altitude we are going to cover in Maldaru Lake Trek
Sankri – 1920 Meters
Dharkot – 2500 Meters
Vishkhpori – 2800 Meters
Maldaru lake -4200 Meters
Devsu Bugyal Camp – 3000 Meters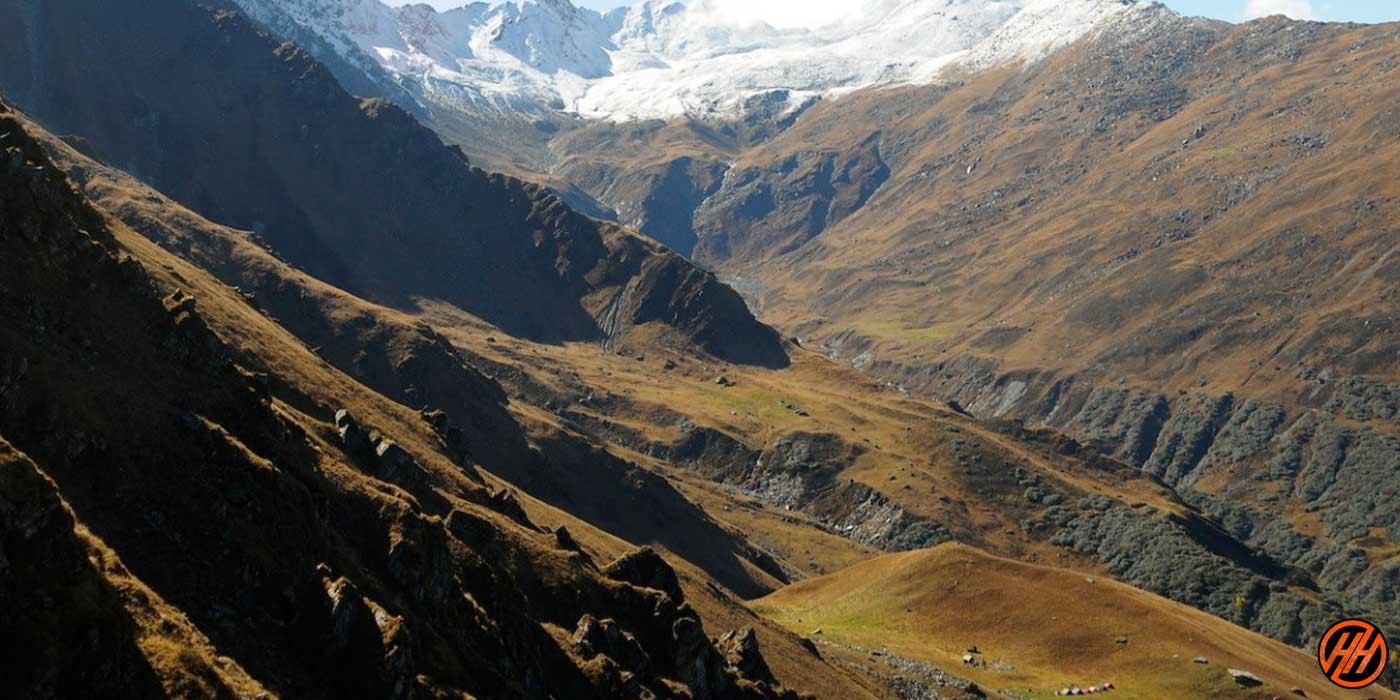 Key Points Maldaru lake trek
Duration: –   7 Nights 8 Days
Base camp: – Sankri
Summer Temperature: – Day 5°C to 15°C   = Night 2° C to 5° C
Maldaru lake Trek Altitude: – 4200 Meters
Best Time: – May, June, September, October, November
Trek Level: – Moderate
Trek distance: – On foot 64 Km – By taxi 425 km
Group Size: – minimum 5 people maximum 15 people
Short Itinerary Maldaru Lake Trek –
Day 1- Pickup from Dehradun railway station – Drive to Sankri Market – 210 Km (8/9 Hours (1920 Meters)
Day 2 – Trek from Sankri to taluka by taxi – 11 km same day trek to Dhatmir village / Dharkot camp  (09 km) (4/5 Hours) (2500 Meters)
Day 3 – Trek from Dharkot camp to Vishkhopri via Dharkot (7 km) (4/5 hours) (2800 Meter)
Day 4 –Trek from Vishkhopri to Rashi camp (8 km) (4/5 hours) (3255 m)
Day 5 –Trek from Rashi Camp to Odari Maldaru Lake (12 km) (6/7 Hours) (4200 Meter)
Day 6 –Trek from Maldaru Lake/ odari  to Devsu bugyal  (12 km) (6/7 hours)
Day 7 – Trek from Devsu Bugyal to Taluka via Cheludgad / (16 km) (7/8 Hours) Same day drive to Sankri overnight stay hotel
Day 8 – Drive from Sankri to Dehradun (210 km) (8/9 Hours)