Fachu Kandi Pass – An Unknown Pass Ahead Sarutal
Fachu Kandi Pass stands at a height of 4356 meters ahead of a pristine Lake Sarutal in Uttarkashi district of Uttarakhand. Explore the beauty of the Garhwal Himalayas by trekking on the virgin trails leading to this pass. You may not have heard about it but it hides perfect adventure and is a great place to visit.
This trek comes under Govind Wildlife Sanctuary National Park in Uttarkashi district Uttarakhand. No doubt, the Himalayas have enchanting beauty, a bracing climate, and desirable soothing green meadows or lakes ridge, So, what else can be better than spending some days here in the serenity?
Go through Phulara Ridge and Sarutal to reach Fachu Kandi Pass
Kedarkantha and Sarutal are two very famous trekking destinations among trekkers in Garhwal Himalayas.
Before reaching Fachu Kandi Pass you need to cross these two popular places which is a great delight.
Trail Type in Fachu Kandi Pass
Trek through the dense forests rich in Flora and Fauna. En route are many beautiful meadows and small clearings with majestic views of the mountains.
Cross streams on the way to go further ahead are high ridges and steep ascents.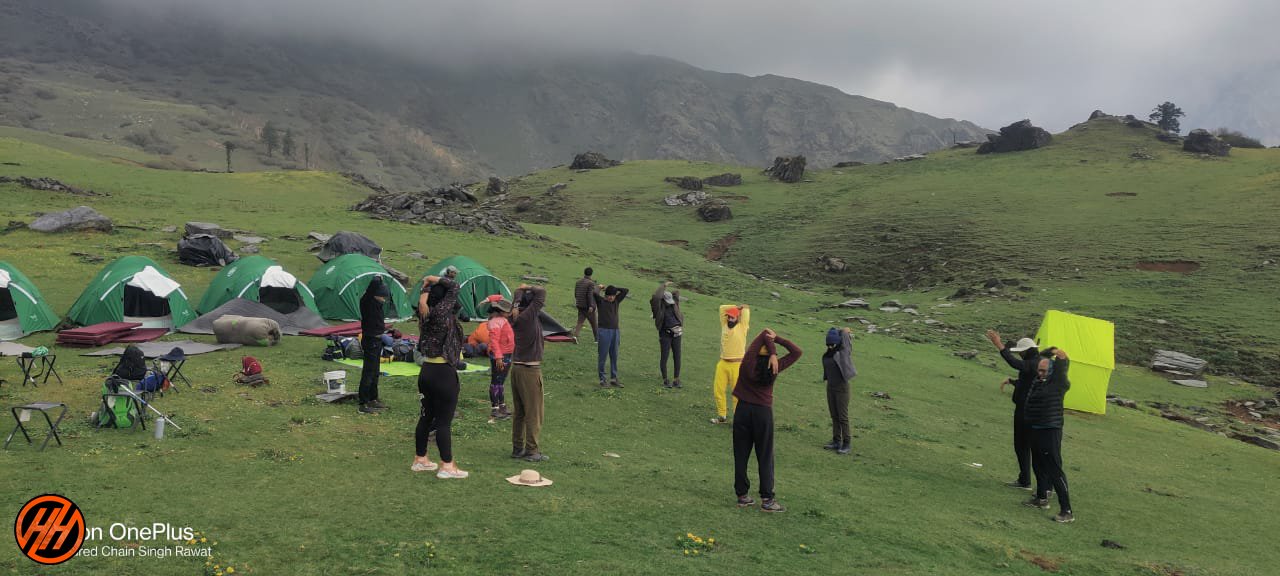 Key Points of Fachu Kandi Pass
Levels Moderate (this trek is good for beginners)
Proper conditioning & training of the body required
Need proper gear & clothing for sub-zero temperatures?
Shoes are the single most important piece of equipment.
High Altitude requires proper acclimatization.
Beautiful landscapes so carry good photo gear & Extra battery backup.
Travel light
The backpack should not exceed 10 kg.
Must read about Fachu Kandi Pass
Duration –  07 nights 8 Days from Dehradun to Dehradun
Best Season – May, June, Sep, Oct, and Nov
Level – Moderate
Highest Point – 4356 Meters
Weather – Nights are cold and day temperature is pleasant during the season.
Temperature –night 5°C to 8° C) (5°C to 15°C) 
Starting point – Dehradun
How to reach Sankri for the Fachu Kandi Pass trek?
Arrive in Dehradun: Dehradun is the nearest major city to Sankri and serves as the gateway to the region. You can reach Dehradun by air, train, or road, depending on your location.
Travel from Dehradun to Sankri: From Dehradun, you need to travel to Sankri, which is approximately 200 kilometers away. Here are the options for reaching Sankri:

By Bus: Take a state transport bus or a private bus from Dehradun's ISBT (Inter-State Bus Terminal) to Sankri. Buses generally leave in the morning and take around 8-10 hours to reach Sankri, depending on the road conditions. It is advisable to check the bus schedule and availability beforehand.
By Shared Taxi/Jeep: Shared taxis or jeeps are a common mode of transportation in this region. You can find shared taxis or hire one from Dehradun to Sankri. Shared taxis depart from Dehradun early in the morning and take around 8-10 hours to reach Sankri, depending on the road conditions. Make sure to inquire about the schedule and fares in advance.
By Private Vehicle: If you have your own vehicle or plan to hire a private taxi, you can drive from Dehradun to Sankri. The route generally involves driving through Mussoorie, Purola, and Netwar. It is advisable to have a sturdy vehicle and check the road conditions before embarking on the journey.

Trek from Sankri to Fachu Kandi Pass: Once you reach Sankri, you can start the trek to Fachu Kandi Pass. Ensure you have the necessary permits, camping equipment, and a guide if required. The trail involves moderate to difficult trekking, and it is advisable to be physically fit and acclimatized before attempting the trek. The exact route and duration of the trek can vary depending on the time of year and the conditions.