Gidara Bugyal Trek The Secret Meadow in the Himalayas
Gidara Bugyal Trek – Ancient Gidara Bugyal lying at an elevation of 13,802 feet is perfect for trekkers in Uttarkashi district.
The highlight of this trek is that it is larger than the well-known pristine Dayara Bugyal and is wider than the two fable Ali and Bedni Bugyal! Most probably, it can be traversed in 2 days.
Despite being the perfect trekking destination, it is highly secluded. Very few people are aware of these meadows.
The first campsite of Gidara Bugyal Trek is Rikoda and the only settlement spotted there are of shepherds.
Spot high mountains from there and enjoy being the only group trekking and camping in these lone meadows!
The Rewards in Gidara Bugyal Trek
The distance from Gidara to Dayara is 15 km and Gidara lies at a little higher altitude.
It rewards you with the grand views of Bandarpunch, Gangotri (I) (II), Draupadi Ka Danda, Jaonli and Srikanth.
Get fascinated by the close views of these lofty Himalayan peaks from a different angle.
The terrain isn't easy becuase the ascents and descents are steep.
So, prepare well for this trek because of its moderate gradient. It turns out to be best for adventure lovers!
The Highlights of Gidara Bugyal Trek
Adventurous Ridge Walk
traversing the ridge to reach Gidara Top is the best part of this trek.
If the weather is clear then the panorama view of mountains will leave you enticed.
The Gangotri group of peaks stands in front and Srikanth peak stands tall amongst all.
Towards the left Bandarpunch is seen touching the sky and the full view of the Gidara meadows is clearly visible.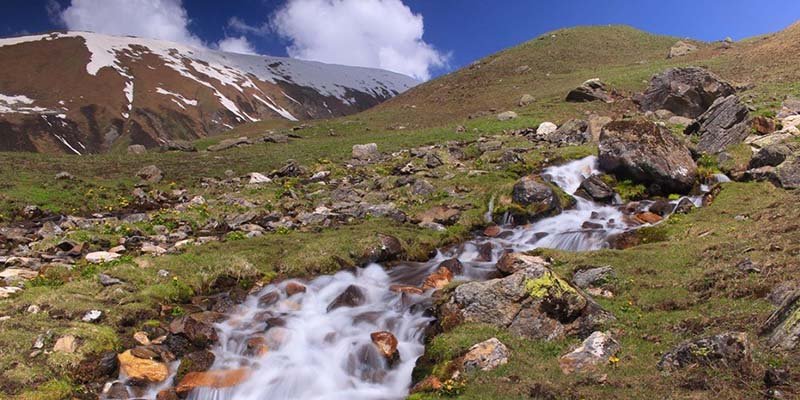 Trek through the forest

When you head towards the first campsite of Gidara Bugyal trek i.e. Rikoda, you go through the dense forest area under the shade of trees.
The trail is steep and on the way are Gujjar huts. Glance of their lifestyle is a delight of this trek.
Hot Springs of Gangnani
The hot springs of Gangnani lies on the path to Bangeli. Take a short break here and spot devotees refreshing themselves while going to Gangotri.
The pure hot water springs are maintained well which makes it a perfect rejuvenating spot after the treacherous trek.
Why to choose Gidara Bugyal Trek?
Before heading towards the itinerary, it is really essential to perceive the reason behind choosing Gidara Bugyal trek.
See firstly, the trekking distance is a total of 37 km which is to be covered into 7 days. Yet, it comes under moderate level of easy to moderate because of the things that this trek has to offers. These are:
The trail is not that abrupt and sheer as compare to other treks. So, beginners can easily do this trek. And family
You got to see so many heavenly bodies at one place like the panoramic view of the Himalayan ranges, meadows, lakes, pine forests, different variety of flora and fauna surpassing through bona fide Garhwali heritage and culture Gangotri range.
During winter season, this fascinating Gidara Bugyal remains covered in snow and the white sheet of snow makes it look like a magical wide snow-land.
And, in summers, the valley turns totally different and amusing because of meadows, wildflowers and woods blooming in different colors.
Getting to Gidara Bugyal Trek Base Camp Bhangeli
Take the night train from Delhi to Dehradun.
(Special A/C train from New Delhi would be best)
You can reach Dehradun Railway Station around 5:00 am to 7:00 am, vehicles will be arranged and there you can meet our office member.
Note: – Himalayan Hikers arrange vehicles for you from Dehradun Railway Station Pickup and Drop Tempo and bolero taxi or innova taxis
Key Points of Gidara Bugyal Trek
Duration: –  6 Nights 7 Days
Base camp: – Bhangeli camp
Summer Temperature: – Day (5°C to 15°C) Night (2° C to 8° C)
Gidara Bugyal – Altitude: – 13,898 feet
Best Time: – May, June, July, Sep, Oct
Trek Level: – Moderate
Trek distance: – On foot 37 Km – By taxi 378 km
Group Size: – Minimum 05 people maximum 20 people