Khimloga Pass Trek lies at Dhauladhar Range
Khimloga Pass Trek – This high altitude pass lies in Dhauladhar range at an altitude of 5,712 meters and this range is between Uttarakhand and Kinnaur.
It is affected by the geographical changes and the trails are not known by many. Many people attempted to traverse the pass but got unsuccessful only few were able to traverse it.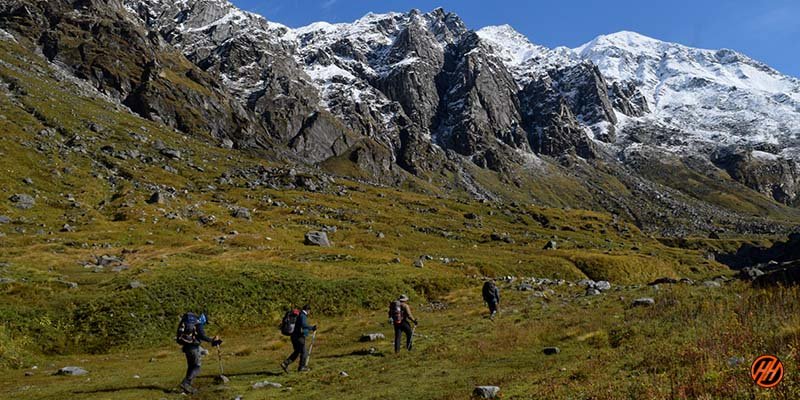 You Need Courage to Conquer this Unknown Pass, Khimloga Pass
You would be stunned to know that this pass is traversed by one expedition team because it looks like it cannot be crossed. The difficulty level is high, it has crevassed glacier and walls very steep.
Khimloga Pass isn't easy to conquer not even locals visit this place, the people who are looking for great adventure can for this expedition. You can explore this pass with team "Himalayan Hikers" we have Sherpa's and professionals in our teams who have completed the expeditions successfully.
Explore "Chitkul" the last village in Khimloga Pass
Chitkul is Baspa valley's last village, there are beautiful wooden houses of villagers and cultivated green fields.  Nardu Gadu Gad comes from the right ridge it can be seen from here, head of it is Khimloga Pass.
Key Points of Khimloga Pass
Level is Difficult (this trek is not for beginners)
Proper conditioning & training of body required
Need proper gear & clothing for sub-zero temperature?
Shoes are the single most important equipment.
High Altitude requires proper acclimatization.
Beautiful landscapes so carry good photo gear & Extra battery backup.
Travel light
The backpack should not exceed 10kgs.
Must read about Khimloga Pass
Duration – 9 Days (Dehradun to Chitkul)
Best Season – May, June, Sep and Oct
Level – Difficult
Highest Point – 5712 m
Weather – Nights are cold and day temperature is pleasant during the season.
Summer temperature – (2°C to 10°C)
Starting point – Dehradun
Short Itinerary of Khimloga Pass Trek
Day 1 – Dehradun to Sankri (210 km) (7/8 hours) (1920 m)
Day 2 – Sankri to Jakhol (19 km) (2200 m) Jakhol to Liwari via Baicha (8 km) (4/5 hours)
Day 3 – Liwari to Surmola Thach (10 km) (4/5 hours) (3460 m)
Day 4 – Surmola Thach to Vishkhopri (9 km) (4/5 hours) (3600 m)
Day 5 – Vishkhopri to Lower Thangal Thach via Nishani Thach (8 km) (4/5 hours) (3960 m)
Day 6 – Lower Thangal Thach to Khimloga camp 1 (7 km) (4/5 hours) (4920 m)
Day 7 – Khimloga camp 1 to Khimloga camp 2 (5 km) (5100 m)
Day 8 – Khimloga camp 2 to Janspad Gad via Khimloga Pass (5712 m)
Day 9 – Janspad Gad to Chitkul village (6 km) (3450 m)