Kush Kalyan an Exquisite Meadow in Garhwal Himalayas
Kush Kalyan Trek lies on the old route of Gangotri – Kedarnath near Belak in the Garhwal Himalayan region. Kush Kalyan is an exquisite meadow at an elevation of 3556 m and a great trekking destination for the people in search of peace. This amazing meadow is home to a variety of alpine flowers and gorgeous Himalayan Fauna.
Impressive Piece of Nature
Kush Kalyan Bugyal is truly an impressive piece of nature blooming with uncountable colorful flowers and lush green grass. It is an ideal place for camping and spending time in peace.
Ahead the trail leads to Khatling glacier and Masar Tal. The fascinating beauty and charm makes Kush Kalyan trek the most scenic one in Garhwal.
Key Points of Kush Kalyan Trek
Level: Moderate
Proper conditioning & training of body required
Need proper gear & clothing for sub-zero temperature?
Shoes are the single most important equipment.
High Altitude requires proper acclimatization.
Beautiful landscapes so carry good photo gear & Extra battery- backup.
Travel light
The backpack should not exceed 10kgs.
Must read about Kush Kalyan Trek
Duration – 5 days (Dehradun to Dehradun)
Best Season – Throughout the year
Level – Easy to Moderate
Highest Point – (3556 m)
Weather – Nights are cold and day temperature is pleasant during the season.
Winter temperature – Day (-2°C to -5°C) Night (-5°C to -10°C)
Summer temperature – (10°C to 15°C) (2°C to 5°C)
Starting point – Dehradun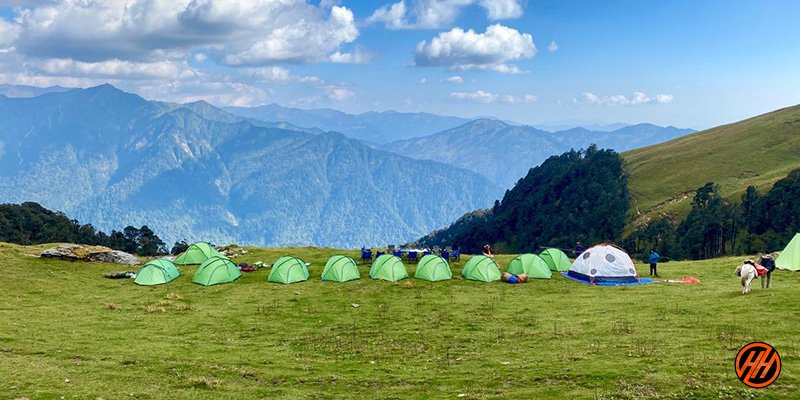 Short Itinerary KUSH Kalyan TREK
Day1 – Dehradun to Uttarkashi (154 km) (5/6 hours)
Day2 – Drive from Uttarkashi to Malla (26 km) (1.5 hours) trek to Sheela Gano Gaira camp (7 km) (4/5 hours)
Day3 – Sheela Gano Gaira camp to Kush Kalyan Bugyal (8 km) (4/5 hours)
Day4 – Kush Kalyan to Bhalak (7 km) (3/4 hours)
Day5 – Bhalak to Lata village and Drive to Dehradun