Phulara Ridge Trek – The Best Ridge Trek In Uttarakhand, India
The Phulara Ridge literally means "the ridge of beautiful flowers" .It is located in Govind wildlife sanctuary, Uttarakhand (India).
it is a lower Himalayas -high altitude trek about "12,127 Feet". Actually Phulara Ridge Trek is a type of large spread forest (bugyal).
Throughout the year this region is covered with greenery and beautiful flowers like Brahma Kamal and Fankamal (many others species).
The high mountain chain and the wonderful evergreen valleys lie here and that is the main reason behind the growth of a maximum number of natural vegetation in this high altitude region.
In winter Phulara Ridge is mostly covered with snow and little fog and that makes it much more interesting for visiting the next view after every step that takes you along with it to the forward .
The way of this forest begins from mid of the dense forest and ends to the bugyal which is surrounded by the beautiful mountain peaks and that's why it is said that 'if a way is most difficult so, the destination is also more beautiful' this line always suit to "Phulara Ridge Trek".
This trek provides you a golden opportunity to know about the new and strange plants, insects, birds, and animals.
Mountains always became a very important part of our life this landform provides shelter or it is a habitat of thousands of living creatures and Phulara Ridge is one of them.
If you visit this trek you will surely find yourself on the top and most marvelous place of the world which is one of the god's creativity.
Phulara Ridge Trek Experience of Our Marketing Manager Mr. Kuldeep Rawat
Our Marketing Manager Mr. Kuldeep Rawat a mountaineer shared his childhood experience about the days he spent in the valley of Phulara Ridge as a shepherd he begins with
"We had spent most of childhood in these beautiful valleys with joy and adventures, we often came here usually for flowers like Brahmakamal, fan kamal, etc and also used to ate forest's vegetables like mushroom and gopak (a type of local vegetable).
I had come here more than 36 times and enjoyed most of the holidays in this valley with my friends, but still,
I do not feel satisfied and want to spend my very precious moments in Phulara Ridge with beautiful nature.
The moments I spend here were the most memorable for me and I am sure also for the trekkers who visited here.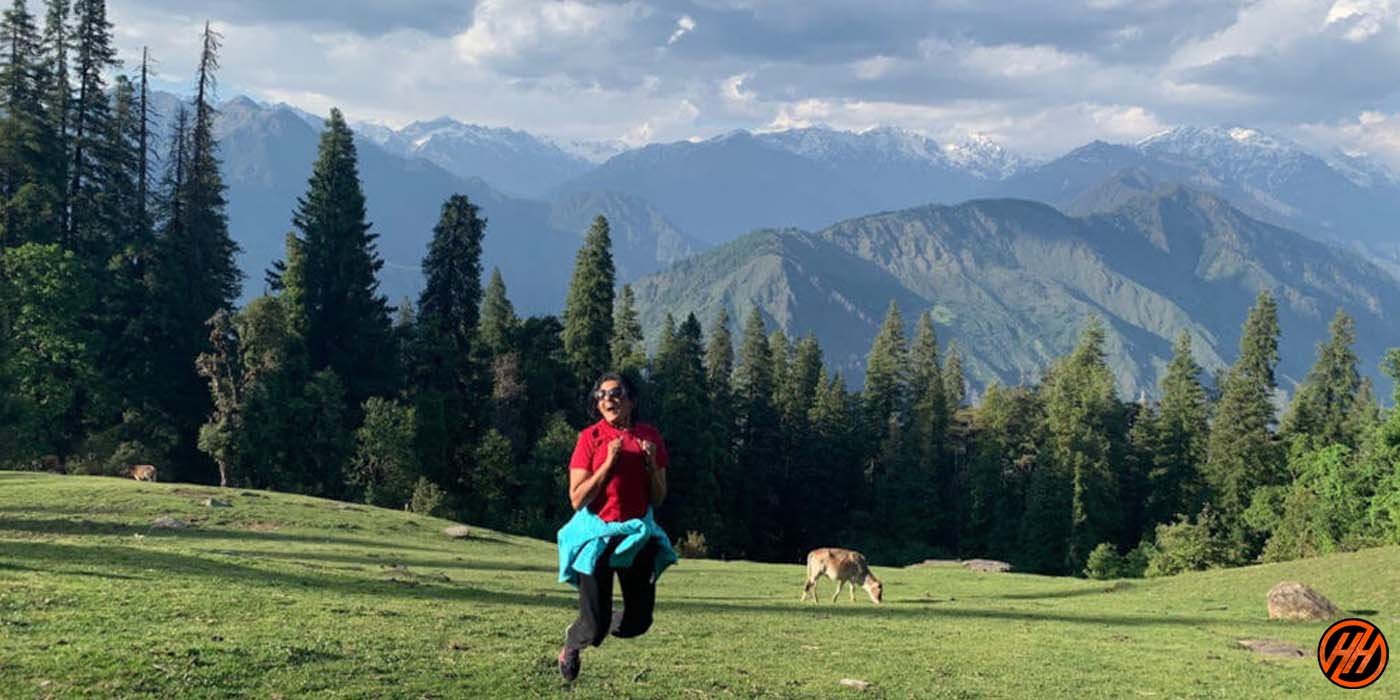 In 2005 Mr. Kuldeep had come here with the herd of cattle for grazing them at least for 2 or 3 months and for 3 years he had done the job of a shepherd.
He ends his lines by saying "nobody can tell you about this beautiful valley and their experiences more than me because I am familiar to each and every creature of this beautiful place".
Here, Camping under the wonderful stars, perching of birds, and the quiet beauty of the mountain, smell of beautiful flowers and the cool breeze blows along with us creates a peaceful environment in our surroundings.
From the year 2006 company "Himalayan Hikers" is organizing this trek and mostly we had organized treks with Wood Stock School Mussoorie,
Welham Boys School Dehradun " and our customized groups, whenever it comes we mainly offers this trek to them because this trek is full of plenty of joy and knowledge about the adaptation of Phulara Ridge.
"BE CONCENTRATING ON HARD WORK, DESTINATION WILL REACH YOU SOON WITH SURPRISING VIEWS"
Highlights Of Phulara Ridge Trek
6 Days and 5 nights trek from Dehradun to Dehradun
Best time all year
This is the best trek for beginners & Family, School
Altitude – 3712 m
Starting – Dehradun
Base camp – Sankri
Temperatures – Day 5 °C to 15 °C – Night 2 °C  to 8 °C
Location Chart-  Dehradun, Mussoorie, Damta, Purola, Mori, Sankri, Sikolta, Bhoj gadi , Pustara thach, phulara ridge.
Altitude we are going to cover
Sankri (1920 m) 
Sikolta (2900 m)
Bhoj Gadi (3470 m)
Phulara Ridge (3700 m)
ATM Point & Mobile connectivity
ATM POINT: Withdraw money before your journey, Purola is the last point where you will find ATM.
(If you want to withdraw money then do it in Dehradun.)
Mobile Connectivity:
There will be no networks during the trek, in Purola your device will receive the networks and at Sankri only Vodafone and BSNL signals are there but you cannot rely on the connectivity because the signal strength is not good.
So make sure you finish all your important work and calls before starting the trek.
Short Itinerary of Phulara Ridge Trek – 2019
Day 1 – Pickup to you from Dehradun to Sankri (210 km) (7/8 hours) (1920 m) overnight stay our Swargarohini Hotel
Day 2 – After breakfast from Sankri to Sikolta (7 km) (4/5 hours) (2900 m) overnight stay camp
Day 3 – Sikolta to Bhoj Gadi (5 km) (2/3 hours) (3470 m) overnight stay camp
Day 4 – Bhoj Gadi to Pushtara Thach via Phulara Ridge (2/3 hours) (3700 m) overnight stay camp
Day 5 – Pushtara Thach to Taluka (8 km) (5 hours) and back to Sankri- overnight stay Hotel
Day 6 – Sankri to Dehradun (210 km) (7/8 hours)
Written By Anjali Rawat