Valley Of Flower – The National Park Of Flowers In Western Himalayas, Uttarakhand
Valley Of Flower is an Indian National Park, located in Chamoli district, in the state of Uttarakhand and the Valley of Flower discovered by British Mountaineer, Frank Smythe, In 1931. It is declared as a national park in 1980 and in 1982, the park renamed as Nanda Devi National Park and now it is a World Heritage Site.
The Valley of Flowers extends over a region of 87.50 sq km- a territory. Smythe authored a book called The "valley of Flowers. It is in the middle of the Nar-Var and Gandhi -Maidan Mountains.
Frank Frank Smythe carried 250 seeds of different flower species with him, and  he exposed that there are more than 2,500 species of flowers. Due to the flow of the Pushpawati river, it is also called Pushpawati National Park.
The reason behind the growth of different species of flowers in this area due to the Fertility of Soil.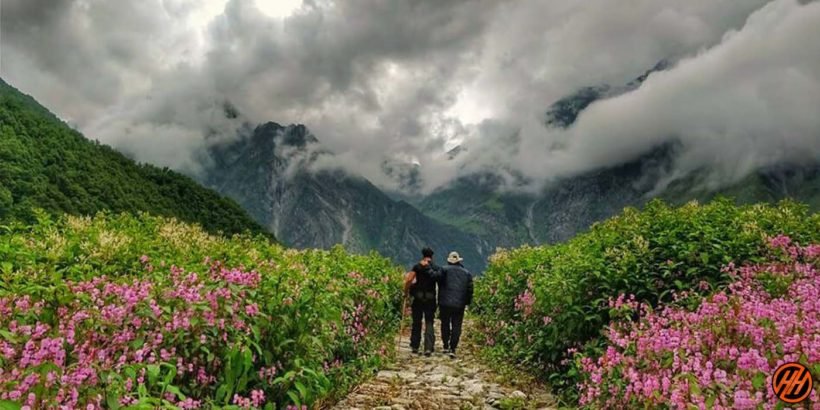 Himalayan Hikers is a tour organizer that offers Trekking and tour packages to the Valley of Flowers for 28 years.
Read About – What we do during an emergency breakout in the Trekking?
Explore The Beauty Of Nature at Valley Of Flowers
Mr.  Bhagat Singh Rawat founder and Co-Founder Mr. Chain Singh is the prime inspiration behind establishing Himalayan Hikers.
His love for the Trekking and interest to explore the splendor of nature has translated into his company Himalayan Hikers. They have a passion for connecting with people and letting them explore the trekking place.
They believe that Trekking is not only to roam around; Trekking means to explore the world. You should get knowledge about flora and fauna. You should have a passion for exploring the World.
The scent of flowers attracts everyone and the environment is pollution-free, and People travel from abroad to enjoy the trek. 'We all know that flower is a beautiful creation of nature, flowers like the Brahma-kamal, roses, lotuses, are famous for their beauty and glamour.
Flowers' importance in nature is everywhere- they provide natural medicine for humans''. There is often dense fog and rain, especially during the late summer monsoon.
Read about – Trekking in India To 5 Top Himalayan Villages.
Flower mostly AQUILEGIA PUBIFLORA, ASTER ALBESCENS, ARUNCUS DIOICUS, BISTORTA AFFINIS, etc. cover parts of the park's area.
Those trekkers who come here for trekking carried beautiful memories with them. The villagers of Uttarakhand's give great respect to the trekkers, that is why Uttarakhand is Known as Devbhoomi.
NOTE -: Himalayan Hikers provides all the facilities for Trekkers.
Read about – Best Budget Friendly Treks In India, Under 4000
Species of Flowers found In Valley Of flower
ACONITUM BALFOURII (Ranunculaceae , The buttercup family)
ACONITUM VIOLACEUM (The buttercup family)
BLUE POPPY (Poppy family)
CORYDALIS CASHMERIANA (Fumariaceae , Fumitory family)
CICERBITA MACRORHIZA (Asteraceae )
GAULTHERIA TRICHOPHYLLA (Ericaceae)
CYANANTHUS LOBATUS (Campanulaceae , Bellflower Family)
CYANATUS MICROPHYLLUS (Campanulaceae ,Bellflower Family)
CAMPANULA LATIFOLIA (Campanulaceae)
CAMPANULA PALLIDA (Campanulaceae, Bellflower Family)
ASTER DIPLOSTEPHIOIDES (Asteraceae)
ERIGERON MULTIRADIATUS (Asteraceae, Sunflower Family)
ERIGERON BELLIDIOIDES (Asteraceae , Sunflower Family
ERITRICHIUM CANUM ( Boraginaceae )
GENTIANA PEDICELLATA (Gentianaceae , Gentian Family )
GENTIANA PHYLLOCALYX (Gentianaceae)
GERANIUM WALLICHIANUM (Geraniaceae)
IPOMOEA PURPUREA (Convolvulaceae , Morning Glory Family)
IRIS CREMONENSIS (Iridaceae, iris Family)
NEPETA LAEVIGATA (Lamiaceae)
OXYTROPIS LAPPONICA (Fabaceae)
POLEMONIUM CAERULEUM (Polemoniaceae (phlox family)
PRIMULA DENTICULATA (Primulaceae)
PRIMULA MACROPHYLLA (Primulaceae)
SAUSSUREA PIPTATHERUM (Asteraceae)
ROSA MACROPHYLLA (Rosaceae, rose family)
POLYGONUM AMPLEXICAULE ( Polygonaceae)
PEDICULARIS PUNCTATA (Scrophulariaceae)
VIOLA PILOSA (Violaceae)
AINSLIAEA APTERA (Asteraceae)
ALLIUM HUMILE (Liliaceae)
ANAPHALIS ROYLEANA (Asteraceae Sunflower Family)
ANEMONE TETRASEPALA (Ranunculaceae)
ANEMONE VITIFOLIA (Ranunculaceae)
COTONEASTER MICROPHYLLUS (Rosaceae )
HALENIA ELLIPTICA (Gentianaceae)
CUSCUTA REFLEXA (Cuscutaceae, Dodder Family)
DIPSACUS INERMIS (Caprifoliaceae)
JUNCUS THOMSONII (Juncaceae, Rush Family)
LEONTOPODIUM BRACHYACTIS (Asteraceae ,Sunflower family)
MAIANTHEMUM PURPUREUM (Asparagaceae)
ORIGANUM VULGARE (Lamiaceae)
PARNASSIA NUBICOLA (Parnassiaceae)
POLYGONUM POLYSTACHYUM (Polygonaceae)
PRENANTHES BRUNONIANA (Asteraceae)
PRIMULA MACROPHYLLA (variety-Moorcroftiana)
PRIMULA REIDII (Primulaceae)
PRUNUS CORNUTA (Rosaceae , Rose family)
SAUSSUREA GOSSYPIPHORA (Asteraceae)
SAUSSUREA SIMPSONIANA (Asteraceae)
SAXIFRAGA CERNUA (Saxifragaceae)
SELINUM WALLICHIANUM (Apiaceae)
SPIRAEA CANESCENS (Spiraea Linnaeus)
STELLARIA SEMIVESTITA (Caryophyllaceae, pink or carnation family)
SORBARIA TOMENTOSA (Rosaceae, Rose Family)
TRICHOSANTHES TRICUSPIDATA (Cucurbitaceae)
ARISAEMA TORTUOSUM (Araceae)
ARISAEMA JACQUEMONTII (Araceae)
ARISAEMA PROPINQUUM (Araceae , Arum family)
ACONOGONUM YUCCIFOLIUM (Polygonaceae)
BRAHMA KAMAL (SAUSSUREA OBVALLATA) (Asteraceae (Sunflower family)
CODONOPSIS ROTUNDIFOLIA (Campanulaceae , Bell flower family)
CLEMATIS MONTANA (Ranunculaceae)
EUPHORBIA PILOSA (Euphorbiaceae , Castor family)
FRITILLARIA ROYLEI (Liliaceae , Lily family)
HERACLEUM CANDICANS (Apiaceae)
PHYTOLACCA ACINOSA (Phytolaccaceae)
POLYGONATUM VERTICILLATUM (Asparagaceae)
PLEUROSPERMUM CANDOLLEI (Apiaceae)
RHEUM WEBBIANUM (Polygonaceae)
SAUSSUREA COSTUS (Asteraceae, Aster or Sunflower family)
SILENE INDICA (Caryophyllaceae)
SILENE VULGARIS (Silence, Linnaeus)
ALLIUM WALLICHII (Alliaceae , onion family)
ANDROSACE STUDIOSORUM (Primulaceae)
AQUILEGIA PUBIFLORA (Ranunculaceae)
ASTER ALBESCENS (Asteraceae)
ARUNCUS DIOICUS (Rosaceae)
BISTORTA AFFINIS (Polygonaceae)
BISTORTA VACCINIFOLIA (Polygonaceae)
COLQUHOUNIA COCCINEA (Lamiaceae)
CUSCUTA EUROPAEA (Cuscutaceae, Dodder family)
DACTYLORHIZA HATAGIREA (Orchidaceae)
EPILOBIUM LAXUM (Onagraceae)
EPILOBIUM LATIFOLIUM (Onagraceae)
GYMNADENIA ORCHIDS (Orchidaceae)
GERANIUM ROBERTIANUM (Geraniaceae)
HIMALAYAN SLIPPER ORCHID (Orchidaceae)
IMPATIENS SULCATA (Balsaminaceae, Balsam family)
MORINA LONGIFOLIA (Dipsacaceae, Teasel or Scabious family)
NEPETA ERECTA (Lamiaceae)
PEDICULARIS PORRECTA (Scrophulariaceae)
PERISTROPHE PANICULATA (Acanthaceae)
PHLOMIS BRACTEOSA (Lamiaceae)
PODOPHYLLUM HEXANDRUM (Caryophyllaceae)
RHODODENDRON CAMPANULATUM (Ericaceae)
POLYGONUM CAPITATUM (Polygonaceae)
RHODODENDRON LEPIDOTUM ( Ericaceae, Health family)
ROSCOEA ALPINA (Zingiberaceae)
RUBUS NIVEUS (Rosaceae)
SPIRAEA BELLA (Rosaceae)
SPIRANTHES SINENSIS (Orchidaceae)
THYMUS LINEARIS (Lamiaceae)
TRILLIDIUM GOVANIANUM (Liliaceae)
VAJRADANTI POTENTILLA ( Rosaceae)
VALERIANA HARDWICKII (Rubiaceae)
VIGNA VEXILLATA (Fabaceae)
ALETRIS PAUCIFLORA (Liliaceae)
CLEMATIS BARBELLATA (Ranunculaceae)
JUNCUS HIMALENSIS (Juncaceae)
OXYRIA DIGYNA (Polygonaceae)
RHODIOLA HETERODONTA (Crassulaceae)
RUMEX ACETOSA (Polygonaceae)
THALICTRUM CULTRATUM (Ranunculaceae)
SOME SPECIES OF BIRDS FOUND IN VALLEY OF FLOWER
VERDITER FLYCATCHER (Eumyias thalassinus)
White -capped Water -Redstart (Chaimarrornis leucocephalus)
Green pigeon
Spotted Dove (Streptopelia Chinensis)
Great Barbet (Psilopogon virens)
Slaty headed parakeet (Psittacula himalayana)
Pink – browed Rosefinch (Carpodacus rodochroa)
Red headed Bullfinch (Pyrrhula erythrocephala)
Gold billed Magpie (Urocissa flavirostris)
Himalayan Monal (Lophophorus impejanus)
Long-tailed Minivet (Pericrocotus ethologus)
Plumbeous Water Redstart (Rhyacornis fuliginosa)
Yellow – rumped Honeyguide (Indicator xanthonotus)-Near Threatened
Rufous – bellied Woodpecker (Dendrocopos hyperythrus)
Written by – Aradhana Rawat