Dayara Bugyal and Dodital Trek in Uttarkhand
Dayara Bugyal and Dodital Trek follows a similar trek route, but Dayara Bugyal is the most famous trek in Uttarakhand Himalayas for a Bugyal Trek. This Trek is known as the most beautiful track of Uttarakhand. This trek route is known as Raithal. Starts via Village or via Bars  u and door-topped via Barnala Tal and Devi Kund Camp, Satgarhi Camp, Manjhi and Dodital and Dayara Bugyal is a moderate track, which comes under Uttarkashi District. The altitude is 3640 meters above sea level, this track is open for 12 months, it is an easy and moderate level track route where you are considered most special for your family, children and school.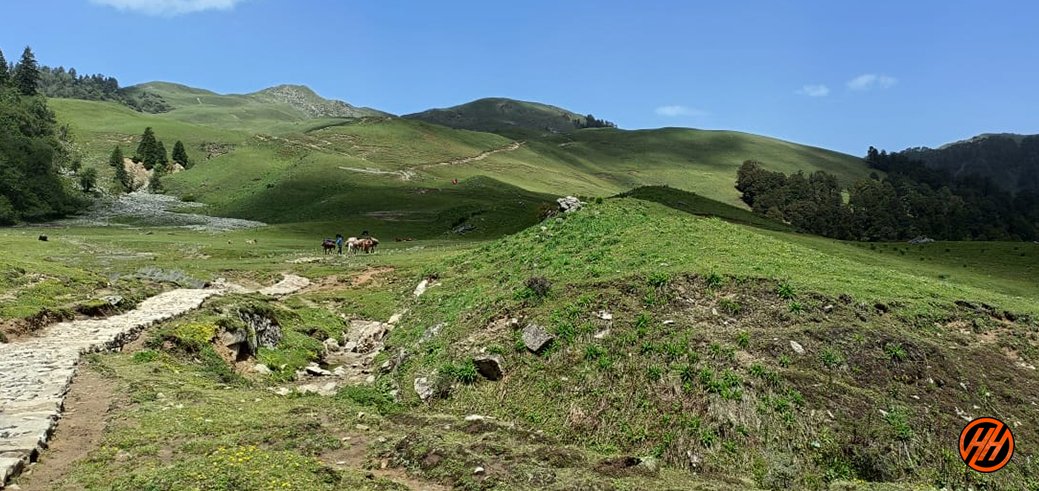 Through Dayara Bugyal, we go towards Sangam Chatti and Assi Ganga Valley, which leads to the most ancient and beautiful Dodital. Dodital Trek is known for the world famous Dodital Lake. This lake is about 3110 above sea level. It is situated at a height of meters. Dense forest is found all around Dodital Lake, and staying overnight in this camp is a great experience in itself. Lord Ganesha is worshiped here in Dodital, here every year Lord Ganesha is celebrated by the villagers here. It is believed that whoever worships Lord Ganesha here, his wishes are fulfilled and people here every year circumambulate the Dodi Taal Lake and pray to Lord Ganesha for the happiness and peace of their lives.
Benefits of doing Dayara Bugyal and Dodital Trek Together
Dayara Bugyal and Dodi Taal trek today is special for those trekkers who want to experience two Treks at once and it is also easy because you can do both treks together in minimum 6 nights 7 days from Dehradun to Dehradun.
Dayara Bugyal is counted among the very prominent treks today as well as the Dodital Trek is also counted in a beautiful trek in the lap of nature, this lake is ancient and natural, seeing the view of this lake, the mind seems to experience a peace.
We also go to Darwa Top via Dayara Bugyal Dodital Trek, the height of Darwa Top is about 4150 meters, from here you can see Bandarpoonch, Kala Nag, and Swargarohini, Yamunotri Valley, Bali Pass, Fachu Kandi Pass, many trek routes. Can be found this door is also known for top 360 degree view.
How easy and how hard is Dayara Bugyal Dodital Trek?
Dayara Bugyal is a moderate trek which will be a great experience for families and first time visitors. We have been doing this trek for many years along with the experience of being a local! That's why we believe that this trek can be a good trek for first time people and for people from minimum 10 years to 65 years, yes for this trek you have to have good fitness level and passion to trek good trek It is important that you will find it easy to do this trek.
Best Time to Visit Dayara Bugyal and Dodital Trek ?
The best time to do Dayara Bugyal and Dodi Taal trek is from the first week of April to the second week of November, because this trek route from December to March is covered with snow. We can do Dayara Bugyal crossing. Can't go to Dodital, so in Winter we can either do Dodi Taal or we can do Dayara Bugyal if we start these two treks from different places then this trek route can remain open for 12 months Both the trek routes are best for those who want to trek in winters.
Key Points of Dayara Bugyal and Dodital Trek
Duration: – 6 Nights 7 Days from Dehradun to Dehradun
Base camp:- Raithal village
Best Time – April to November
Temperature:- Day (5°C to 15°C) Night (2° C to 8° C)
Altitude: – 12,087 feet
Trek Level: – Moderate
Trek distance: – On foot 24 Km – By taxi 350 km
Short Itinerary Dayara Bugyal Dodital Trek
Day 1- Pick up to you from Dehradun railway station – Drive to Raitha village – 175 Km (7/8 Hours (7,423 feet) overnight stay Hotel
Day 2 – Trek from Raithal village to Gui Camp (05 km) (4/5 Hours) (9,884 feet) overnight stay camp
Day 3 – Trek from Gui Camp to Via Dayara Bugyal to Devi Kund camp ( 9 km) (6/7 Hours) overnight stay camp
Day 4 – Trek from Devi Kund to Manji Camp (08 km) (5/6 Hours) overnight Stay Camp
Day 5- Trek from Manji Camp to Dodital 05 km ) (2/3 Hours) 3110 m overnight stay Camp
Day 6- Early morning Start trek from Dodital to Darwa Top 4150 m Summit , back to Dodital Camp have some lunch trek down to manji camp 05 km overnight stay Camp
Day 7- Manji Camp to Agora Village 9 km same day back to Dehradun
How to Reach Base Camp of Dayara Bugyal and Dodital Trek ?
To do Dayara Bugyal and Dodital Trek, first we have to reach Dehradun from our home town, the easiest way to come to Dehradun is by flight and train.
Airplanes and trains keep coming to Dehradun every day, for this you can easily reach people by train or flight according to your date.
Himalayan Hikers team from Dehradun arrange taxi or tempo traveler for you Pickup from Dehradun at 7:00 am can reach Barsu or Raithal via Mussoorie, from where the trek of Dayara Bugyal and Dodital starts, it takes about 6:00 to 7:00 hours to reach Raithal from Dehradun.