The Kashmir Great Lakes Trek is a perfect combination of adventure and natural beauty and is a must-do for any trekking enthusiast. 2023
Kashmir Ghati has always been compared to heaven because of its exotic beauty and fascinating places; untouched and serene. The Kashmir Great Lakes is an extremely beautiful trek because of "eight Alpine Lakes" in a series attitude is 13850 feet.
The Kashmir Great Lakes Trek is a popular trekking route in the Indian state of Jammu and Kashmir. The trek takes you through stunning alpine meadows, high-altitude lakes, and breathtaking mountain passes. It is considered to be one of the most beautiful treks in India.
During the trek, you will pass through several beautiful lakes, including Gangabal Lake, Nundkol Lake, and Tarsar Lake. You will also cross high-altitude mountain passes, such as the Nichnai Pass and the Gadsar Pass, which offer stunning views of the surrounding Himalayan peaks.
The best time to undertake the Kashmir Great Lakes Trek is from July to September when the weather is pleasant and the trekking conditions are favorable. However, it is important to note that the region is prone to occasional landslides and flash floods, so it is always advisable to check the weather forecast before starting the trek and to take appropriate precautions.
Their beauty is incomparable! During the trek, go through the lavish meadows, get panorama views of the mountains and explore the aqua-green alpine lakes. Certainly, each day on this trek is perfect!
The bliss is the heavenly meadows of Kashmir. A number of pine and maple trees grow here. Further, below Gadsar pass wildflowers grow in abundance and ahead the fields of Satsar are plain.
So, experience the grandeur of the Kashmir Great Lakes Trek and add it to the Diary of your Himalayan Journey!
.On the trek every day you can see 70-degree views, beautiful meadows alpine lakes.
The Kashmir Great Lakes trek is a beautiful trek in the Himalayas, offering stunning views of alpine meadows, high-altitude lakes, and snow-capped peaks. It is difficult to say which part of the trek is the best as every day on the trail offers something unique and memorable. However, here are a few highlights of the Kashmir Great Lakes trek:
Nichnai Pass: This is the first high-altitude pass on the trek, which offers panoramic views of the valley below and the surrounding peaks.
Vishansar and Kishansar Lakes: These twin lakes are the most picturesque spots on the trek, with crystal clear water reflecting the snow-capped peaks in the background.
Gadsar Pass: This is the highest pass on the trek and offers stunning views of the surrounding mountains.
Tarsar Lake: This is another beautiful high-altitude lake, surrounded by lush green meadows and towering peaks.
Sonamarg: The trek ends in Sonamarg, a picturesque hill station known for its stunning natural beauty and adventure activities like skiing and trekking.
Overall, the entire Kashmir Great Lakes trek is a feast for the senses, with breathtaking landscapes, diverse flora and fauna, and warm hospitality of the local people making it a once-in-a-lifetime experience

The best part KGL Trek view of Gadsar pass trek in Kashmir Great Lakes Trek
Get Amazed On Kashmir Great Lakes Trek, All of the lakes are amazing but Gadsar amongst all is untouched because of its high altitude (13800 feet above.
It lies against a glacier and surrounded by a meadow where wildflowers grow in abundance. Therefore, it perfectly adds beauty to the picturesque valley.
The high Gadsar Pass offers lovely valley views and offers the sight of Kishansar and Vishansar– The two Lakes. On the other hand lies lavish grasslands of Gadsar valley.
The Kashmir Great Lakes trek is one of the most popular treks in India, and for good reason. Here are some reasons why people undertake this trek:
Scenic Beauty: The trek offers breathtaking views of the high-altitude lakes, snow-capped peaks, and verdant meadows that are unique to the Himalayas. The landscape changes with every step, making it a photographer's delight.
Adventure: The trek is challenging and involves long hours of walking over rugged terrain. It offers a chance to push oneself physically and mentally and experience the thrill of trekking in the high mountains.
Cultural Experience: The trek passes through remote villages where trekkers can interact with locals and get a glimpse of their way of life. This is a great opportunity to learn about the local customs, traditions, and cuisine.
Wildlife: The trek passes through some of the most bio-diverse regions in the Himalayas, and trekkers can spot a variety of wildlife, including brown bears, musk deer, and snow leopards.
Spiritual Experience: The trek takes you through some of the most pristine and serene landscapes in the Himalayas, offering a chance to connect with nature and experience a sense of inner peace and tranquility.
Overall, the Kashmir Great Lakes trek is a great way to explore the beauty of the Himalayas and experience the thrill of adventure in a pristine natural environment.
If you are planning to do the Kashmir Great Lakes trek, here are some main points to keep in mind:
Trekking Season: The best time to do this trek is from July to September when the weather is pleasant and the skies are clear. However, the weather can be unpredictable, and it is important to be prepared for rain, snow, and cold temperatures.
Fitness Level: The Kashmir Great Lakes trek is a moderate to difficult level trek, and it requires a good level of fitness. You should be able to walk for 6-7 hours a day over uneven terrain and at high altitudes.
Altitude Sickness: The trek involves climbing to high altitudes, and altitude sickness can be a problem for some trekkers. It is important to acclimatize properly, drink plenty of water, and take necessary precautions to prevent altitude sickness.
Permits: You need to obtain a permit from the local authorities to undertake the trek. The permit is usually obtained by the trekking agency you choose to go with.
Equipment: You need to have proper trekking equipment like trekking boots, warm clothes, rain gear, and a good quality backpack. It is important to choose the right equipment as it can make a big difference in your comfort level on the trek.
Environment: It is important to respect the environment and follow the 'Leave No Trace' principles. You should not litter or damage the fragile ecosystem of the Himalayas.
Safety: You should always trek with a guide and ensure that you have proper communication equipment in case of an emergency. It is also important to carry a first aid kit and any necessary medication with you.
By keeping these main points in mind, you can have a safe and enjoyable trekking experience in the Kashmir Great Lakes region.
Best Time to Do Kashmir Great Lakes  Trek
Kashmir great lakes trek is a very beautiful and moderate trek in the Kashmir Valley, Kashmir great lakes trek is great for those people who have a great passion for mountaineering. Hills and consider it a special purpose in their life.
We are are doing this trek for years Kashmir great lakes trek, we have every experience related to this trek. The right time to do this trek is from 5th July to the last of September, especially in the months of June, green and colorful bugyal meadows, snow is found in abundance here, which makes your trek very memorable
During the day the temperature of the Kashmir great lakes trek is around ( 05°C to 18 °C  and during the night the temperature comes down to 03 °C  to  08 °C  which is not bad.
You will never consider yourself boring in Kashmir great lakes trek, this trek can give you nothing but joy, You will get to see the culture and beauty of  Kashmir valley in this trek which will always keep you connected to the mountain.
How Difficult Is Kashmir great lakes trek?
The Kashmir Great Lakes trek is considered to be of moderate difficulty. It involves walking through various terrains, including meadows, forests, and rocky paths, with some steep ascents and descents. While it is not categorized as extremely challenging, it still requires a certain level of physical fitness and endurance.
Here are a few factors to consider regarding the difficulty level of the trek:
Distance: The Kashmir Great Lakes trek covers a distance of approximately 68 kilometers (39 miles) over a span of 6-8 days, depending on the itinerary. This requires walking an average of 10-16 kilometers (5-6 miles) per day, which can be physically demanding if you are not accustomed to long-distance trekking.
Altitude: The trek reaches an altitude of around 4,200 meters (13,780 feet) at its highest point. Acclimatization is crucial at such altitudes to prevent altitude sickness. It is recommended to take it slow, drink plenty of water, and listen to your body during the trek.
Terrain: The trail includes steep ascents and descents, rocky sections, and uneven paths. Some sections may be slippery, especially during monsoon or post-monsoon seasons. Proper hiking boots with good grip are essential to navigate these terrains.
Weather: The weather in the Kashmir region can be unpredictable. It is advisable to trek during the summer months (June to September) when the weather is relatively stable. However, even during this period, you may encounter rain, fog, or chilly temperatures, particularly at higher altitudes.
While prior trekking experience is not mandatory, it is recommended that you have a basic level of fitness and stamina to enjoy the trek comfortably. Regular cardiovascular exercises, such as jogging, cycling, or hiking, can help improve your endurance. It's also essential to pack appropriate clothing, carry necessary supplies, and follow the instructions of your trek leader or guide to ensure a safe and enjoyable experience.

Kashmir great lakes trek safe for me?
Yes, Kashmir great lakes  Trek is a safe trek if you are going with a good trekking team which you must know before booking yourself, It is important for you to know whether the bow trekking organization with which we are going is right or not,
And if possible, trek with a local trekking organization, you can do the same help all the time. then your trek can be very good and memorable
The minimum age required to trek Kashmir great lakes trek is 15 years and the maximum 55 years. The rest depends on your fitness.
Unusual Attractions of KGL Satsar Lake in Kashmir Great Lakes Trek
The meadows of Satsar are surreal and a stream flows through them. Satsar Lake is an addition to the beauty of the valley.
In addition, another attraction of this trek is the descent from Gangabal.
During the downhill, the trek gets the most surpassing views. Look backward and spot lofty Harmukh peak.
Further witness yellow flowers growing together and a single hut, this setting is idyllic. These settings can only be found in Kashmir.
Also, The Satsar Lake and green Bugyal are more beautiful Greenland in Kashmir valley; this is beautiful place stands in between high snow-covered peaks which together make an excellent sight.
On the other hand, the meadows remain covered in snow.
So, consequently, it turns out to be the most fantastic Monsoon trek in Kashmir valley. And, also an excellent Skiing destination.
Why choose Kashmir Great Lakes Trek?
Before heading towards the itinerary, it is really essential to perceive the reason behind choosing Kashmir great lakes trek.
See firstly, the trekking distance is a total of by taxi 125 Km from Srinagar to Srinagar and on foot 68 km which is to be covered in 6 nights and 7 days. From Srinagar to Srinagar
Kashmir Great Lakes trek is a low altitude mountain trek Altitudes is 13850 feet
The Starting trail is easy to moderate as compared to other treks this is a Moderate trek. So this trek is best for family and beginners.
Need proper gear & clothing for sub-zero temperatures?
Probably, You got to see so many heavenly bodies at one place like the panoramic view of the Himalayan ranges in Kashmir Ghati, you can see pine forests, different varieties of flora and fauna beautiful twin lakes surpassing bona fide Kashmiri culture.
Also, Do spare time in Interaction with our local's team, and you will get to know about some of the ancient tales of Indian mythology and our local cultures, these is good ideas for trekkers
Beautiful landscapes so carry proper photo gear & Extra battery backup.
The backpack should not exceed 12 kg only
Trekkers carry -Photo ID, Adhar Card, Passport, Visa, Medical certificate, and trek insurance  for entry at forest check posts on the trek it is very important
What should you keep in mind for the Monsoon trek to Kashmir Great Lakes Trek?
Kashmir Great Lakes Trek is as good as it is said, you also need to be prepared., Kashmir Great Lakes Trek is a Moderate trek that starts from Srinagar and ends after the trek same point,
So what are the special things to keep in mind before coming on this trek?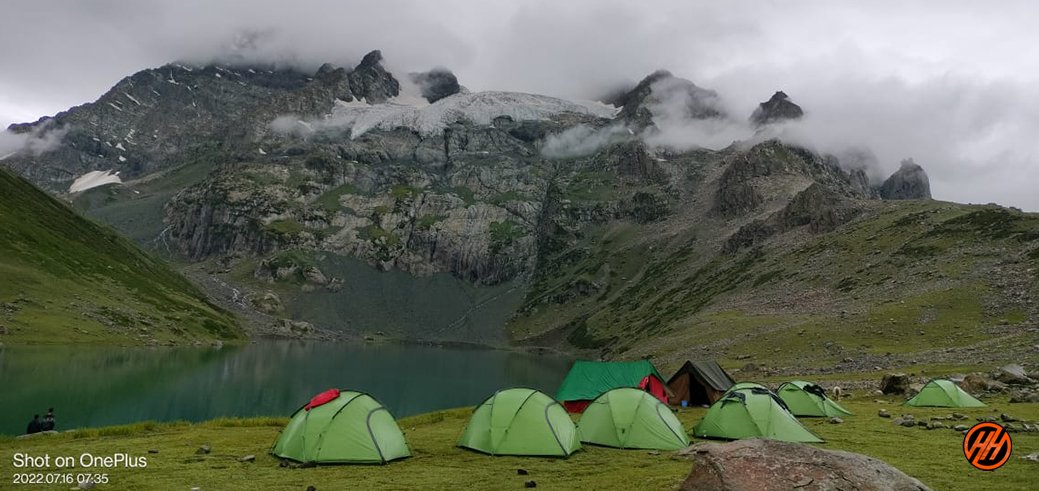 Summer Season
Summer trek to Kashmir Great lakes Trek is very special, the view and the temperature are all favorable to you
For summer trek, you have to bring only normal clothes, so that your trek can be good, there is no need for hot clothes, but in hiking it is also necessary to bring all the equipment which is necessary for you.
It is necessary to have 2 pairs of clothes from trekking, especially the poncho, you will have to bring every season
In the summer season, the temperature is always normal, so there is no need for hot clothes.
 Monsoon Season
During the monsoon season, it rains occasionally during the Kashmir Great lakes Trek, especially in the Kashmir valley, so if you have dry clothes here, it is very good, even when wet, it dries quickly.
At this time you have to bring at least 3 pairs of clothes, for monsoon trek you do not have to bring too warm clothes, at this time you, hiking pants and t-Sart, I can trek
It's only a little cold in the morning and evening and the day is a good temperature for you
Before going on any trek, it will be easy for you to take information related to each season.
Trekkers need to know about these, you can ask us anytime like, trek route, trek map, temperature, weather condition, difficulty level, trek starting point, end point, transport, view of the trek, best time to visit, How to reach, trek distance etc, Trek Location, keep this information before going

The altitude we are going to cover in Kashmir Great Lakes Trek
Srinagar – 1585 Meter
Shirked – 7780 feet)
Nichnai – 11888 feet)
Vishnusar Lake -12055 feet)
Gadsar Lake – 13850 feet)
Satsar Lake – 12100 feet)
Gangabal – 11655 feet
ATM Point & Mobile connectivity in Kashmir Great Lakes Trek
ATM POINT: Withdraw money before your journey; Srinagar and Sonamarg is the last point where you will find ATMs.
Mobile Connectivity: There will be no networks during the trek, in Sonamarg your device will receive the networks. So make sure you finish all your important work and calls before starting the trek.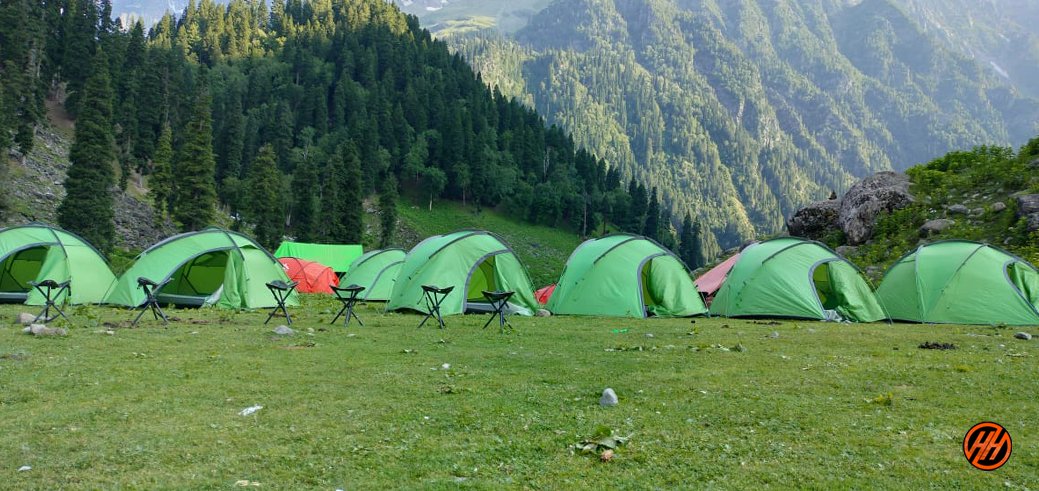 Key Points of Kashmir Great Lakes Trek
Duration: – 06 Nights  07 Days from Srinagar to Srinagar
Base camp: – Shitkadi- Sonamarg
Monsoon Temperature: – Day (5°C to 17°C) Night (2° C to 8° C)
Altitude- Kashmir Great lakes Trek – 13850 Feet
Best Time: – June, July August, September
Trek Level: – Moderate
Trek distance: – On foot 68 Km – By taxi 125 km
Group Size: – 5 to 15 people
Short Itinerary of Kashmir Great Lakes Trek
Day 1- Pickup to you from Srinagar market  TRC  – Drive to Shitkadi via Sonamarg – 80 Km (3/4 Hours (7780 feet) overnight stay base camp in tents.
Day 2- Trek from Sonamarg camp to Nichnai Camp – (9 km) (6/7 Hours) (11888 feet) overnight stay in tents.
Day 3- Trek from Nichnai camp to Vishnusar Lake (13 km) (6/7 Hours) (12055 feet) overnight stay in tents
Day 4- Trek from Vishnusar Lake to Gadsar Lake (16 km) (7/8 Hours) (13850 feet) overnight stay in tents
Day 5- Trek from Gadsar Lake to Satsar Lake (11 km) (4/5 Hours) (12100 feet) overnight stay in tents.
Day 6- Trek from Satsar Lake to Gangabal camp (09 Km) (5/6 Hours) (11655 feet) overnight stay in tents
Day 7- Trek from Gangabal to Naranag Road head same day Drive to Srinagar (13 km) (5/6) you will reach Srinagar by 6:00 to 07:00 pm.
How to Reach Kashmir Great Lakes Trek?
To reach Srinagar for the Kashmir Great Lakes trek, you have several options. Srinagar, the capital city of Jammu and Kashmir, is well-connected by air, road, and rail. Here are the different modes of transportation you can consider:

By Air: The easiest way to reach Srinagar is by air. Srinagar International Airport, also known as Sheikh ul-Alam Airport, is well-connected to major cities in India. Several airlines operate regular flights to Srinagar from Delhi, Mumbai, Bangalore, and other major cities. Once you arrive at the airport, you can hire a taxi or take a pre-arranged transfer to reach your accommodation in Srinagar.
By Road: Srinagar is accessible by road, and you can choose to travel by private car, bus, or taxi. The road journey to Srinagar offers beautiful scenic views, especially if you are traveling from Jammu or other nearby regions. National Highway 1 (NH1) connects Srinagar to Jammu, and the journey takes approximately 8-9 hours. It is advisable to check the current road conditions and any travel advisories before embarking on a road trip.
By Train: The nearest railway station to Srinagar is Jammu Tawi Railway Station, located in Jammu City. From Jammu, you can either hire a taxi or take a bus to Srinagar. The train journey to Jammu can be a convenient option if you are traveling from a city with a railway station. From Jammu, the road journey to Srinagar takes around 8-9 hours.

Once you reach Srinagar, you can make the necessary arrangements for your Kashmir Great Lakes trek. It is advisable to book your trek with a reputable tour operator or a trekking agency that can provide you with a guide, permits, and necessary equipment for the trek. Additionally, make sure to check the weather conditions and be prepared with proper clothing and gear for the trek.
Will there be electricity in the Kashmir Great Lakes trek
Let me tell you that there is no electricity in the forest area of Kashmir great lakes trek. Here we use Stobe Light and or Solar Light, candlelight at the nights
If you come on this trek, then you should bring your own headlight and your camera with full charge, if possible, it would be good to bring extra battery backup, and also bring the phone after full charge, today people most phones use the same
You will get the last electricity only in our Home Stay Sonamarg base, where you have to charge the battery of your phone and camera at night.
What to pack for Kashmir Great Lakes  Trek
Warm clothes, sleeves, wind shelter, comfortable clothing, and extra warm clothes so that you can enjoy trekking. A raincoat is the necessary
Footwear: A well-fitted trekking footwear shoes are highly recommended. If you wear an uncomfortable pair of shoes, your feet will be hurt.
Self-Certificate of Emergency Breakout
What we do during an emergency breakout in the Kashmir Great Lakes Trekking?
Trekking in the Himalayas is not a cup of tea but it is a rewarding experience. However, it's important to keep things in mind when it comes to Safety. One must know about the weather conditions, the altitude gain, fitness, and other factors that can wreck your experience. In such adverse conditions, you are solely responsible for your well-being and act maturely.
Also, Read About – Safety Tips For Safe Trekking.
Preparations before the Trek
You've to understand that treks are away from cities and medical help is not always easily available. So, if you are heading for an adventurous trekking trip, stick to certain trekking guidelines and tips. Following these simple tips will help make the trek more fun and experiential for you as well as your fellow trekkers.
These tips and guidelines cater to useful and requisite information about your fitness training, packing and health precautions to be taken before and during the trek.
Firstly, when you start, target 5 km in 40 minutes
Then gradually increase your pace by running at least 4 times a week. Then try to bring it down to 5 km in less than 37 minutes
If you are a person who prefers cycling over running then your target must be 22 km means you should be able to cover 22 km in 60 minutes.
Walking is a great exercise that gives great shape to your legs and your body. It helps in burning calories and cut down excess weight and strengthens the heart.
Jogging is effective in increasing the human lifespan and makes your lungs stronger. It is an aerobic activity that requires a lot of oxygen. This is a great exercise for fighting obesity and staying healthy.
Squats are the best form of functional exercise to improve stability. They also strengthen your legs, thighs, hips, and hamstring.
Another great cardiovascular exercise is pushing your body upstairs after stairs. This is regarded as the best exercise for increasing strength and power
What do we do during an emergency breakout in the Kashmir great lakes  Trek?
First of all, the safety of trekkers is much more for us, if you see in the trek, then there are all the risks, which I do not think about.
Himalayan Hikers worry more about you than no one should ever have any problem in the trek.
What should we and you keep more safety in the trek
Whenever you are going for any trek, it is very important that you go completely fit and ready.
The trek is not difficult, if you make your feet and your mind calm and strong, you will find the trek very easy.
While trekking, keep in mind that you are walking on the right route or not always with your guide.
Most people look somewhere and where they are walking, this can cause twitching in your legs, which can ruin your entire trek.
It is important to ask your doctor if you have any medical problems
I should always keep my medical kit with me, it is very important.
Himalayan Hikers always keep a medical kit with them, such as oxygen cylinders, and medicine to be given in an emergency on the trek
If any trekkers have any more problems, then they are brought back to the base camp by laying them in the stretcher.
Our camp in Kashmir great lakes trek is around 6000 feet to 13000 feet where you can not have any problem of oxygen
In case of any medical problem, the help of your guide or well-informed trekkers should be taken
If there is major health problems in Kashmir great lakes trek , then Nearest Hospital is in Srinagar  which is about  81  Kms away from KGL Trek
Along with the trek we keep getting acclimatization
Before embarking on a trek, it's important for trekkers to prepare their bodies physically. Trekking can be demanding, and it requires a certain level of physical fitness to avoid injury and fully enjoy the experience. Here are some important fitness considerations for trekkers:
Cardiovascular endurance: Trekking involves walking long distances and often at high altitudes, which can be challenging for the cardiovascular system. Cardiovascular exercises such as running, cycling, or swimming can help improve endurance.
Strength training: Trekking requires strength in the legs, core, and upper body. Strength training exercises such as squats, lunges, planks, and push-ups can help build the necessary strength.
Flexibility and balance: Trekking involves navigating uneven terrain and often requires the body to move in different directions. Stretching exercises and activities that improve balance such as yoga or Pilates can be helpful.
Altitude acclimatization: If you're planning a high-altitude trek, it's important to acclimatize properly. This means gradually increasing your altitude over a period of days to allow your body to adjust to the lower oxygen levels.
Mental preparation: Trekking can be mentally challenging, so it's important to prepare yourself mentally as well. Practicing mindfulness, meditation, or other stress-reducing techniques can be helpful.
It's important to remember that everyone's fitness level and needs are different, so it's a good idea to consult with a doctor or fitness professional before starting any new exercise program.
What to Pack for the Kashmir Great Lakes Trek?
When packing for the Kashmir Great Lakes trek, it's important to carry the right clothing and essential items to ensure your comfort and safety during the trek. Here's a list of items you should consider carrying:
Clothing:

Lightweight and quick-drying trekking pants
Full-length trekking trousers
T-shirts (preferably moisture-wicking)
Long-sleeved shirts (for sun protection)
Fleece jacket or warm mid-layer
Insulated down jacket or synthetic jacket for cold temperatures
Waterproof and windproof outer shell jacket
Thermal inner layers for colder nights
Warm hat and gloves for cold weather
Sun hat or cap to protect from the sun
Trekking socks (wool or synthetic) for moisture control
Thermal or woolen socks for colder nights
Comfortable trekking shoes with good grip

Equipment:

Backpack with rain cover (50-60 liters capacity)
Sleeping bag suitable for cold temperatures
Trekking poles for stability and reducing strain on knees
Headlamp or flashlight with extra batteries
Sunglasses with UV protection
Water bottle or hydration bladder
Snacks and energy bars for quick energy during the trek
Personal toiletries (toothbrush, toothpaste, toilet paper, wet wipes, etc.)
Sunscreen lotion with a high SPF
Lip balm with SPF
Basic first aid kit (including any personal medications)
Trekking map and compass or GPS device (if self-navigating)

Miscellaneous:

Cash (carry sufficient cash as ATMs may not be readily available)
Identification documents (ID card, passport, etc. Trek insurance, Medical certificate )
Mobile phone with a portable charger or power bank
Waterproof bags or covers to protect electronics and clothing from rain
Camera or video equipment (if desired)
It's important to pack light and carry only essential items to avoid unnecessary weight on your back. Additionally, check the weather conditions before your trek and adjust your clothing and gear accordingly. It's always a good idea to consult with your trekking agency or tour operator for a comprehensive packing list based on the specific requirements of the Kashmir Great Lakes trek.