Rudugaira Peak Expedition a Mountaineers Dream 
Rudugaira Peak Expedition comes under Gangotri National Park in Uttarkashi district of Uttarakhand, the altitude of Rudugaira Peak – 5820 meters; this is considered a very good expedition in the Himalayas. Trek and expedition routes also originate from here.
This Mount Rudugaira originates from Gangotri in Uttarakhand Garhwal in Uttarkashi, which is situated in a valley called Rudu Valley. From Rudugaira Valley you are also known for the spectacular views of the beautiful peaks of Gangotri. These expeditions are not very difficult, a good mountaineer can do this easily; Himalayan Hikers have made this expedition a few times.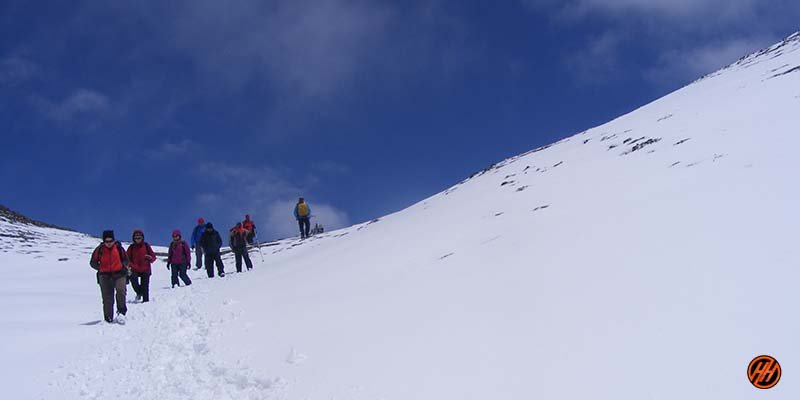 The beginning of this expedition is Gangotri Dham, which is considered to be the most popular pilgrimage center, from which it originates, has to pass through dense forest pine tree and grassy plains, these trek routes, along steep as well as river drains. Have to pass, On exhilarating untouched route to Auden's Col. Go through Gangotri, Gomukh; the source of River Ganga and high altitude glacial lake "Kedartal".
Further head towards Patangni Dhar which offers extremely beautiful views of some high Himalayan peaks – Thalaysagar, Jogin peaks, Gangotri group of peaks and Bhrigupanth.
Encounter the Untouched Beauty in Rudugaira Peak Expedition
The terrain is challenging and offers remarkable vistas of gigantic peaks which is a delight for mountaineers. Come across a variety of Fauna, spot blue sheep known as Bharal in the local dialect and a variety of beautiful Himalayan Birds.
The most part of this expedition and viewpoints Auden's Col is a high altitude mountain pass connecting Rudugaira valley and Bhilangna valley. It is situated at 5,490 metres (18,010 ft) elevation. Connecting the ridge coming from Gangotri III (6580 m) peak on the north-west and the ridge coming from Jogin I (6465 m) on the east, and also binds a glacier coming from Jogin I on the north side of Rudugaira valley, and deadly Khatling glacier on the south side of Bhilangna valley.
About the Gangotri Areas in Rudugaira Peak Expedition
The Holy River Ganges is the most sacred river in the Hindu religion and its source at Gomukh at the Gangotri glacier. … The glacier follows a N. Westerly route located below Chaukhamba Mountain, the highest peak of the group. …
The trek takes one to Gomukh Bhojbasa after TM Program and breakfast. You enter the national park; walk on side of Bhagirathi River in breathtaking scenery, a magnificent view on Shiv Ling Mountain, meeting pilgrim's including Sanyasis and Sadhus. There is possibility to rest and take hot drinks and water in various places in comfortable small tent shops. All along the way there will possibility to continue the trek on mule back. On arrival, TM program, enjoy incredible scenery and sight of Shiv Ling Mountain. Tapovan (Sanskrit) comes from the two root words tapas – meaning pain or suffering, and by the trekking usually starts from Gomukh and the trek was considered moderate to difficult prior to the destruction of much of the trail from Gangotri.
Gangotri: The shrine of Gangotri is situated at an elevation of 3200 m surrounded by Deodars (Cider) and Chir (pine). The original temple was constructed by the Gorkha General Amar Singh Thapa after his conquest of the Garhwal area! Every year people from all around the world visit this shrine. A number of Ashrams and Dharamshala are located on the far side of the river. It is believed that Raja Bhagirath used to worship Shiva on a slab of rock "Bhagirath Shila" situated near the temple. Submerged in the river there is a natural Shivling where, according to mythology, Lord Shiva sat when he received the Goddess Ganga in his matted locks. A days trek takes one to Gomukh, the source of the mighty Ganges.
Why should you do the Rudugaira Peak Expedition along with the local?
Note: – Whenever you do this Rudugaira Expedition, Do it with the local people here Uttarkashi district or with experienced people like us who are local here. Many local people working with Himalayan Hikers. Whoever can help you from the local here, if you trek with the local, and then the experience will be very good for you Also, the guides, porters, helpers, mule who go with you will have their income so that the locals here can give good education to their children and eat good food, etc. So, locals provide you good and helpful service and it will be useful for you all the time. This is why we have to say that sometimes there are seasonal changes in the nature, for which we all have to be ready, this is the law of adventure.
Must Read about Rudugaira Peak Expedition
Duration – 13 Days from Dehradun to Dehradun
Best Season – May, June, Sep and Oct
Level – Difficult
Highest Point – (5820 Meters)
Weather – Nights are cold and day temperature is pleasant according to the season, the weather is unpredicted and can change anytime so you need to be prepared.
Temperature –(-3°C to 15°C)
Starting point – Dehradun railway station
Trek Costs– per Person Rs. 45,000/* from Dehradun to Dehradun including all costs of the trek
Key Points About Rudugaira Peak Expedition
Level: Moderate -Difficult (so first timers trekkers should avoid)
Proper conditioning & training of body required
Group size minimum 03 maximum 10 people
Need proper Expedition gear & clothing for sub-zero temperatures?
Shoes are the single most important equipment
High Altitude requires proper acclimatization
Post monsoon or pre-monsoon is the best time. During rains the region is prone to landslides
Phones don't work on the trek, we are provide to you Radio Willkie Talkie for Communication
Beautiful landscape so carry good photo gear (I couldn't carry my best equipment)
Travel light (my backpack was heavy at about 12 kg to 15 Kg)
Keep an extra day in your itinerary for attempt to summit account for bad weather
If you choose Good and local trekking company Himalayan Hikers than it is better for you because Himalayan Hikers is local company our mission is safe treks, growth of locals. Some groups come with us for the Expedition and high altitude treks
Alcohol and smoking is not allowed in during the Expedition
Short Itinerary Rudugaira Peak Expedition
Day 1 –Dehradun to Gangotri (245 km) (8/9 hours) overnight stay Hotel
Day 2- Rest Day for Acclimatization
Day 3 – Trek from Gangotri to Bhoj Kharak (3780 m) (8km) (5/6 hours) overnight stay camp
Day 4 – Trek from Bhoj Kharak to Kedar Kharak (4280 m) (5km) (4/5 hours) overnight stay camp
Day 5 – Trek from Kedar Kharak to Kedar Tal (4912 m) (5 km) (4/5 hours) overnight stay camp
Day 6 – Trek from Kedartal to Patangini Dhar Base Camp (08km) (4/5 Hours) overnight stay camp
Day 7 – Trek from Patangini Dhar Base Camp to Dhabba via Patangini Dhar (9 km) (5/6 Hours) overnight stay camp
Day 8- to Day 11 – Rudugaira Base Camp to Rudugaira summit (5819 m) and back
Day 12 – Rudugaira Base Camp to Gangotri
Day 13 – Gangotri to Dehradun
Your Travel Plan for the Rudugaira Peak Expedition
You can book train, air flight, and bus tickets for your journey only according to the information given by us.
The Rudugaira peak Expedition Duration will be of 11 days and 02 days of your journey total of 13 Days from Dehradun to Dehradun in Uttarakhand,
First of all, all the trekkers will have to book their flight and train bus according to our time table as our pick up is from 6 am to 7 am, you will have to reach Dehradun in the morning.
A taxi from Himalayan hikers will link you to Dehradun railway station.
Himalayan Hikers organize transport to Gangotri from Dehradun railway station. Our vehicles leave at 6:00 am to 7:00 am sharp from Dehradun. The taxi costs include your package
In Dehradun railway station you will get our staff that will arranged transport for you. The contacts no Transport coordinator or our office team will be give you a week ago to your departure
Please you guys book your transport facility according to your own time table, after Himalayan hackers take all the responsibility of Dehradun from Dehradun, that you will not face any problem.
How will you reach in the Rudugaira Peak Expedition?
If you are travelling from Kolkata, Bangalore, Chennai, Pune, Mumbai or Gujarat any other city, so you will have to come to Delhi, you will get a train from Delhi for Dehradun comfortably.
Option 01:- By Train
All trekkers booked yourself the
Nanda Devi Express to Dehradun (Train no is 12206 Departure 11:30 pm: – Reached Dehradun 5:45 am
Dehradun Express to Dehradun (Train no is 12687 Departure -9:10 pm: – Reached Dehradun 5:00 Am
Take the both overnight train Dehradun to from new Delhi- Dehradun Special A/C train from Hazrat nizamuddin railway station the best option to you. Train reached at dehradun railway station morning 5:45 to 6:30 am if you Meet to Our office Member – joining to our upcoming batches and Group.
Option 02:- By Air
Jolly Grant airport is the nearest airport in Dehradun. Located about 27 km for the Dehradun city. There are flights available from all states to Dehradun, you can go online and book your tickets. These are easy and easy ways for you and you also save your time, Taxis are available from the airport to Dehradun at all time costs Rs. 800/* one way pay to directly
Option 03:- By Bus
You can reach Dehradun from Delhi by a bus, board it from (Delhi) Kasmiri get ISBT; it is good if you are booked the seats.
(Reach Dehradun Railway Station between 5:00 am to 6:00 am and vehicle will be arranged from there.)
ATM Point and Mobile Connectivity in Rudugaira Peak Expedition
ATM Point
Before starting the journey to Rudugaira expedition , make sure that you need payments, and then take out the cash on the way, Uttarkashi market is the last place where you can withdraw cash from ATM,  (If you want to withdraw money then do it in Dehradun).
Mobile Connectivity
The phone does not work on this trek. Therefore, you should ensure that you do not have to make any important calls.  . So make sure you finish all your important work and calls before starting the trek. Last Gangotri, your device will receive good networks.