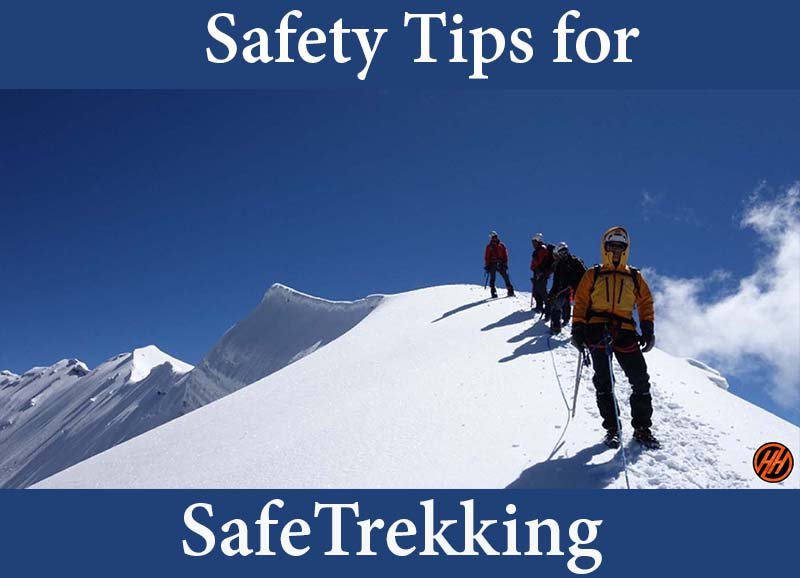 Safety Tips For Safe Trekking
Safety tips for safe Trekking
Safety Tips for Safe Trekking, Trekking is a popular adventure activity with lots of thrill in it, your guts and physical endurance are tested in this activity. There are several associated challenging situations raising the difficulty level of a trek.
Also Read About – Safe Trekking Tips for Trekkers
Dehydration and fatigue are some common problems which are faced during trekking and also more troubles which can be conquered on a trek. Here are the main Safety Tips for Safe Trekking:
Choose The Trekking Company Wisely
Before a Trek Train Yourself
Trek in a Group
Always Keep Necessary Things Ready
Don't Leave the Trail
Learn Survival Skills
Acclimatization Cures Altitude Sickness
If Someone Lost then what you should do?
Choose The Trekking Company Wisely
Choose the Destination and company only after analyzing them.
The choices should be correct in these terms, whether you are going with Family, Friends or with any random group choose a good trekking company and a professional guide.
While choosing the destination take decisions based on everybody's physical and mental fitness.
Company's offer proper trekking equipment experienced guides and it is always good to go with the locals.
Also, Read About – How to Choose a Good Trekking Company?
Before a Trek Train Yourself
When you go on high altitude treks there the trails are challenging with many enormous risks and number of ascents and descents.
To overcome these challenges you need proper training and will power, the most important thing which you carry with yourself on a trek is a backpack.
Walking with a heavy load on your back can be very exhausting because you have to do it for 5-6 hours per day.
So start your morning walk from today itself on rough terrains around your home and jog with a heavy bag.
Start with low weight bags and then add up some load to increase your physical strength.
Also Read About – Get Yourself Physically Fit For a Trek
Trek in a Group
Trekking in a group reduces the risk so avoid doing it solo & be sure that everyone in the group is physically and mentally fit to complete the trek.
The distance between all the members should be less, the speeds are different some walk fast and some walk slow, do not leave anyone behind take proper care of each other.
There are several benefits of trekking in a group you all can help one another when in need or in case of an emergency.
Always Keep Necessary Things Ready
There are many essential things which you need to take on a trek for safety purpose, and others.
It includes
Trekking Gear (Hiking Pole, Hiking shoes, Backpack)
Always carry a poncho because the weather is unpredictable and can change anytime.
There is no electricity in the mountains, so carry a torch because it gets dark early there.
A whistle is important in case someone gets lost in the mountain.
Keep a Medical Kit with you and learn to apply first aid for dealing with injuries.
Carry eatables especially that boosts energy instantly i.e. cashew nuts, almonds, peanuts, fruits, and walnut.
Keep your water bottle filled and drink water in proper intervals of time to keep your body hydrated.
Also, Read About – What Things To Carry on Trek?
Don't Leave the Trail
Some people get lost in the mountain even after trekking with the group.
because of the fatigue don't let them go forward so they hold up to take rest & get left behind.
To avoid this problem make sure there is someone during your break who knows the trail and can lead you further.
Keep following the right path and do not look for shortcuts because they might get you in trouble.
The local guides are best on a trek because they are aware of all the routes.

Learn Survival Skills
The mountain has two sides one is very peaceful and soothing but the other one is dangerous.
There are many associated risks at high altitude so always go with a professional team or with a person who has knowledge and skills both.
It is important to learn the survival skills because things can change anytime and precaution is better than cure.
Knowing the right skills will help you place tents in proper places, not under glaciers or undercliffs.
Once you learn all the skills you can confidently spend days in the Himalayas without difficulties.
Acclimatization Cures Altitude Sickness
Most people face this problem "Altitude Sickness".
it's common if you never go to high altitudes.
Their body gets unhealthy to cure this disease acclimatization is the only way, it means adjusting the body according to the environment.
On long and high altitude treks there is always one day for Acclimatization.
Also, Read About – What to do during an emergency breakout in the Trekking?
If Someone Lost
If lost in the Mountain then do all these things –
Keep Yourself Dry and use the Matchstick you are carrying to light the fire.
Make a shelter to stay protected from wild animals.
Blow the whistle so that someone hears and comes for help.
Use your Map or GPS