Why Should you do Trekking with a Local Trekking Company and Local People?
Trekking with a Local Trekking Company and Local People
Trekking with a Local Trekking Company and Local People are very important for all trekkers because local trekking company and their people or workers all know about that place where you going to trekking. Local Companies guides and people all know very well about that trek or place route, environment, season, mountains, how many difficulties during the trek and etc. So, in an emergency, they can easily help you during the trekking.
If you make a plan for trekking but you are confused because you have no idea where you go to trekking and which is the best place for you to the trekking. So then you can ask a local trekking company where you going to trekking and then he suggests you 2 or 3 places which are best for you because they are locals and they know very well which place is best for you to the trekking. So, then you can go to that place which you like.
Local Companies provide accommodation, good quality & fresh Food, Camping gear, quality tents, services, and all trekking equipment very easily. They introduce you to the local villages (which arrive on that trek or place route), their people, and their culture. And they also entertain you from the local dance and local song and of course you enjoyed it very well when you go trekking with the local Trekking company and local People.
Also Read About – Best Budget-Friendly Treks In India Under 2500, 3000 and 4000 INR
Why Should you do Trekking with a Local Trekking Company and Local People?
Hi Trekkers, should you be tracking people without local or not and are you not making yourself difficult without a local guide.
Himalayan Hikers always think of good  trekking and trekkers and local people, so today it is important to tell us that wherever you need to do trekking, how can you join the local with you, and what benefits can it give to trekkers and local Guide porters and helper, mule more people.
Remember that trekking and mountaineering can also face risk and smile, so with good and honest guides and company, you can make your adventure nice and memorable.
And so local provide to you good and helpful service and it will be useful for you all the time. This is why we have to say that sometimes there are seasonal changes in the nature, for which we all have to be ready, this is the law of adventure.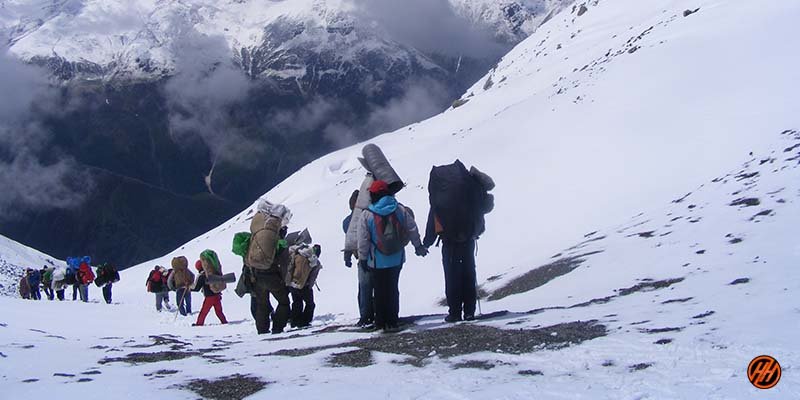 Whenever you go trekking in any state of India, it is important to take care of you?
You need to see which state and district you are goes to trekking, what are the rules of that, is it correct to keep trek of whether you need to see this?
Whichever company you are booking your tour with, does they have knowledge of trekking and mountaineering?
You have to know all things; otherwise you will face some difficulties or problems in trekking too?
It is also necessary to find out the paper and certificate and knowledge of the company with which you go Trekking.
Remember, today a lot of fake companies do marketing and they can be a problem for you. Those people who make your booking, those people will take advance payment from you and then send it to you from which company do you not know in which you get the right and safe trekking company or not?
This time, we have been told by the trekkers that after receiving advance payments from us, the phone started coming off, so it is important to inform you.
Today people are booking directly by looking at the online marketing add, make a booking, but choose the right and local company; it will be very good and safe for you.
It is also important to tell you that Himalayan hikers are a local and very oldest trekking company of Uttarakhand India, who have been working in trekking and mountaineering, adventure for almost 30 years, today people from every part of Uttarakhand have joined us. Where we do trekking and expedition work, so many local people who work with us, who can help you here, if you trek with a local, and then the experience will be great or memorable for you, it's Also, guides, porters, helpers, mules staff more,  who will accompany you. Their income comes from you only so that the local people here can give good education to their children and can eat good food. This is our dream and work, by doing this there will be no unemployment here,
It is also important that you see that the money you are giving for trekking and mountaineering work goes to the right people or not.
If possible, you can keep trekking wherever you stay in the local home where it will give some income to people, your money will make you happy in someone's home.
People in our mountains consider the trekkers coming from outside as a guest and God, and dedicate themselves to serve you,
One thing is also special that the knowledge about the mountains can be with the local people here, but no one else has it, the local people can never give you a any problem, and neither can give you any trouble, Local people of every village can give you memories of love and somewhere in the Himalayas, which can be memorable for your life too.